Former Junior World Champ Taylor Knibb Clinches Olympic Berth In Triathlon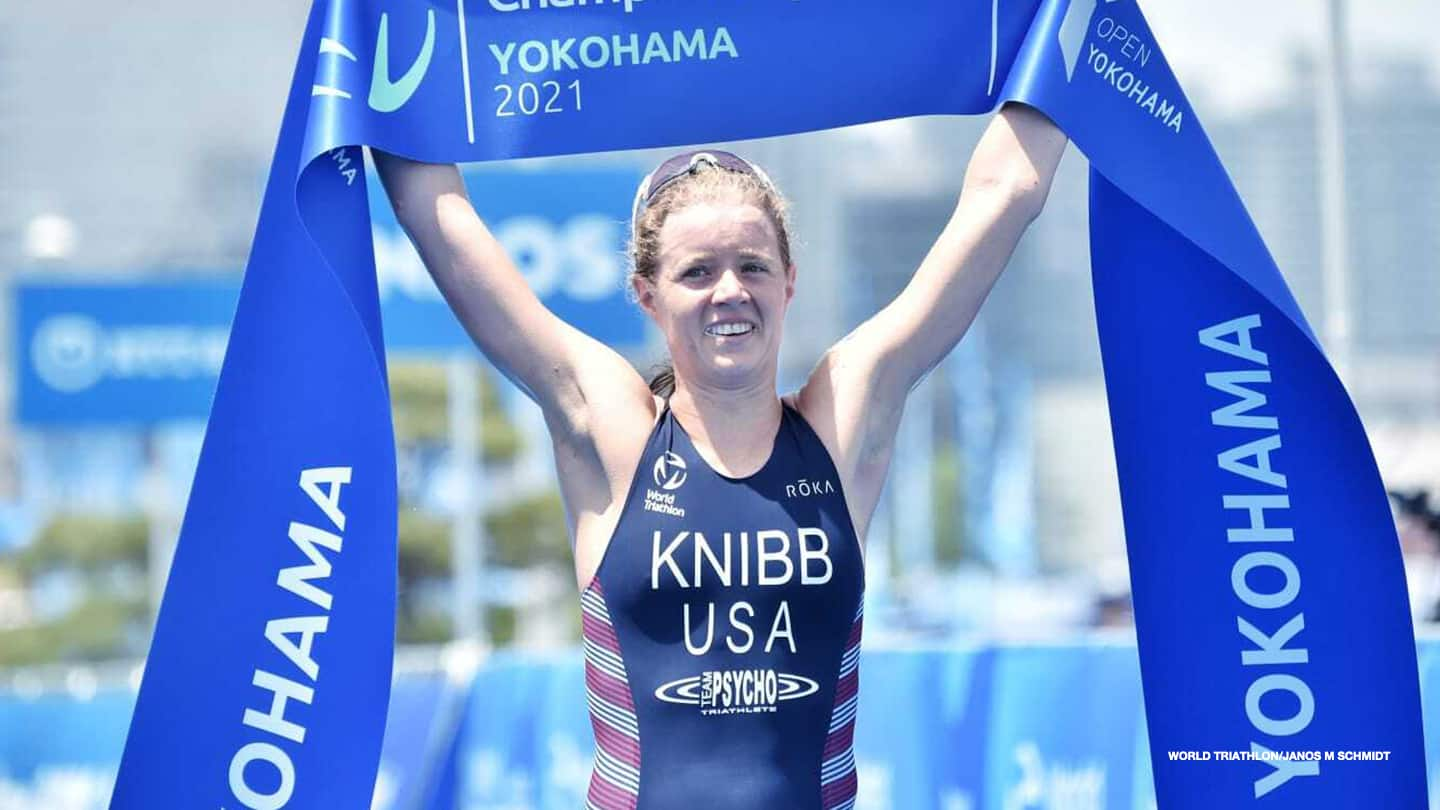 Taylor Knibb celebrates after winning her race and qualifying for the Olympic Games Tokyo 2020 on May 14, 2021, at an event in Yokohama, Japan.
Taylor Knibb wasn't about to leave it to chance.

Needing a top-three finish to secure an Olympic berth in triathlon, the 23-year-old put together a dominant bike leg and then held off teammate Summer Rappaport in the run to finish first at the World Triathlon Championship Series race Saturday in Yokohama, Japan.

The result makes Knibb the second U.S. triathlete to qualify for this summer's Tokyo Games, joining Rappaport, who clinched her berth by being the top American within the top eight at an August 2019 Olympic qualifying event in Tokyo.

The U.S. is expected to secure the maximum three women's and three men's spots for the Tokyo Games. The first U.S. man could qualify for the Olympic triathlon team with a top-eight finish later Saturday in Yokohama. Two U.S. men could earn berths if both finish on the podium.

Coming into the weekend there appeared to be a strong chance a second American woman would earn an Olympic berth, though the odds would have favored top-ranked Katie Zaferes or third-ranked Taylor Spivey.

Instead, 22nd-ranked Knibb came out of the water in fourth and soon joined the Netherlands' Maya Kingma on a breakaway bike ride. By the time they reached the final transition the duo was more than two minutes ahead of the field.

Rappaport led a chase group and ultimately finished second, crossing the line 30 seconds behind Knibb and eight seconds in front of Kingma. Spivey finished just off the podium in fourth, while fellow American Kirsten Kasper was 14th and Zaferes 22nd.

The daughter of an Ironman triathlete mom, Knibb raced her first triathlon as a kid and has enjoyed a steady rise since then. Also a runner and later swimmer at Cornell, Knibb has proven to be most successful when combining those sports with her specialty: cycling. A two-time junior world champion in triathlon, Knibb also won the U-23 world title in 2018. One year earlier, at age 19, her silver medal at the World Triathlon Series race in Edmonton, Alberta, made her the youngest medalist on that series.

She's now the youngest American woman to qualify for the Olympics in triathlon.
Chrös McDougall has covered the Olympic and Paralympic movement for TeamUSA.org since 2009 on behalf of
Red Line Editorial, Inc.
He is based in Minneapolis-St. Paul.