Olympic Medalist Taylor Knibb Wins World Triathlon Championship Final In Edmonton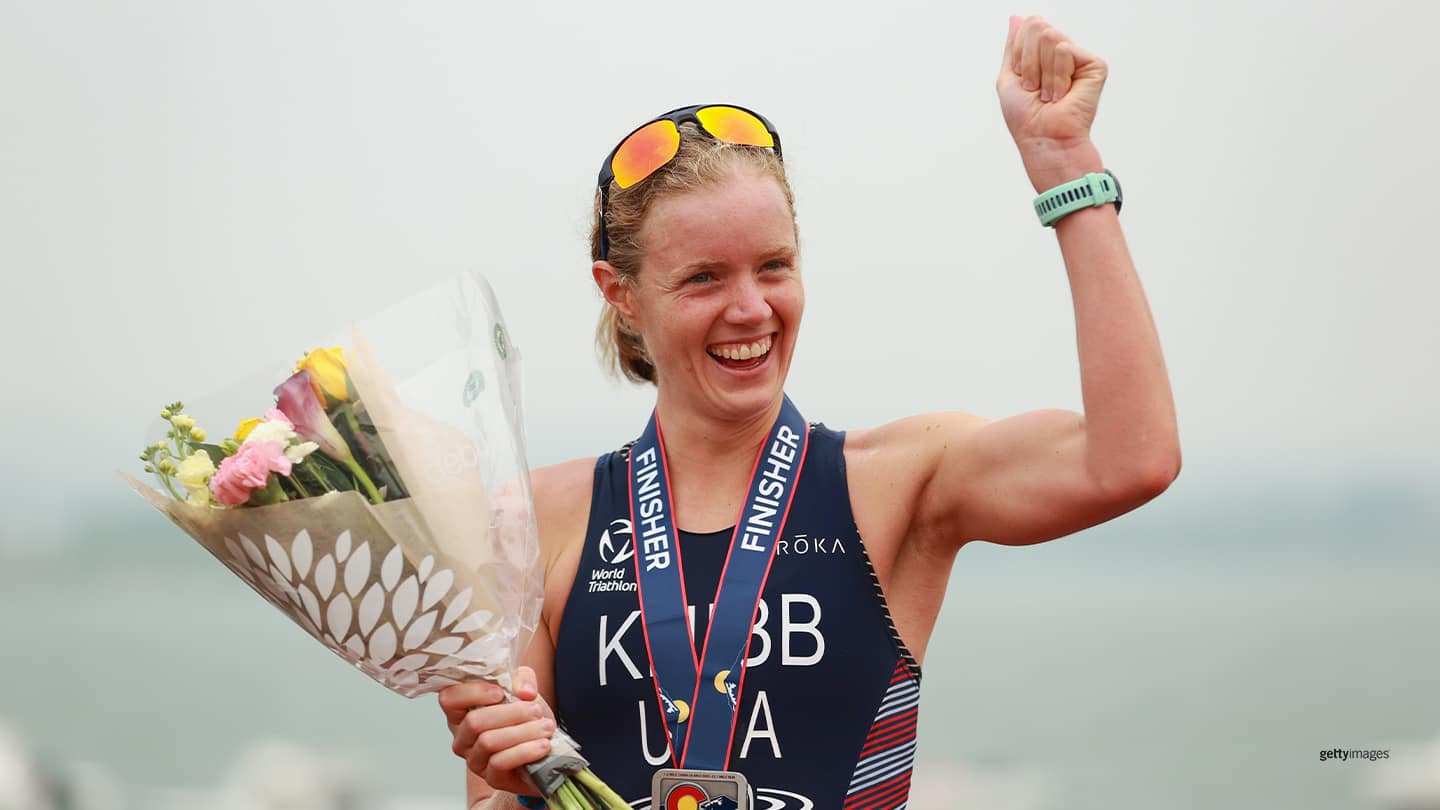 Taylor Knibb celebrates her second place finish in the IRONMAN 70.3 Boulder on Aug. 7, 2021 in Boulder, Colorado.
Fresh off an Olympic silver medal, Taylor Knibb continued the best year of her triathlon career with a win in the World Triathlon Championship Finals in Edmonton, Alberta, also clinching second place in the season standings.

The win is the second of the World Triathlon Series season and in the career of the 23-year-old Knibb, who also earned a second-place finish last week in Montreal. And she won comfortably, finishing in a time of 1:54:47, nearly a full minute ahead of second-place Leonie Periault of France. Tokyo gold medalist Flora Duffy of Bermuda ran third to clinch the world title, the third of her career.

Knibb's U.S. teammates Katie Zaferes and Taylor Spivey finished fourth and fifth, respectively, and Spivey clinched third place in the season standings. Knibb came into Edmonton in fourth, behind Spivey in second. The Championship Finals carry more weight than regular-season races, and winning helped boost Knibb into the silver-medal position. Zaferes, who won individual bronze in Tokyo, placed sixth overall. Tokyo Olympian Summer Rappaport placed 11th and Kirsten Kasper 12th.

Knibb is the youngest member of the U.S. triathlon team and has made good on her elite potential in 2021. In Tokyo, she teamed up with Zaferes and Kevin McDowell and Morgan Pearson for the mixed relay event and took the silver medal. Knibb also competed in the women's individual race, finishing 16th.

Knibb and Spivey become the fifth and sixth U.S. women to finish on the World Triathlon Series season podium since the circuit began in 2009. Zaferes previously was the most recent U.S. woman to medal, taking the world title in 2019. Spivey also had a career season in which she earned a bronze medal in Montreal.

Team USA had just one athlete racing on the men's side Saturday as Seth Rider finished just off the podium in fourth.
Todd Kortemeier is a sportswriter, editor and children's book author from Minneapolis. He is a contributor to TeamUSA.org on behalf of
Red Line Editorial, Inc.