The Surge Continues: Morgan Pearson Takes World Triathlon Championship Series Silver In Leeds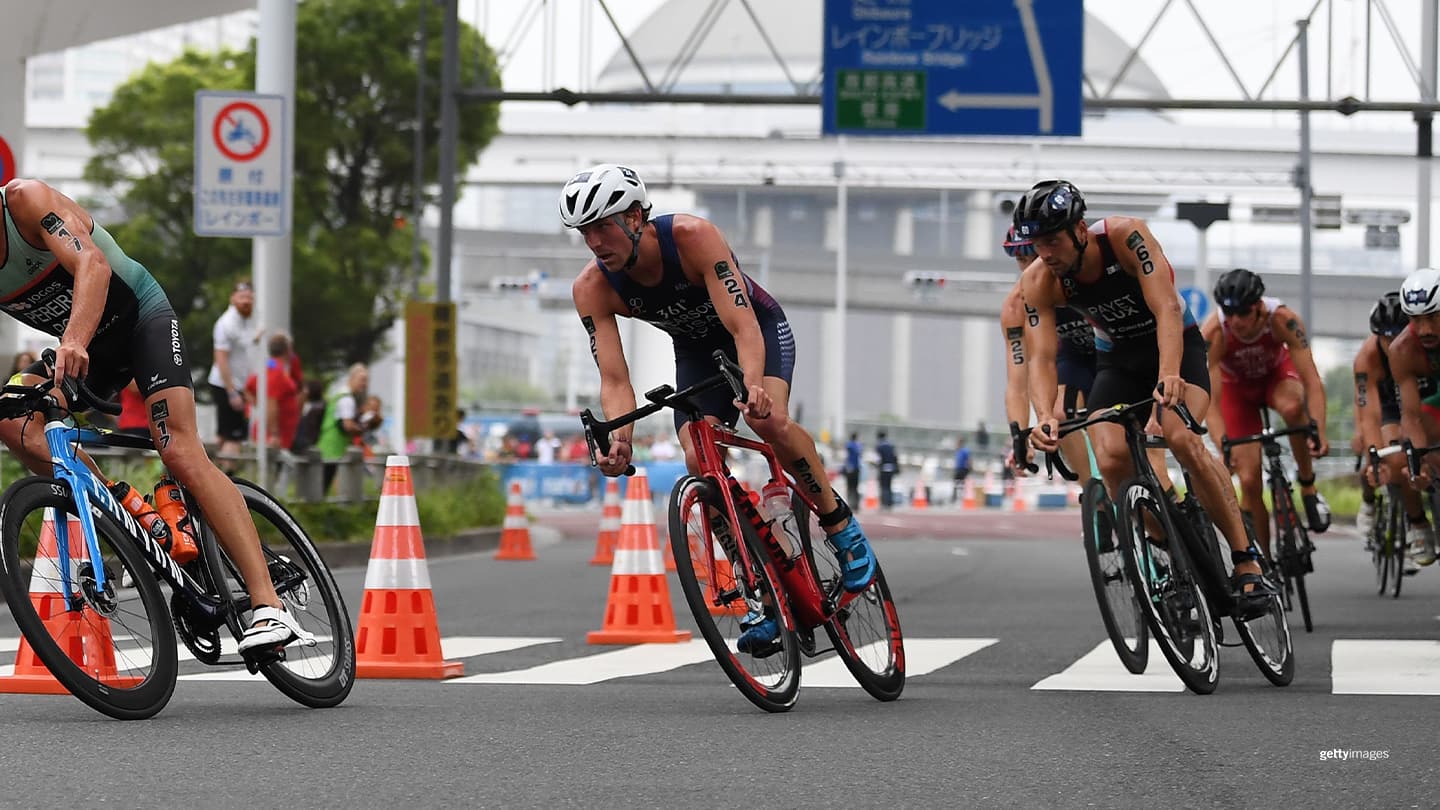 Morgan Pearson competes during the 2019 Tokyo ITU World Triathlon Olympic Qualification event, a test event for the Olympic Games Tokyo 2020, in Tokyo on August 16, 2019.
Morgan Pearson's guardian angel is working wonders.
Just over three months since his brother Andrew died, Pearson continued his recent surge as a triathlete when he improved his career-best performance in a World Triathlon Championship Series event by winning a silver medal Sunday in Leeds, England. His result followed four gold medals and eight total medals by U.S. paratriathletes in Saturday's races.

Pearson announced Andrew's passing in an Instagram post in early March, and shortly thereafter shared some memories of his brother.

"I couldn't stop thinking of all the ways that my older brother influenced where and who I am today," he wrote on March 24. "Andrew was the reason I stuck with swimming for so many years, and the reason I started running cross country at Delbarton (School in New Jersey). Some of my favorite memories are of us racing together and I've probably never had more fun than goofing off at junior guards with him."

Since then, the native of Boulder, Colorado, has come out of seemingly nowhere to become one of the world's very best in the sport.

On May 15, Pearson surprised many when he qualified for this summer's Olympics thanks to his bronze-medal finish at Yokohama, Japan, in his first triathlon since Andrew passed. At the time, he was ranked 17th in the world. Three weeks later, now ranked 15th, he became the first American to medal in back-to-back events with his result in Leeds. It also is the highest finish by a U.S. man since Matthew McElroy won silver at Leeds in 2019, and Morgan now owns half of all podiums for U.S. men at this level.

Alex Yee of Great Britain won in 1 hour, 43 minutes, 27 seconds, with Pearson finishing in 1:43:52. Marten Van Riel of Belgium was third, 11 seconds behind Pearson. Two-time Olympic gold medalist Alistair Brownlee of Great Britain was disqualified for unsportsmanlike conduct during the swimming portion.

Along with Pearson, two U.S. women — Summer Rappaport and Taylor Knibb — have already qualified for the Tokyo Games. Another woman and up to two more men will be named to Team USA on June 16 by discretion the USA Triathlon's Games Athlete Selection Committee.

With their spots locked up, Rappaport and Knibb sat out this weekend. Taylor Spivey was the top U.S. finisher in sixth, finishing in 1:57:0. Kirsten Kasper took 15th at 1:58:47, with 2016 Olympian and former world champion Katie Zaferes 18th in 1:59:02.

On the men's side, Seth Rider was 17th, Chase McQueen 25th and McElroy 30th. The U.S needs to maintain three men in the top-30 of the qualifying standings in order to send three men to Tokyo, although those qualifiers would be selected via discretion rather than by ranking.
Paratriathletes Reign On
Saturday
U.S. Paralympic hopefuls made strides in their bids for Tokyo on Saturday. Chris Hammer, Kendall Gretsch, Hailey Danz and Kelly Elmlinger each won gold medals at Leeds, which was the second stop this season in the World Triathlon Para Series.
Leeds represented a chance for athletes to earn points and boost their Paralympic ranking, which in turn helps the U.S. gain quota spots for the Paralympics.

Hammer earned perhaps the most dramatic victory of the day when he won the men's PTS5 category, his first at the World Para Series level since 2017. He covered the 750-meter swim, 20-kilometer bike and 5-kilometer run in 1 hour, 1 minute, 44 seconds — just nine seconds ahead of France's Yannick Borseaux and 35 seconds in front of Spain's Jairo Ruiz Lopez. The run was where Hammer took command as the former NCAA Division II track and cross country All-American finished in 14:55, the only competitor to break 15:30.

Gretsch followed up her win in Yokohama last month ago by dominating in the women's PTWC division. A two-time Paralympic gold medalist in Nordic skiing, Gretsch cruised through the finish line in 1:19:40, almost six minutes better than Spain's Eva Maria Moral Pedrero.

Danz, a 2016 Paralympic silver medalist, used a sizzling bike segment to capture the women's PTS2 category, her first World Para Series triumph since 2015. She turned in a time of 1:22:09 to easily outdistance Italy's Veronica Yoko Plebani (1:24:57) and fellow American Melissa Stockwell, who took the bronze in 1:25:29.

Elmlinger was the only athlete in the women's PTS4 division and won gold in 1:17:37.

In the women's PTS5 division, 2016 Paralympic gold medalist Grace Norman (1:06:58) won bronze as Great Britain's Claire Cashmore used a strong finish to edge the American by four seconds. Great Britain's Lauren Steadman won gold in 1:06:04. In the men's PTS2 category, Adam Popp won his second straight World Para Series bronze in 1:20:26. Eric McElvenny took the men's PTS4 bronze in a tightly contested finish. McElvenny had a time of 1:07:03, edging Luxembourg's Joe Kurt by one second.

Three more events are scheduled before the Paralympic triathlon team is selected in early July.
Steve Drumwright is a journalist based in Murrieta, California. He is a freelance contributor to TeamUSA.org on behalf of
Red Line Editorial, Inc.