Morgan Pearson Is First Elite U.S. Man To Medal At Triathlon Worlds In 31 years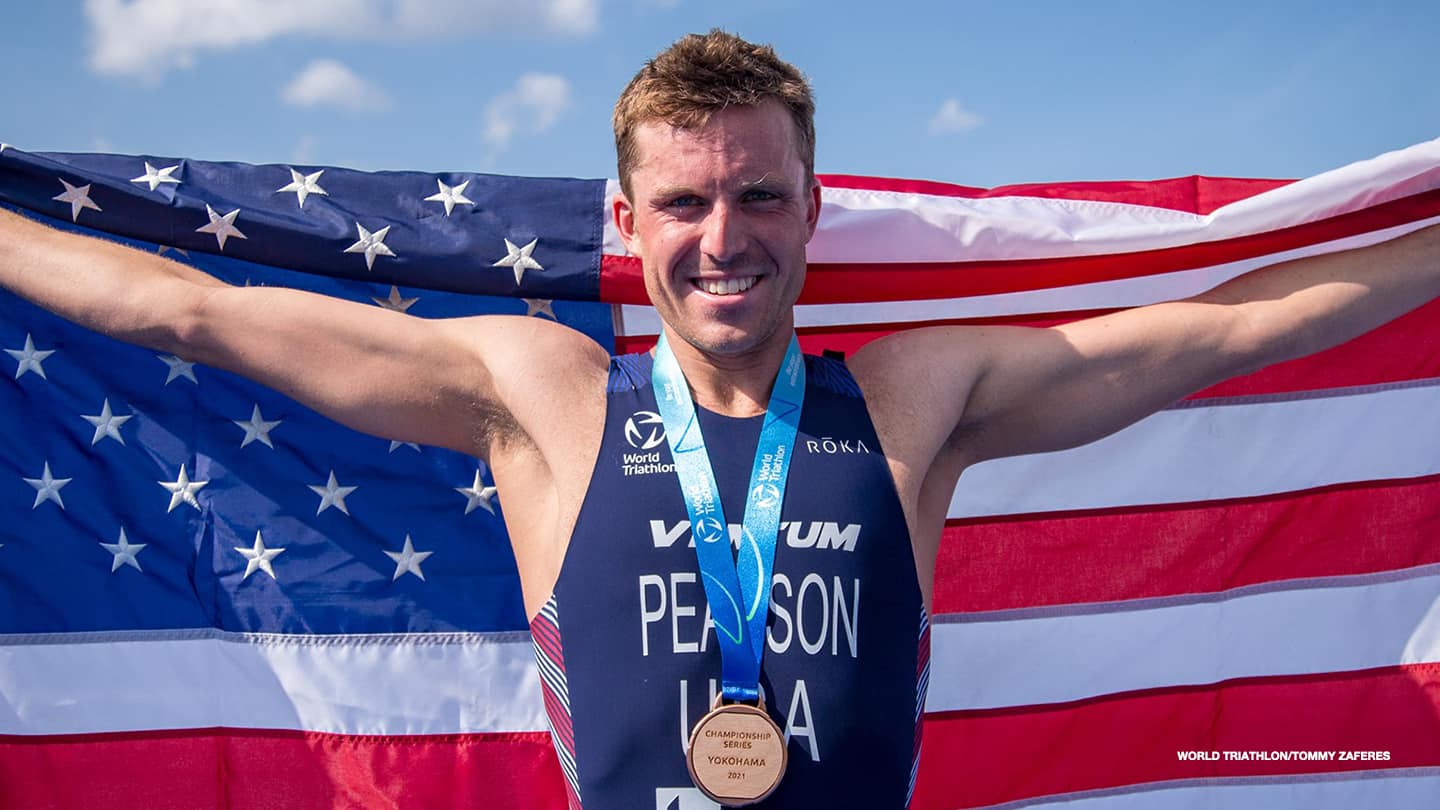 Morgan Pearson celebrates after qualifying for the Olympic Games Tokyo 2020 on May 15, 2021 in Yokohama, Japan.
Morgan Pearson became the first American man to reach the podium in 31 years at the triathlon world championships when he won a silver medal Saturday at the World Triathlon Championship Finals in Abu Dhabi, United Arab Emirates.

The last U.S. men's triathlete to earn a world championships medal was Mike Pigg, who finished third in 1991 in Gold Coast, Australia.

The 29-year-old Pearson, who just retuned to racing this month after recovering from an injury, turned in the fastest 10-kilometer run time of the day to finish second in 1 hour, 44 minutes, 25 seconds, just 11 seconds behind Leo Bergere of France (1:44:14), who won the finals and the overall series title. Jelle Geens of Belgium took the bronze medal in 1:44:34.

"This is a nice way to come back to this stage," Pearson said. "It's been a long year. I didn't race until two weeks ago. I raced (a world cup) in Chile and I had mechanical issues on the bike. I took a step back after Chile and just wanted to focus on the process of getting through the race.

"We got to the run, and it was really easy the first lap. I decided to take a stab for gold. It didn't work out, but if you don't go for it, you're never going to get it."

Pearson, a 2020 Olympic silver medalist in the mixed relay from New Vernon, New Jersey, sprinted home in 29:15 to secure his podium spot. Pearson finished the season 33rd in the world rankings. In 2021, he had become the first American man to win multiple medals in the World Triathlon Championship Series.

In the historic debut of the Para mixed relay event at the world championships, a pair of U.S. teams reached the podium behind champion Australia, which finished in 1:03:47. Kendall Gretsch, Hailey Danz, Owen Cravens and Chris Hammer earned the silver medal with a time of 1:06:02. Fellow Americans Howie Sanborn, Kelly Elmlinger, Grace Norman and Kyle Coon claimed the bronze medal in 1:06:59.

Danz and Norman had won individual world titles on Thursday. Gretsch, Stockwell and Elmlinger had claimed individual silver medals, while Hammer had earned a bronze medal.

Nine teams of mixed genders and classes participated in the inaugural mixed relay event, which featured four laps of the course, including a 150-meter swim, 4.5-kilometer bike, and 1.2-kilometer run.

"Today was so much fun being able to compete as a team," Gretsch said. "It was extra special knowing that this was the first of, hopefully, many more international Para mixed team relays."

In the women's elite race on Friday, American Taylor Knibb crashed on the bike leg and finished a fourth but still amassed enough points to place third in the series standings. Flora Duffy of Bermuda won an unprecedented fourth women's title.

"I'm pretty shocked," said Knibb, who finished in 1:56:40. "There were a lot of ups and downs in the season and today."
Bob Reinert spent 17 years writing sports for The Boston Globe. He also served as a sports information director at Saint Anselm College and Phillips Exeter Academy. He is a contributor to TeamUSA.org on behalf of
Red Line Editorial, Inc.