Grace Norman Remains Undefeated In Big Weekend For Paratriathletes In Montreal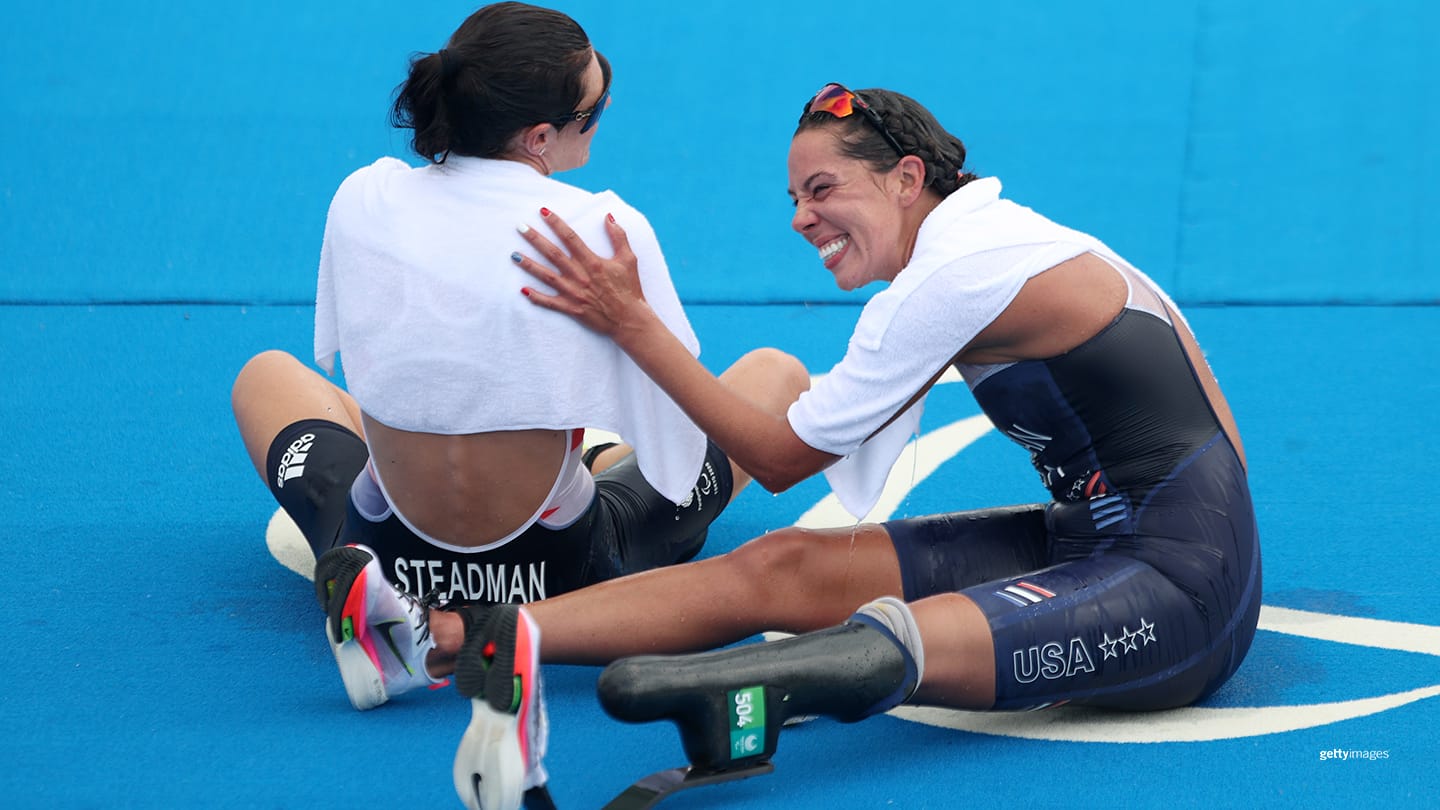 (L-R) Lauren Steadman (Great Britain) and Grace Norman after they cross the finish line in the women's PTS5 at the Paralympic Games Tokyo 2020 on Aug. 29, 2021 in Tokyo.
American triathletes recorded a strong showing as the 2022 World Triathlon Para Series moved to Montreal over the weekend, as Paralympians Grace Norman, Hailey Danz, Kelly Elmlinger and Kyle Coon each locked down gold medals in their respective divisions.

Meanwhile, across the Atlantic in Hamburg, Germany, Taylor Spivey headlined Team USA's performance at the World Triathlon Championship Series with a fourth-place finish.

The paratriathlon was contested on a sprint-distance course and included a 750-meter swim, 22.5-kilometer bike and 5K run.

Paralympic gold medalist and two-time world champion Norman recorded a winning time of 1:05:45 in the PTS5 race to maintain her place at the top of the world rankings. The Montreal race marks Norman's fifth win of the year as she remains undefeated in 2022.

Defending world champion Elmlinger, competing in her first Para Series race of the year, finished in 1:13:24 in the women's PTS4 division to catapult her to first in this year's rankings.

Coon, along with his guide, Zack Goodman, finished in 1:01:12 in the men's PTVI race, and Danz crossed the line at 1:20:03 in the women's PTS2. The result marked Danz's third-straight Para Series win since Leeds in 2021. She also won a second consecutive Paralympic silver medal last year in Tokyo.

The gold medalists were accompanied by strong performances from Chris Hammer (1:00:13) in the men's PTS5, and Kendall Gretsch (1:11:50) in women's PTWC, each of whom placed second in their respective divisions.

Reaching third place on podium this weekend were Mohamed Lahna (1:12:35) in men's PTS2, Chris Marston (1:18:32) in men's PTS3, Eric Mcelvenny (1:06:47) in men's PTS4, and Deborah Chucoski (1:19:20) in women's PTVI.

Also taking place this weekend was the WTCS in Hamburg, which was held on a sprint-distance course consisting of a 750-meter swim, 21-kilometer bike, and 5-kilometer run.

Spivey was the top American finisher, taking fourth in the women's race while missing the podium by just five seconds. Her finish in 58:58 is the latest in a series of strong performances from Spivey. She has racked up a number of top 10 finishes this year and maintains a fourth-place ranking in the World Triathlon Championship Series.

The World Triathlon Para Series continues on Aug. 6 in Swansea, Great Britain, while the World Triathlon Championship Series will return in Cagliari, Italy, on Oct. 7-8.
Dalton Rains is a sportswriter and editor based in Minnesota. He is a freelance contributor to TeamUSA.org courtesy of
Red Line Editorial, Inc.