Surfer Carissa Moore Claims First Win Of The Season At Oi Rio Pro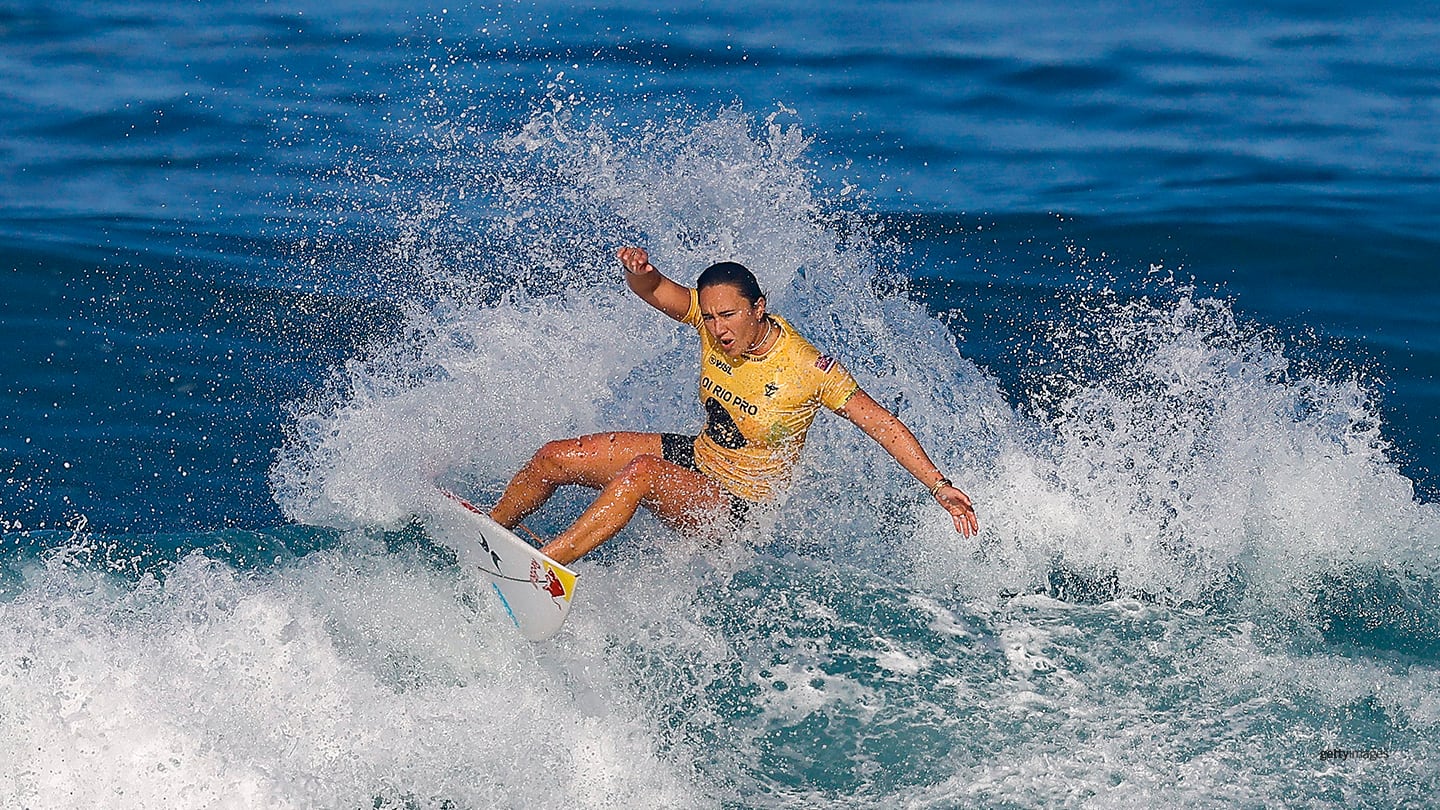 Carissa Moore competes during the opening round heats at the Oi Rio Pro 2022 on June 23, 2022 in Saquarema, Brazil.
Donning the yellow jersey that signifies the top ranking on the World Surf League Championship Tour, Carissa Moore was running out of time to keep that jersey in her possession.

Moore faced off against No. 2 Johanne Defay of France in the final of the Oi Rio Pro on Tuesday in Rio de Janeiro. Defay had the lead for the majority of the final. With under a minute remaining, Moore needed a score of 6.41 to overtake Defay and hold onto her yellow jersey and the top spot in the season rankings.

The reigning Olympic champion delivered, posting a 9.50, her highest score on a wave in the entire competition. After executing two big turns, Moore raised her hands in the air as she rode out the wave.

Defay had two final attempts in the final seconds before the buzzer sounded, but the waves were not long enough for her to execute any turns.

Moore won with a total score of 15.43, besting Defay's 12.33.

Moore, 29, was coming off a landmark season where she won her fifth world title only a couple months after winning gold in Tokyo, where surfing made its Olympic debut. The Honolulu, Hawaii, native has held onto the top ranking all season despite not having any first-place finishes before Rio.

Moore had finished second three times this season, with the most recent coming in early June in the Roxy Pro G-Land in Indonesia, where she lost to Defay in the final. Moore gained 10,000 points in the standings for this win in Rio, putting her 3,975 points ahead of Defay.

Gabriela Bryan of Kauai, Hawaii, lost to Defay in the semifinals and finished in third place. That gave her enough points to jump from 10th to eighth in the standings.

The WSL Championship Tour continues July 12-21 with the Corona Open J-Bay in South Africa.
Luke Hanlon is a sportswriter and editor based in Minneapolis. He is a freelance contributor to TeamUSA.org courtesy of
Red Line Editorial, Inc.