American Surfers John John Florence, Gabriela Bryan Finish Runners-Up At Margaret River Pro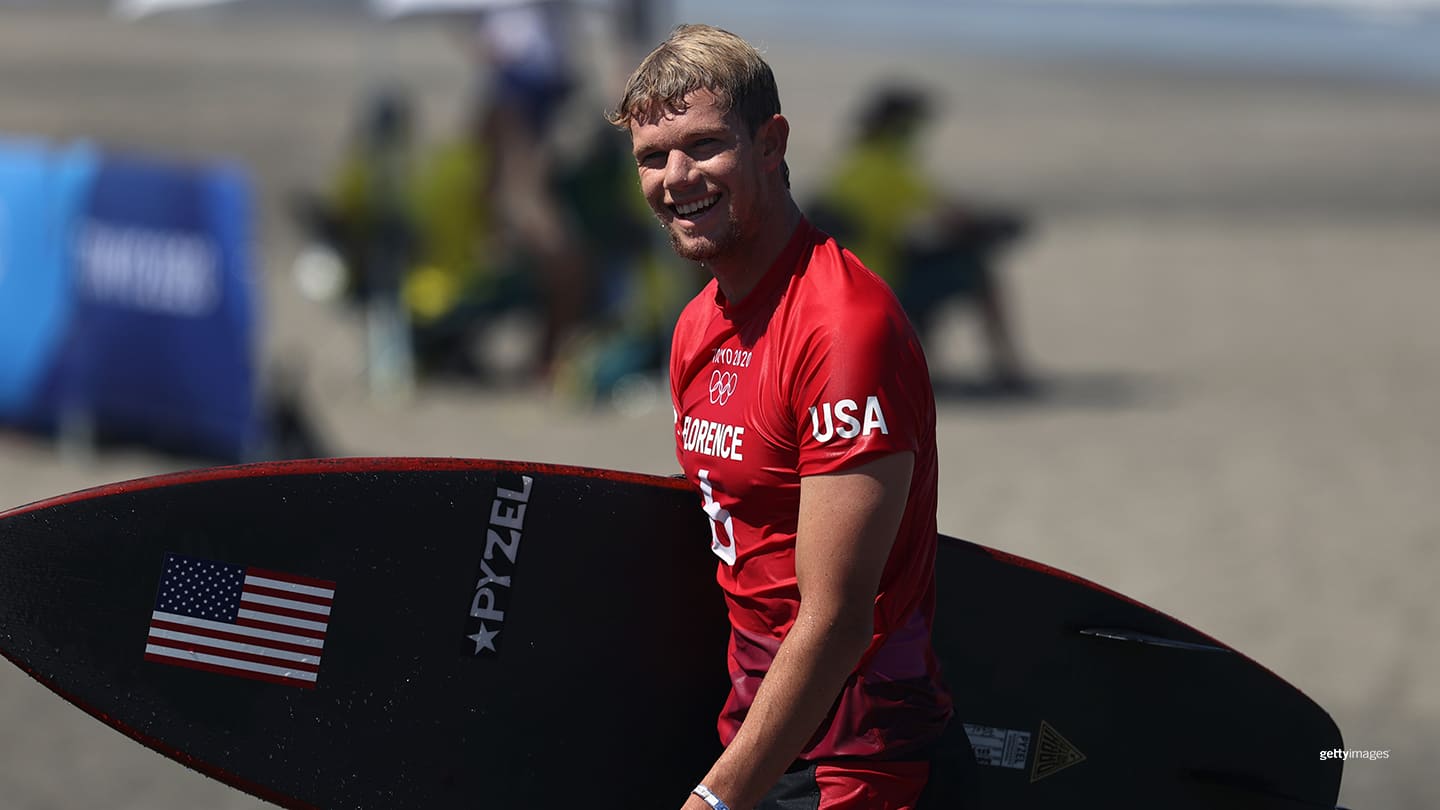 John John Florence reacts after winning his men's Round 2 heat at the Olympic Games Tokyo 2020 on July 25, 2021 in Ichinomiya, Chiba, Japan.
Gabriela Bryan not only scored her best-ever finish on the World Surf League Women's Championship Tour, she vaulted herself above the mid-season cut line to make the top 10 competing the rest of the way in 2022.

Bryan and U.S. teammate and Olympian John John Florence both finished runner-up Wednesday at the Margaret River Pro in Western Australia. Bryan came into the event in 11th place, but making the final against Australia's Isabella Nichols gave her enough points to vault into a tie for sixth and safety. Florence was already in strong position, but moved up one spot into second by making the final against Jack Robinson of Australia. Both surfers lost their finals by narrow margins.

It was the best finish on tour for the 20-year-old Bryan from Hawaii. Bryan competed in one event in 2019 but is in her first full season on tour in 2022. She previously finished third earlier this year at the Hurley Pro Sunset Beach. Bryan has yet to finish outside of the top ten at any event this season.

Florence earned his best finish of the season as he seeks his first tour championship since 2017. The 29-year-old Hawaiian has now earned top-five finishes in four of five events this season and is in a close fight with Brazil's Filipe Toledo at the top of the standings. Florence has notably been healthy in 2022 after dealing with injuries for the past several seasons.

Bryan is one of four U.S. women to make the mid-season cut, joining Olympic gold medalist Carissa Moore, Courtney Conlogue and Lakey Peterson. Florence is one of nine U.S. men, alongside Barron Mamiya, Griffin Colapinto, Kelly Slater, Olympian Kolohe Andino, Nat Young, Seth Moniz and Jake Marshall. The next tour event begins in Indonesia at the end of May.
Todd Kortemeier is a sportswriter, editor, and children's book author from Minneapolis. He is a freelance contributor to TeamUSA.org on behalf of
Red Line Editorial, Inc.