Griffin Colapinto
Surfing
News
Surfer Griffin Colapinto Aims For WSL Title In Hometown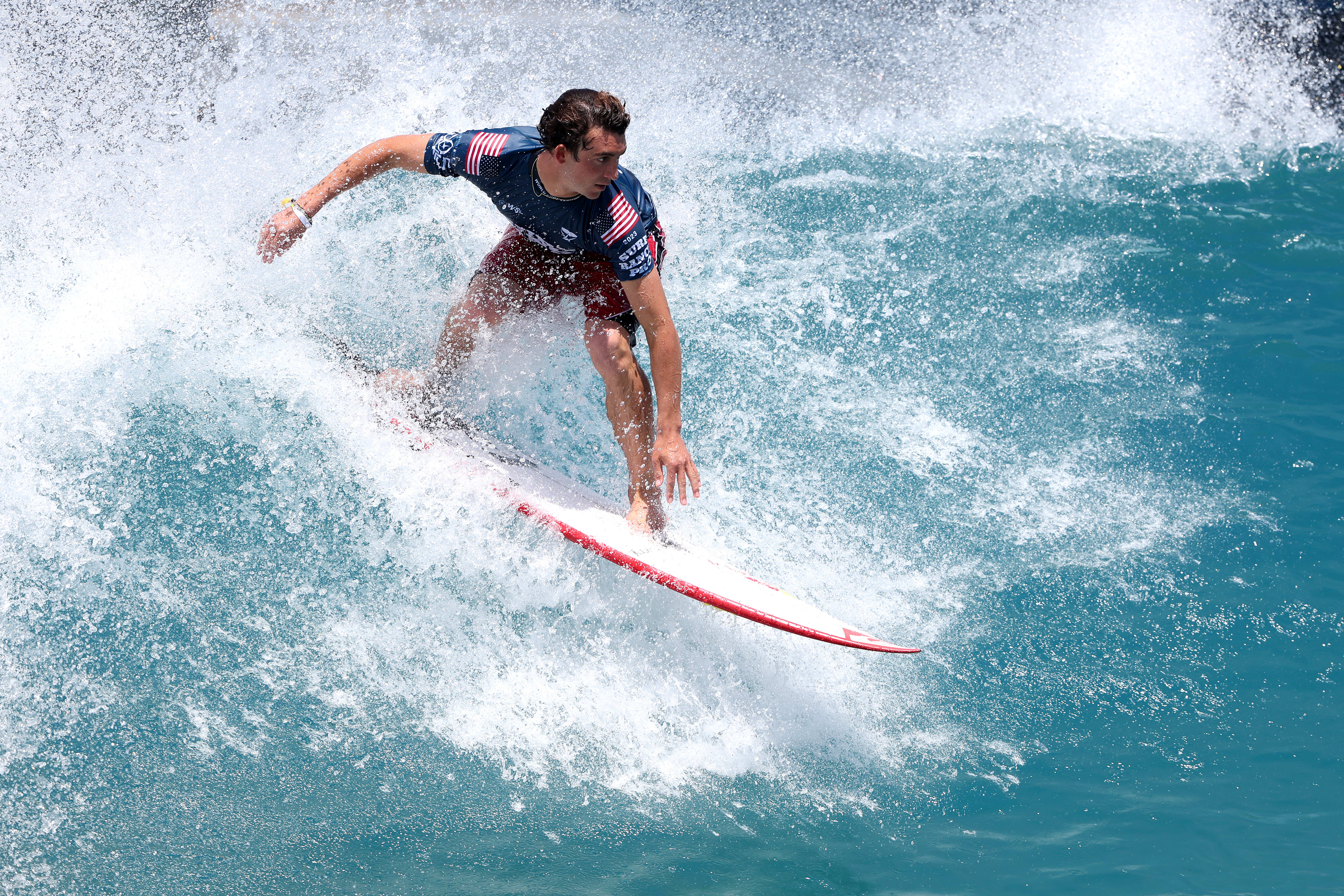 The progression has been steady, and significant, for American surfing star Griffin Colapinto.
The native of San Clemente, California, made his World Surf League Championship Tour debut in 2018, broke into the top 10 in 2021 and earned his first tour wins the next year.
It'll be hard to top 2023, though.
The 25-year-old Colapinto won his third career Championship Tour event in May. Two months later, he became the first U.S. surfer — and second American athlete across all sports — to qualify for the Olympic Games Paris 2024, pending confirmation on the final day of the Rip Curl WSL Finals. And now, from Sept. 8-16, the world's No. 2-ranked man will end the season on his native waves when the Rip Curl WSL Finals are held at Lower Trestles in San Clemente.
"I know, it's a lot, right?" Colapinto said, adding a big laugh when acknowledging he is going to the Paris Games. "I'm still taking it all in, I'm still kinda trippin', thinking about going to the Olympics, being on the Olympic team, and all the great things that have happened this season. The most important thing is I am learning every time out there, I take nothing for granted, and I am grateful for all of these experiences.
"Getting to the Olympics is like the biggest thing ever for my family, especially my grandparents. They are all so excited about it. They were crying, they were so happy."
Surfing made its Olympic debut in Tokyo 2020, but Colapinto missed out as the fifth-ranked American, with only the top two earning Tokyo bids.
John John Florence, who finished in a tie for ninth in Tokyo, will join Colapinto at the 2024 Games, while defending champ Carissa Moore, Caroline Marks and Caity Simmers will represent the women, pending confirmation on the final day of the Rip Curl WSL Finals . The U.S. could earn a third men's spot with a win a next year's World Surfing Games team event.
Colapinto's ascent to the top of the sport is a product of his efforts to be consistent. The surfer strives to be disciplined in all areas of his life, such as working out, meditation and journaling. An early riser, he makes time each day to be present.
Colapinto has been adding these mature routines to his life since his mid-teens, when he realized he wanted to have a serious pro surfing career. He's discovered how they improve his mind and body, giving him strength to compete at his best in the unpredictable conditions of surfing. He believes in mindfulness, helping him keep his thoughts in a good place over looping in the negative.
"In the ocean, I am nothing but determination, and that is a really big advantage for me," Colapinto said. "I love what I do. All I am thinking about is surfing when I get into the water; that is getting all of my energy and focus. I want to get to No. 1, I want to use all the experiences, from losing or making mistakes to winning, to make me better the next time.
"I am not going to stop doing the little things that make me happy; it's in my DNA."
The Olympic surfing competition next year will take place a in Tahiti, a world away from the Eiffel Tower. Colapinto and the other Championship Tour surfers got a preview of the French Polynesian venue in August at the Shiseido Tahiti Pro event, where he finished ninth.
Getting in some runs on the same waves as the Olympics was significant.
Understanding the breaks, currents and patterns are keys to success for a pro surfer. Colapinto said he doesn't have a ton of experience in Tahiti but plans to get as much as possible in the offseason to prepare for the Olympics. Tahiti's famous Teahupo'o break is unique even among the exotic stops on the surfing tours, with its clear water and hollow barrel creating picturesque scenes and exciting — but challenging — barrel riding.
The gift of having his Team USA slot booked is being able to plan ahead and not having to worry about qualification. He can fully think about what comes next.
"The waves in Tahiti are so different than any other wave," he said. "It's going to be a high-performance barrel contest. Anybody can win in barrel, but certain guys are going to be better than others because the know the waves. Anyone can beat anyone. It's going to come down to wave knowledge, and whoever has surfed the wave the most is going to have the relationship to know it."
But before he can plan how to conquer Tahiti, there is more important immediate business at home. Colapinto is ready for the WSL Finals, to compete in front of his friends and family, and be on the waves he knows so well. It's the best home-cooking, in all ways.
"I want to win, it's pretty exciting, but I am trying not to set any expectations because I just want to enjoy the atmosphere," Colapinto said. "There are a lot of people coming up to me, here at home, saying how excited they are to come and support me. I really want to soak that up, and to me, that is always cooler than winning.
"Home is home, it's special, and I've put in the hard work to feel good and be happy. I'm enjoying it all right now. Maybe that will make me more dangerous."