Duke Kahanamoku — Olympic Swimming Legend, Father of Surfing, & Ambassador of Aloha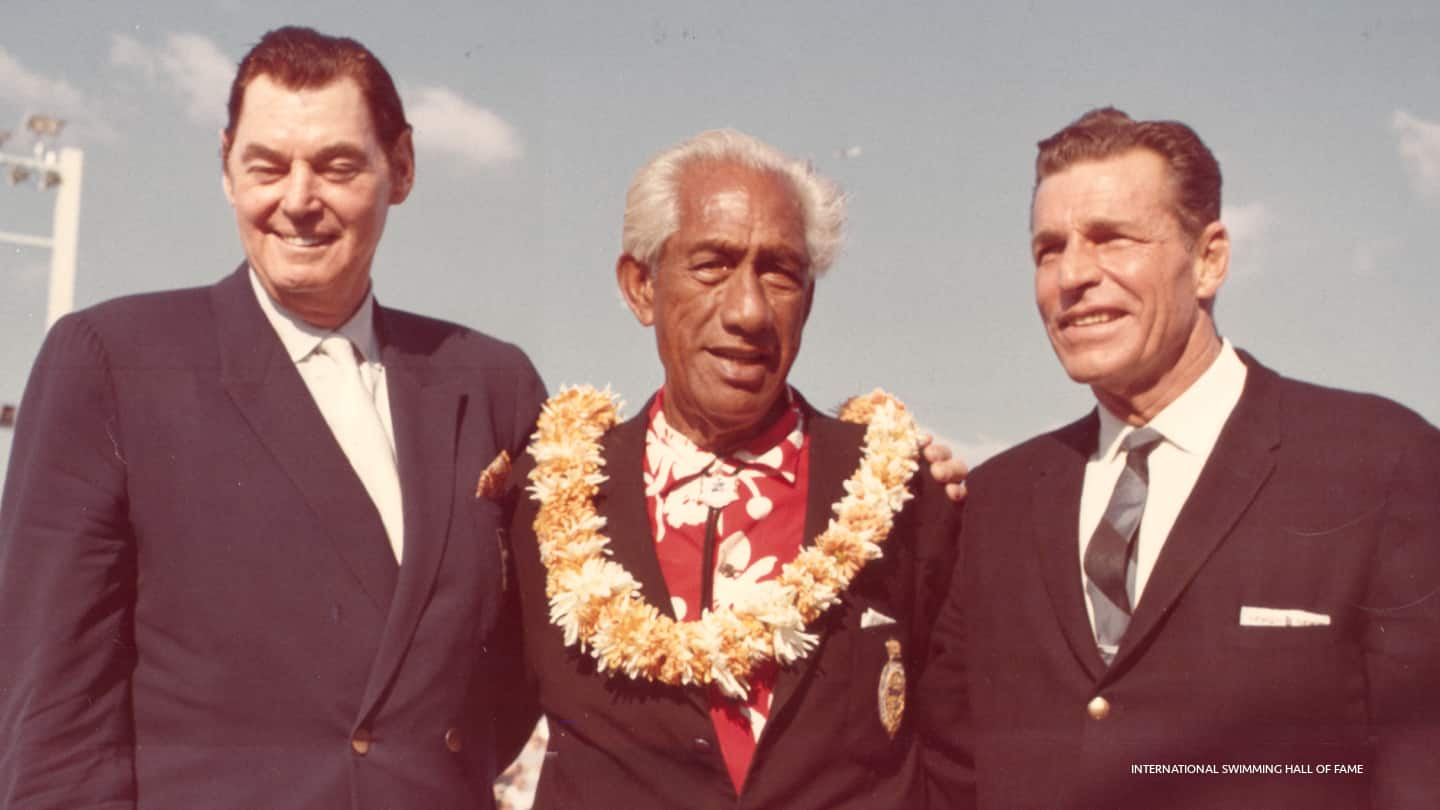 Duke Kahanamoku, photo courtesy of International Swimming Hall of Fame
When Carissa Moore won surfing's first Olympic gold medal at the Olympic Games Tokyo 2020 last summer, she paid homage to the man who started it all: Duke Kahanamoku. For it was Kahanamoku who, after winning Olympic gold in swimming in 1912, ended up sharing his favorite sport with the world — surfing.

"Duke shared Aloha and surfing with people unconditionally and dreamed of surfing in the Olympics almost 100 years ago," said Moore at the end of Waterman, a PBS American Masters documentary that was released this spring. "It really made me proud and honored to be a Hawaiian going to the Olympics, and to be part of a dream come true."

Before Kahanamoku shared surfing with the world, he was an Olympic gold medalist himself — "one of our American Olympic origin stories," noted Anthony Ervin, the 2000 and 2016 Olympic gold medalist in the 50-meter freestyle.

But Kahanamoku's legacy goes beyond swimming and surfing. He was a sweet, humble champion who shared his culture and the spirit of Aloha wherever he went.
Stockholm 1912 Olympic Games, Swimming, Duke Kahanamoku (USA, Gold), Men's 100-meter Freestyle and Silver in 4x200-meter Freestyle Relay

Swimming Legend
Duke Paoa Kahanamoku was born on August 24, 1890 — two-and-a-half years before Hawaii's Queen Lili'uokalani was deposed and eight years before the U.S. annexed the island chain. As part of Hawaii's culture, Kahanamoku learned to swim early, his body growing and adapting to a daily routine of swimming, surfing, fishing, paddling, exploring. By adulthood, Kahanamoku stood over 6 feet tall with size 13 feet and was at home in the water — one of Waikiki's "beach boys" and a true waterman who lived (and played) in the ocean.
In 1911, Honolulu, Kahanamoku entered an AAU swim meet in Honolulu and shattered the 100-yard freestyle world record by 4.6 seconds. Back on the mainland, officials thought ocean currents had aided the then-unknown swimmer's time. Or the course was too short. Or timing inaccurate. They refused to accept that a dark-skinned Polynesian who grew up outside the East's staid athletic clubs could swim that fast.
Kahanamoku proved it was no fluke. At the 1912 Olympic Games in Stockholm, he tied the world record in a special semifinal heat (special because Kahanamoku and his teammates had missed the real semifinal due to a misunderstanding). Then Kahanamoku easily won the 100 freestyle final, beating Australia's Cecil Healy by 1.2 seconds. He was Hawaii's first Olympian and first Olympic champion.
Later the same summer, Kahanamoku broke the 100m freestyle world record, lowering it twice more in the next decade.
"He was a great swimmer," said Donna de Varona, 1964 Olympic gold medalist who was named queen of the International Swimming Hall of Fame's grand opening in 1965, the same year Kahanamoku was inducted (de Varona was inducted four years later). "Yes, he brought surfing to prominence, and he was so beloved in Hawaii. But he was one of our first great swimmers."
But Kahanamoku did not set out to set swimming records or win medals. His natural ability, affinity for the water, and the fact that he spent so much time in the water helped make him great, noted Aaron Peirsol, a seven-time Olympic medalist who dominated men's backstroke in the mid-2000s. Kahanamoku's lifestyle was his competitors' hobby.
"He was as good as he was because he lived his life [as a waterman] and grew up in a culture that celebrated it," explained Peirsol, who is a waterman himself.
This waterman way of life is an ethos Kahanamoku would introduce to the Olympic movement and to the world.
Father of Surfing
After the 1912 Games, Kahanamoku toured the U.S. giving swimming exhibitions. It was an era when American was just starting to appreciate swimming, noted Bruce Wigo, former president and CEO of the International Swimming Hall of Fame, and Kahanamoku was the best, his smooth stroke making the sport look easy.

In 1914, Cecil Healy invited his Hawaiian friend to Australia to demonstrate his gold-medal form. The flyer advertising Kahanamoku's swimming exhibitions showed the Hawaiian Olympic champion standing on a surfboard.

On Sydney's Freshwater Beach, the crowd did not want to see Kahanamoku swim. They wanted to watch him surf.

It was the first of many stops where Kahanamoku introduced his beloved sport to the world. And something clicked. Here was a sport borne in a beautiful, tropical paradise that looked fun. It was easy to romanticize. Or perhaps it was Kahanamoku's laid-back demeanor and ease on the board that romanticized it. Today, about 23 million people around the world surf.

But it was more than the act of surfing that was appealing. It was its underlying nature.

"It's doing it with each other and being connected to the ocean," said Peirsol. "And it's healthy. It's this celebration around something that's bigger than you."

Over the coming decades, others followed Kahanamoku's example. Surf legend and champion swimmer Tom Blake met Kahanamoku during one of his mainland exhibition tours in the early 1900s and found an idol to emulate. Then he passed on the ethos to the next generation.

In the mid-1960s, California lifeguard Larry Capune became known for his epic ocean paddleboard adventures. When on shore, he sometimes gave talks at schools and stressed to the kids, "It's not what you don't have that counts; it's what you do with what you've got that counts."

Capune visited Peirsol's fourth-grade class in the early 1990s and made an impression on the young swimmer. He too wanted to live the life of a waterman.

Peirsol, who now lives in Hawaii, came to realize that there was a direct lineage back to Kahanamoku — who introduced this lifestyle to the world.

"It's kind of like he was an influencer of that day and age," said Peirsol.

Although tourism was on the rise in Hawaii in the 20th century, with the adventurous learning to surf in Hawaii's waves, it took someone with Kahanamoku's personality and clout as an Olympic champion to spread the sport and its ethos around the world.

"If it weren't for Duke, I don't think surfing would have gotten out of Hawaii," said Sonny Tanabe, 1956 Olympic silver medalist and waterman himself. "He went out to various countries and the United States and promoted and popularized surfing.

"But it was because of swimming that he got to do it."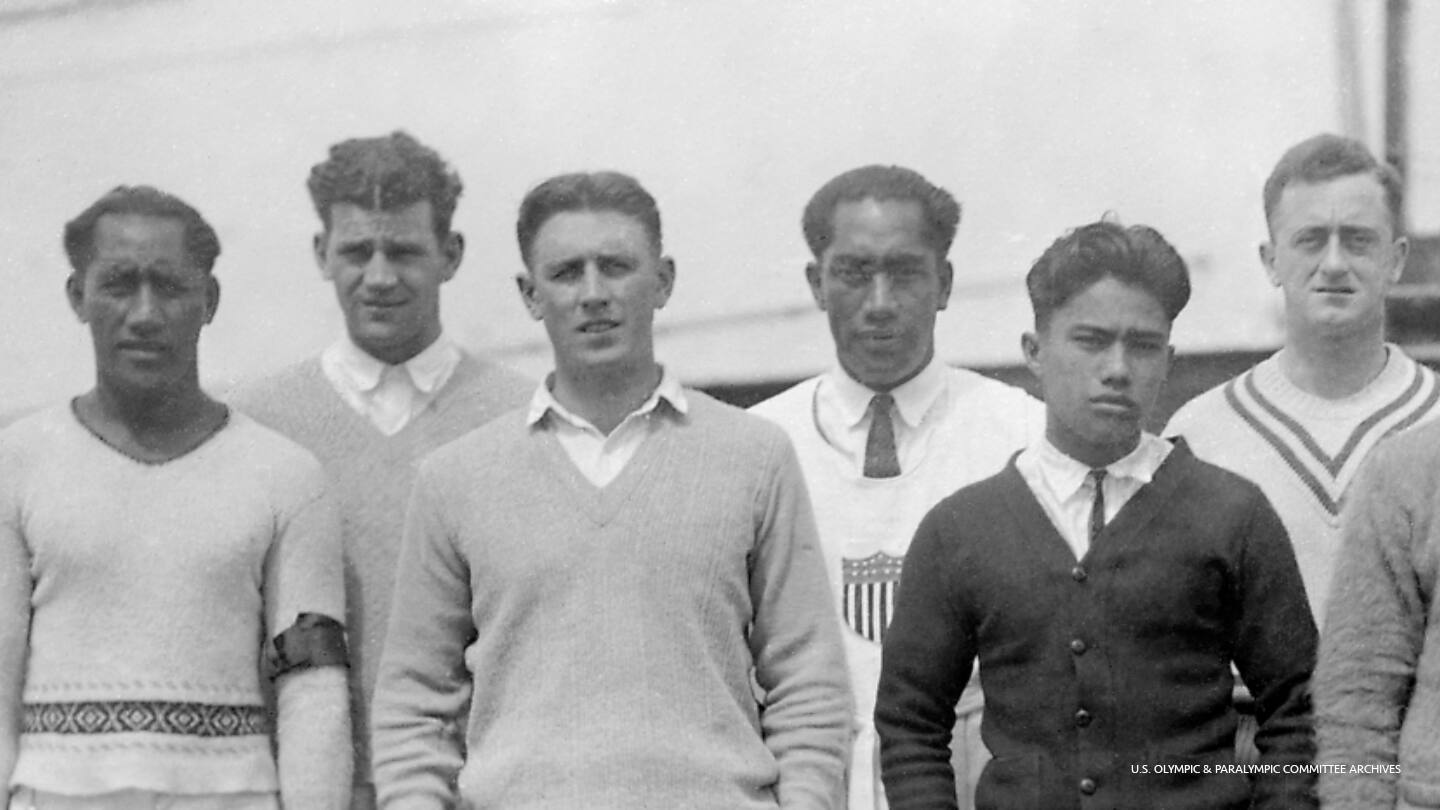 Four-Time Olympian
Kahanamoku did more than ride his wave of popularity after the 1912 Olympic Games. He continued to compete in swimming even after the IOC canceled the 1916 Games because of the war. And during the World War I, Kahanmoku embarked on a six-month-long exhibition tour that raised money for the war effort.

At the end of the tour, Kahanamoku and his two Hawaiian teammates planned to enlist in the Navy. But mid-tour, they all caught the H1N1 flu that was ravaging the world at the time. For Kahanamoku, the flu turned to pneumonia. By the time he recovered, the war was over.

He regained his form and in 1920, at age 29, Kahanamoku added two more Olympic gold medals to his collection, defending his 100 freestyle title in world-record time and leading a USA podium sweep. He also anchored Team USA to 4x200 freestyle relay gold.

Notably, Kahanamoku was one of a half-dozen Hawaiians on the 1920 U.S. Olympic Team, including backstroke champion Warren Paoa Kealoha.

At age 34, Kahanamoku swam in one more Olympic Games, finishing second to 20-year-old Johnny Weissmuller in the 100 freestyle at the 1924 Games and just ahead of his brother Samuel Kahanamoku, who claimed bronze.

In Kahanamoku's wake, Hawaiians would continue to represent Team USA in Olympic swimming through the mid-1950s — notably Olympic champions Buster Crabbe (1932), Ford Hiroshi Konno (1952), and Yoshinobu Oyakawa (1952), and freestyle relay medalists Maiola and Manuella Kalili (1932) and Tanabe (1956).

"We all looked up to Duke as a youngster," noted Tanabe, who was raised in Hilo on the Big Island.

Many of these swimmers grew up swimming in the Waikiki War Memorial Natatorium. The 100-meter-long salt-water natatorium received funding shortly after Kahanamoku's championship performance at the 1920 Olympic Games, then opened on August 24, 1927, with Kahanamoku swimming a ceremonial 100 meters. Over the coming few decades the stands, seating over 7,000, were often filled to capacity for swim meets.

"Without Duke, it never would have been built," said Bruce Wigo.

The 1927 AAU national championships were held at the natatorium, with Weissmuller breaking three world records, and Buster Crabbe, who would win two Olympic gold medals in 1932, then join Weissmuller in Hollywood, winning the 1,500 freestyle.

Kahanamoku's Olympic career ended in 1932. At age 41, he was named as an alternate to the 1932 U.S. Olympic water polo team that won a bronze medal at the Los Angeles Games.

"You begin to slow down a little when you get around 40," Kahanamoku later said.
Racial Pioneer
A native Hawaiian of Polynesian descent, Kahanamoku was one of the first non-white athletes to compete in the Olympic Games, but he did not let discrimination stop him.

"His teammates respected him, loved him, and protected him despite all the hate that came his way," noted Ervin, who did not fully know of Kahanamoku's legacy until he read Waterman: The Life and Times of Duke Kahanamoku, published in 2015.

Kahanamoku's legacy really hit home for Ervin when Bruce Wigo pointed out that Kahanamoku was the first Black American swimmer to make the U.S. Olympic Team.

But no one thinks of Kahanamoku as Black, added Wigo.

"The truth is that back then, Duke, with his dark Polynesian skin, was about as 'other' as the American public could see," said Ervin.

The American public — and the world — embraced Kahanamoku, no doubt enchanted by his easy-going demeanor. At his first Games in 1912, his smooth stroke and relaxed attitude (even napping before races) made him a fan favorite.

"I think of Duke as quintessentially patriotic," said Ervin. "He was an American, and I love that about him."
Ambassador of Aloha
Perhaps Kahanamoku's greatest legacy was the spirit of Aloha that he shared wherever he went. The word roughly translates to love and fellowship, and Aloha was Kahanamoku's creed.

With this spirit of easy-going fellowship, Kahanamoku was welcomed around the world.

This "welcoming-ness" — a word that Peirsol used when talking about the meaning of Aloha — is a Hawaiian staple. When the 2020 U.S. Olympic swimming team stopped in Honolulu last summer for their pre-Tokyo Olympic training camp, Carissa Moore showed the team the welcoming Aloha spirit.

In 1932, Kahanamoku was elected sheriff of Honolulu, a position he held for almost 30 years, including during World War II and the bombing of Pearl Harbor.

As part of his job, Kahanamoku welcomed people to Honolulu and eventually became the state's official welcomer. In 1965, he reportedly taught Britain's Queen Mother the hula.

Kahanamoku died of a heart attack on January 22, 1968. After his funeral, thousands packed Waikiki Beach to honor him.

"I couldn't find a parking place," remembered Sonny Tanabe, who wanted to pay his respects. "It was so packed. I had to turn around and go back."

In November 2021, a 12-story tall mural of Kahanamoku and Carissa Moore was unveiled in Honolulu.

"I feel incredibly honored to be painted … alongside one of my heroes, Duke Kahanamoku," Moore posted on Instagram. "The colors make it the most vibrant building in Honolulu. It's definitely still pretty crazy to see my face on a giant wall. I don't think I'll ever get used to it. I hope the mural makes people smile and hopefully serve as inspiration for the next generation, or anyone really, that anything is possible."

Moore perhaps channeled Kahanamoku when she ended her post with: "Do what you love and share love along the way."
An award-winning freelance writer based in Vermont, Peggy Shinn has covered seven Olympic Games. She has contributed to
TeamUSA.org
since its inception in 2008.