Four-Time World Champ Carissa Moore Wins Rip Curl Newcastle Cup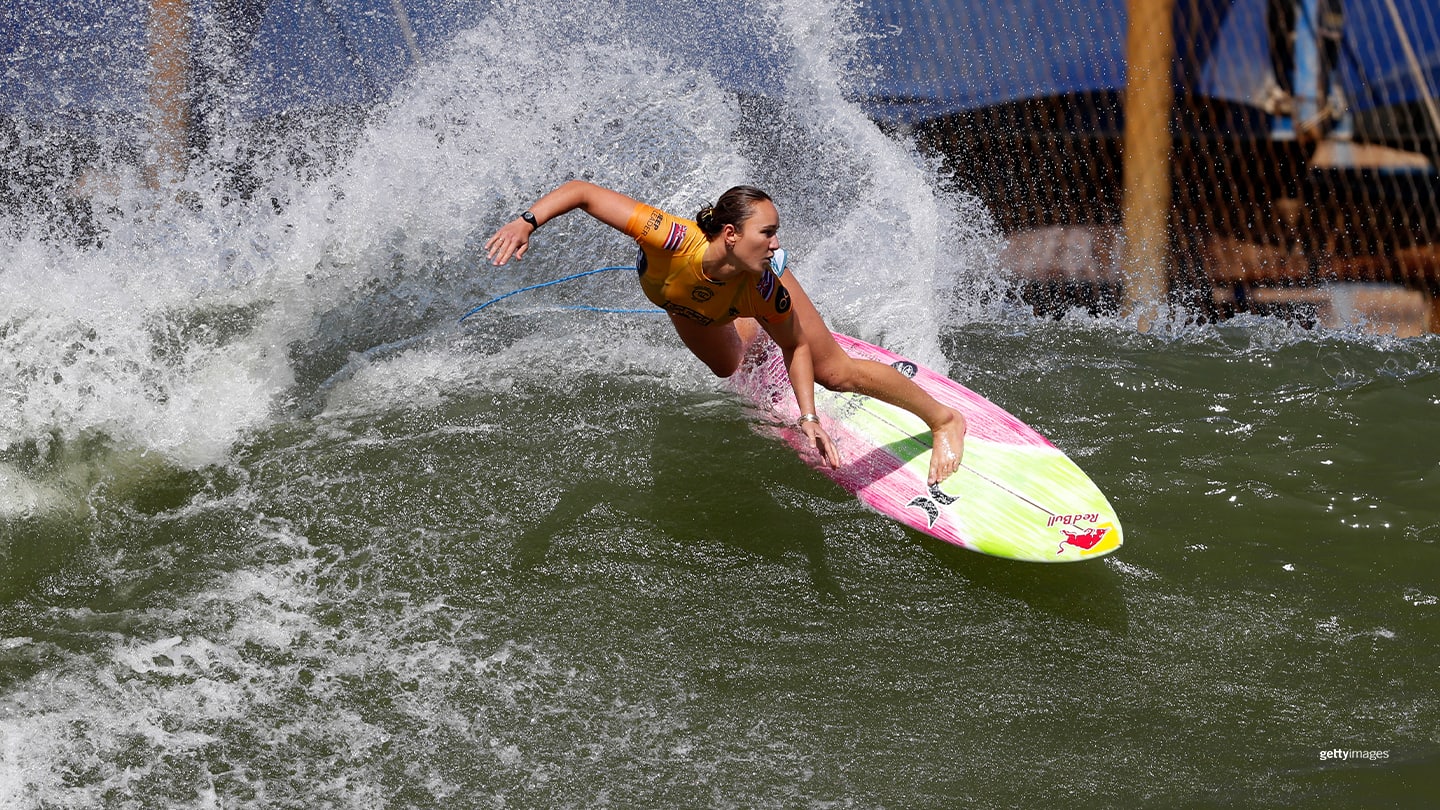 Carissa Moore competes during the 2019 Freshwater Pro-WSL on Sept. 20, 2019 in Lemoore, Calif.
There was no show-stopping aerial trick on finals day for surfer Carissa Moore, but she didn't need one.

The four-time world champion and soon-to-be Olympian captured her first win of the season at the second contest on the 2021 World Surf League schedule. Moore defeated fellow American Caroline Marks in the semifinals and ended rookie Isabella Nichols' dream run in the final of the Newcastle Cup in Newcastle, Australia on Saturday.

Moore, a 28-year-old Hawaiian, will represent the United States as surfing makes its Olympic debut later this summer in Tokyo.

She started off the day in an all-American semifinal against Marks. Although Marks was strong on the waves she did get, she struggled making connections and her top-scoring wave earned a 6.00. Moore, on the other hand, started off with a score of 8.33 on her very first wave, followed that up with a score of 8.37, and ended up with a high score of 9.37 for a total of 17.74 and the win.

Nichols knocked off fellow Australian Stephanie Gilmore, a seven-time world champion, in the quarterfinals and beat Australia's Keely Andrew in the semifinals.

Good waves were hard to find early in the heat. Moore finally got her first one 17 minutes in and turned in a solid ride for a score of 6.17. She carved up her second wave with ease, combining wide, crisp turns with some speed, and scored a 9.5.

It was all too much for the newcomer Nichols, whose highest-scoring wave was 4.67. Moore totaled 15.73 to Nichols' 8.34.

As impressive as Moore's win was, however, she may be more remembered in the competition for what she did the day before in the quarterfinals. She's been working on her aerial moves — launching out of the water similar to snowboarders in a halfpipe — and landed a massive air reverse that's being called the biggest ever in a women's competition. It scored her a 9.90, just shy of a perfect 10.

She immediately put her hands to her cheeks, her mouth open in disbelief, as she rode out of it.

"It's definitely something I think about a lot is trying to be more innovative and push maneuvers above the lip," she said in an interview afterward. "My landing ratio isn't great so I think that's why I was just really stoked to make it. But it's definitely something I'd love to bring in more often into my surfing and hopefully at the Olympics."
Karen Price is a reporter from Pittsburgh who has covered Olympic and Paralympic sports for various publications. She is a freelance contributor to TeamUSA.org on behalf of
Red Line Editorial, Inc.