Carissa Moore Brings Historic First Olympic Surfing Gold Medal Home To Hawaii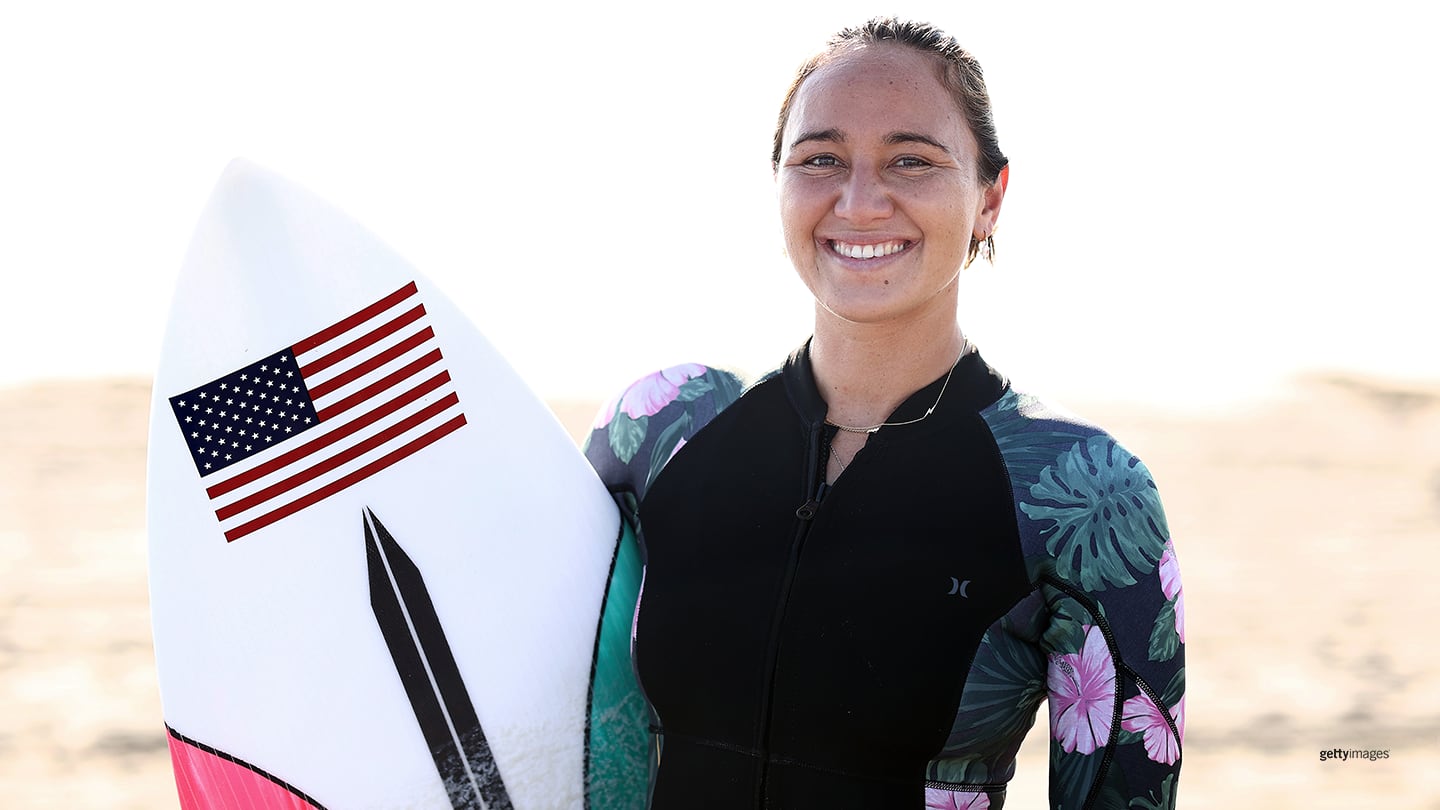 Carissa Moore poses ahead of a training session at the Olympic Games Tokyo 2020 on July 24, 2021 in Tokyo.
There is a statue on Waikiki Beach of Hawaiian surfing pioneer Duke Kahanamoku, his outstretched arms welcoming all visitors to the world-famous beach and surfing hotspot.

Kahanamoku was an Olympic gold medalist in swimming, competing in three Olympic Games in 1912, 1920 and 1924. Surfing was barely known in the mainland U.S. at the time and Kahanamoku could only dream of competing in his sport at the Olympic Games. It's fitting then that a native Hawaiian took one of the first gold medals in surfing's debut at the Olympic Games Tokyo 2020. But Carissa Moore isn't planning on a statue quite yet.

"I don't think I'll have a statue," she laughed. "There's only a few people in Hawaii who deserve that and Duke Kahanamoku is there with open arms in Waikiki. He was someone I've looked up to since I was a little girl surfing.

"I'm definitely inspired by him and I hope to share that love and Olympic spirit."

Even if she doesn't get the statue, Moore is already one of the icons of Hawaiian surfing. The woman who competes under the Hawaiian flag in World Surf League competition has four world championships to her name — she'll go for a fifth next month — and now the historic Olympic gold medal. The native of Honolulu lived up to her reputation as the No. 1 surfer in the world.

"Before I came (to Tokyo), I actually watched a documentary of Duke, just learning about his life, how he lived with the aloha spirit, and how many people he touched. This was his dream, to have surfing in the Olympics. I hope I made him and my people proud."
It was on the shores of Waikiki Beach that Moore first learned to surf, taking lessons from her dad. Moore, 28, has been on a board since the age of 5 and became a dominant presence in the amateur rankings, capturing 11 national titles. Her arrival to the WSL in 2010 changed the complexion of the World Championship Tour. Moore broke up Stephanie Gilmore's run of four championships in a row with her 2011 title and the pair would hand the championship back and forth over the next four years. Moore has been waiting a while for her Olympic turn, qualifying back in December 2019 at the same event in which she won her fourth world championship.
Not even an approaching typhoon could stop Moore's run to the gold medal in Tokyo. Creating detrimental conditions for other sports, the waves churned up at Tsuragasaki Beach were just what surfers needed. Moore checked off one bit of trivia when she became the first woman to win an Olympic surfing heat with a score of 11.74, earning her a bye into the third round. Moore posted a score of 10.34 to top Peru's Sofia Mulanovich and make the quarterfinals. That was no small feat given that other WSL title contenders such as Gilmore and France's Johanne Defay were eliminated.
"It was crazy to see some top seeds bow out earlier this morning," Moore said at the time. "It just goes to show that these conditions are very tricky. I'm pretty focused on myself at the moment, there's so much going on. It's hard to see your friend (Defay) go down, but I've got a lot on my plate, so I'm just trying to keep it simple and focus on myself."
Moore put up one of the highest scores in the event, a 14.26 to beat Brazil's Silvana Lima in the quarters. The tricky conditions then came for her, affecting her semifinal with Japan's Amuro Tsuzuki. Moore was able to get by, 8.33-7.43.
"That was a nail-biter," she said. "It was just way too close for my liking. … I'm very grateful to be in the final."
The final was a fascinating matchup between a four-time world champion and Bianca Buitendag of South Africa, who had yet to post a win on the Championship Tour. Moore saved her best for last, catching a big wave and taking a 14.93-3.43 lead with 13 minutes left. She held on to win 14.93-8.46.
"I'm very proud and honored," Moore said after the final. "It's been a crazy couple of days, a little bit of a rollercoaster of emotions just trying to figure out the break, find my rhythm, learning how to trust myself without my family here. I feel super blessed, super fortunate. It's been an incredible experience."
Moore of course gave a shoutout to her friends and family watching back home in the Aloha State.
"I love you guys so much. I wish you guys were here. I wouldn't be where I'm today without you guys. I can't wait to come home and celebrate."
Moore returned home to Hawaii for a little rest and relaxation before the WSL tour resumes Aug. 10 with the Corona Open Mexico in Barra de la Cruz, Oaxaca. Then just one event remains before September's finals at the world-famous Trestles near San Clemente, California. Moore is the No. 1 surfer on the women's tour, having not finished lower than third all season. During her respite before resuming the quest for a fifth world championship, Moore made an important stop in Waikiki.
"Stopped by to share my leis with Duke to honor our father of modern day surfing and the ambassador of Aloha," Moore wrote on Instagram. "Surfing wouldn't be what it is today without him and all those who have come before."
Todd Kortemeier is a sportswriter, editor and children's book author from Minneapolis. He is a contributor to TeamUSA.org on behalf of Red Line Editorial, Inc.