Young And Ebullient U.S. Trio Pursues Women's Team Title At Huntington Beach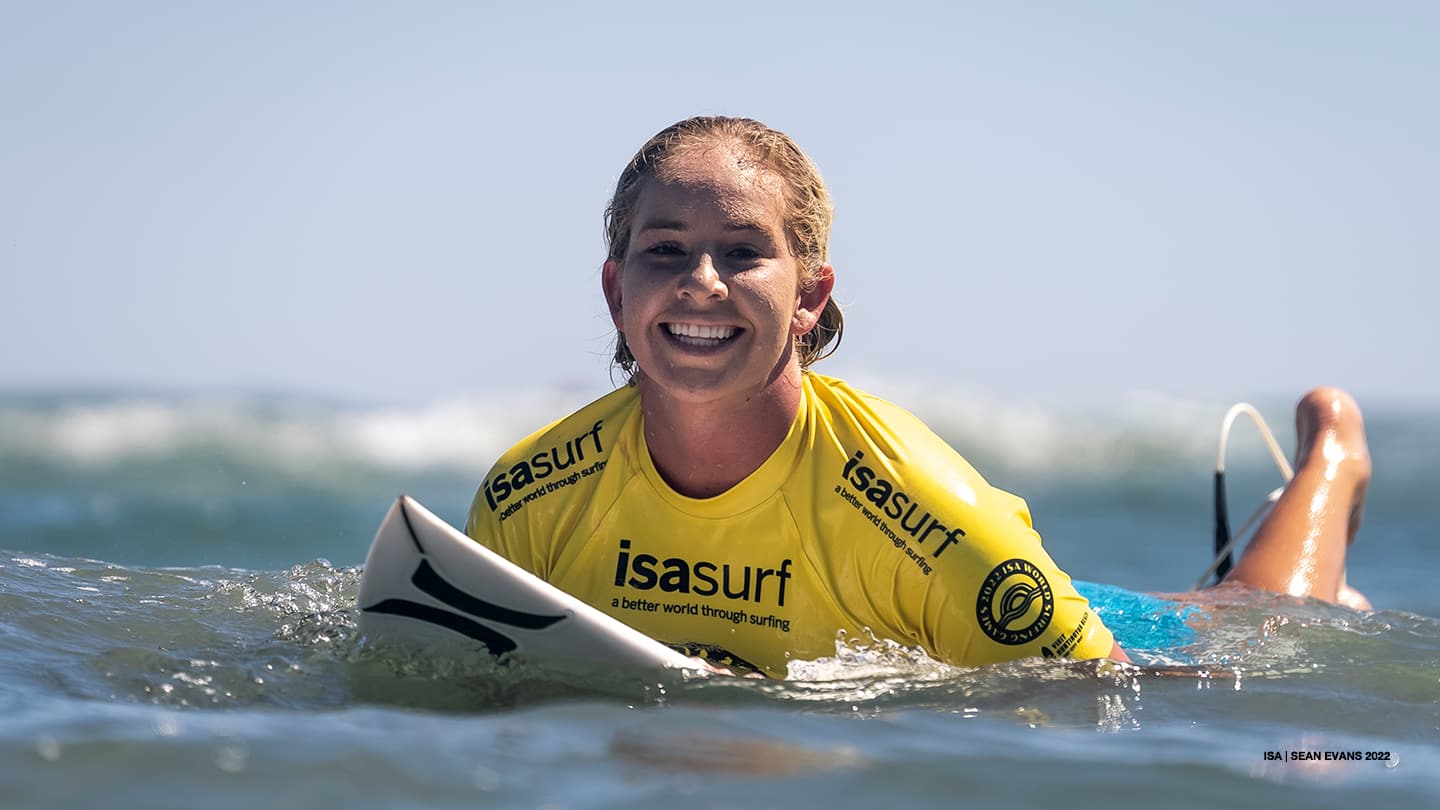 Gabriela Bryan training ahead of the 2022 ISA World Surfing Games on Sept. 20, 2022 in Huntington Beach, Calif.
HUNTINGTON BEACH, Calif. – U.S. surfer Gabriela Bryan shares a tidbit of advice to the international surfers who have descended upon Huntington Beach to compete at this week's ISA's World Surfing Games.

"Don't fear the pier," says the 20-year-old Hawaiian surfer, referring to HB's iconic landmark, which stretches 1,850 feet into the Pacific Ocean. Some of the legendary surf town's best waves can be caught adjacent to the pier, yet the location can also pose an array of problems even for the most skilled of surfers.

Bryan is one of the sport's rising young stars having been named the World Surfing League's Rookie of the Year for 2022. This week Bryan is teamed up with a pair of equally young, albeit experienced and talented surfers – Kirra Pinkerton, 20, and Zoe McDougall, 22.

Pinkerton, the lone surfer from California among the group, offers additional insight into her teammate's comments about maximizing surfing alongside the famed pier.

"Normally, almost every event I've done in Huntington, I've stuck next to the pier," Pinkerton says. "There is that pure right that comes off it and the left that goes into it. Maybe because the way the sand moves with the current, it kind of forms that good wave there."

Local knowledge is paramount as the talented threesome is shooting for a coveted world title in the WSG team event. The reward is unprecedented – both the victorious men's and women's national teams will be allocated one Olympic slot for the Olympic Games Paris 2024, for their respective countries. The qualification award will be in addition to the maximum quota of two athletes per country, per gender, for surfing's Olympic encore.

Bryan exudes confidence in the team's quest to punch a ticket for Paris 2024.

"We have good vibes within the group, everyone is a joy to be around, everybody is surfing super good, so it's inspiring to do the best that we can here," Bryan says. "Securing that spot in the Olympics for Team USA is super important and I think we have a really good shot."

Pinkerton, 20, resides in nearby San Clemente and knows the Huntington Beach swells, and the relationship with the historic pier, quite well. As a 16-year-old, she burst onto the international scene winning the 2018 World Surfing League Junior World Title in Taiwan.

McDougall, 22, who grew up pushing limits at Hawaii's renowned Banzai Pipeline in her backyard, rounds out the Huntington Beach squad.

It is undoubtedly a crop of young and exciting U.S. surfing talent, each individually poised to make a big splash within the sport for years to come, and quite possibly at Paris 2024 and the Olympic Games Los Angeles 2028. A team triumph this week could actually open the door for all three to at least have a chance to represent the U.S. in Paris.
Chemistry is quickly developing between the threesome of surfers, all sharing a similar goal, and potential reward, this week in sun-drenched Huntington Beach.

"We're all feeding off each other and I think we have a really good team here, also with Kolohe (Andino), Griffin (Colapinto) and Nat (Young) supporting us," Pinkerton says, noting the guys' squad in Huntington Beach.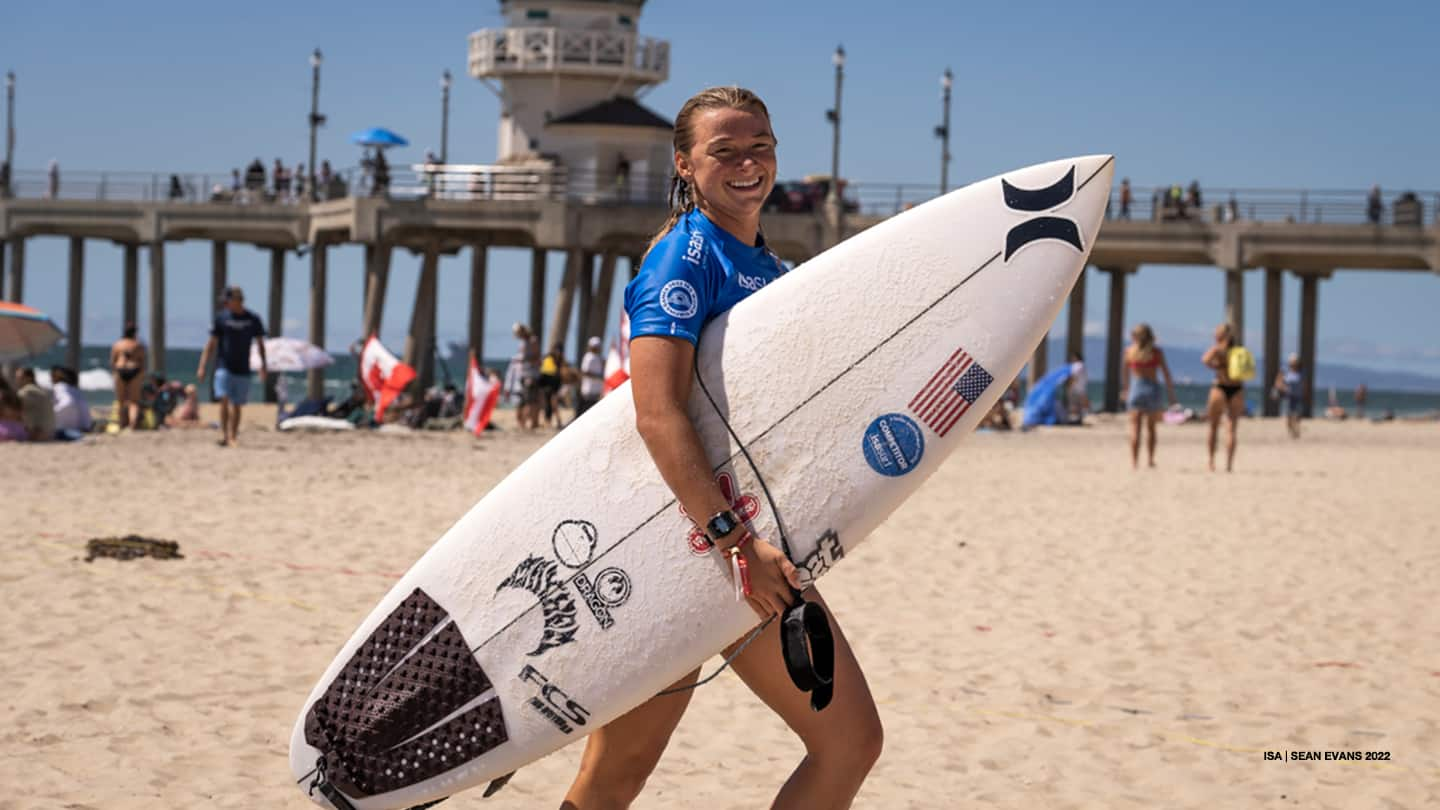 Kirra Pinkerton training ahead of the 2022 ISA World Surfing Games on Sept. 20, 2022 in Huntington Beach, Calif.
Team USA's stiffest competition this week is expected to come from Australia and France, while Portugal, with two Olympians on their team, could also contend. Don't count out South American powers Brazil and Argentina. Fifty-one countries are represented at the ISA flagship event.

U.S. coach Brett Simpson is confident about his youthful squad.

"We have kind of a younger crew here and they've all competed a lot in Huntington Beach, so I like our chances," Simpson says.

Bryan and Pinkerton easily cruised through the opening three rounds of competition across days one and two. Both looked poised and confident, executing maneuvers on tricky five-to-six-foot waves on Tuesday.

"Gabi and I making it through three rounds in a huge confident booster for us," said Pinkerton.

McDougall suffered a small hiccup finishing out of the top two in her second round heat. The top-two surfers in heats of four advance to the next round, while the bottom two are dropped to the repechage round in a double elimination format.

"I don't think we have to worry about Zoe – she's a super good surfer and I'm pretty sure she'll be able to make it through all the repechage heats," Pinkerton says. "We'll be there to cheer her on."


Onwards to Paris 2024, waves in
Tahiti
The three American surfers aspire to compete in the Olympic Games Paris 2024, with surfing being contested 9,765 miles from the Eiffel Tower on the epic swells of Teahupo'o, in Tahiti. Those within the sport seem unanimous in their assessment that it will be one spectacular, jaw-dropping show.

"It's intimidating 100-percent – it is probably one of the most raw, powerful waves on the planet," says Bryan. "It will push everyone out of their comfort zones, especially the girls."

"We're getting to surf Teahupo'o, which is something that pushes a lot of people's limits and I even know a lot of guys who are scared surfing there," Pinkerton adds. "It's going to be a very cool event for us."

The U.S. surfing triumvirate commend Tokyo 2020 Olympic champion Carissa Moore for her historic accomplishment last summer in Japan, and naturally, all would love to follow in her footsteps in 2024, or 2028.

"Having Carissa win a gold has been a huge inspiration and I also want to be up there one day," says Pinkerton. "I've always thought of myself as being a little Carissa," adds the five-foot, 100-pound surfer.

Bryan fearlessly adds: "There's no holding back in Tahiti – everyone will be going for it because everyone wants that gold medal."
Brian Pinelli is a freelance contributor to TeamUSA.org. Follow Brian on Twitter –
@Brian_Pinelli
.