Moguls Skier Tess Johnson Continues Ascent, Claims Bronze at World Cup Stop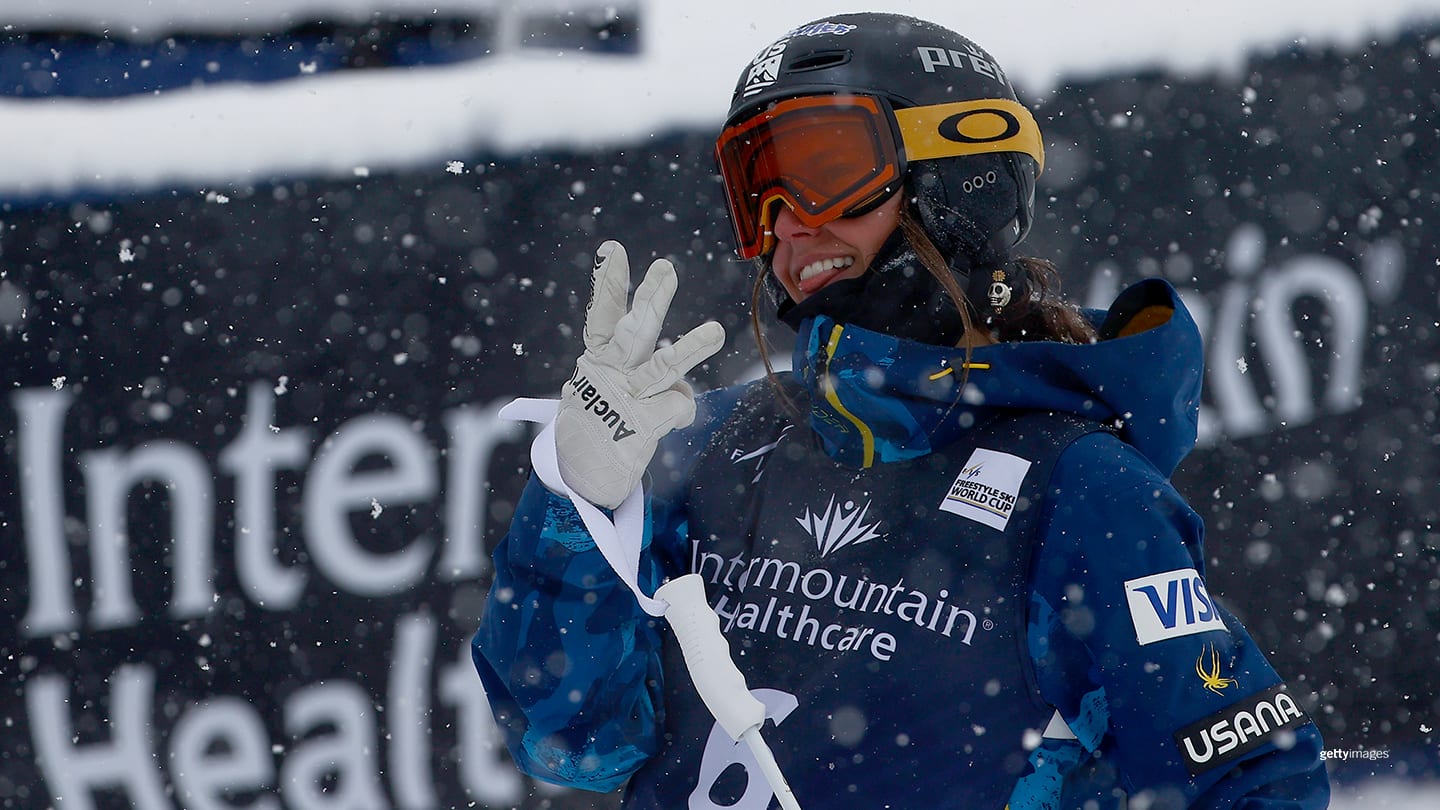 Tess Johnson reacts after a third place finish during the Women's Dual Mogul Finals during the 2021 Intermountain Healthcare Freestyle International Ski World Cup on Feb. 5, 2021 in Park City, Utah.
The momentum keeps building for U.S. moguls skier Tess Johnson. Coming off her first FIS World Cup podium in almost three years back in mid-December, Johnson found herself in the top three again Friday with a third-place finish in Tremblant, Canada.

Johnson scored a 79.25, coming in behind Japan's Anri Kawamura in first with a score of 81.76 and France's Perrine Laffont with a score of 81.43.

"This whole season, Tess has a fire going on, with her intensity and her positivity," moguls coach Bryon Wilson said. "She's approaching every competition with a very clear objective, and she's executing. She's been very consistent."

Just behind Johnson was Elizabeth Lemley, making her World Cup debut. Lemley finished fourth, a mere 0.01 points behind Johnson.

"I'm feeling really happy, I just had so much fun today, and I'm really proud to land on the podium after a stressful Christmas and only two days of training," Johnson said. "I took it one run at a time and just focused my attention toward my queues. I also want to congratulate Liz for such an incredible debut. We were only 0.01 points apart, so in a way I share this success with her. It's always so fun to ski in a supers with teammates."

Olivia Giaccio was the top American finisher in Saturday's event, coming in fifth place followed by Lemley in seventh and Johnson in eighth.

Johnson, who is still seeking her first world cup win, is the top-ranked American. The 21-year-old was the youngest athlete ever named to the U.S. Ski & Snowboard Team when she joined in 2016 at the age of 14. Now 21, she is seeking her second Olympic appearance. Prior to reaching the podium in December, her last top-three world cup finish was a third place Jan. 18, 2019.

In the men's competition, Nick Page finished just off the podium Saturday in fourth place with a score of 77.34. The day before, he just missed making it into the super final round, finishing seventh.
Karen Price is a reporter from Pittsburgh who has covered Olympic and Paralympic sports for various publications. She is a freelance contributor to TeamUSA.org on behalf of
Red Line Editorial, Inc.