Brittany Bowe Makes Her Third Olympics, While Newcomer Jordan Stolz Is Headed To First
Brittany Bowe poses before the women's 1,000-meter race at the 2022 U.S. Olympic Team Trials — Long Track Speedskating on Jan. 6, 2022 in Milwaukee.
One of the best in the world over the past several years in the 1,000-meter, Brittany Bowe won her signature event Thursday at the U.S. Olympic Team Trials — Long Track Speedskating in Milwaukee, in the process clinching her third Olympic berth.

As expected, she'll be headed to the Olympic Winter Games Beijing 2022 next month with fellow Ocala, Florida, native Joey Mantia, though in one of the surprises of the second night of racing at the Pettit National Ice Center it was local teenager Jordan Stolz who won the men's 1,000 to clinch his first Olympic berth, while Mantia took second.

The arena may have been quiet without the usual cow bells or cheering crowds due to COVID-19. Still, the energy was electric with two quota spots for both the men and women in the 1,000-meter event.

Bowe, the world-record holder and defending world champion in the event, outpaced her competitors to win in 1:13.63, breaking a Pettit track record in the process. She'll be joined in Beijing by rising star and former short track speedskater Kim Goetz, who came in second with a time of 1:14.89. Erin Jackson, a 2018 Olympian, came in third at 1:15.88.

Jackson, who this fall became the first Black woman to win a world cup race, will be the favorite in Friday's 500-meter, an event in which she could be a medal contender in Beijing.

Like many long track skaters, Bowe, 33, got her start racing on inline skates. After an interlude playing Division I basketball at Florida Atlantic, she transitioned to long track and soon took off on the ice.

Known for her consistently, she has won four world titles, with three of them coming in the 1,000, in addition to two sprint world titles. Over two Olympics, her best finish was in the team pursuit in 2018, where she helped the U.S. win a bronze medal.

Though she came into Milwaukee as a heavy favorite, Bowe said she didn't take anything for granted.

"It is the Olympic trials, and you get one shot, so there's nerves and excitement there," she said. "So to get the first one out of the way and have a smooth solid race is great to get the weekend started."

She'll be joined in Beijing by 27-year-old Goetz, who is headed to her first Winter Games after previously contending for Olympic berths as a short track skater.

A native of Flemington, New Jersey, Goetz began inline skating at age 9 and picked up short track after moving to Utah in 2013 to live with her sister. By 2014 she was competing at the Olympic trials, where she finished fifth overall, and not long after that she was representing the U.S. at worlds cups and the world championships.

As she was gearing up for the 2018 U.S. Olympic Trials, however, she sustained a concussion, taking her out of the competition and magnifying her frustration.

After missing those trials, Goetz found competing against the clock and just one competitor better suited her and made the transition to long track. Circling a 400-meter oval instead of the 111-meter was a significant change, but one she adapted to quickly.

"I would say the short track training that I did for almost five years gave me a good base for long track training," she said. "Short track training is really demanding, and a lot of times you're on ice nine to 10 times a week. That gave me a strong base to help my long track training as well as (dealing with) fear and the speed and the nerves for the long track."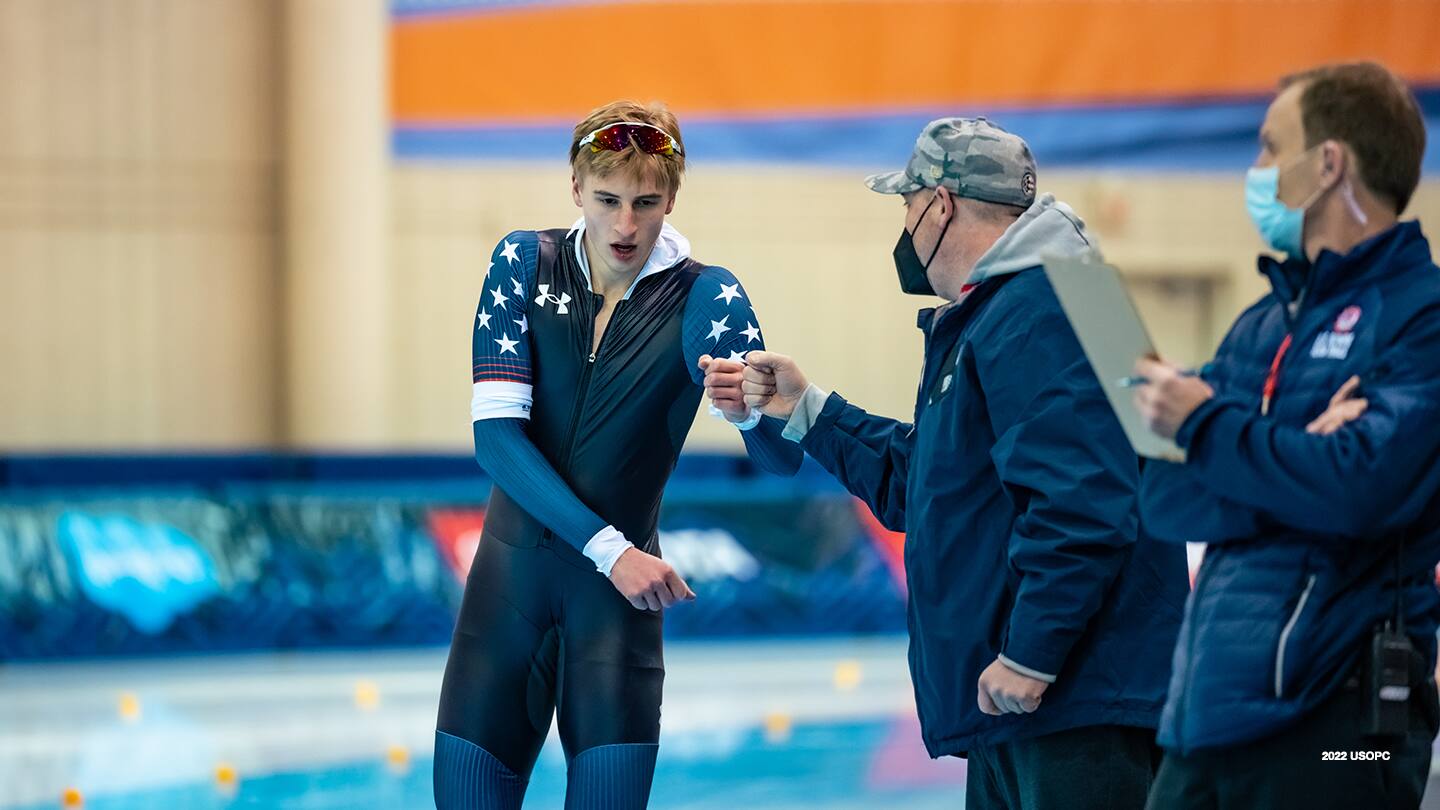 Jordan Stolz celebrates after competing in the men's 1,000-meter race at the 2022 U.S. Olympic Team Trials — Long Track Speedskating on Jan. 6, 2022 in Milwaukee.
Olympic veteran and three-time world champion Mantia arrived in Milwaukee as the top U.S. man so far this season. He'll have to wait for his first win of the trials, however, after 17-year-old Stolz of nearby Kewaskum, Wisconsin, upset the veteran to win with a time of 1:07.61, more than a second faster than Mantia's 1:09.00.

The result confirmed Stolz, who set a junior world record in the event last month in Calgary, Alberta, was no one-hit wonder.

Just 11 years ago, Stolz was enchanted watching short track star Apolo Ohno at the Olympic Winter Games Vancouver 2010. Dirk Stolz, seeing how mesmerized his son was by Ohno, decided to shovel the snow off the family's three-acre pond and let his son try skating.

Everything took off from there.

Dirk, a third shift deputy sheriff, stays home during the day to drive his son to the Pettit Center, where he trains. Stolz's mother Jane works opposite hours and arranges his homeschooling along with picking her son up at night.

Eleven years and countless hours making the 90-minute round trip from Kewaskum to the Pettit Center, Stolz charged his way through the oval, clinching his Olympic spot and breaking a track record.

If he didn't appear excited to make his first Olympics, that doesn't mean he wasn't. Stolz's usual demeanor is quiet, and his subdued, laconic way is quickly becoming part of his brand.

Stolz felt his race was "good enough." The teenager has a way of being hyper-critical, always looking to get better in his race, whether it is speed or technique. Stolz is not only going to Beijing. Many people feel he's a genuine medal contender.

"I mean there's a possibility for it. I'm not expecting it," he said in his typically understated way. "I'm just going to try to do the best that I can at the Olympics and see where it ends up. I'd like to get in the top five or top six. I'd be happy with that."

Making his third Olympics, Mantia is on a quest to earn his first medal. While the Olympic spots have not been allocated yet, it is expected that Mantia will race the 1,000 in Beijing; he placed fourth in that event in 2018 in PyeongChang.

However, his best shots at medaling individually are expected to come in the 1,500 and the mass start, in which he's a three-time world champ. Mantia, who turns 36 in February, will race those events this weekend in Milwaukee. Earlier this year he also was part of a U.S. threesome that set a world record in the team pursuit.

Mantia said he's Stolz grow as a skater for several years and is thrilled about his teammate's meteoric rise, believing Stolz will make a considerable contribution to TeamUSA.

"I watch him in practice and I'm like, 'I gotta go faster,'" Mantia laughed. "I think Jordan is on an amazing path and he's got a good future ahead of him."
Kelly Feng is a sports journalist based in Wisconsin. She is a freelance contributor to TeamUSA.org on behalf of
Red Line Editorial, Inc.