6 Team USA Winter Athletes On The Cusp Of Turning 40
While it's true that some sports have minimum age requirements to compete in an Olympic or Paralympic Games — for example, bobsled is 14; figure skating is 15 and luge is 16 — there are no rules to govern when an athlete is too old.


Just look at snowboarder Nick Baumgartner. On the cusp of turning 40, he landed on his first podium in four years and only two weeks before his big birthday. Ironically, the world cup course was the same one he will be competing on in Beijing — should he make his fourth Olympic team later this month.


Check out these six Team USA winter athletes who are on the cusp of turning 40 ahead of Beijing — including alpine skier Steve Nyman, who will celebrate his big 4-0 on February 12 at what would be his fifth Olympic Games.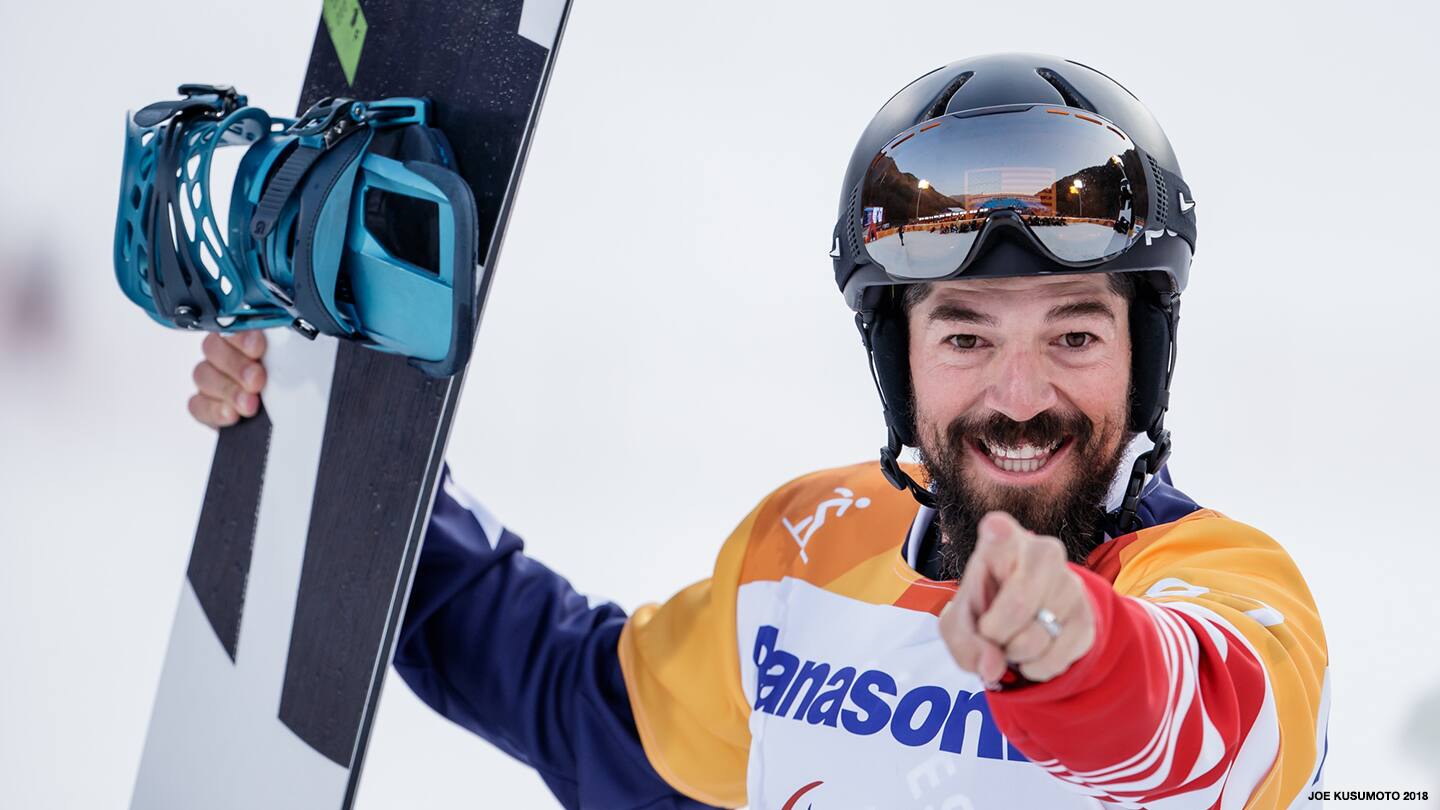 Keith Gabel celebrates after competing in the men's SB-LL2 snowboardcross at the Paralympic Winter Games PyeongChang 2018 on March 12, 2018 in PyeongChang, South Korea.
6. Keith Gabel turns 38 in July - Para
Snowboarding
As the youngest on our list, this two-time Paralympian is looking to round out his medal collection at the Paralympic Winter Games Beijing 2022. At his first Games in 2014, Gabel brought home a bronze medal in snowboardcross when the sport made its Paralympic debut in Sochi. Four years later, he landed on the podium again with a silver.

The Utah native — who now competes in snowboardcross and banked slalom — was introduced to snowboarding in 2000. Five years later, he decided to amputate his left leg just below the knee after an accident that crushed his foot. He continued snowboarding, and in 2010 — when he learned about competitive para snowboarding — he began training competitively.

This season, with three out of six podium finishes at the end of the first world cup competitions — and one gold — Beijing is looking promising. Next up is the world championships, where he hopes to secure his spot on the team headed to China in March.
5. Laurie Stephens turns 38 in March - Para Alpine
Skiing
With age comes wisdom — and experience. After four Paralympic Games, a spot on the Beijing team would make this seven-time medalist the most experienced athlete on the current para alpine skiing national team.

The Massachusetts native — born with spina bifida — has been skiing since the age of 12 and was already on the racing circuit by the age of 15. She won her first world cup as a rookie as a 21-year-old. The following year she made her Paralympic debut, where she won her first gold and silver medals.

Last month she competed at the Paralympic world cup in St. Moritz, where she finished second in slalom and just missed a spot on the box with a third, fourth and fifth-place finish in the giant slalom events.

A place on the Beijing team will have her looking to add to her two golds, two silvers and three bronze medals.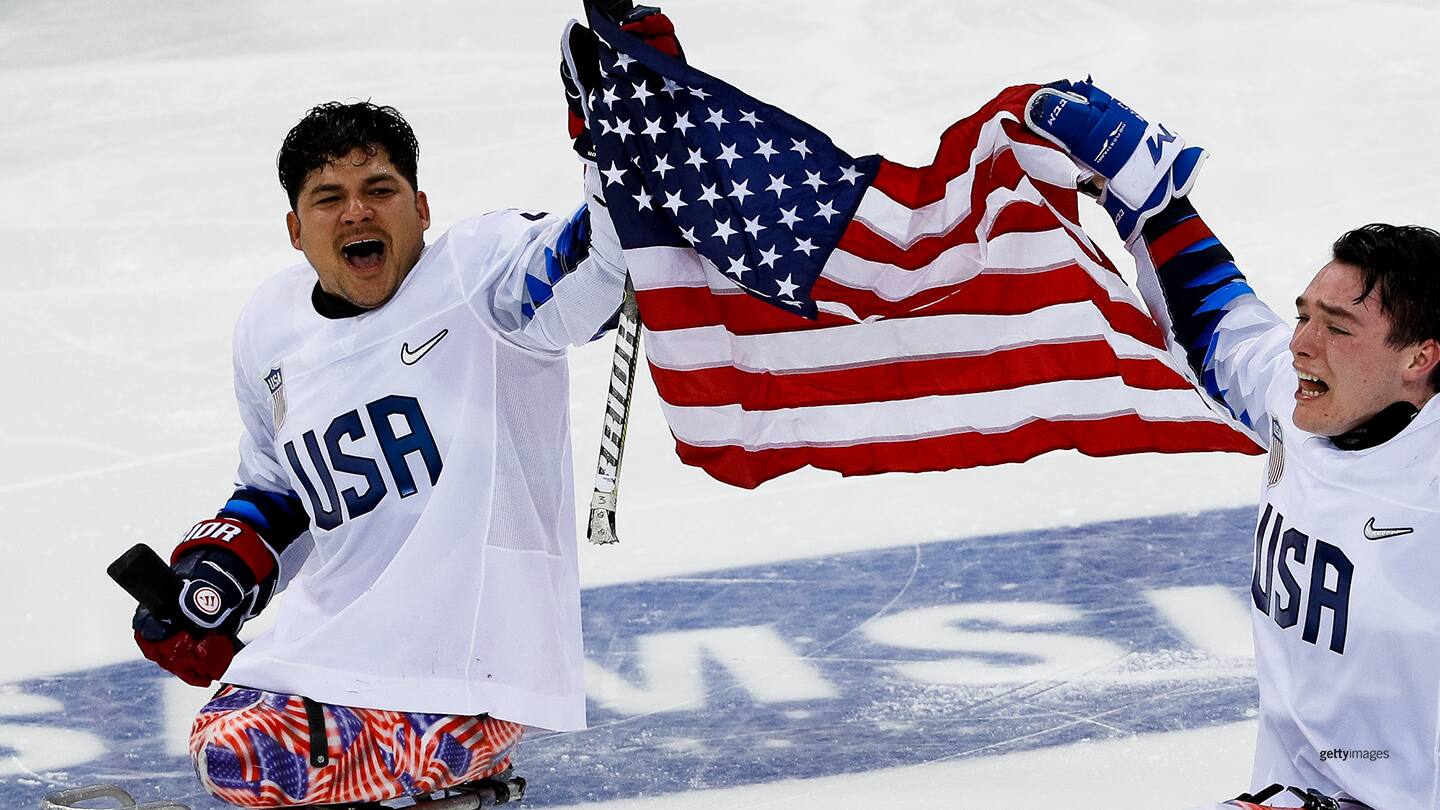 Ralph DeQuebec (L) and Jack Wallace celebrate winning the gold medal sled hockey game between the United States and Canada during the Paralympic Winter Games PyeongChang 2018 on March 18, 2018 in Gangneung, South Korea.
4. Ralph DeQuebec turns 39 in March - Sled
Hockey
This 2018 Paralympic gold medalist continues to prove that age is nothing but a number. The defenseman — who was injured in Afghanistan in 2012 in the U.S. Marine Corps and had his legs amputated above the knees — was almost deterred from playing sled hockey.
A para sports recruiter told him at 30 years old that he was too old to make the men's national team, and suggested he look for another sport to try. Thankfully he didn't listen and went on to help his team win their third straight gold medal in PyeongChang.
The men just bested Canada's men's sled hockey team this summer to win their fifth world championship title and hope to do the same in Beijing, where they will be looking to add to their three straight gold medals and bronze medal from 2006.
3. Lolo Jones turns 40 in August - Bobsled and Track and
Field
This three-time Olympian's specialty was track and field in her early days. But, after a mishap on the penultimate hurdle at the Olympic Games Beijing 2008, which had her in the lead, the then 26-year-old crossed the finish line in seventh place. In 2012 she missed the podium again, coming in fourth in London.
Upon entering her 30s shortly after the London Games, Jones started bobsled as a form of cross-training and was invited to the U.S. women's bobsled push championship. A couple of weeks after joining the U.S. team, she placed second with teammate Jazmine Fenlator at a world cup event. The two of them competed in Sochi together, finishing in 11th place.
Now looking to redeem her Beijing experience, the two-sport athlete has competed in one world cup this year, finishing in 10th place with teammate Kaillie Humphries. She hopes to make what will be her second Winter Games.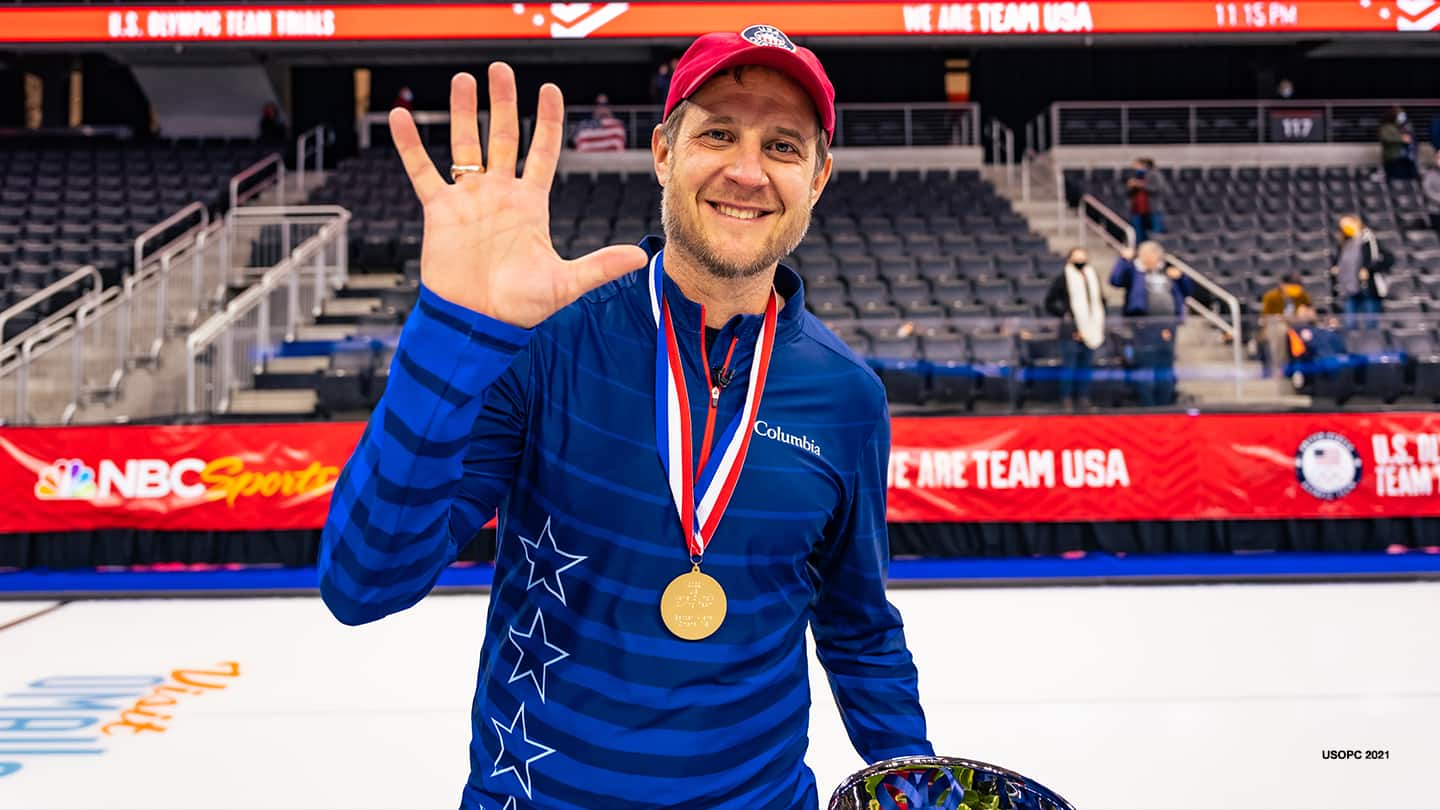 John Shuster celebrates after winning the U.S. Olympic Team Trials to advance to the Olympic Winter Games Beijing 2022 on Nov. 21, 2021 in Omaha, Neb.
2. John Shuster turns 40 in November -
Curling
The road for one of the most accomplished curlers in U.S. history hasn't always been easy. Still, there is no shortage of accolades over a two-decade career: seven-time national champion, one world championship bronze medal, gold, and bronze medals over four Olympic Games.
Shuster helped the U.S. win bronze in 2006 for its first-ever Olympic curling medal in Torino in his Olympic debut. Four years later, he would skip his own team for the first time in Sochi, finishing in 10th place. A sub-par performance in 2014 led to him and a teammate getting dropped from USA Curling's High-Performance Program.
Looking to keep competing and well into his 30s, the two formed their own team, won a national championship in 2015, followed by a bronze medal at worlds in 2016. The historic gold medal arrived in 2018, along with the title of the first American team to win Olympic gold in curling. With a fifth consecutive win at the recent U.S. Olympic Team Trials, Shuster and his team have secured a spot in Beijing to defend their title.
1. Steve Nyman turns 40 in Beijing - Alpine
Skiing
Rounding out our list is this four-time Olympian who is looking to celebrate his big 4-0 in Beijing. While he has yet to secure that elusive hardware, Nyman has been on the U.S. national team since 2004 and has been to every Winter Games since 2006.
The father of two started skiing at two as his dad ran the ski school at Sundance Mountain Resort in Utah. By the age of eight, he had competed in his first slalom race, only later to become a speed specialist with a specific focus on downhill.
In 2018, 12 days before the PyeongChang Opening Ceremony, he tore his ACL during a training run and could not compete. So far this season, he had his best result with 18th place at the Beaver Creek world cup downhill. He also competes in the Super-G as he looks to secure a spot for Beijing.
Lisa Costantini is a freelance writer based in Orlando. She has covered Olympic and Paralympic sports for various publications, and has contributed to TeamUSA.org since 2011.