The 2022 Olympics Light Up With Fire And Ice As Winter Games Officially Open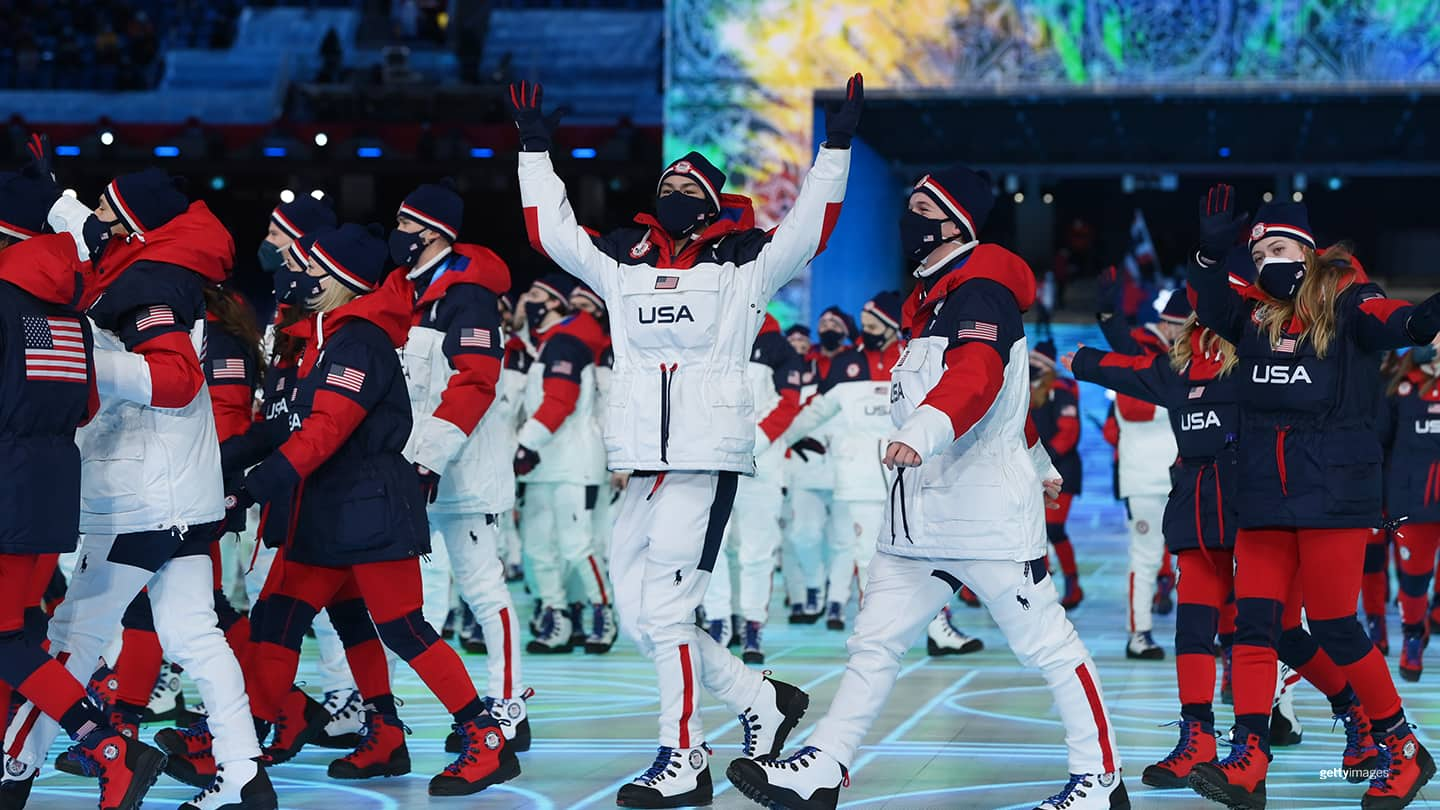 Members of Team USA wave during the Opening Ceremony of the Olympic Winter Games Beijing 2022 on Feb. 4, 2022 in Beijing.
BEIJING — It is an auspicious week in China's capital city. New beginnings are top of mind as locals welcomed the Year of the Tiger on Tuesday and then threw a party for the rest of the world to officially open the Olympic Winter Games Beijing 2022 on Friday.

Both celebrations were held against admittedly difficult backdrops. The COVID-19 pandemic continues to affect daily life in China, as it does around the globe, and threatened to derail these Games as it has so much else. But instead, the Games arrived on time and wrapped in a colorful tapestry of ice and fire.

"I'm just so excited we are all here," said Susanne Lyons, U.S. Olympic & Paralympic Committee board chair and president, ahead of the ceremony Friday. "I don't know if all of us really thought this day would come but Opening Ceremonies is upon us. We have athletes from all over the world incredibly excited and finally feeling relieved to know that they are on the ground and able to do what they do best."

Held in Beijing's famed National Stadium — which became known to the world during the 2008 Games as the Bird's Nest and is now the first stadium to host the Opening Ceremony for both a Summer and Winter Games — the 2022 Opening Ceremony was built around the central concept of "The Story of a Snowflake." Directed again by Zhang Yimou, architect of the memorable 2008 ceremony, the production honored Chinese history and culture while exemplifying the Games' motto of "Together for a Shared Future."
Playing out across a nearly 125,000 square feet of HD LED "ice sheet" on the stadium floor, the story begins with the beginning of spring, which first arrives with still freezing temperatures that Chinese people believe can breed new life. Snowflakes were a dominant motif of the ceremony, in subtle ways such as snowflake-shaped placards for the 91 national delegations that marched into the stadium.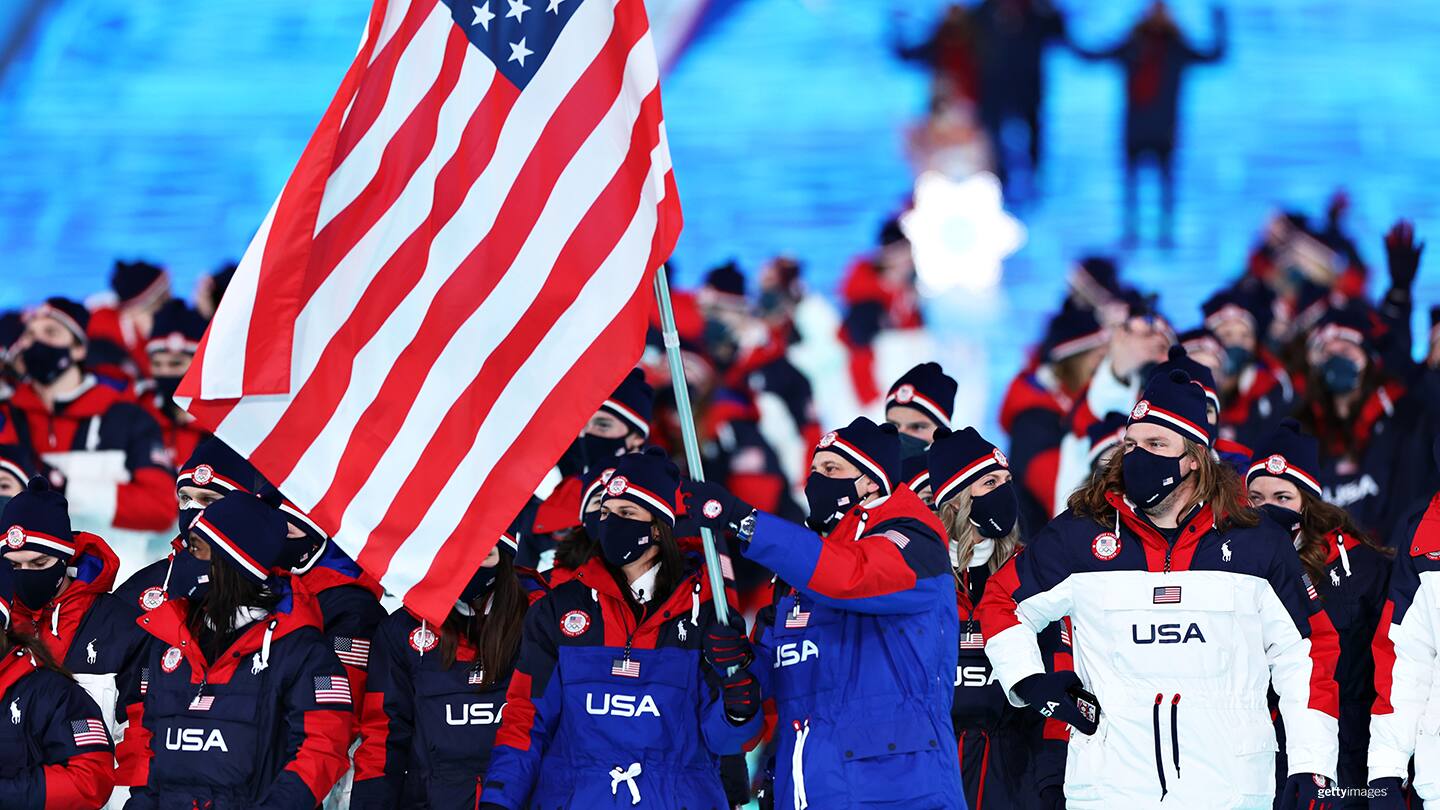 Elected flag bearer John Shuster and Brittany Bowe lead Team USA during the Opening Ceremony of the Olympic Winter Games Beijing 2022 on Feb. 4, 2022 in Beijing. Brittany Bowe walked on behalf of elected flag bearer Elana Meyers Taylor.
Team USA marched in 177 athletes strong, approximately 80 percent of the delegation, believed to be a record or near record according to USOPC Chef de Mission Rick Adams. The team was led by the now-customary male and female tandem of flag bearers, this time 2018 curling gold medalist John Shuster and speedskating medalist Brittany Bowe. Bowe was filling in for three-time bobsled medalist Elana Meyers Taylor, who was unable to participate following a positive COVID-19 test.
"Being elected as one of the flag bearers is a tremendous honor," said Shuster, who is one of four Team USA athletes in Beijing competing in a fifth Olympic Games. "When thinking back to my Opening Ceremony experiences, I cannot help but be so proud to lead Team USA into an Olympic Winter Games. Joining the incredible group of Team USA leaders, especially since it was chosen by my Team USA teammates, is one of the greatest honors of my sporting career."

At 39, Shuster is nearly the oldest U.S. athlete in Beijing, but that "honor" belongs to snowboarder Nick Baumgartner, competing in his fourth Olympics at the age of 40. The youngest member of Team USA is figure skater Alysa Liu, aged 16 years, 6 months, younger than Baumgartner's 17-year-old son Landon.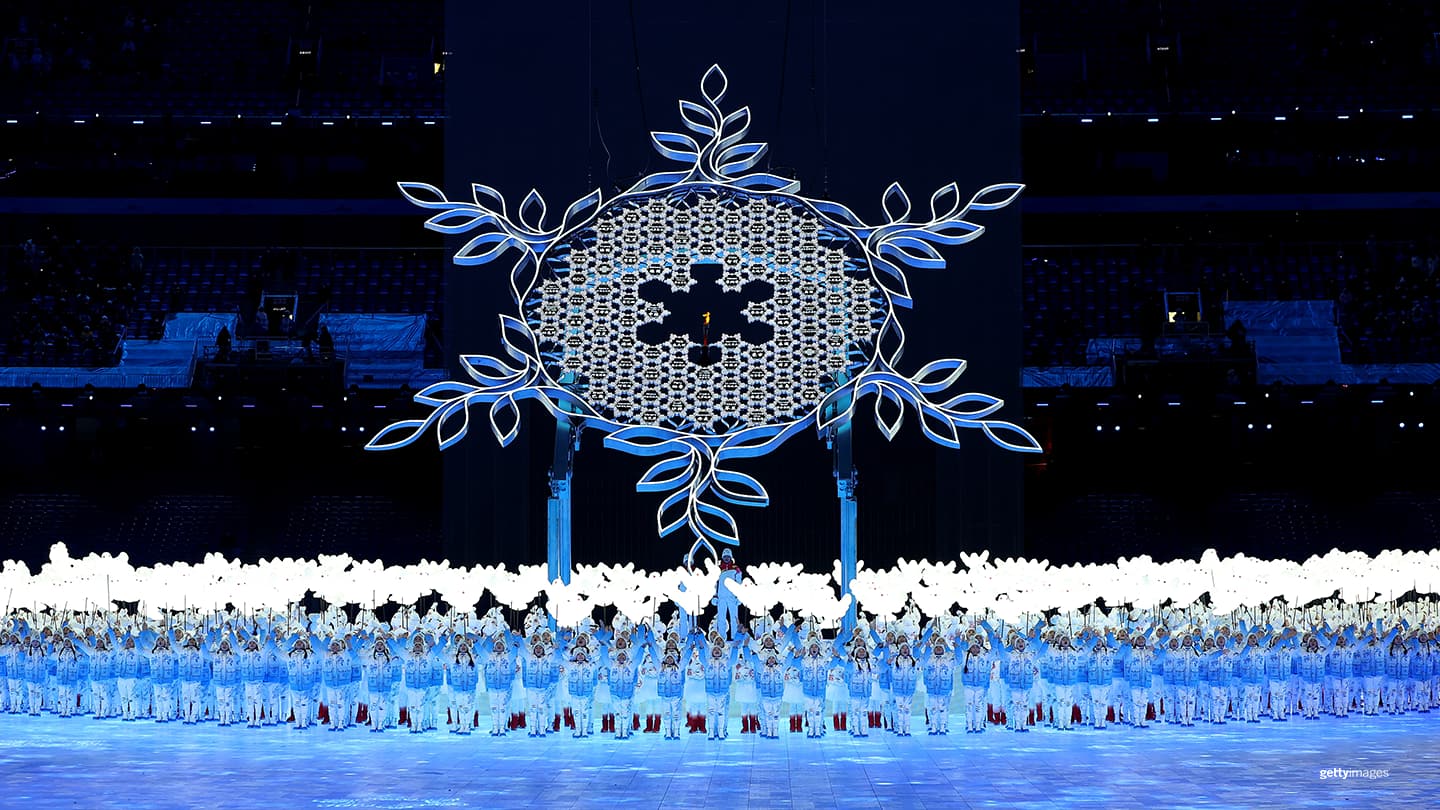 The Olympic flame is pictured above performers during the opening ceremony of the Olympic Winter Games Beijing 2022 on Feb. 4, 2022 in Beijing.
The 224-member U.S. delegation includes 92 returning Olympians, 39 of which are Olympic medalists. And 24 of them are as good as gold. Snowboarder Shaun White has the most gold medals with three, while snowboarder Jamie Anderson, bobsledder Kaillie Humphries (who previously competed for Canada), alpine skier Mikaela Shiffrin and halfpipe skier David Wise all have two apiece.

And even more medal opportunities await. The Beijing Games will have seven new medal events for a total of 109. New on the program are men's and women's big air skiing, women's monobob, a mixed team events in aerials, ski jumping and snowboardcross, and a mixed team relay in short track speedskating.

Following the athlete parade, those 91 snowflake placards then came together to form one giant snowflake ringed with olive branches, which formed the backdrop for remarks from President of the Beijing Organizing Committee Cai Qi and International Olympic Committee President Thomas Bach. Chinese President Xi Jinping then declared the 24th Winter Olympiad officially open underneath a thundering canopy of fireworks in the shape of a "Guest Greeting Pine" tree.

The virtual ice sheet captured the frolicking movements of children to generate snowflakes using live motion capture technology, a first on a surface of this size. A children's choir surrounded the giant snowflake in a heart shape to conclude the production. As ice is balanced by fire, no Opening Ceremony is complete without the lighting of the Olympic cauldron, which took the form of placing the Olympic flame inside the giant snowflake where it hung slowly spinning in the night air amid a cacophony of fireworks.

An Opening Ceremony cannot hide that the world is not yet back to normal. But for one night, athletes got to have the experience they have long dreamed of. For the next 16 nights, they'll chase the prizes they've trained all their lives for. The Games have, perhaps improbably, arrived. The world's greatest athletes will take it from here.
Todd Kortemeier is a sportswriter, editor, and children's book author from Minneapolis. He is a freelance contributor to TeamUSA.org on behalf of
R
ed Line Editorial, Inc.