Shaun White Concludes Renowned Olympic Career With Fourth-Place Finish In Halfpipe Finals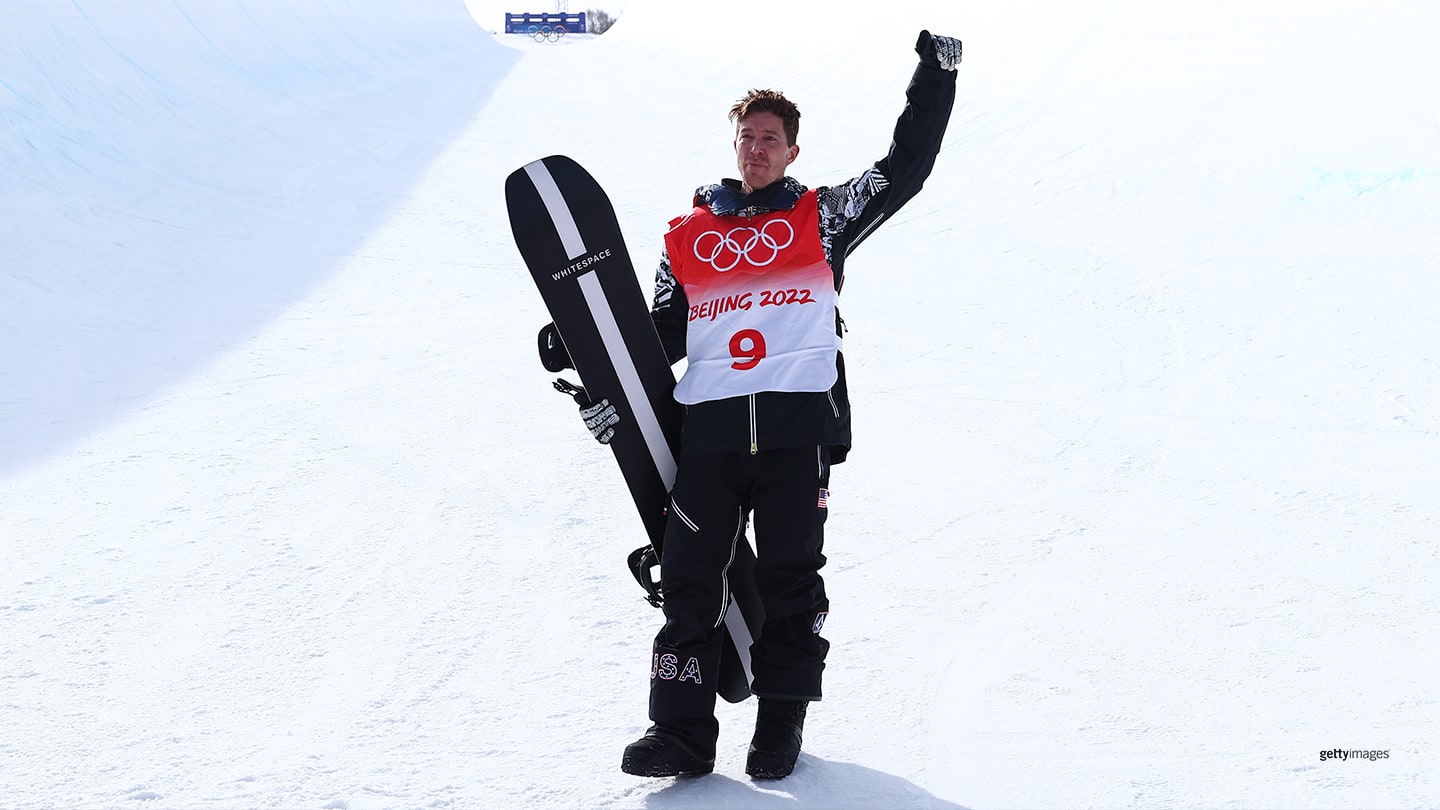 Shaun White poses after the men's snowboard halfpipe final at the Olympic Winter Games Beijing 2022 on Feb. 11, 2022 in Zhangjiakou, China.
ZHANGJIAKOU, China – The end of an era.

Shaun White's legendary and prolonged Olympic career came to a close Friday. The five-time Olympian competed in his fifth consecutive snowboard halfpipe finals, finishing in fourth place at the Olympic Winter Games Beijing 2022.

The three-time Olympic gold medalist was pushing for his fourth gold at Genting Snow Park, scoring solid first and second runs, which earned 72.00 and 85.00, respectively. White pushed to hit back-to-back cab double cork 1440s to edge onto the podium but failed to land his second.


LEVELED 🆙@shaunwhite x #WinterOlympics
pic.twitter.com/8Xk4e1w93Z


— Team USA (@TeamUSA) February 11, 2022

"I'm proud of what I put down, and I can't help but think if I would have hit the podium in third, I would have wanted second. If I got second, I would have wanted first," said an emotional White. "It's just the fighter in me and always hoping for more, but I'm proud. Fourth is great."

Japan's Ayumu Hirano made history after becoming the first person to land a full run including a frontside triple cork 1440 (three off-axis rotations with four complete spins). The 2014 and 2018 halfpipe silver medalist landed the trick several times, once in each of his three runs, scoring 33.75 (after falling later in the run), 91.75 and 96.00 to take home gold.

White attempted to become the first halfpipe snowboarder to land a triple cork on snow at the Olympic Winter Games Sochi 2014 but got injured attempting it in training, shelving the trick indefinitely. He had previously landed it on the air bag.

Australia's Scotty James, who won bronze in the men's halfpipe in 2018, went one spot higher here at the 2022 Winter Games, winning silver with a 92.50 from his second run. Jan Scherrer from Switzerland rounded out the stacked podium following an 87.25 high score.

"What a run [for] Ayumu [Hirano] and Scotty [James] and Jan [Scherrer]," White said after narrowly missing the podium. "I mean what a run [Hirano did]. That triple was incredible, it's the biggest air of the day and to put that down. I know he's wanted it, and it's his time."
White making it to Beijing 2022 was impressive in itself, becoming the oldest snowboarder to compete in the Olympic halfpipe at 35.
He dealt with it all, however, heading into the Games.
The San Diego native went through ankle and knee injuries – that still bothered him all the way to the finals – before managing to qualify to the 2022 U.S. Olympic Team at the last possible event, the
2022 Laax Open
.
"The last few months have been wild, just this revolving door of pushing to try to give it everything I have, but then realizing I'm human" White said. "I mean I spent an entire career not being human and doing what people thought was impossible, and then to have my ankle go and then my knee, and I had surgery before the season started – all these things wearing and tearing. To put down and to even be here, I was so thrilled."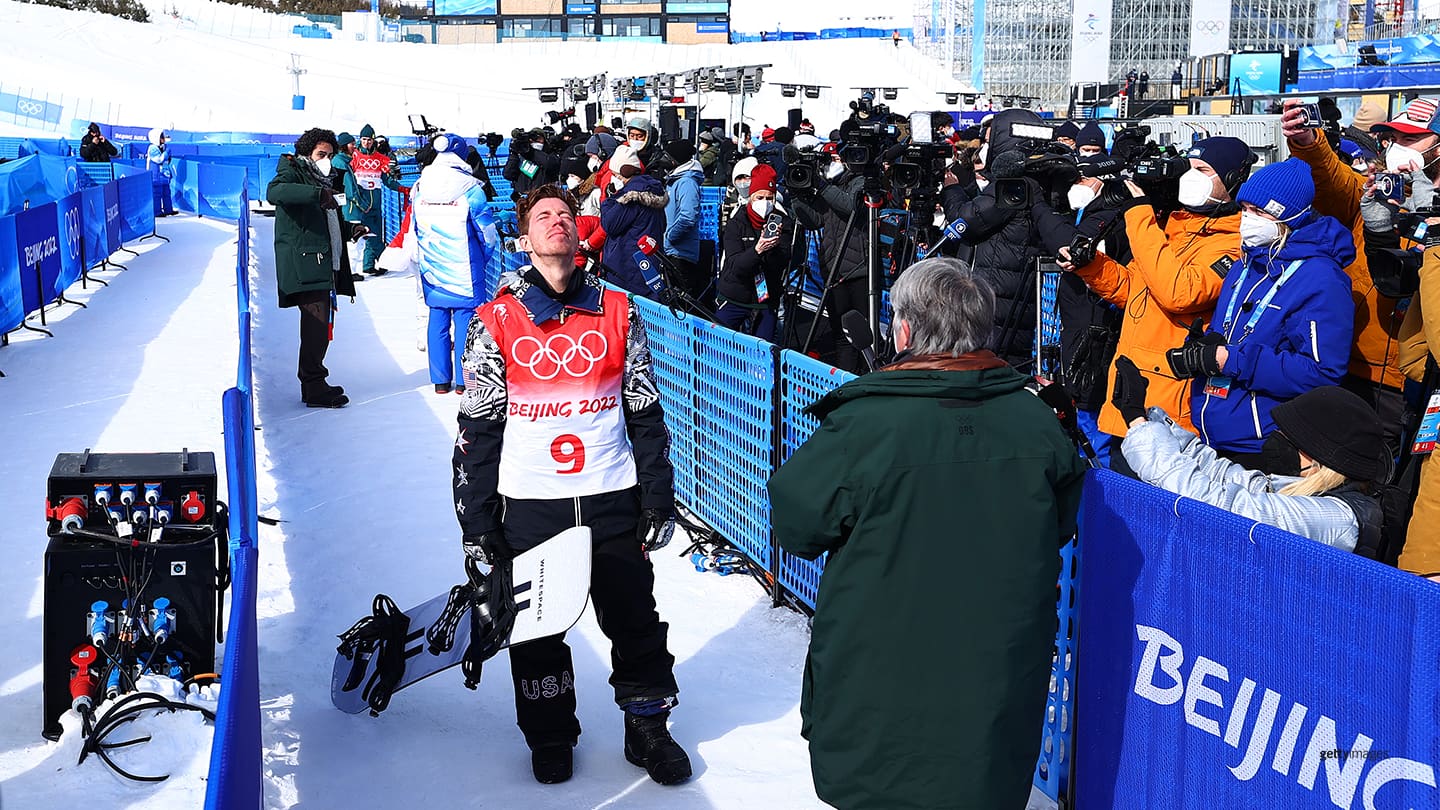 Shaun White in the media section after the men's snowboard halfpipe final at the Olympic Winter Games Beijing 2022 on Feb. 11, 2022 in Zhangjiakou, China.
White made his Olympic debut at 19 at the Olympic Winter Games Torino 2006, where he won his first gold medal in halfpipe. From there, he was known as "The Flying Tomato," due to his formerly flowing red hair, and brought a massive following to snowboarding.

The snowboarding phenom continued to turn heads winning gold in 2010, fourth in 2014 and gold again in 2018, where he landed consecutive double cork 1440s. White also captured the record for most X Games gold medals (15 total – 13 from snowboarding, two from skateboarding) and 11 ESPY awards among other accolades.

"It's hard to step into the spotlight and own it time and again, and to be that [consistent] over time and to look at my career in a span, the 35-year-old snowboarder said. "I can't help but look at every moment and [see myself] at the top of the sport for so long. I mean that's a true highlight of my career and true thing I'm going to hang my hat on."

U.S. teammate Taylor Gold finished right behind White in fifth, scoring an 81.75 in his first run and falling on his next two runs. Gold's high-scoring run was highlighted by a pair of McTwists (inverted 540s), frontside 1260 tail grab and cab double cork 1080.

"I'm super stoked [I landed that first run]," exclaimed Gold after finals. "I came here to put down that first run and was super happy with it. I think my goal coming in was to make finals and show my style, and I feel that I did that. So definitely no regrets."


Taylor Gold came out swinging on his first run! 💥#WinterOlympics
pic.twitter.com/4vU6ucaMrb


— Team USA (@TeamUSA) February 11, 2022
The Steamboat Springs, Colorado, native returned to his second Games, hoping to improve upon his 14th-place finish from 2014 and make a successful comeback from injury.
He did that and more.
Gold landed in sixth not only for the difficulty of his run but also for his style. The 28-year-old has become well known for his creativity and old-school style on the halfpipe, something that modern-day snowboarders are foregoing in exchange for learning more difficult tricks, as showcased in today's triple corks.
"I'm really excited about [being known for creativity]. I think [my style] makes my runs more fun to do. And yeah, that's the thing that always made me want to go snowboarding was watching the guys that did the slow tricks – big and smooth – and make it look really fun.
"I think [my style] provides another option. I mean you saw Scotty's first run beat Ayumu's landed run, so I think there is room to still have some variety. … So, I think the riders can continue to choose their own path, and it'll still be viable."
Chase Josey rounded out the Team USA finalists, finishing in seventh with a 79.50-point third run which featured two frontside double cork 1080s and a cab double cork 1260. Josey, 26, finished in sixth in PyeongChang 2018 and made his second straight Olympic finals appearance.
Justin Limoges is a 2020 sports communication graduate from Bradley University, originating from Newport, Vermont. He is a digital media assistant for Team USA.