Collegiate Connections Abound On 2022 U.S. Olympic Team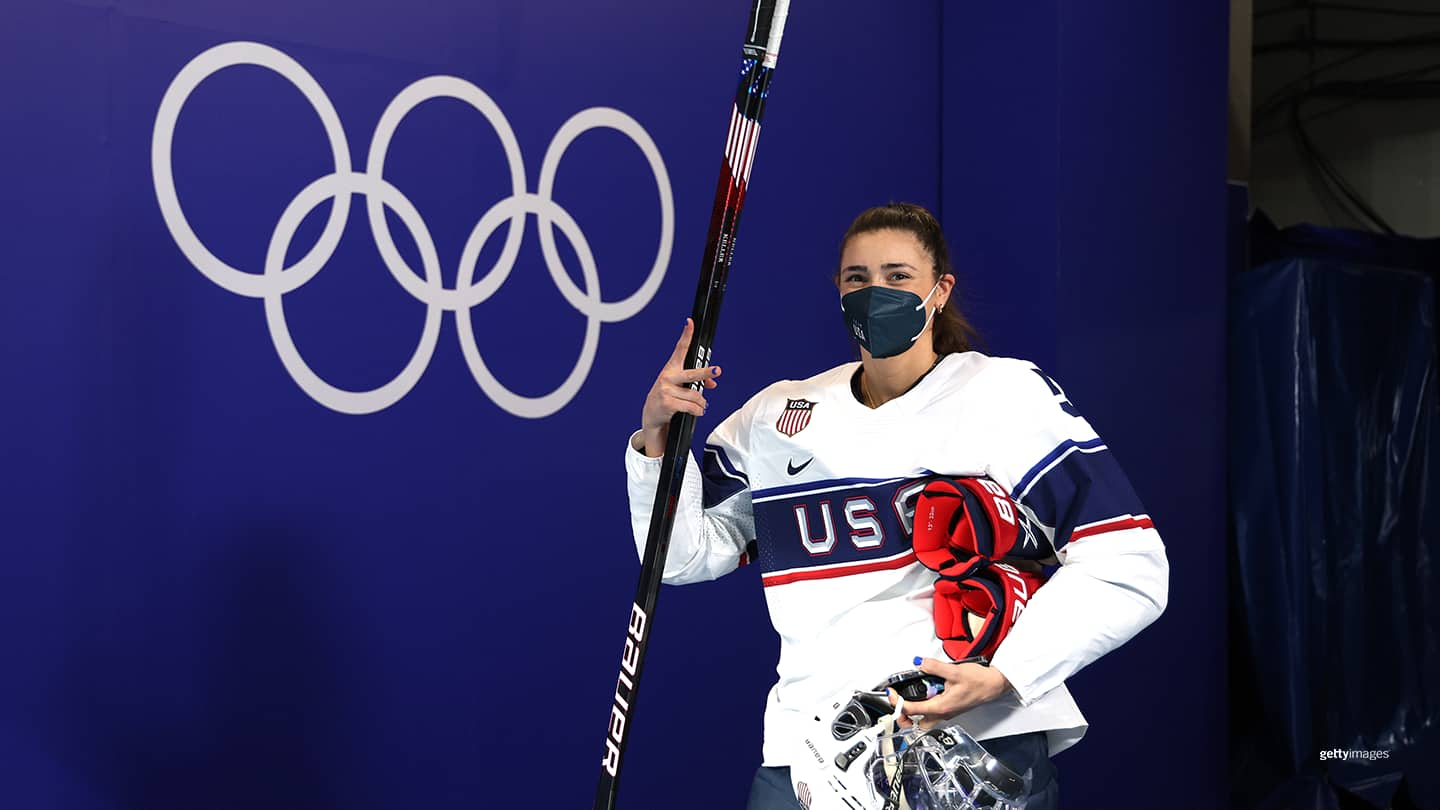 Megan Keller makes her way to the ice in preparation for the Winter Olympics Games Beijing 2022 on Feb. 1, 2022 in Beijing, China.
As Susan Dunklee was finishing her career in 2008 as an outstanding cross-country skier and runner at Dartmouth College, the U.S. Biathlon Association came calling.

The USBA was recruiting top NCAA skiers in hopes of converting them into biathletes. Dunklee, an ecology major, was a three-time All-America in cross-country skiing who led the Big Green to the national championship in 2007.

"Shooting was never on my radar," Dunklee recently told the Dartmouth Alumni Magazine. "But I drove over to Lake Placid one weekend to try it out."

All these years later, Dunklee — who will turn 36 years old Feb. 13 — can look back on a long career with Team USA in which she became America's most decorated female biathlete. She won silver medals at the world championships in 2017 and 2020, the only U.S. woman to ever reach the podium.

The Craftsbury, Vermont, resident hopes to add an Olympic medal in Beijing in her third Olympic Winter Games appearance before retiring. She would be the first American biathlete to earn Olympic hardware in the sport.

Dunklee's story is impressive but far from unusual. The link between NCAA sports and the United States Olympic & Paralympic Committee, long established, has never been stronger. In biathlon alone, 75 percent of the U.S. team competed in collegiate athletics across all three NCAA divisions.

"The college athletics system is absolutely the linchpin for Team USA," Sarah Wilhelmi, senior director of collegiate partnerships for the USOPC, said in an interview last summer. "A lot of our athletes have the awesome benefit in our country to, during a prime time in their life, pursue academic and athletic goals. It just helps them overall become a very well-rounded person and a very ambitious one."

In an interview with NCAA.org, Scott Stricklin, the athletic director at the University of Florida and chair of the USOPC College Sports Sustainability Think Tank, pointed out that U.S. colleges and universities spend more than $5 billion a year on Olympic sports.

"We have a tremendous advantage because of what college athletics does, what it provides, and how it has allowed us to not only stock our U.S. Olympic team with collegians but also end up winning a lot of medals," Stricklin said. "It is incredibly efficient for the USOPC, and it's really successful once our athletes get to the Games."

Of the 224 members of the 2022 U.S. Olympic team going to Beijing, 85 athletes competed collegiately. That amounts to 38.1 percent of the U.S. contingent.

A total of 165 athletes — or 73.6 percent — attended college, representing 67 institutions of higher learning.

American athletes represent Division 1 (27), Division II (10) and Division III (6) programs. There are 29 current student-athletes on the U.S. team.

Interestingly, 21 of the U.S. athletes who competed at colleges or universities actually did so in a different sport. Bobsled gold medal favorite Elana Meyers Taylor is one of the best examples.

After a standout career as a shortstop, pitcher and third baseman at George Washington University and a year playing softball professionally, Meyers Taylor tried, and failed, to make the U.S. Olympic team in that sport. She has since won two Olympic silver medals and a bronze medal in three Winter Games appearances in bobsled.

Meyers Taylor draws a straight line to her bobsled successes from her college softball experience.

"I learned so much from softball," she told TeamUSA.org last year. "I was a team captain each of my five years in college, too, so learning how to captain a team and then needing to do it from a bobsled perspective as a pilot, that definitely helped me in and of itself."

In total, 83.3 percent of the current U.S. Olympic bobsled team is comprised of former college athletes. They competed in basketball, football, lacrosse, softball and track and field.

Other U.S. teams with a high percentage of current or former college athletes include ice hockey (100 percent), cross-country skiing (78.6 percent), biathlon (75 percent) and skeleton (66.7 percent).

Sixty percent of the U.S. men's hockey team players continue to compete collegiately. On the women's team, the University of Minnesota dominates the roster, with 35 percent of the skaters hailing from the Golden Gophers' program.

The highest number of U.S. athletes from any one school are the 28 men and women from the University of Utah.

"I think it's an amazing system to help them develop, and it's their choice. That's not always the case in other countries," said Wilhelmi of college athletics. "They get to choose their style, their preferred coaching and their academic path, and that's the beauty of the whole system is that it's theirs to engineer."

Bob Reinert spent 17 years writing sports for The Boston Globe. He also served as a sports information director at Saint Anselm College and Phillips Exeter Academy. He is a contributor to TeamUSA.org on behalf of Red Line Editorial, Inc.