U.S. Speedskaters Grab Four Podium Finishes in Long Track World Cup At Calgary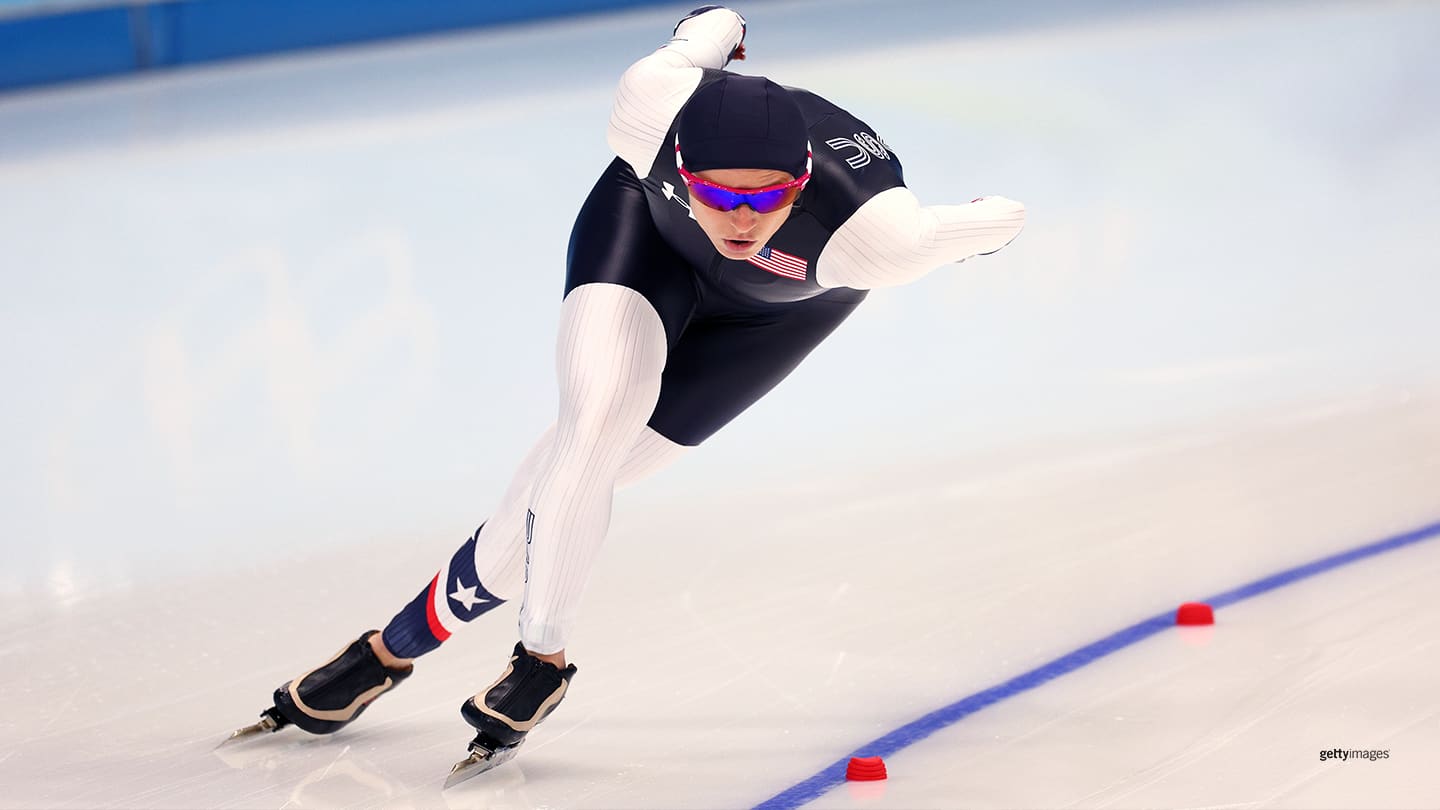 Mia Manganello Kilburg skates in the women's 1500-meter during the Olympic Winter Games Beijing 2022 on Feb. 07, 2022 in Beijing.
A pair of individual silver medals by American women Sunday punctuated a weekend in which the U.S. posted four podium finishes at the ISU World Cup Speed Skating stop in Calgary, Alberta.
Olympians Kimi Goetz and Mia Manganello Kilburg had second-place finishes in the women's 1,000-meter race and women's mass start, respectively.
Goetz, finishing strong, posted a time of 1 minute, 13.532 seconds to place second to Jutta Leerdam of the Netherlands, who won the gold medal in 1:12.828. Austria's Vanessa Herzog took home the bronze medal.
Manganello Kilburg charged hard up the right-hand side at the finish to take second in the mass start with a time of 8:33.79. Irene Schouten of the Netherlands won the event. Manganello Kilburg was fourth in the event at the Olympic Winter Games Beijing 2022.
The U.S. men's pursuit team started things off with a gold medal on Friday. The trio of Casey Dawson, Ethan Cepuran and Emery Lehman, who won the Olympic bronze medal last winter, turned in a time of 3:35.925 for the win. Canada and Norway rounded out the podium.
"I haven't been skating all that well, but these guys have, so it was nice because we joke in practice that I have to keep up with Casey," Lehman said. "Ethan didn't want to push me into Casey, so I had to keep up with him, regardless."
The U.S. women's pursuit team scored a bronze medal Saturday. Olympians Giorgia Birkeland, Brittany Bowe and Manganello Kilburg finished behind Olympic champion Canada and Japan with a time of 2:57.958. The 34-year-old Bowe, a two-time Olympic bronze medalist, was making her world cup season debut.
"It's been a really exciting summer," Bowe said. "I've joined the long-distance team and been training with these ladies all summer."
Olympian Jordan Stoltz nearly medaled in the men's 1,000, finishing .02 seconds behind Canadian Antione Gelinas-Beaulieu, who won bronze.
The world cup returns to Calgary next weekend.
Bob Reinert spent 17 years writing sports for The Boston Globe. He also served as a sports information director at Saint Anselm College and Phillips Exeter Academy. He is a contributor to TeamUSA.org on behalf of
Red Line Editorial, Inc.