When School Let Out, These Three Star Gymnasts Resumed Their Quest To Be The Best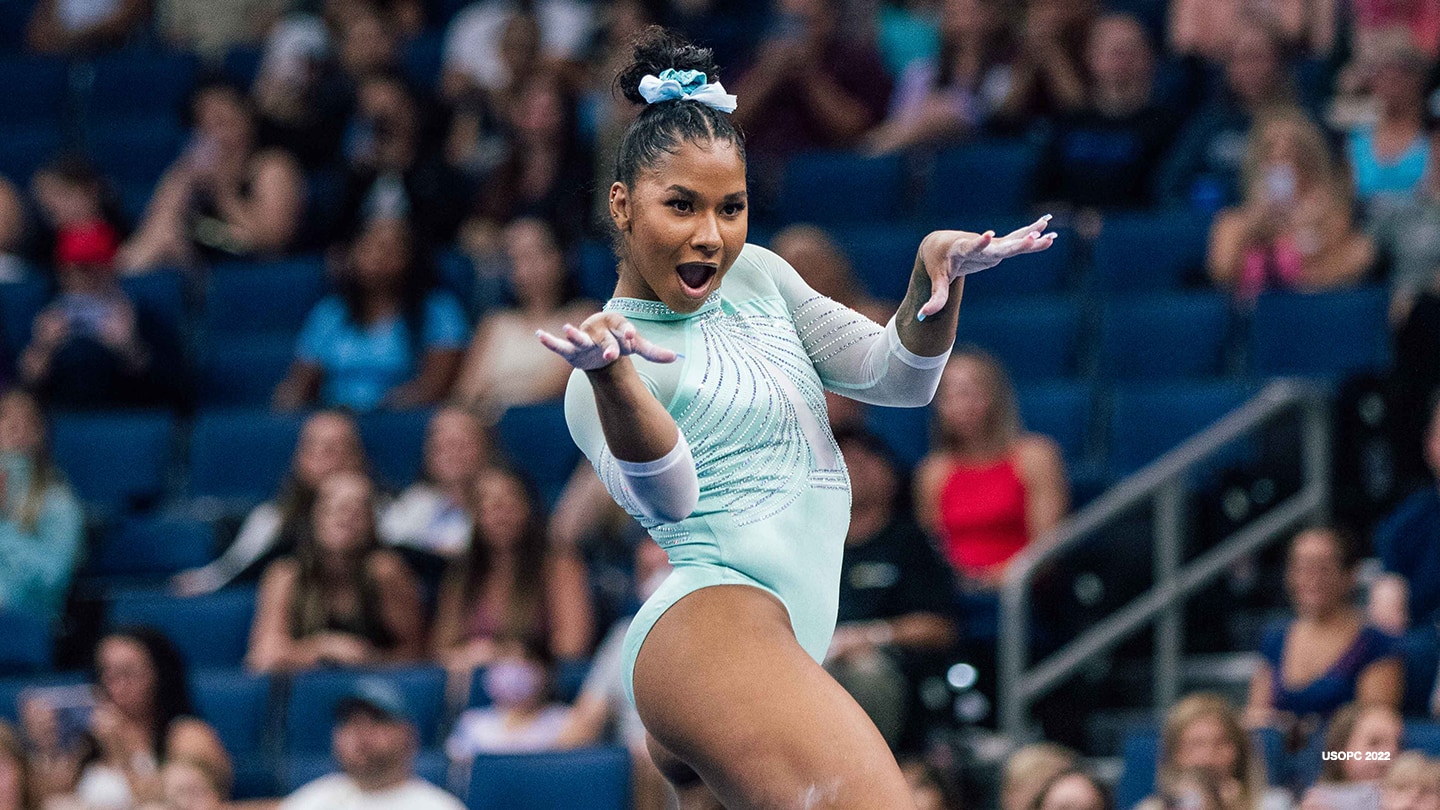 Jordan Chiles competes during the women's floor exercise at the 2022 U.S. Gymnastics Championships on Aug. 19, 2022 in Tampa, Fla.
TAMPA, Fla. – Talk about extracurriculars. As college freshmen this past year, Jade Carey, Jordan Chiles and Leanne Wong balanced a full slate of coursework with competing for their schools' gymnastics teams just about every weekend throughout the winter.

Amidst all that, the three accomplished American gymnasts managed to squeeze in the extra training to maintain some of their more difficult elite skills.

Following a tiny break — if even that — at the end of the NCAA season, each reverted full-on to elite-level training.

Those efforts shone as the trio returned to the OOFOS U.S. Gymnastics Championships this week in Tampa, Florida. Following the first of two days of competition Friday at Amalie Arena, Chiles and Carey rank solidly among the top five, both within striking distance of the all-around title. Wong appeared headed for a similar position before being injured in the second rotation and withdrawing.

It's unclear whether Wong will continue in the competition, but Carey and Chiles, at least, will go for those national titles on Sunday night. Scores from both nights are combined to determine the winners.

Carey, Chiles and Wong arrived in Tampa as the field's most decorated gymnasts.

Carey and Chiles were members of the 2020 U.S. Olympic Team, with Carey winning a floor exercise gold medal and Chiles coming home from Tokyo with a silver medal from the team competition (Carey only competed individually). Carey also has four medals from the world championships, while Wong, a traveling alternate on the Olympic team, returned to Japan for the world championships last fall and won the all-around silver medal and floor exercise bronze.

Instead of taking a break after that, the women packed their bags and moved thousands of miles from home to start college.

Carey, who is originally from the Phoenix area, headed northwest to Oregon State. Wong left her home in Overland Park, Kansas, for Florida. Chiles, meanwhile, left her Houston-area gym to make her way to UCLA.

"I'm a city girl," Chiles said. "L.A. is literally my home forever."

Women's college gymnastics has long been antithetical to other sports.

Whereas the NCAA serves as a stepping-stone for athletes in other sports to reach the elite level, a female gymnast's elite career typically starts, and ends, while they're teenagers. As a result, college gymnastics has long been an avenue for elites to go when they're ready to "retire."

The quality of gymnastics is still high in the NCAA, but it's not at the elite level. It's also just different.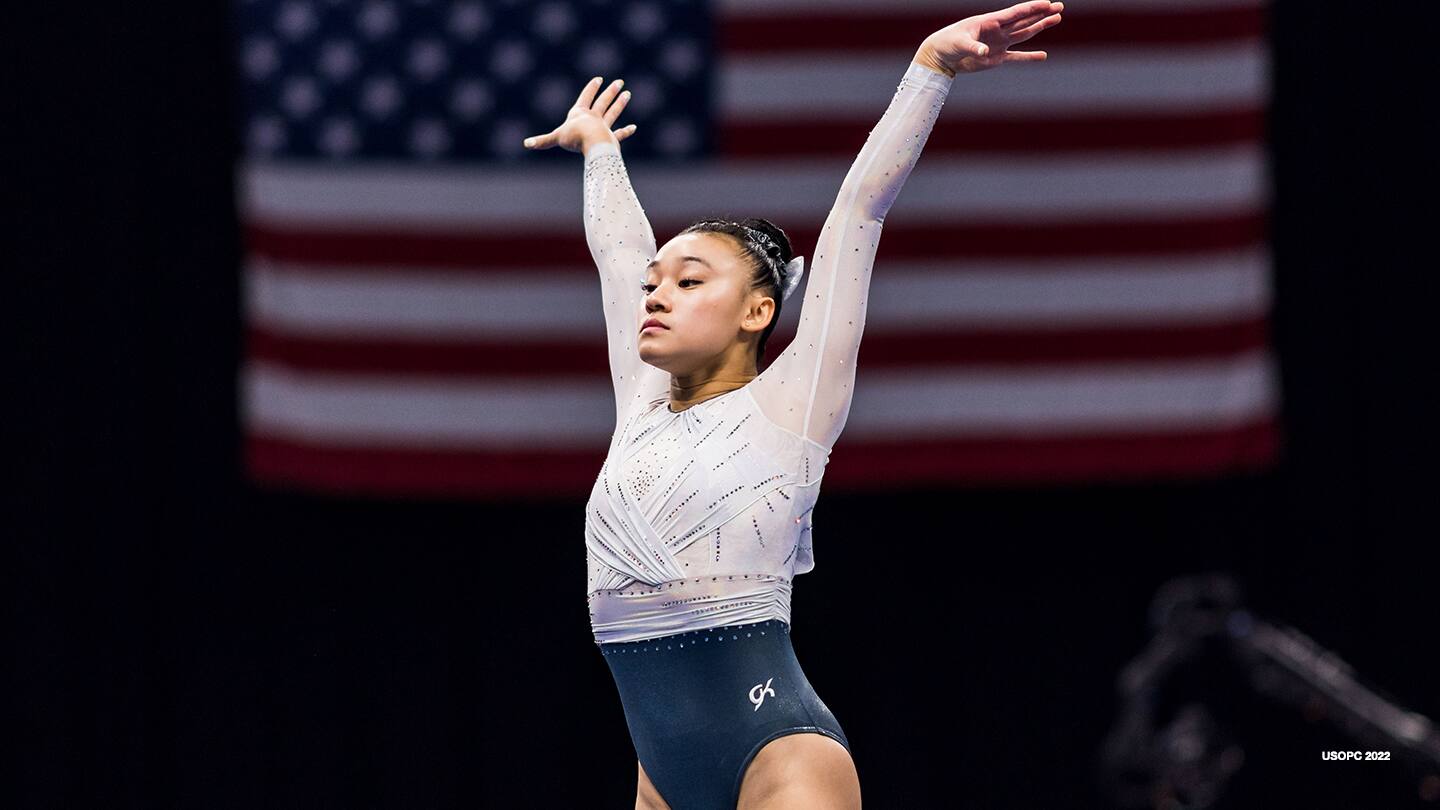 Leanne Wong competes during the women's floor exercise at the 2022 U.S. Gymnastics Championships on Aug. 19, 2022 in Tampa, Fla.
Elite gymnasts often train upwards of 30 hours a week in an intensely individualistic environment. Often they can count their number of yearly competitions on one hand.

College gymnastics, on the other hand, is team-centric, with NCAA-mandated training caps and a traditional season with almost weekly competitions. Chiles' Bruins competed 13 times between January and April last year, not counting their intrasquad meet in December.

It's an environment many former elites thrive in. And usually, once their eligibility runs out, they actually retire.

Carey, Chiles and Wong aren't the first college gymnasts to return to the U.S. elite women's program. Trinity Thomas, a teammate of Wong's at Florida, did so in 2019. College gymnasts from other countries go back to their elite programs with some regularity, too.

That three such prominent gymnasts are at these U.S. championships is certainly turning heads, though. And they could have company as the Olympic Games Paris 2024 get closer.

Suni Lee, the reigning Olympic all-around champion who just wrapped up her freshman season at Auburn, has said she plans to follow suit next and return to elite season. It's also "not out of the question" that Grace McCallum, another Tokyo Olympian who just wrapped up her freshman year at Utah, could come back. But she told the Desert News that she plans to enjoy a summer break this year.

It's too early to say whether this will become a trend.

Carey and Chiles both said the shorter turnaround to the next Olympics, as well as the desire to get a more traditional Olympic experience after the pandemic Games in Tokyo, were key motivators.

"I was pretty sure that after the Olympics I was going to be done and move on to college," Carey said, "but from that whole experience in general (in Tokyo) I really wanted to be able to experience it again, and hopefully have it be a little bit more normal."

But both cited individual motivation as well.

"After I moved on to the all-around final at the Olympics (last year) I realized how well I did even with the fall on beam," Carey said. "That was kind of my point where I was like, 'I'm going to make it back here again and do even better."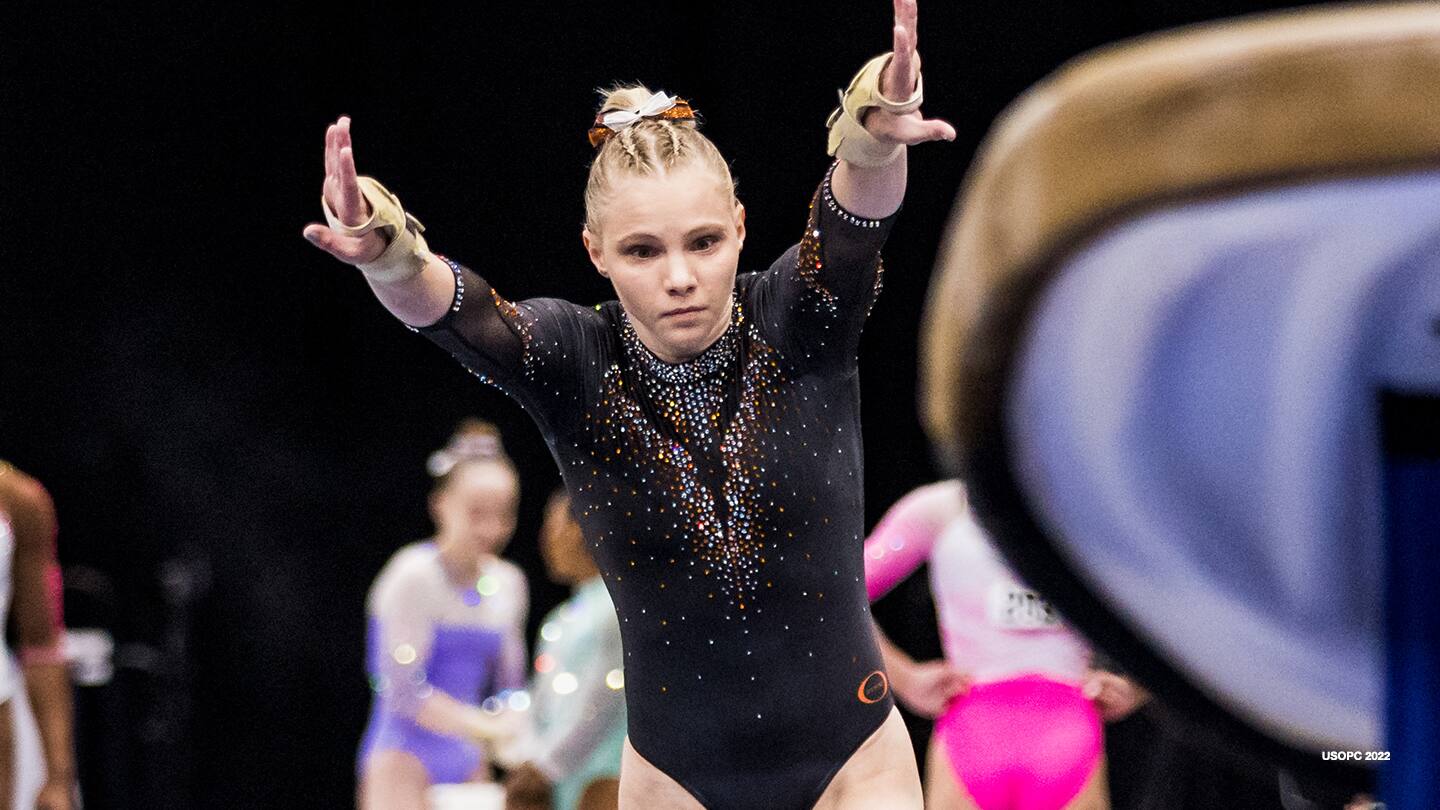 Jade Carey competes during the women's vault at the 2022 U.S. Gymnastics Championships on Aug. 19, 2022 in Tampa, Fla.
Chiles said she decided during the qualifying round at the Olympic Games Tokyo 2020 that she wanted to try for another one.

"It was an amazing experience being there," she said. "I feel like now that I know myself, and I feel like I can give more, that's what came to my head. I was like, 'You know what, let's try it again.'"

Easier said than done, of course.

All three gymnasts shined on the college level and competed in the NCAA Championships. Wong helped Florida to a runner-up finish while ending up fifth in the individual all-around. Carey tied for second on uneven bars and was fourth in the all-around.

But with the different training and competition schedules, not to mention going to school, the gymnasts performed less difficult routines than they do at the elite level.

To maintain her elite skills, Chiles regularly put in extra work. So if her team's regular morning involved two events on a given day, she'd work on elite skills in the other two events on her own.

"With gymnastics, it's mostly mental," she said. "If you mentally remember it, it's like riding a bike."

Wong, prior to her return to elite at last month's U.S. Classic, told the Florida athletics website that she was confident about transitioning back to the higher level.

"Since college is all about perfection, doing simpler skills but executing them really well, I think that'll help me to do the same, even when I'm doing harder skills," Wong said.

It also helped that all three resumed elite training pretty much as soon as the NCAA season wrapped up in April. Chiles and Wong returned to their home gyms, while Carey continues to train at Oregon State. Her dad, who is also her elite coach, visits regularly, she said.

One other factor that helped, both Olympians said, is the new rules allowing NCAA athletes to profit from their name, image and likeness. Though Carey and Chiles both said they would have returned to elite even without NIL, having those opportunities made the transition easier.

Perhaps the biggest takeaway from the college experience, however, was the mentality.

College gymnastics is known for the camaraderie within the teams as they cheer each other on in the sport's six-up, five-count team format. Enthusiastic and supportive crowds fill the arenas, while an increasingly dedicated fanbase is finding more and more opportunities to following along on TV.

The result is a more relaxed and fun environment that they believe can carry over and help when on the elite level.

"I really learned just to have fun and really take it one day at a time," Carey said, "because when I put that too much pressure on myself is when things go wrong, and when I'm relaxed and having fun and doing what I know how to do, that's when I do my best."
Chrös McDougall has covered the Olympic and Paralympic Movement for TeamUSA.org since 2009 on behalf of
Red Line Editorial, Inc.
He is based in Minneapolis-St. Paul.