Paralympic Swimming Medalist Sophia Herzog Announces Engagement To Nick Gibb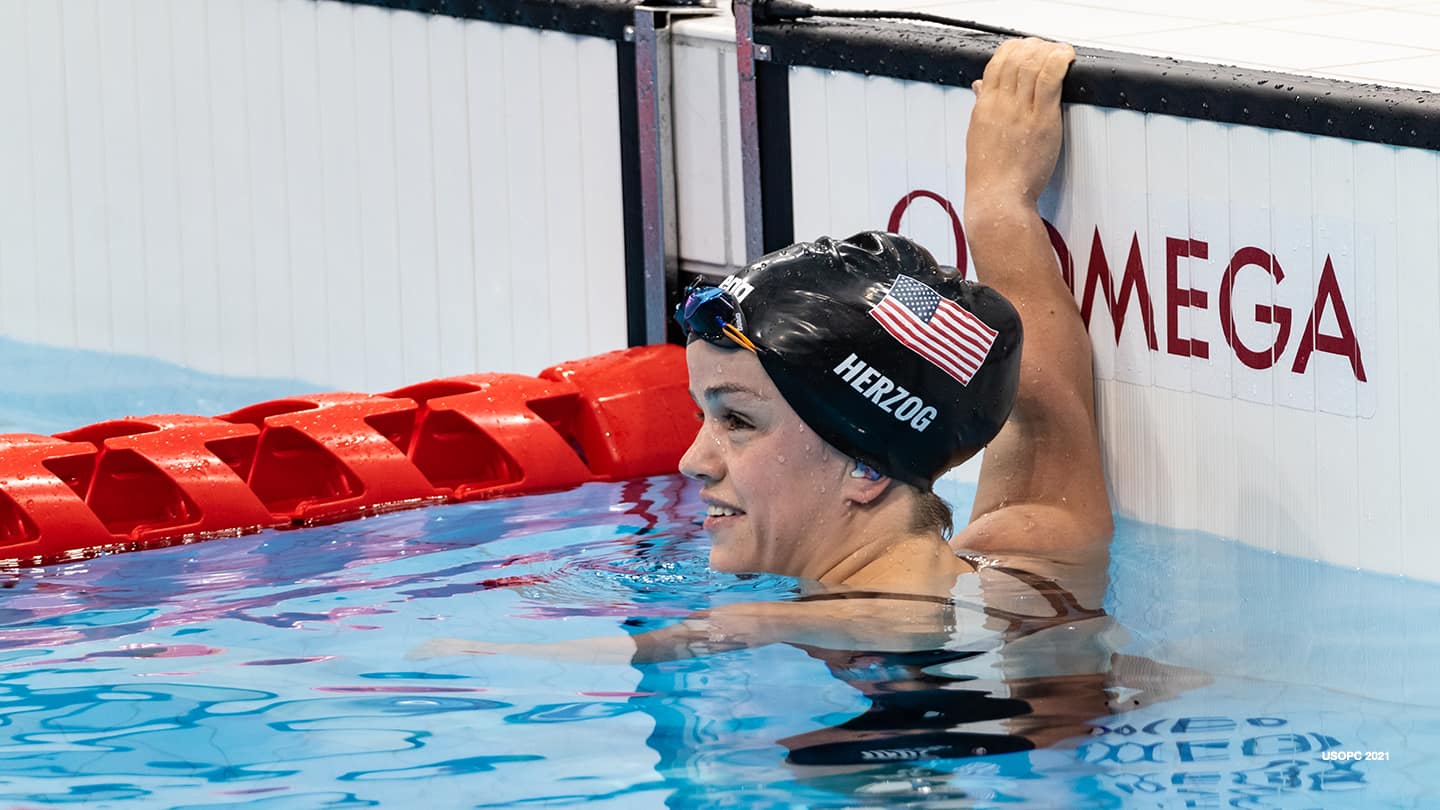 Sophia Herzog reacts after competing in the women's 200-meter individual medley SM6 at the Paralympic Games Tokyo 2020 on Aug. 26, 2021 in Tokyo.
With her Paralympic swimming career now complete — and a second medal in tow from the Paralympic Games Tokyo 2020 — Sophia Herzog can now look forward to all the other exciting things life has to offer any 24-year-old.

First up: an engagement.

Herzog announced the happy news Monday on social media that she and boyfriend Nick Gibb got engaged over the weekend.
We got some exciting news to announce from this weekend… We are ENGAGED💍 pic.twitter.com/O9Kxdk7rOZ


— Sophia Herzog (@SophiaHerzog) September 27, 2021
"We got some exciting news to announce from this weekend… We are ENGAGED," Herzog wrote on Instagram, along with some photos of the ring and the happy couple. Well-wishers in the replies included fellow Team USA athletes Jessica Long, Mallory Comerford and Nick Mayhugh. Herzog and Gibb, a retired Team USA Para-cyclist, reside in Salida, Colorado, with their dog Odie.
Herzog announced prior to Tokyo that her second Games would be her last, bringing to an end a competitive career that includes two Paralympic medals and five world championship medals, including dual gold medals won in 2017. Herzog made her Paralympic debut at the 2016 Rio Games, winning silver in the 100-meter breaststroke SB6. Herzog won bronze in the same event in Tokyo.
In the next stage of her career, Herzog plans to put her 2019 degree in business communication from DeVry University to work while also helping to grow the Paralympic movement.
"In addition, I hope to bring a level of kindness to the world," Herzog told TeamUSA.org in May. "As a minority in the U.S., I am usually the first to be squeezed out of opportunities. It can be hard at times, but kindness always wins. Plus, the world always needs more kindness."
Todd Kortemeier is a sportswriter, editor and children's book author from Minneapolis. He is a contributor to TeamUSA.org on behalf of
Red Line Editorial, Inc.