Swimmers Close Out Paralympic Trials With Record-Setting Performances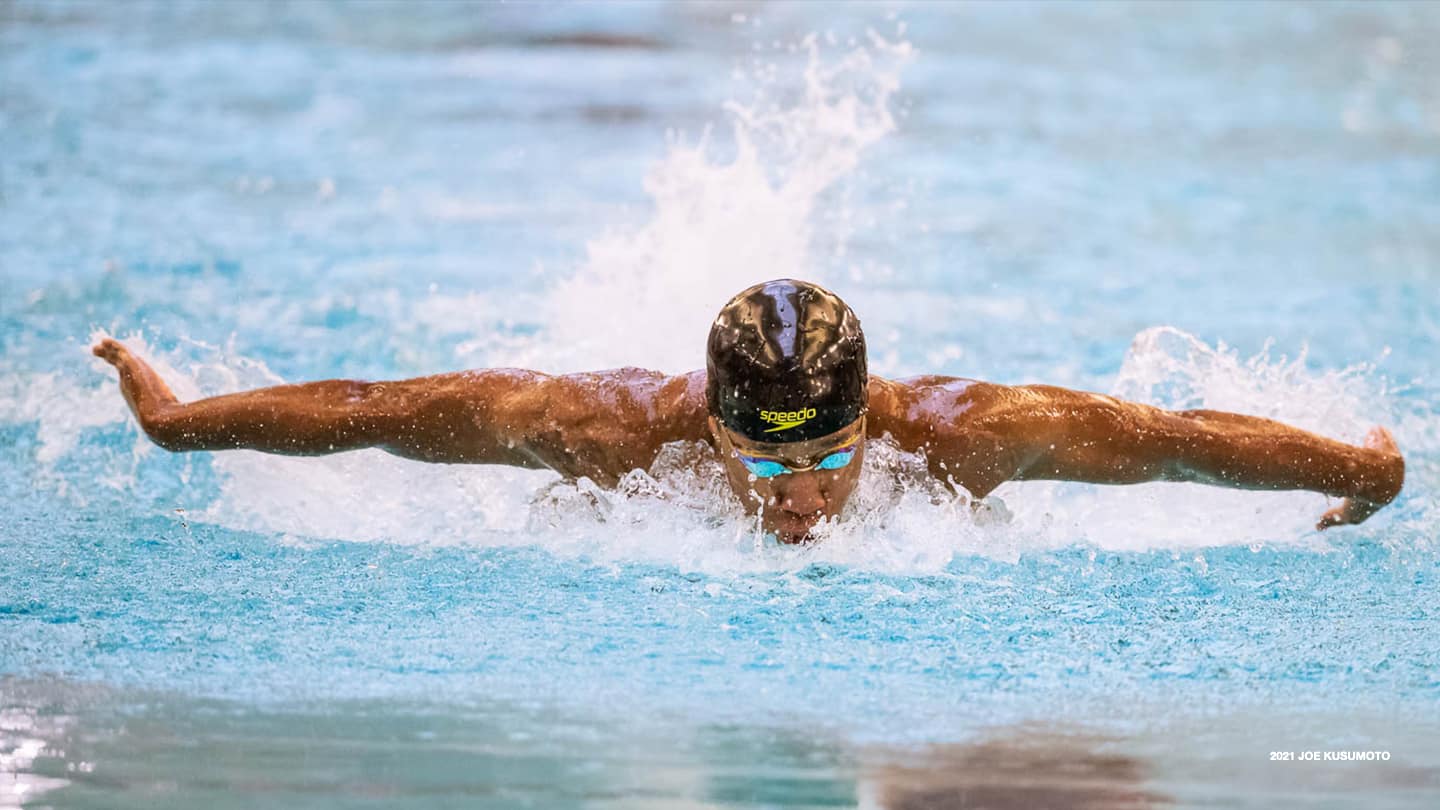 Lawrence Sapp in action at the U.S. Paralympic Team Trials - Swimming on June 19, 2021 in Minneapolis, Minnesota.
MINNEAPOLIS — Lawrence Sapp didn't hold anything back during or after the men's S14 100-meter butterfly final on Saturday at the U.S. Paralympic Team Trials for Swimming.

He not only crushed the field, but set a new American record with a time of 56.10 seconds. He pointed at the scoreboard, slapped the water and let out a yell, followed by another.

Sapp's 50-meter split of 26.15 seconds was also an American record.

Not long after, he set another U.S. record in the 200-meter individual medley with a time of 2:17.44.

"My times were really good so I was really happy with that," said Sapp, 19. "I did great this weekend. I was proud of myself."

The Waldorf, Maryland, native won the gold medal in the 100-meter backstroke at the 2017 world championships and silver in the 100-meter butterfly at the 2019 world championships. He's hoping to make his Paralympic debut this summer.

"It would be my first time at the Games," Sapp said. "I feel ready."

A number of swimmers joined Sapp in taking down some U.S. records on the third and final day of Trials.

Anastasia Pagonis continued her impressive Trials debut a day after setting one world and one American record. The 17-year-old visually impaired swimmer set two more U.S. records, one in the SM11 200-meter individual medley with a time of 2:46.81, and the other in the S11 50-meter freestyle with a time of 31.17 seconds.

Also continuing his attack on the record books was Zach Shattuck, who set two new marks on the first day of competition and on Saturday set a new SM6 U.S. record in the men's 200-meter individual medley with a time of 2:50.96.

In the SM13 classification, David Abrahams set a record in the 200-meter individual medley in the prelims, then broke it in the final with a time of 2:14.68. He also set the new U.S. record in the 100-meter butterfly with a time of 1:00.15.

Swimming in the S9 classification, Jamal Hill set a U.S. record in the 50-meter freestyle in the prelims and then broke it in the final with a time of 25.34, while Paralympic gold medalist Ellie Marks closed out her weekend with a record of 34.52 seconds in the S6 50-meter freestyle.

Saturday was the last day of the meet, which opened on Thursday. The U.S. Paralympic swim team is expected to be named on Sunday morning, after which the athletes selected will stay in town for a mini camp.
Long On Cusp Of Fifth Paralympic
Games

Jessica Long is the most decorated swimmer at the Trials by far, with four Paralympic Games and 23 medals — 13 of them gold — on her resume already. She swam in six events over the course of the three days.

"I don't know if pleased (with the results) is the correct word, just because I knew coming into this that I wasn't going to be rested or tapered," she said. "We kind of did a drop taper, a very small rest, so of course I would have liked to swim faster but last week I had a full week of training. I think more than anything I'm a veteran so I know when to perform under pressure in a very, very big Paralympic environment and that's what I'm really looking forward to. This job was to make the team and swim fast, and I feel like I did that. I did what I needed to. But in Tokyo is where I shine under pressure."
Coan Still Eyeing World
Record

McKenzie Coan is going for her third Paralympic Games and hoping to add to the three golds and one silver medal she brought home from the first two. She's also hoping to get the world record in the S7 400-meter freestyle that she's had her mind set on breaking since Rio. This weekend she swam her best time ever in the event, her 5:04.88 coming in just under the U.S. record of 5:04.87. She won the gold medal in the event in Rio in 5:05.77. The world record holder is Jacqueline Freney of Australia, with a time of 4:59.02. Coan said ever since she hit the wall in Rio feeling like she could have gone faster the time has been in her sights.

"I think my teammates and my coach are so sick of hearing me talk about it because I, literally, that's all I think about anymore," Coan said. "It's all I talk about, it's all I think about. It's something I dreamed about for such a long time. But it was nice to go best time. I feel like I keep chipping away at it."
Karen Price is a reporter from Pittsburgh who has covered Olympic and Paralympic sports for various publications. She is a freelance contributor to TeamUSA.org on behalf of
Red Line Editorial, Inc.