U.S. Para Swimmers Gear Up For First International Competition Of 2021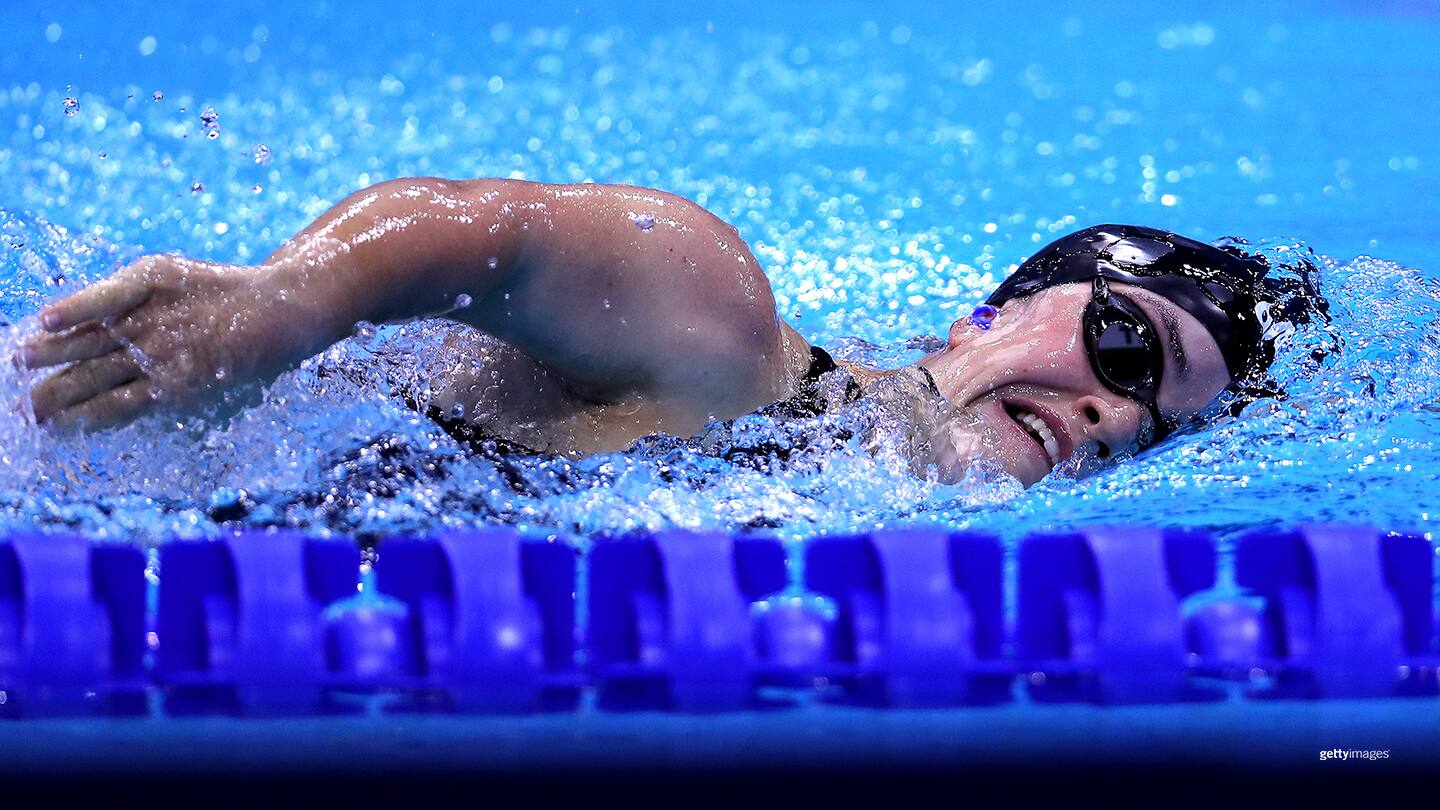 Sophia Herzog competes in the Women's 400m Freestyle S6 Final at the London 2019 World Para-swimming Allianz Championships at Aquatics Centre on Sept. 9, 2019 in London.
Team USA Para swimmers are lining up for their first international competition of 2021, and not a moment too soon.

"I'm super excited," Sophia Herzog said. "I'm excited to see some of my friends whom I haven't seen in a while, and just overall be able to race."

From April 15 to 17, Paralympians and Paralympic hopefuls will be competing in the Lewisville 2021 World Series in Texas. It is the second World Series of the year, but the first for Team USA swimmers.

The World Series will feature many of the country's top swimming talent, including Evan Austin, McKenzie Coan and Jessica Long.

Herzog is looking forward to stepping back into racing mode. Lewisville will be her first race in over a year.

"I'm hoping to swim really fast," she said. "I trained really hard, and had some good, consistent training blocks leading into this. I'm really excited to see what I'm capable of doing."

Long and Coan have had the luxury of training at the U.S. Olympic & Paralympic Committee Training Center (USOPTC) in Colorado Springs, Colorado, over the pandemic. Both opted to live and train in Colorado after their pool access was limited.

Coan and Long expressed appreciation for training with one another in Colorado Springs. In fact, Long said Coan was a big reason she decided to train at the USOPTC.

"This is everything I've been wanting, just to be a part of the team," Long said.

"It's almost been a dream fulfilled," Coan added.

Evan Austin is a two-time Paralympian. He is not training in Colorado Springs, but he is getting his own training in. While pools were closed, Austin resorted to training in open water.

At 6-feet-2 inches tall, he said, "Swimming in a bathtub wasn't an option."

Coan, prior to moving to Colorado, convinced her parents to buy her an 8-foot tethered swimming pool. Although she and her mother may have set it up incorrectly initially, the pool got five months of training.

In preparation for Lewisville and beyond, Herzog has been doing more power-based work in which she pushes her body hard in a short amount of time. She has little or no time to recover between reps, or intervals.

She changed her training routine in 2019, and moved to Salida, Colorado, west of Colorado Springs. Herzog has a new coach, and she now has a training partner.

"My workouts are really personalized to what I need," Herzog said.

Herzog won a silver medal at the Paralympic Games Rio 2016. She will be competing in Lewisville courtesy of a grant she won through the Women's Sport Foundation.

"Swimming is my job," Herzog told TeamUSA.org late last year. "That's what I do for a living, it's my life.

Herzog said she has run "mock intersquad" meets, and she has been satisfied with her times.

"I'm trying not to put too much pressure on myself," Herzog said. "(Lewisville will be) my first time really racing in over a year."

Herzog said she will make any necessary adjustments before the U.S. Paralympic Team Trials for Swimming in June. She will not be traveling internationally until the start of the Paralympic Games in August.

At the age of 29, Long has 23 Paralympic medals across four Games. She has won 13 gold medals, and currently sits as the second-most decorated Paralympian in U.S. history.

If Long wins six more Paralympic medals, she will surpass Michael Phelps' 28 medals collected from the Olympic Games.

Long used to train with Phelps, and she is aware she could eclipse his medal count at the Tokyo Games.

"He brought such a level of eliteness," Long said. "He's such an incredible guy."

She added: "He had a great appreciation for the Paralympics."

Some athletes will be able to get internationally classified at the Lewisville World Series. After Lewisville, most U.S. Para swimmers will be eyeing the U.S. Paralympic Team Trials as their qualifier for Tokyo. The Team Trials will take place June 17 to 20 in Minneapolis. The event will also hold competitions for Para-cycling and Para track and field.

For now, Long said she is just glad to be back in the pool.

"I'm a better person when I'm swimming."
Ryan Wilson is a writer and independent documentary filmmaker from Champaign, Illinois. He is a freelance contributor to TeamUSA.org on behalf of
Red Line Editorial, Inc.