Jessica Long Wins 25th Paralympic Medal; Sophia Herzog Captures Bronze In Breaststroke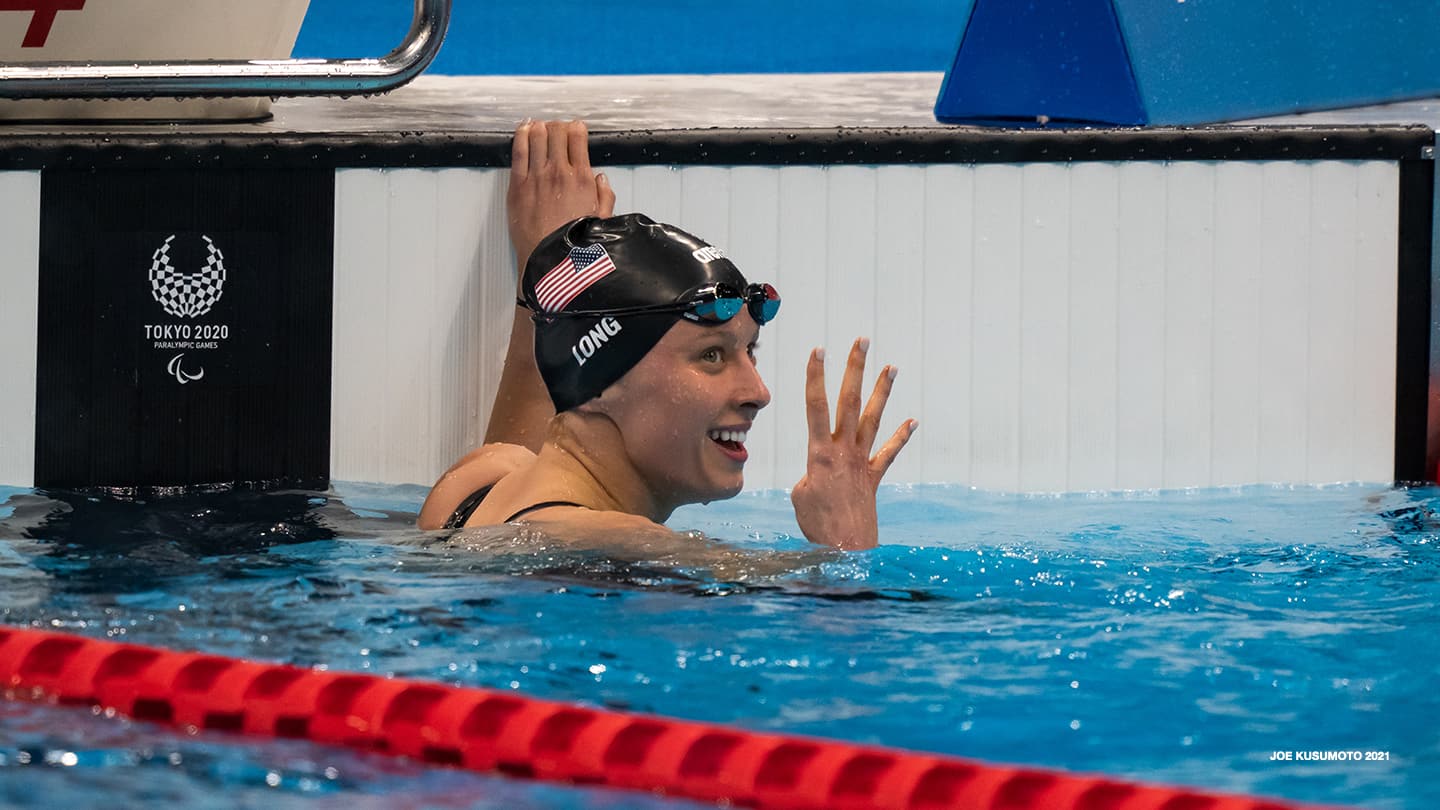 Jessica Long reacts after winning the women's 200-meter individual medley SM8 at the Paralympic Games Tokyo 2020 on Aug. 28, 2021 in Tokyo, Japan.
TOKYO - Jessica Long captured her 25th Paralympic medal winning the 200-meter Individual Medley SM8 on night four of swimming at the Paralympic Games Tokyo 2020.

Number 25 carried special meaning for Long, as it marks her fourth-straight Paralympic gold in her signature event.

"This is what I came here to do," Long said. "This was my number one goal to four-peat in this, and it's really hard to do especially as you get older. I got a chance to call my dad before the medal ceremony, and he was expressing how proud he was of me. It's not easy, but it was definitely worth all the sacrifices."

Long won gold in 2:41:49. Italy's Xenia Francesca Palazzo took silver in 2:47:86, and Mariia Pavlova of the Russian Paralympic Committee touched in for bronze at 2:48:63. Her teammate Haven Shepherd took fifth.

Long's legacy in Para swimming began at the Paralympic Games Athens 2004 where the bi-lateral amputee captured three gold medals. Since then, she upped her total to 14 Paralympic gold medals, six silver and five bronze in additional to 35 world championship titles. Long, a five-time Paralympian, has established herself in and out of the pool as one of the most recognizable faces of the modern Paralympic movement in the U.S.

"As a 12-year-old when I won my first gold in Athens, I wanted people to know what the Paralympic games were," Long said. "Each year the excitement and the build-up for the Paralympics Games has grown more and more. Here in Tokyo, this is one of my favorite Paralympics I've ever attended."

It's a testament to Long's legacy that her teammate Haven Shepherd, also a bi-lateral amputee, made her Paralympic debut in the final alongside her. The high schooler said she grew up idolizing Long.

The pair first met at a Challenged Athletes Foundation gala when Shepherd was nine years old. Swimming in a Paralympic final together eight years later was a dream come true for her.

"Jessica was everything to me. She looked just like me," Shepherd said. "Just being in the call room [in Tokyo] and sitting on the bus with her is something so special. And then being in the final heat together is something words can't describe. Imagine being with your hero at nine years old getting her autograph and then being teammates with her and racing for the same purpose - to get gold for Team USA."

Long knew there was something special about Shepherd the first time they met. She said it was so special to be able to share this moment with her years later.

"It was one of her wildest dreams and goals to get to the Paralympics so to swim in a final with her was really special," Long said. "She came up in the cool down pool after and gave me a big hug and said, 'congratulations I knew you could do it.' She's like a little sister to me, and her mom is like a second mom to me. I love them."

Long was quick to thank the people supporting her on the journey to her 25th Paralympic medal. She said celebrating her win with her loved ones makes her success in the pool that much sweeter.

"So many people love and support me, and I do know that my worth is with or without the gold medals," Long said. "But it definitely feels good to be bringing this back to the U.S. and to have a chance for each one of my family members to hold it because they played a massive part in my success. It wasn't just me winning this. It was everyone who's helped me.

Both Long and Shepherd will be back in action across the remaining six days of para swimming at the Tokyo Games. Long will eye the podium in three more events – the 400-meter freestyle, 100-meter breaststroke and 100-meter butterfly. Shepherd will look to qualify alongside for her second Paralympic final the100-meter breaststroke on Sept. 1.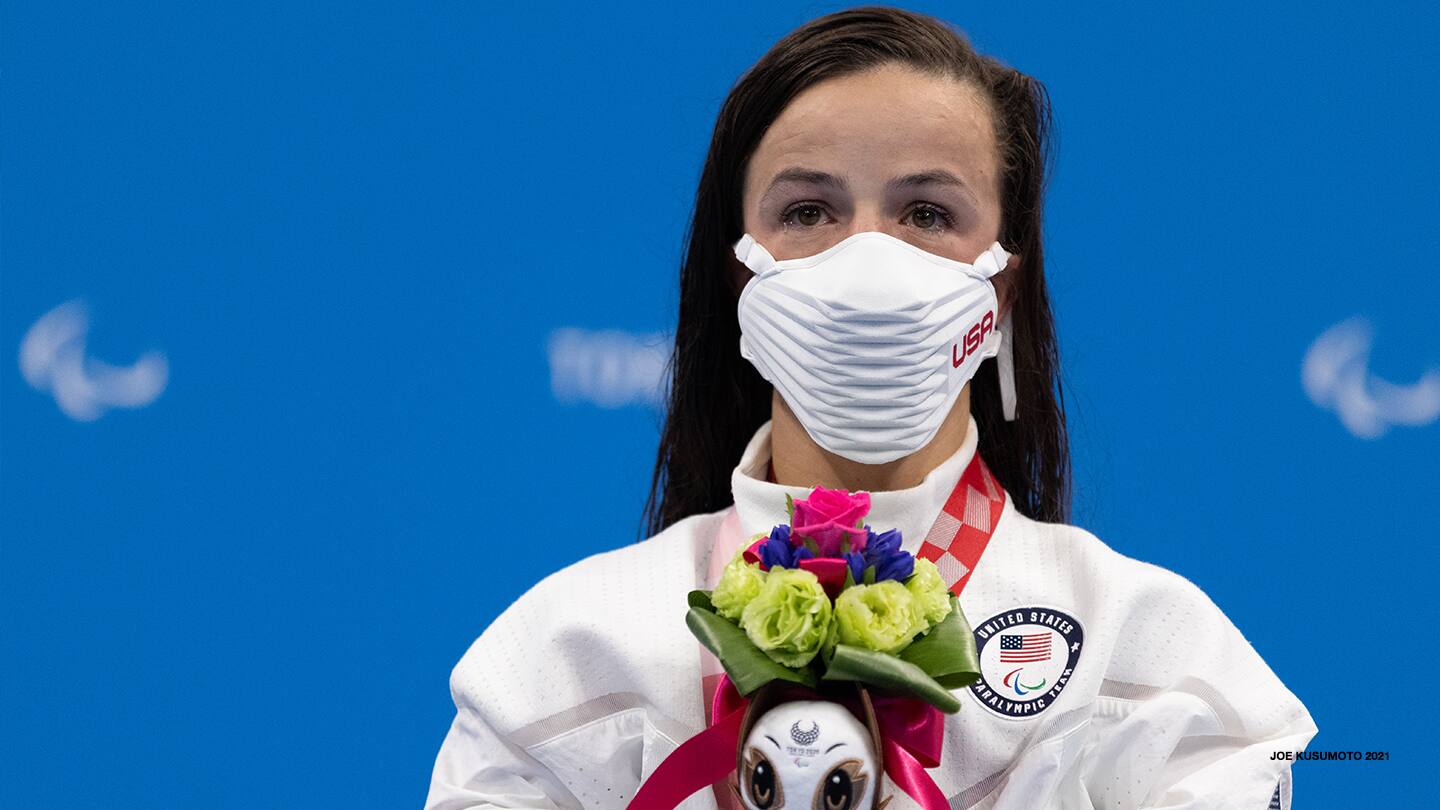 Sophia Herzog stands on the podium at the Paralympic Games Tokyo 2020 on Aug. 268, 2021 in Tokyo.
Sophia Herzog Wins Breaststroke Bronze In Her Final Paralympic
Games
Two-time Paralympian Sophia Herzog dove into the water for her final women's 100-meter breaststroke SB6 at peace with her career. She hopped out of the pool as a Paralympic bronze medalist.

"I am so happy," Herzog said. "That was a hard race, and it's been a hard five years. To come home representing my country on the podium is absolutely incredible."

She took bronze in the race, falling to Great Britain's Maisie Summers-Newton for gold and China's Daomin Liu in silver. Team USa's Mallory Weggemann placed ninth.
As the Paralympic Games Rio 2016 silver medalist in the event, Herzog said she felt the pressure before the race. A breaststroke specialist, Herzog said she's been focused on fine tuning her turns for a chance to medal amongst a tough SM6 field.
"We really focused on getting underwater for my pullouts, Herzog said. "Since I'm the lightest one in the field, I get thrown around easily. We focused on getting under everybody's wake in the turns and trying to be one of the first girls to the wall so I'm ahead of everybody's wake."

Prior to the Tokyo Games, Herzog shared her plans to retire. Fresh out of high school, she began pursuing her Paralympic dreams training with the resident program at the U.S. Olympic & Paralympic Training Center in Colorado Springs. Now at age 24, she plans to soak up all the moments with her teammates at her final Games and celebrate her second career Paralympic medal.

"I was honored to be named one of the captains so to be carrying my weight in the medal haul just feels great," Herzog said. "My suite at the village has some really heavy-hitter girls too with some serious medal potentials so being one of those female dominant athletes in the U.S. is something to be really proud of."

Herzog thanked her parents, boyfriend, dog, coaches and teammates in Salida, Colorado for supporting her on the five-year journey to her second Paralympics. She plans to celebrate her podium finish with all of them when she gets back to the States.

"With the restrictions and the protocols us athletes had to follow coming into Tokyo, I haven't seen my family in months so I'm just really excited to see my people."
Want to follow Team USA athletes during the Paralympic Games Tokyo 2020? Visit TeamUSA.org/Tokyo-2020-Paralympic-Games to view the medal table and results.
Katie Grunik is a digital content creator covering the Paralympic Games Tokyo 2020 for TeamUSA.org. She currently serves as the digital content coordinator for the U.S. Olympic & Paralympic Committee.