Brooms, Broken Records And A Hat Trick For U.S. Para Swimmers In Lewisville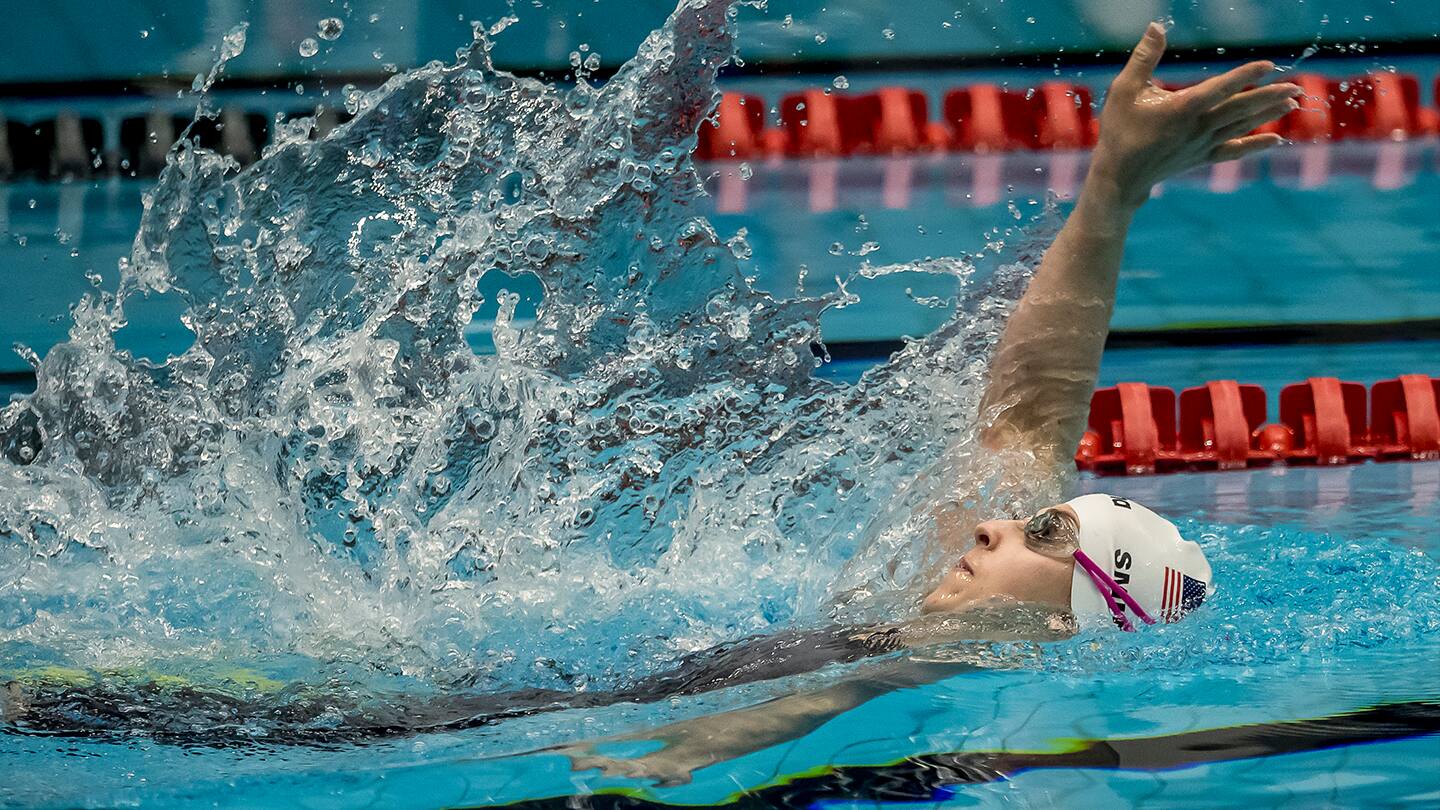 Leanne Smith competes for Team USA at the World Para Swimming World Series on April 6, 2019, in Indianapolis, Indiana.
One hat trick, two sweeps and 35 medals. That's what success looked like for Team USA at the Lewisville 2021 Para Swimming World Series.

"I'm feeling grateful that we were able to have the meet, and for the staff coming together and pulling off the opportunity for us to come together and swim," said Leanne Smith, who earned two gold medals.

The Lewisville World Series was held from April 15 to 17 in Lewisville, Texas. It marked the second World Series event of the season, but it is the only international meet Team USA athletes will compete in prior to the U.S. Paralympic Team Trials for Swimming in June.

Lewisville was a mixed-class event, and medalists were determined by World Para Swimming points, instead of times. It was for some the first competition since 2019.

Smith made a strong showing after being sidelined from an injury. She collected two gold medals for the U.S, picking up where she left off after winning gold in the 150-meter individual medley, 100-meter freestyle and 50-meter breaststroke at the 2019 World Para Swimming Championships.

"This one means a lot to me," she said. "Last year was a particularly rough year. On this exact day last year (April 16), I went in for an emergency surgery that ended up leading to an eight-week stay at an inpatient facility. It was really hard to rehab back to just my baseline, and then to add swimming in on top of that took quite some work and effort from not only myself, but a lot of people.

"This is really special."

Two-time Paralympian Evan Austin was able to pull off a hat trick of medals. He won gold in the 200 IM, 400 free and 50 butterfly. He also set two American records. Austin has been busy training and serving as an assistant coach at Purdue University for the past two years. But there's nothing that compares to competing alongside his U.S. teammates.

"It's been really great to reconnect with teammates that I haven't seen in over a year," he said. "That's probably the best part, having this community back together and the ability to race. … Hopefully, we can build on this momentum and move forward."

Rising star Anastasia Pagonis showed she will be a test for the greatest swimmers in the world. She set four American records, three of which came in the first two days.

"I was expecting to go out and do the best that I could do, and I ended up doing better than I wanted," Pagonis said. "I'm really happy. … It gives you this boost of confidence, so I just love it. I feel so free in the pool."

Jessica Long, SM8, and Mallory Weggemann, SM7, tied for gold in their respective classes in the 200 IM. Julia Gaffney rounded out the Team USA sweep in the event with a bronze-medal finish.

That was not the only American sweep for the day. Elizabeth Marks, Hannah Aspden and Gia Pergolini medaled in the 100 breast. Marks set the American record in the event in prelims. Pergolini, too, set an American record in her final swim, and she said she is hoping to carry that pace for the Paralympic Games Tokyo 2020 this summer.

"I'm really excited to hopefully break the 100-meter backstroke world record this summer," she said. "I want to get better in the water and hopefully make it to Tokyo."

Team USA's success on the final day came after breaking a combined 12 records between prelims and finals on Day 2 of the World Series, and the American swimmers capped that off with 11 medals.

Morgan Stickney also won gold on the second day. Stickney was recently reclassified to S8 after her right leg was amputated due to a bout with a rare vascular disease. The Lewisville World Series was her first meet in the new class.

Their next competition is the U.S. Paralympic Team Trials in June. It will determine who will race at the Tokyo Games.

"I've been working so hard this past year," Stickney said. "To see all of my hard work pay off, it's amazing."

A detailed list of results from Lewisville can be found on teamusa.org. Replays of each race are available on U.S. Paralympics Swimming's Facebook page.
Ryan Wilson is a writer and independent documentary filmmaker from Champaign, Illinois. He is a freelance contributor to TeamUSA.org on behalf of
Red Line Editorial, Inc.