17-Year-Old Archer Casey Kaufhold's Silver Ends 33-Year Medal Drought at Worlds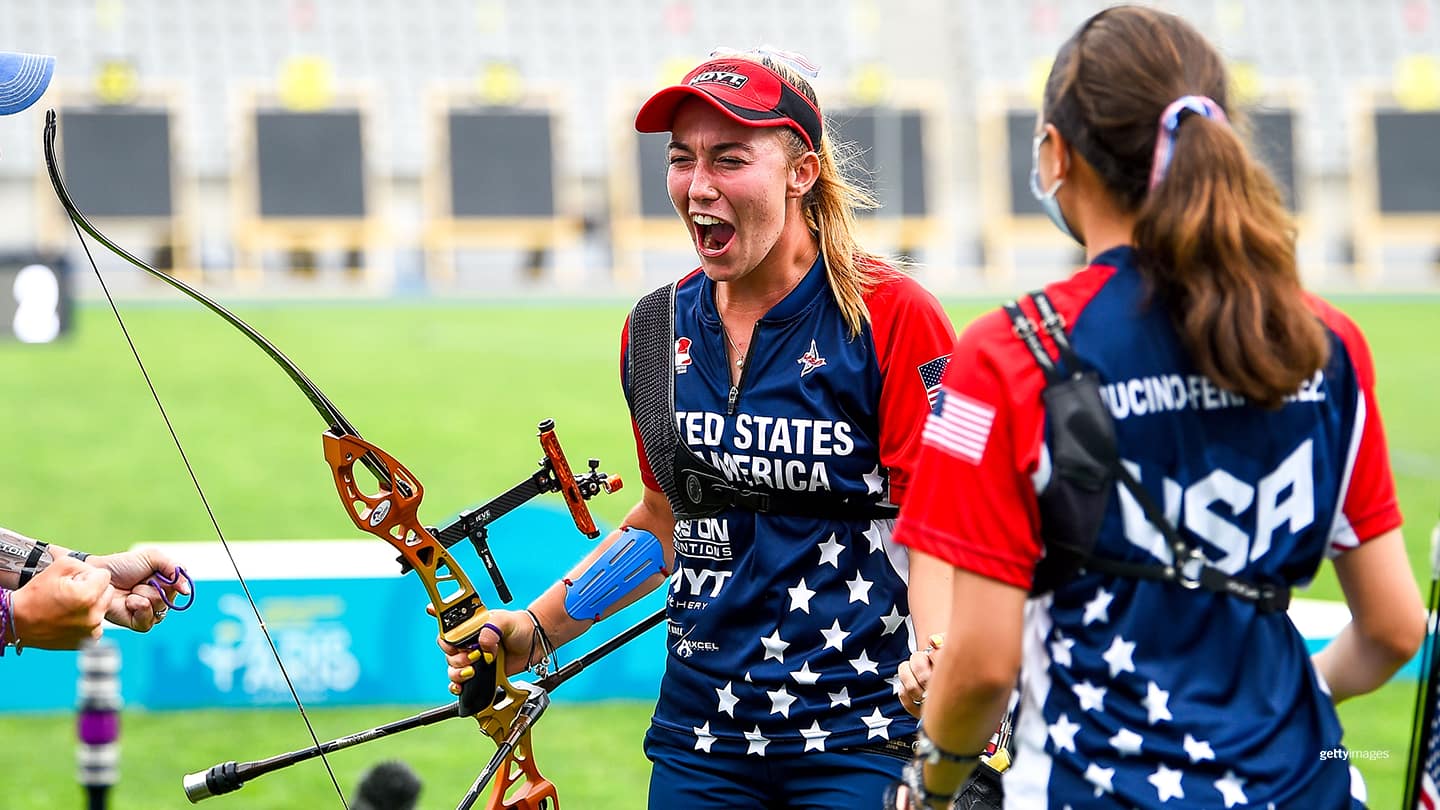 Casey Kaufhold celebrates during competition at the 2021 Archery Final Olympic Qualification Tournament on June 20, 2021 in Paris.
The world may not belong to archer Casey Kaufhold yet, but the key word there is yet.

On Sunday, the 17-year-old who is coming off her first Olympic appearance, won the silver medal at the World Archery Championships in Yankton, South Dakota. It's the first women's medal at the world championships for the U.S. in 33 years. She lost to Korea's Jang Minhee 6-0 in the final.

"I literally thought of it as I have nothing to lose," Kaufhold told USA Archery. "I'm 17 and I've only been shooting international tournaments for, like, three years so why hold back? I put everything out there, didn't hold back pretty much and that was my main goal, to leave it all out there on the stage."

On the men's side, Brady Ellison didn't get the opportunity to defend his world title after losing in the semifinal, but held on in windy conditions later in the day to defeat Olympic champion Mete Gazoz of Turkey for the bronze medal 6-2.

Ellison, ranked No. 1 in the world, was looking to become the first man ever to repeat as recurve world champion but lost in an upset to Marcus D'Almeida of Brazil in a semifinal tiebreaker. Ellison competed at the Olympic Games Tokyo 2020 for the fourth time this summer but failed to medal for the first, finishing seventh overall.

Ellison, Jack Williams and Matthew Nofel did win the recurve men's team gold final against Olympic champions Korea earlier this weekend.

For Kaufhold, a teenager from Lancaster, Pennsylvania, appearing in her first world championship final, it was another big step in her rise in the sport.

Earlier this year she broke the under-21 world record in the 72-arrow, 70-meter qualification round the Olympic Trials, becoming the first in the junior age group to shoot higher than 680. She scored 682 out of 720 points, beating Korean An San's record of 678 set in 2019. She made the Olympic team and finished 17th overall.

On Sunday, she scored a major upset in the semifinals, knocking off the Olympic gold medalist and the woman whose under-21 record she broke back in May, San, by a score of 6-2.

Unfortunately, Kaufhold struggled with consistency in the gold medal match and trailed Minhee 4-0 going into the third set. Both archers shot nines to start things off, but Kaufhold shot another nine on her second arrow and Minhee responded with a 10. A second 10 finished things off and Minhee claimed the world title.
Karen Price is a reporter from Pittsburgh who has covered Olympic and Paralympic sports for various publications. She is a freelance contributor to TeamUSA.org on behalf of
Red Line Editorial, Inc.