Brady Ellison And Team USA Archers Disappointed By Missed Podium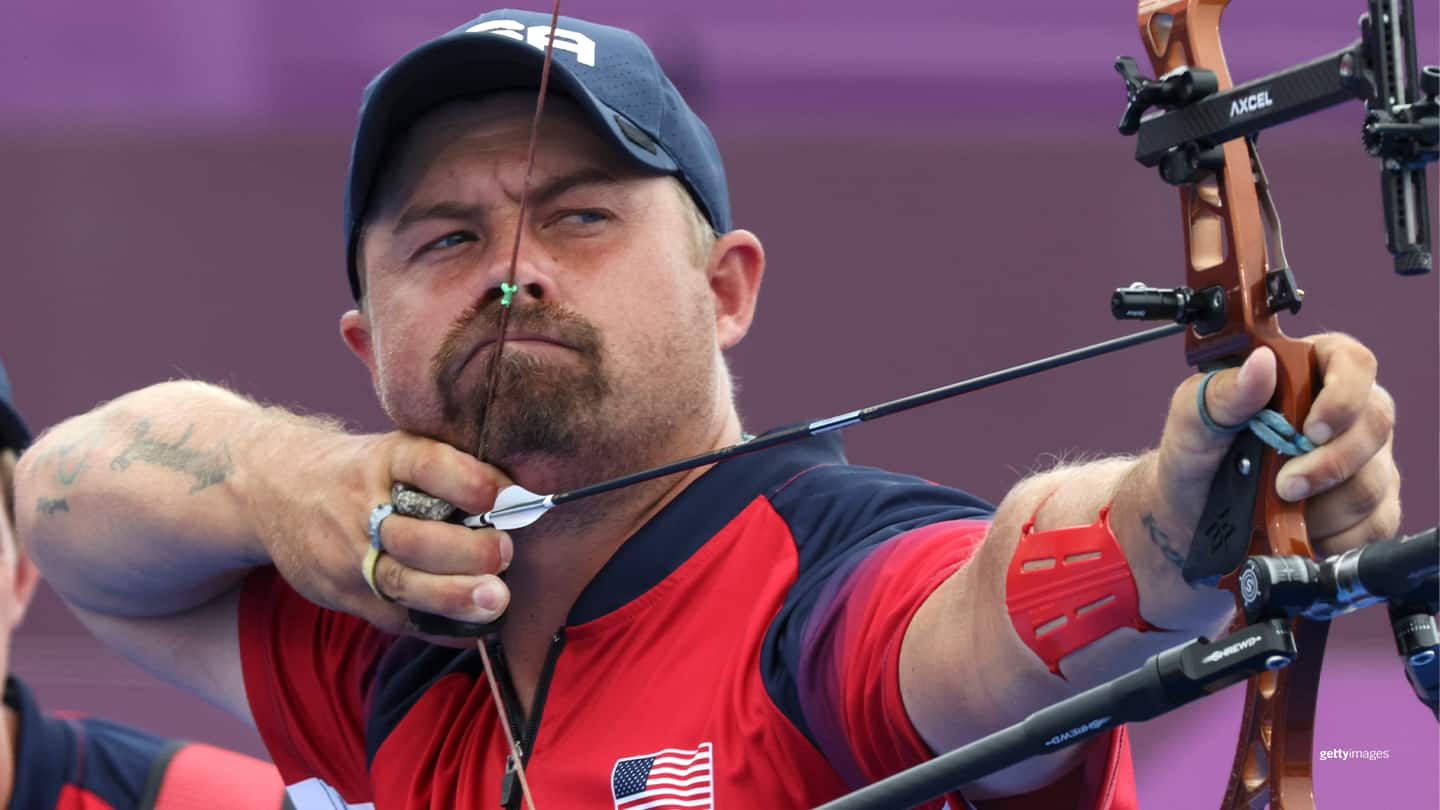 Brady Ellison competes at the Olympic Games Tokyo 2020 on July 26, 2020 in Tokyo.
TOKYO – Just as surely as meteorologists predict a typhoon to make landfall in Japan shortly, Brady Ellison forecast a medal for the United States in Olympic men's team archery.

"Walking away from here without a medal wasn't even a reality for this team," said Ellison, who came in ranked No. 1 in the world. "It'd be kind of like Simone Biles not making the cut in the all-around."

And yet Team USA – composed of Ellison, a four-time Olympian; Jacob Wukie, in his second Olympic appearance, and first-time Olympian Jack Williams -- lost to Japan 5-1 Monday in the quarterfinals of the Olympic Games Tokyo 2020.

Well, Biles – who did make the cut in the all-around - doesn't have to contend with wind while she competes.

"She has talent though," said Ellison. "So do we."

The loss by Team USA snapped a two-Olympic podium streak in the event. In the final ranking, the Americans placed seventh.

Ellison led Team USA to silver medals in the 2012 and 2016 Games and the United States had won medals in five of the eight Olympic archery men's team tournaments since the event began in 1988.
"I don't know what else to say to it besides I'm angry," said Ellison.

Team USA, which was seeded fifth after the ranking round, opened the day at the Yumenoshima Park Archery Field with a 6-0 victory over No. 12 seed France in the 1/8 eliminations. That helped even the score with the French after Team USA's basketball loss from the night before.

"We felt really good coming off of that match," said Williams. "We felt good, and we just got the wind figured out, but had some other errors that cost us this match."

Japan, seeded fourth, won the first set 55-52 as Ellison shot an uncharacteristic 7 on his second attempt at the 70-meter distance on a blue field with the Tokyo skyline in the distance.

The two countries tied 53-53 in the second set to make the score 3-1. Japan then won the third set 55-53 to clinch.

Williams shot all three of Team USA's 10s, while Ellison had no bull's eyes in the quarterfinal.

"I felt like I shot better out there today," said Ellison. "I hit a lot that first match, and in this match I just had three go high and I can't explain them."

Japan advanced to the semifinals to meet defending champion South Korea, which won 5-4, and then Japan defeated the Netherlands for the bronze medal.

South Korea defeated Chinese Taipei 6-0 to add to their previous golds in the women's and mixed team events. South Korea has now won six gold medals in the men's team event, while no other country has won more than one. The South Korean team shot 13 perfect 10s on 18 tries and the other five shots were 9s.

"Korea's the only place that has professional archery," Ellison said, noting that athletes can earn a minimum of $30,000 to $200,000 a year. "Their archery is set up like our Major League Baseball or our NFL is. So, the only way someone's going to be able to beat Korea is to have a team to step up and outwork them. And no one's done that yet.

"They have 50 guys in their country that can go out here and compete with everyone here."

Ellison, the reigning Olympic bronze medalist, will start individual play on Wednesday, along with Mitchell. Wukie, 35, who placed 17th at the London Games, will start Thursday. The schedule has been altered due to the inclement weather heading this way.

"I remain very angry going into individuals," said Ellison, "which I'm hoping is not boding well for anyone else. I'm sorry, Wukie. We'll be shooting against each other on final's day."

"Bring it," said Wukie.

Ellison, 32, shot 682 in the ranking round Friday - 20 points off his world record - to finish second behind South Korea's Je Deok Kim, a 17-year-old phenom like Ellison once was.

Williams, 21, was 29th with a 656 and Wukie, who also competed at the Olympic Games London 2012 and won a team silver, was 47th with a 649.

The women's individual event will be held on the same days, with all three Team USA female athletes competing Wednesday.

In the ranking round, Mackenzie Brown, 26, scored a personal best 668 to rank fifth. Casey Kaufhold, 17, qualified 17th, shooting 653 and Jennifer Mucino-Fernandez, 18, was 24th with a score of 649.

On Sunday, despite a third-place seeding, Team USA finished eighth in the women's team event after losing to the sixth-seeded Russian Olympic Committee 6-0 in the quarterfinals. The Russian Olympic Committee lost to South Korea 6-0 in the gold-medal match.

Team USA has not medaled at the Olympic Games in a women's archery event since 1988.

In the mixed team event, which made its Olympic debut in Tokyo, Ellison and Brown lost to Indonesia 5-4 in the 1/8 eliminations. In the shoot out, Indonesia had two perfect 10s, while Team USA had an 8 and a 10.

Wukie said he didn't think the absence of spectators due to Covid-19 restrictions made much of a difference in the archery competition.

"In reality we're getting the wind blocked quite a bit from the trees and the stands," he said, "and for whatever reason we're not getting a lot of wind in there, so I don't think that's necessarily a factor. It changes the experience. I don't think it changes a whole lot of the competition."

But the typhoon Nepartak could change the competition.

"We've heard that that storm could be anything from rain to 80 mile-an-hour wind, so we've just got to be ready for it," said Williams.

"Unless there's lightning right here, we'll shoot it and you just deal with whatever it's going to be," Ellison added. "Rain just starts to suck in general."

However, he had only praise for his Olympic experience so far. Ellison's first Games was 2008 in Beijing.

"We're here in Japan competing, right?" he said. "That's a big win. We got to come compete at the Olympics. The Games in general is running very smoothly. In all honesty, compared to the other Games, life inside the Village doesn't feel that much different besides wearing a mask and washing your hands a lot more and being a little bit more socially distanced. Everything's almost the same.

"It's not like we're confined to the room. You're allowed to go outside. You can walk around inside the village as long as you're not breaking the bubble. We have to get tested every day -that's a little bit different, but all in all it feels pretty normal as far as Village life and for the venue. It's just the oddities and the extras of going outside the village and seeing stuff that we're missing. Other than that, everything I feel is pretty good except losing these matches and not quite going the way that we want."
Want to follow Team USA athletes during the Olympic Games Tokyo 2020? Visit
TeamUSA.org/Tokyo2020
to view the medal table, results and competition schedule.
Karen Rosen has covered every Summer and Winter Olympic Games since 1992 for newspapers, magazines and websites. Based in Atlanta, she has contributed to TeamUSA.org since 2009.