Madison Hubbell, Zachary Donohue Fight For Excellence, When It Counts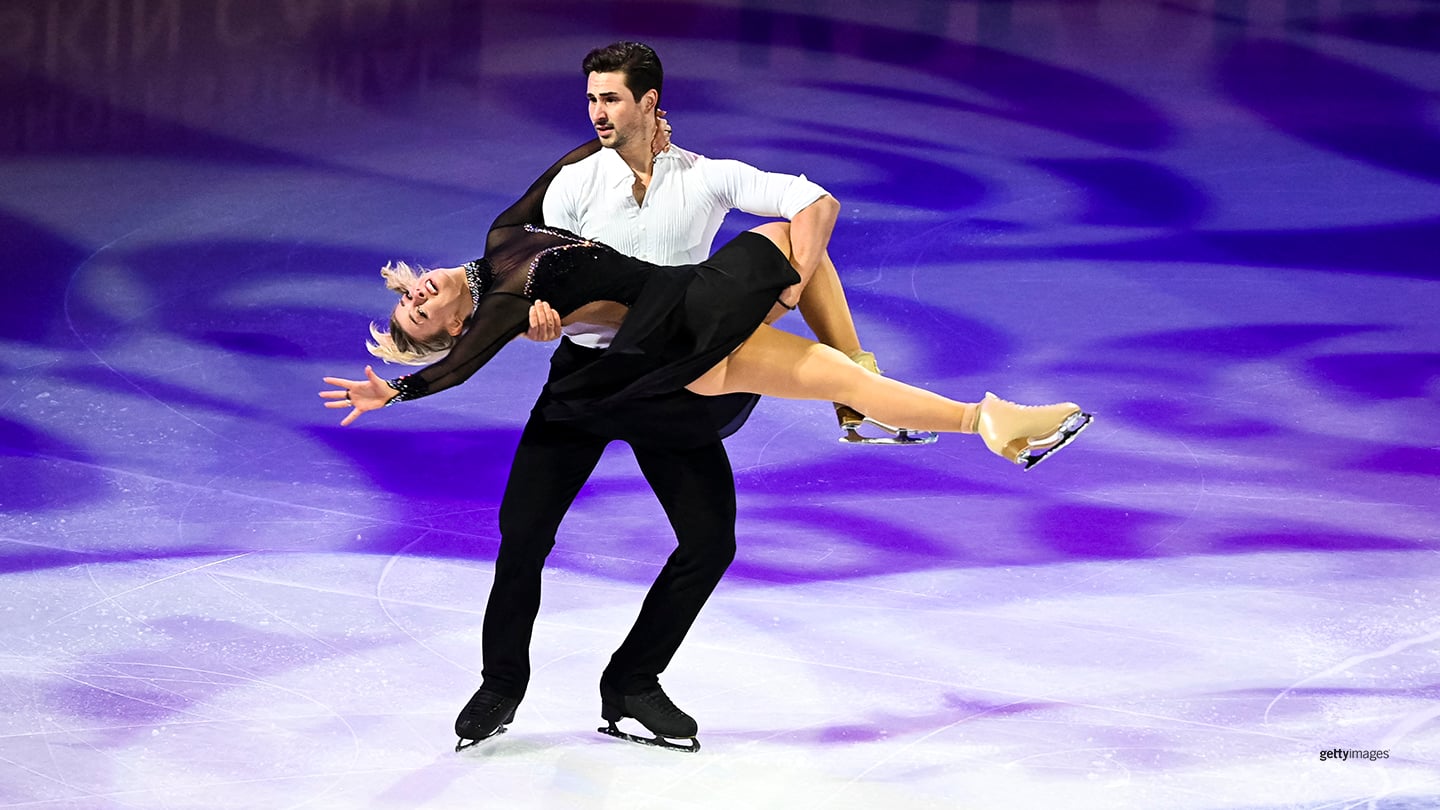 Madison Hubbell and Zachary Donohue compete during the gala exhibition event at the World Figure Skating Championships on March 28, 2021 in Stockholm.
NORWOOD, Mass. — Madison Hubbell and Zachary Donohue kicked off their 2022 Olympic campaign with a win at the U.S. International Figure Skating Classic, held last week at the Skating Club of Boston.

The victory — the ice dancers' sixth in a row at the early-season event — was far sweeter than their Thursday afternoon practice, when their blades clashed and they took a spectacular fall during a run-through of their new Janet Jackson rhythm dance.

"We just took a nasty tumble, right when the music went, 'Nasty,' " Hubbell said. "It's not always easy. We push ourselves."

A few years ago, the spill might have derailed the run-through. As Donohue said, "We would have sat there and overthought it." Now, they just laughed and resumed their program.

"If you fall at the end of a midline (step sequence), is it embarrassing? Yeah. I was a little like, 'Oh man, I hope somebody's not filming,'" Hubbell said.

"But at the same time, we tripped each other on our blades, and we just sat on our butts in a glittery unitard," she added. "And I'm looking at Zach like, 'Well, high-five, good drop.' How seriously can you take it?"

Hubbell attributes their equanimity partly to simple math: When the skaters teamed up in 2011, they were 20. As they begin what both call "absolutely" their final competitive season, they have both entered their 30s.

"After so many years in this sport, you just start realizing it's a choice," Hubbell said. "You do it because you like it. It's a good life. It's a really fun way to spend your day. And at the end of the day, no matter if you win or lose, life is about experiences and doing what you love. It doesn't mean it's always fun."

The skaters that will compete at the Olympic Winter Games Beijing 2022 in February — barring injury, the three-time and reigning U.S. champions are certain to qualify to represent Team USA — are far different than they were a decade ago, or even at the Olympic Winter Games PyeongChang 2018 where a fall at the very end of their free dance helped drop them from bronze-medal position after the short dance to fourth overall.
At first, they were known mostly for their power, deep edges and combustible on-ice chemistry; now, they have matured into possibly the best-matched and finest technicians in the sport.

Asked what the biggest change is now, from then, Donohue said, "I think the confidence in ourselves. When we first moved to train in Montreal (in April 2015) it was a big shift, relearning how to do pretty much everything, relearning relationship roles, dynamics in the partnership. Going into (PyeongChang) we had work to make up."

"That Olympic season, we were on that pinnacle, teeter point, where we could flip in either direction," Hubbell said. "We made a mistake at (the Grand Prix Final) and didn't end up on the podium. And then we won nationals. And then we made a mistake at the Olympics, but we ended up (with a silver medal) at the world championships. … We were going through that process of learning how to not only be excellent, but be excellent when it counted."

Patrice Lauzon, one of the couple's three primary coaches in Montreal (along with Marie-France Dubreuil and Romain Hagenauer), emphasized that consistency will be the key this season.

"It is still something we are working on," Lauzon said. "They are a very powerful and emotional team, and it is sometimes hard to contain all of that into one program. We've been working on that a lot and it's improving a lot."

In Norwood, the skaters unveiled their hip-hop themed rhythm dance set to a medley of Janet Jackson hits ("Nasty," "Rhythm Nation" and "Rope Burn"), earning a solid early-season score of 84.03 points.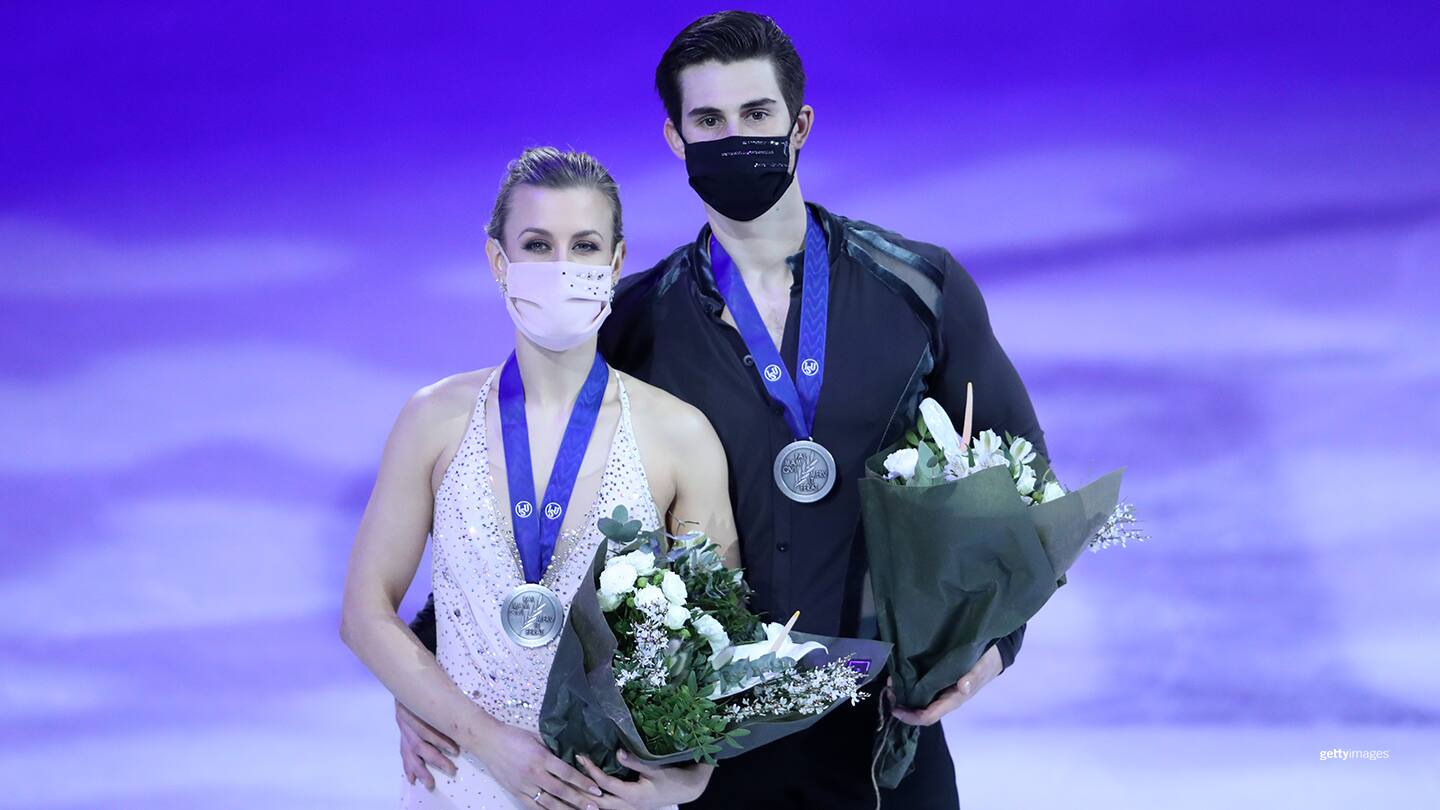 Madison Hubbell and Zachary Donohue pose with their medals after the free ice dance skating event at the World Figure Skating Championships on March 27, 2021 in Stockholm.
"(The music) wasn't something intellectually we thought would be the best choice, but the stars aligned and we fell in love with it," Hubbell said.

Encouraged by regular choreographer Sam Chouinard, as well as Dubreuil, the skaters worked with dancer and teacher Vincent Noiseux, who performed in Jackson's shows. The trio painstakingly created the hip-hop movements in a dance studio before bringing them to the ice.

"I think for all skaters competing in hip hop, it's not something we normally do," Donohue said. "We're all about glide and dance and extension. And modern jazz is probably the closest thing we ever get (to hip-hop). It's a cool opportunity to grow and branch out."

Their free dance to French singer Anna Sila's "Drowning," choreographed by Dubreuil and three-time Canadian Olympic champion Scott Moir, is far more lyrical and romantic.

"We actually struggled to find something that we really felt passionate about, for our free dance," Donohue said. "We didn't want to revisit an old Maddie and Zach energy. We wanted something new to celebrate where we were in our career and our vision. Our lift coach, Sebastian Soldevilla, brought us this music. He said, 'I see you guys skating to this, no one has ever done it before.'"
I think it captures how we're feeling about this season in general," Hubbell said. "We know we are going to retire, and there is joy, but it is also melancholic, bittersweet. And that's a little bit how it felt when we heard the lyrics. It feels haunting. … Basically, she sings, 'Hush now, and let me feel.'"

The most stunning moment comes early in the four-minute routine: a combination lift featuring Hubbell doing a back somersault over Donohue's head.

"This is probably the part where they try to improve the most — bringing in bigger, more innovative, harder lifts," Lauzon said. "All of their lifts are new. We worked (on this lift) for a long time."

The team credits Soldevilla with helping them perfect the move, a process they estimate took about 15 months.

"It feels good to go out on the ice and be proud and to think, 'I can say I have one of the coolest, most unusual and difficult lift in the field,'" Hubbell said.

Still, the 123.24 points the free dance earned in Norwood was disappointing.

"It wasn't our best, there were little issues of GOE (grade of execution) in every element, but overall we got good feedback (from the judges)," Hubbell said.

"There were little mistakes here and there in the program, overall it was pretty good," Lauzon said. "Of course, everybody always a higher score. They know 123 is not going to win them the Olympics, and their goal is to win the Olympics. But they can see the little mistakes on the elements and know how to go up for the next competition."

That will be Skate America Oct. 22-24 in Las Vegas, where Hubbell and Donohue will try for a fourth consecutive title. From there, it's on to the 2022 U.S. Figure Skating Championships in Nashville the first week in January. After Beijing, the duo plans to wrap-up their competitive career at the 2022 World Figure Skating Championships next March in Montpellier, France.

"By then, it will be time," Hubbell said. "There are other passions we both want to pursue."
Lynn Rutherford is a sportswriter based out of New York. She is a freelance contributor to TeamUSA.org on behalf of
Red Line Editorial, Inc.