Karen Chen Saves The Day For U.S. Women, Again, To Clinch Three Olympic Spots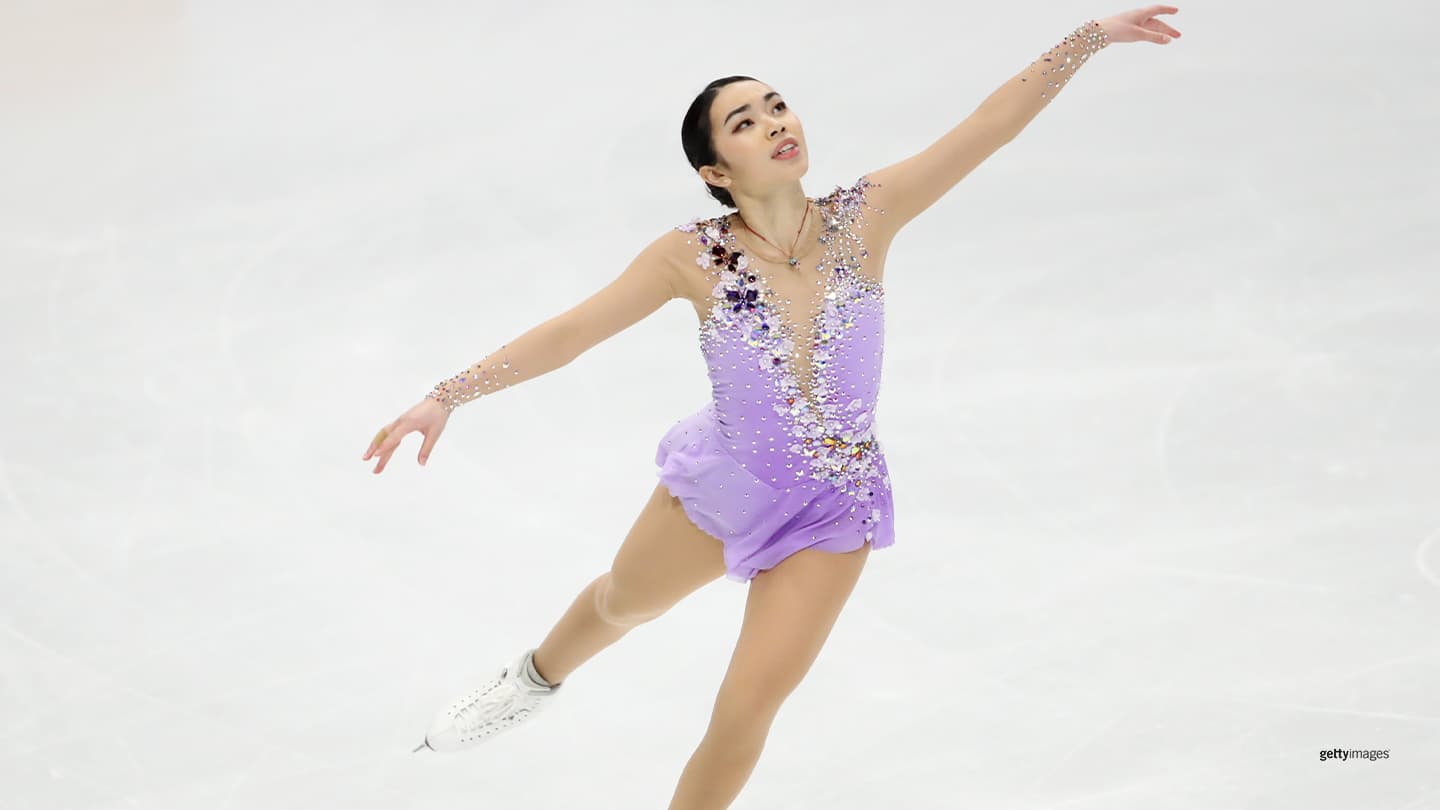 Karen Chen performs at the ISU World Figure Skating Championships on March 26, 2021 in Stockholm, Sweden.
At the 2017 World Figure Skating Championships in Helsinki, Finland, a 17-year-old Karen Chen nailed her free skate to place fourth and clinch three U.S. women's spots for the Olympic Winter Games PyeongChang 2018.

"First time at worlds, and she saves the day," Ashley Wagner, who finished seventh in Helsinki, tweeted after Chen's clutch performance.

Fast forward four years, and it's déjà vu — or, more precisely, déjà Karen — all over again.

Incredibly, at Stockholm's Ericsson Globe on Friday, Chen duplicated the feat, performing a near-clean, inspired program to finish fourth.

With Chen's teammate, Bradie Tennell, placing ninth, Team USA has again earned three entries to the women's figure skating event at the Games, this time in Beijing.

"Regardless of whether we secured two spots, or three spots, I was just proud of myself for delivering two really great programs," Chen said. "I honestly couldn't wish for anything better."

Skating to the ethereal "Butterfly Lovers," Chen wasn't perfect; her triple Salchow was under rotated, and a few other jumps had minor deductions. But her spins and steps were among the best in the event, and her speed, edges and sensitive musicality lifted her to a career-best free skate score, 134.23 points, and total score, 208.63.

"I felt like I was in the zone, and I was just embracing every single moment and doing my jumps," Chen said. "Some of the jumps were not as good as I know I am capable of, but I really fought through that entire performance and I'm really proud of that."

"I have seen her even better in practice, but this was better than Helsinki," Chen's longtime coach, Tammy Gambill, said via text message.

Chen, who placed third behind Tennell and Amber Glenn at the 2021 U.S. Figure Skating Championships, was selected for the Stockholm world team based on her body of work. She won the U.S. title in 2017 and placed 11th in PyeongChang.

"At the end of the day, I was just focused on my job and what my goals were," Chen said. "I try to block out all of the distractions."

Once considered the future of U.S. women's skating, injuries and confidence issues limited Chen's results for several seasons. Last year, she attended Cornell University in Ithaca, New York, training on her own at a nearby local rink and sending clips of her practices to Gambill via iPhone.

A fourth-place finish at the 2020 U.S. Championships got her competitive juices flowing again. When the COVID-19 pandemic exploded last spring, she was back in Colorado Springs, Colorado, training under Gambill. She has since taken a two-year leave of absence from college.

"Karen was able to train with me on a consistent basis, and we were able to work together the entire year except of course during the COVID shutdown," Gambill said.

"In the past, skating was my everything," Chen said. "It still is my everything, but I have a much better grasp of my life. I definitely gained a lot of perspective from that year I spent on campus. It really helped fuel the fire."

"I know that skating is something I truly love," she added. "I want to give it my best at this point in time."

Tennell's role in gaining the three spots should not be downplayed. She, too, reached deep in Stockholm, fighting through equipment problems.

The two-time U.S. champion (2018, 2021) is known for her consistent triple jumps, but in Wednesday's short program, her usually reliable triple Lutz, triple toe loop combination was reduced to a triple, double.

As she took the ice for her free skate on Friday, it was obvious something was amiss: the boot on her right foot — which she uses to launch her Lutz and flip — was heavily taped. This was not evident during the short, when black tights masked the problem.

"Bradie did have a pair of back-up boots, but the issue was perhaps changing the mounting (of the blades) and having to deal with that under limited practice circumstances," Tom Zakrajsek, who coaches Tennell in Colorado Springs, relayed via text.

The 23-year-old opened her free skate with a triple Lutz, triple toe loop combination, but the toe was judged under rotated, as were two other triple jumps. She placed eighth in the free, but ninth overall with 197.81 points.

"It is very disappointing, especially at such an important competition," Tennell said, adding that the entire ankle support area of the boot broke soon after her arrival in Stockholm.

"There was nothing I could do. I did the best with what I had. (The boots) are only about a month old, so I thought it would be fine. Sometimes these things happen. You just step on the ice and give it your all, and that's what I did today."

Figure Skating Federation of Russia (FSR) skaters won all three women's medals in Stockholm. Anna Shcherbakova failed to land a planned quadruple jump, but clean triple-triple combinations helped deliver her the gold medal. Elizaveta Tuktamysheva won silver, and Alexandra Trusova captured bronze.



U.S. Ice Dancers In Medal Position After Rhythm Dance
When four-time world ice dance champions Gabriela Papadakis and Guillaume Cizeron of France announced in January they would not compete at the 2021 world championships, it meant first-time winners would be crowned in Stockholm.

It also kicked off some lively handicapping on who those winners would be, with many agreeing that three-time U.S. champions Madison Hubbell and Zachary Donohue (2018, 2019, 2021), Madison Chock and Evan Bates, winners of two U.S. crowns (2015, 2020), and reigning world silver medalists Victoria Sinitsina and Nikita Katsalapov of the FSR held the inside track.

"Our goal is to win, regardless of whether Gabby and Guillaume are here, or not," Hubbell said. "I think it would be a disservice to anyone who wins the world championships to put it as, 'Oh, they won because the French weren't there.'"

The rhythm dance took place on Friday. The free dance will happen on Saturday.

This season's theme is Broadway and movie musicals. All programs must include a sequence of the Finnstep pattern dance, a quickstep invented by 1996 European champions Petri Kokko and Susanna Rahkamo.

Kokko, interviewed on German television during the event, explained that the Finnstep should "bubble like a glass of champagne." In Stockholm, Chock and Bates sparkled to a light and charming routine set to Cole Porter's "Too Darn Hot," highlighted by a spectacular opening lift. They earned 85.15 points to place third in this segment of the competition.

"Unfortunately, it looks like we lost a few levels, but we were happy with the way we performed," Chock said.

"We really went for it," Bates said. "That was one of our goals, to not hold back. We really gave a heartfelt effort … Our focus was to bring the emotions, and we did it."

In ice dance, the slightest error or omission may cause a move to lose a bit of its base value. While Chock and Bates gained two Level 4 (the highest) elements, five of their elements were rated Level 3, including both skaters' twizzles (series of fast turns).

"I think we skated really well," Bates said. "We're certainly happy with the commitment to the performance. We've been really training hard."

Hubbell and Donohue's program, set to music from the 2010 film "Burlesque," is the polar opposite of Chock and Bates' routine — racy, sensual and bold. It gained four Level 4 elements, including the Finnstep and twizzles. The team's power and ice coverage was on full display, and they earned 86.05 points for second place.

"The (rhythm dance) has been a little bit harder than the free dance, to find our groove," Hubbell said. "We felt like this week we were able to perform it well and show our strength. We're happy with our performance."

Unlike most of their competitors, Hubbell and Donohue created two new programs this season.

"We get bored really easy. We have a really hard time keeping a program two seasons," Donohue said. "We like to change things up a lot. It keeps things real, it keeps things authentic."

"Part of the special thing we enjoy about skating is really about authentically connecting during the piece," Hubbell said. "Once it becomes too well rehearsed, and we've done the same thing for 18 months, we feel like it's hard to inject new life into a piece."

Performing to selections from "Singin' in the Rain," Sinitsina and Katsalapov won the rhythm dance with 88.15 points, to take a 2.10-point lead. Still, either of the top two U.S. teams — who both consider the free dance their stronger suit — can win gold if they triumph in Saturday's free dance.

"You don't show up to say, 'Hey, we want to be second,'" Donohue said.

"We definitely want to win the gold," Bates said. "We think the work we've put in and the training we've done, has prepared us really well for this event. We're as strong as we've ever been. We're feeling confident, we have great programs and we just love to skate, and I think that really comes across when we are performing. The goal is to win the gold."

U.S. bronze medalists Kaitlin Hawayek and Jean-Luc Baker performed an entertaining program to selections from "Saturday Night Fever," and sit 11th entering the free dance.
Lynn Rutherford is a sportswriter based out of New York. She is a freelance contributor to TeamUSA.org on behalf of
Red Line Editorial, Inc.