News
Raymond Martin
Justin Phongsavanh
Track And Field's Raymond Martin Hits Double Digit Career Medals While Justin Phongsavanh Grabs His First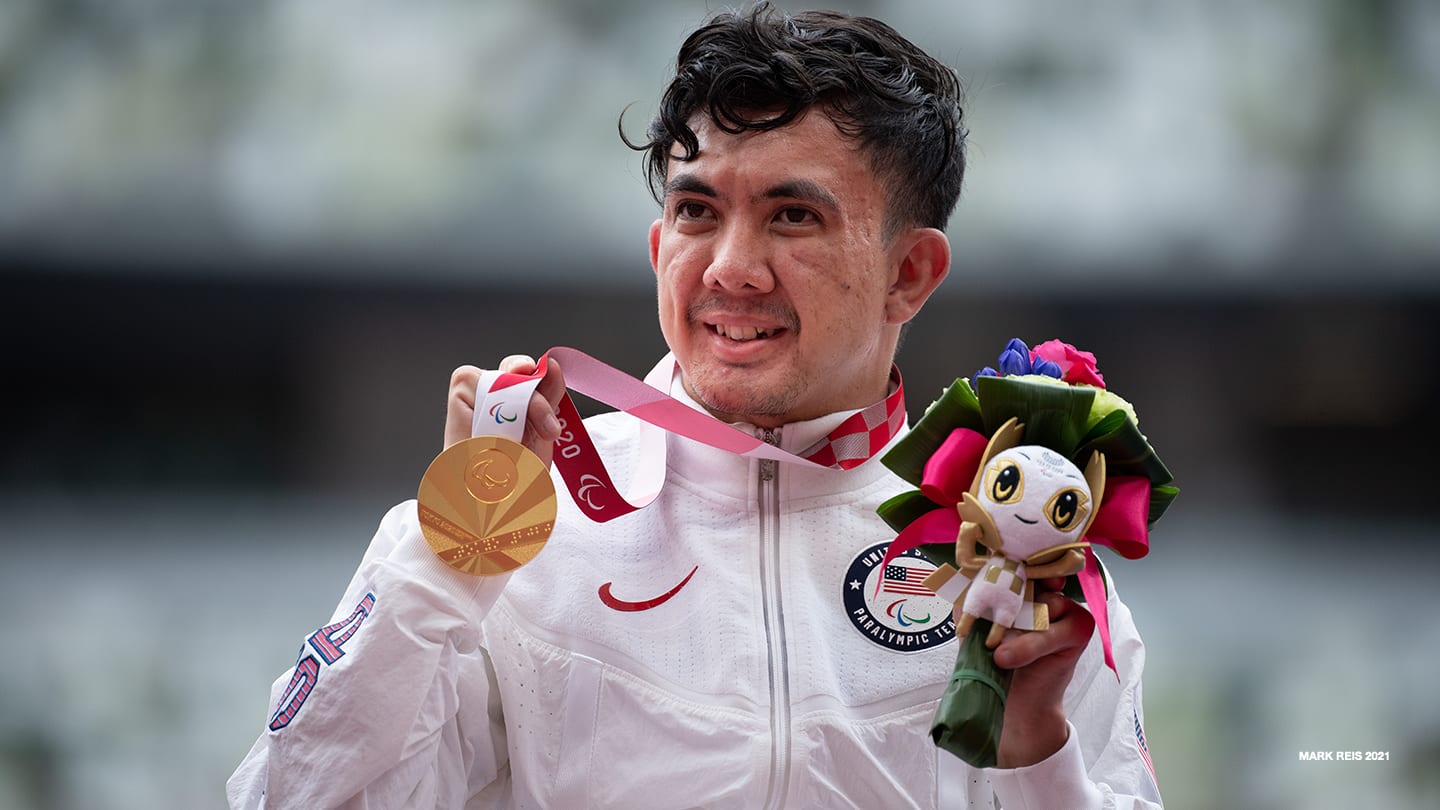 Raymond Martin poses with the gold medal on the podium at the Paralympic Games Tokyo 2020 on Sept. 3, 2021 in Tokyo, Japan.
TOKYO — The pouring rain and 97 percent humidity couldn't stop Team USA's Raymond Martin from grabbing his 10th career Paralympic medal and first gold of the Tokyo Games.
On day eight of the Paralympic Games Tokyo 2020, the 27-year-old would reach double-digit medals, finishing on top of the podium in the men's 100-meter T52. This victory would cap off an impressive three Games streak where he has medaled in every event he's entered.
For Martin, the feeling of earning a podium spot felt just as good as it did in London in 2012.
"Three Games later, seventh gold medal. I'm so excited to get on top of the podium, and hear the national anthem of the U.S. and bring a gold medal to Team USA," he exclaimed.
"I really wanted to come out on top of the podium, and this was my last chance," he said.
With three days remaining in track and field, the 100m would be Martin's last event of the Games. He also raced in the 400m and 1500m where he took two silvers.
"My last two events I came out with the silver medal — but they were lifetime best — so it was hard to complain about those events. But it wasn't exactly where I wanted to be, which is at the top of the podium," Martin said.
In Tokyo, he would earn his seventh career gold and second and third silver — still never finishing a race in third.
Martin's time of 16.99 came in just behind the world record (16.41) and Paralympic record time (16.79 from London), both of which he still holds.
His speed was enough to cross ahead of Japan's Yuki Oya, who took silver with a time of 17.18, and Mexico's Leonardo de Jesus Perez Juarez finished in third (17.44).
Coming in behind them were Martin's teammates, Gianfranco Iannota, who came in sixth (18.08), and Isaiah Rigo in seventh (18.98).
Martin won't have much time to relax when he returns home as he is currently enrolled in grad school, working towards becoming a physician's assistant.
"I am going to start focusing on that," he said about how he will be switching gears a little bit after Tokyo. "I should finish in December 2023, which is right before Paris. So I can't rule out Paris now!"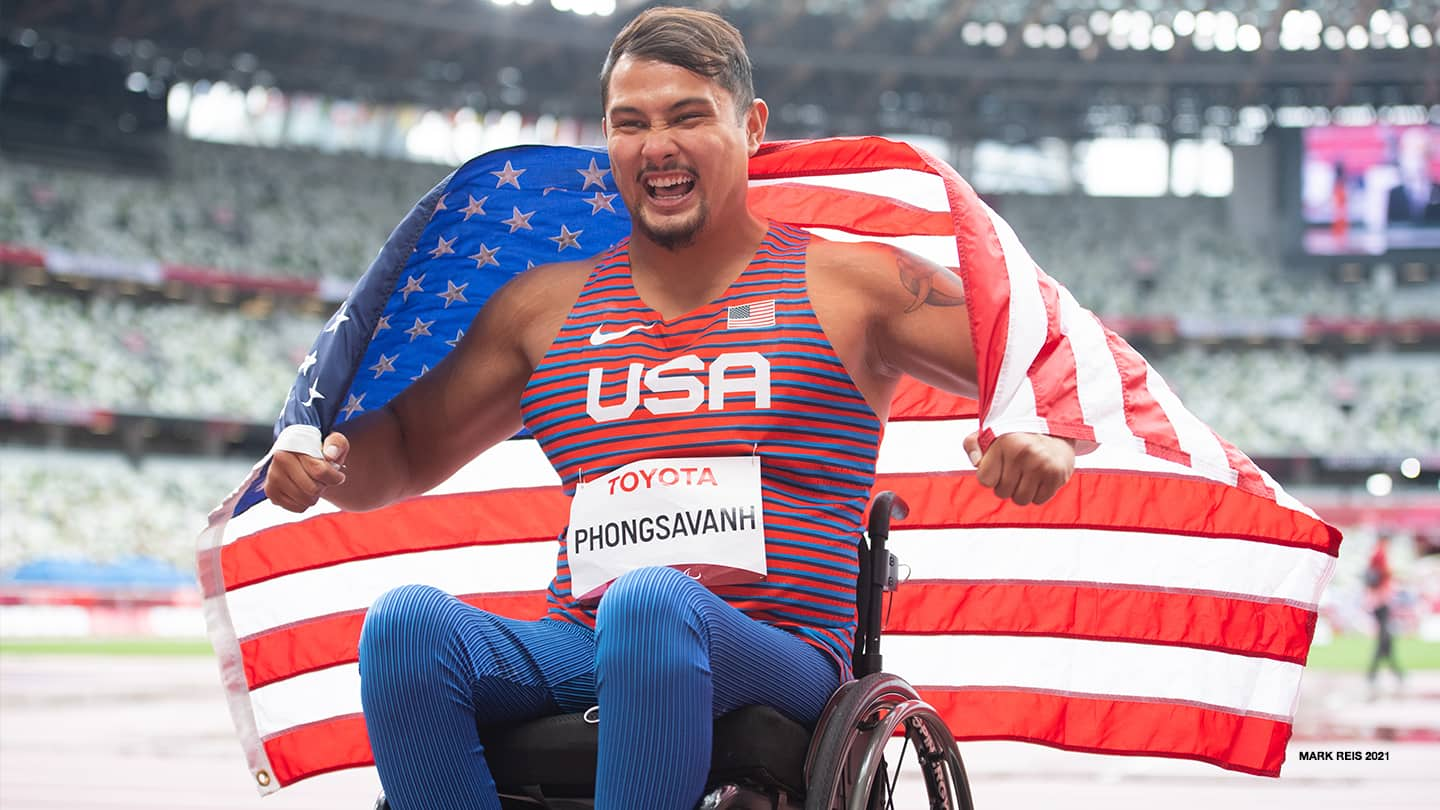 Justin Phongsavanh celebrates winning bronze at the Paralympic Games Tokyo 2020 on Sept. 3, 2021 in Tokyo, Japan.
Justin Phongsavanh Earned His First Medal, Making His Paralympic Debut In
Tokyo
From 10-career medals to first-timers, Justin Phongsavanh earned Team USA its second medal of the morning on Sept. 3 in the men's javelin throw F54.
Making his Paralympic debut, the 24-year-old who lives and trains at the Athlete Training Center in Chula Vista, CA, took the bronze medal in his first and only event in Tokyo.
Phongsavanh was the last one to throw in the rotation. His third attempt landed him behind two others, where he would finish with the bronze — behind Islamic Republic of Iran's Hamed Amiri, whose 31.35 would set a new Paralympic record.
But the world record was still held by Phongsavanh — a fourth-place finisher at worlds in 2019 — who crushed a distance of 33.29 at his first U.S. Paralympic Team Trials for Track and Field in Minneapolis, MN in June earlier this year.
"Of course it wasn't the top result that I wanted, but the fact that I got on the podium when it was this great of a competition. This competition and the results that came from it will probably go down in history as one of the best javelin competitions for seated throwers in my class — in history. And I'm happy to be a part of it," said Phongsavanh about his first career medal.
The Russian Paralympic Committee's Aleksei Kuznetsov would secure the silver with a distance of 31.19, setting a new area record in the process.
With Japan set to host next year's World Para Athletics Championships in Kobe, Phongsavanh plans to take some time off before his next major competition in August of 2022.
Track and field will continue tonight, with two additional days of events before concluding ahead of the Closing Ceremony on Sunday, Sept. 5.
Want to follow Team USA athletes during the Paralympic Games Tokyo 2020? Visit TeamUSA.org/Tokyo-2020-Paralympic-Games to view the medal table and results.
Lisa Costantini is a freelance writer based in Orlando. She has covered Olympic and Paralympic sports for various publications, and has contributed to TeamUSA.org since 2011.