Team USA Partner Dow Salute U.S. Athletes And Troops In Japan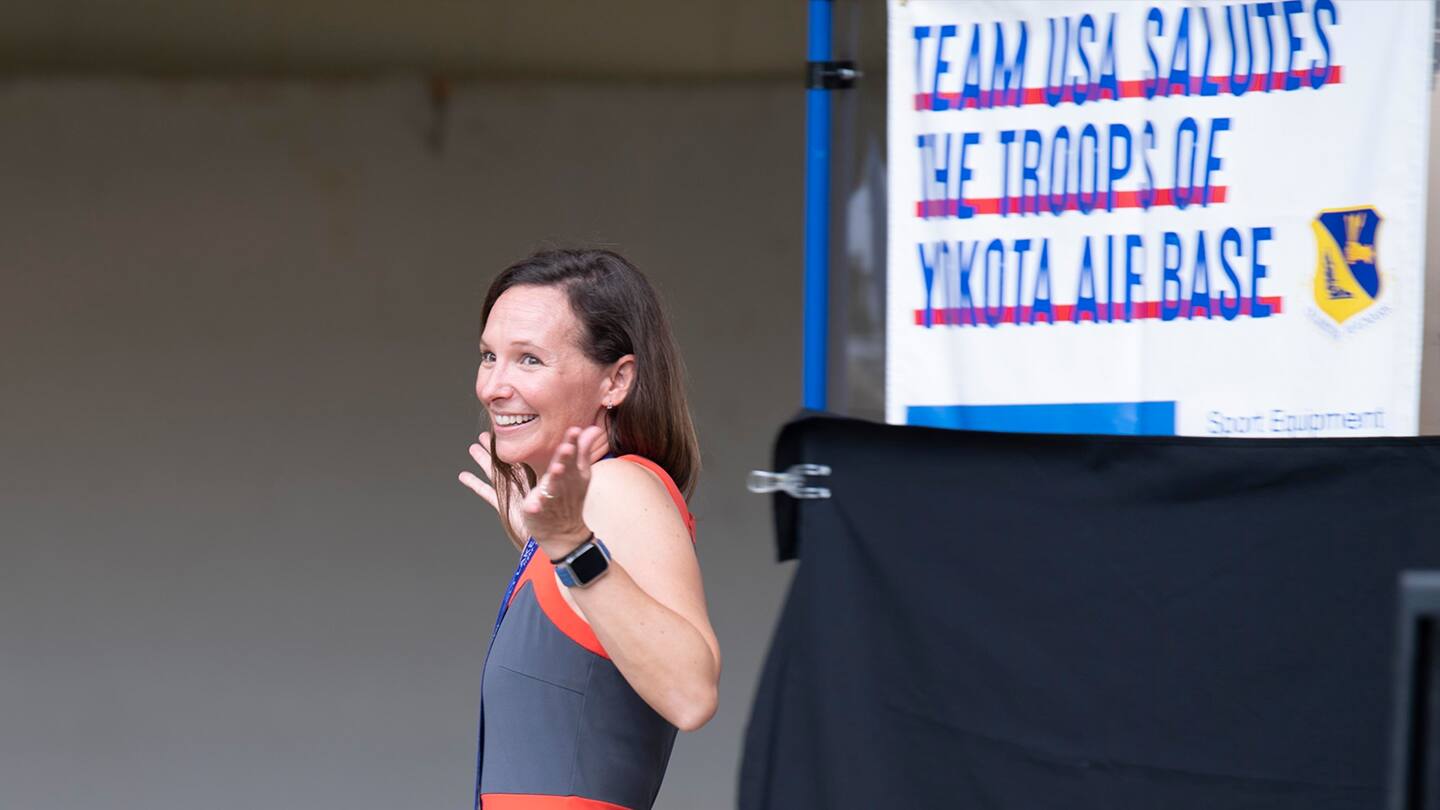 Tristan Gale Geisler participates in Salute To The Troops program presented by Dow at Yokota Air Force Base in Tokyo.
Stationed about an hour west of Tokyo at Yokota Air Base, members of the U.S. Air Force and their families were primed for a once-in-a-lifetime experience with the Olympic and Paralympic Games being held in Japan.

Unfortunately, the COVID-19 pandemic waylaid those plans.

To fill the void since spectators were not allowed to attend the two major international sporting events, the U.S. Olympic and Paralympic Foundation (USOPF) and two of Team USA's biggest supporters stepped in to provide a different form of entertainment.

In a program called Salute The Troops, Team USA along with Dow and support from Reese's donated two pieces of equipment to the 14,000 people living and working at Yokota Air Base and Japan Air Self-Defense Force Base, located in Fussa, Japan: a 28-foot-tall rock-climbing wall that can accommodate four people and a high-performance box gym were part of a presentation made July 30. Tristan Gale Geisler, who won the inaugural women's skeleton gold medal at the Olympic Winter Games Salt Lake City 2002, was part of the ceremony as she lives on a base near Okinawa, Japan, with her military spouse who lives on a base near Okinawa.

Additionally, Dow, with backing from Reese's, announced Thursday it has donated $100,000 to the USOPF. That money will be split evenly between athletes who currently or have previously served in the military from the Olympic or Paralympic team, as well as support resources to fund Paralympians.

"The Olympic and Paralympic Games Tokyo 2020 prove sport is able to transcend competition and become a vehicle for connecting and inspiring the world," said Christine Walshe, chief development officer and president of USOPF, in a news release. "We're so grateful for the Salute the Troops program. With Dow's financial support, we'll continue to ensure our active duty and veteran athletes, along with all Paralympic athletes, will have the sport support and resources they need to compete on the global stage."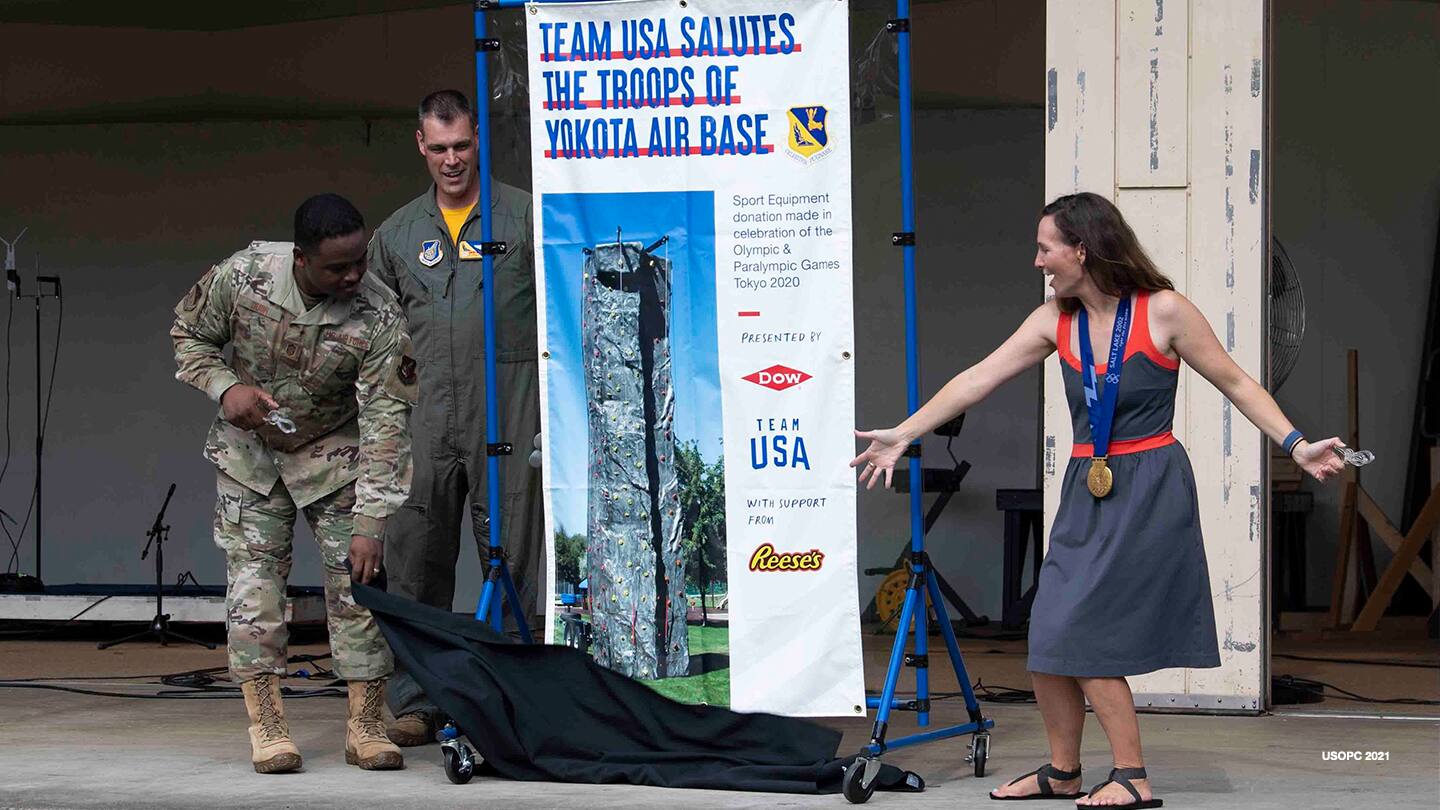 Tristan Gale Geisler participates in Salute To The Troops program presented by Dow at Yokota Air Force Base in Tokyo.
Other donations by Team USA partners will be made, including apparel, pins and memorabilia, through the Operation Home Crowd initiative to those at Yokota Air Base. Team USA will also be supplying apparel and merchandise after all of the athletes have been outfitted.

The Paralympic ties with Yokota don't end there. The home of the 374th Airlift Wing is playing host to roughly 70 athletes from the U.S. Paralympic Team as they prepare for the Tokyo Games. The athletes from the swimming and track and field teams arrived Aug. 11 and will depart Aug. 21 for the Games, which begin on Aug. 24.

"I'll be sad to leave here on Friday," said U.S. Para swimmer Jamal Hill in an article for the base website. "Everything here has been done with love. Our countrymen have shown us nothing but love, gratitude and respect. We've done our best to return that to them in kind."

The U.S. Paralympic Team numbers 21 veterans, the sort of athletes who will benefit from the donations. The opportunity to train at Yokota Air Base has given the non-veterans of the team an insight into the experience of their teammates.

"Being teammates with individuals who've literally laid their lives on the line protecting the forefront of America is absolutely incredible," said U.S. javelin thrower Justin Phongsavanh. "It is an excellent opportunity to learn and grow about another aspect of the world that most of us will never see, hear or go through. To also be a part of their growth as a human is excellent. I'm happy to be a part of a team that has veterans."

The Salute The Troops program continues Team USA's commitment to the military. In 2004, the Paralympic Military Program was created to use sports as a means of support for current service members and veterans who are ill or injured, including those with visual impairments, amputations or traumatic brain injuries. More than 2,000 athletes are directly impacted each year by the Paralympic Military Program, while thousands of others are able to make connections the program provides.
Steve Drumwright is a journalist based in Murrieta, California. He is a freelance contributor to TeamUSA.org on behalf of
Red Line Editorial, Inc.