Team USA Versus Australia "Duel in the Pool" Returns After Long Hiatus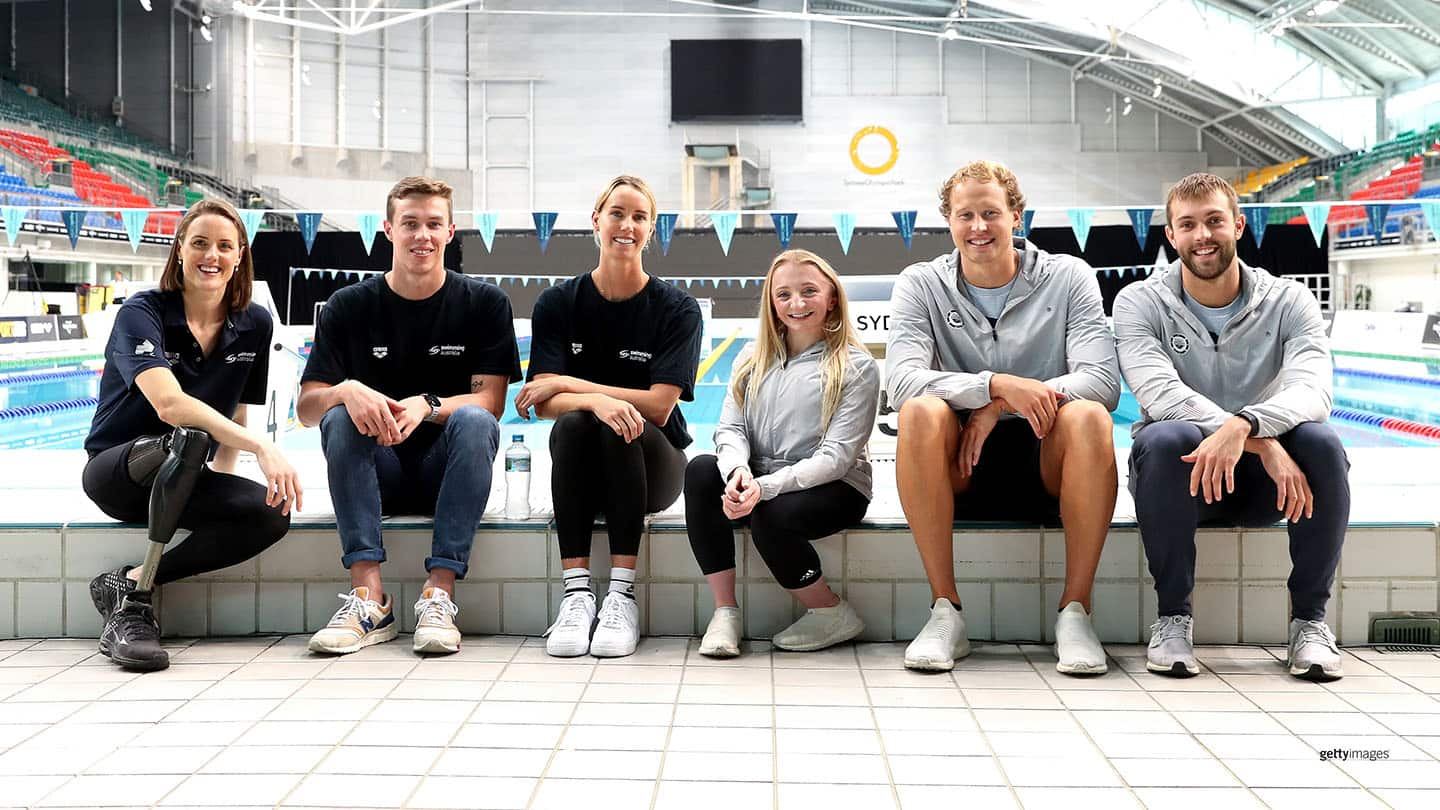 (L-R) Ellie Cole, Zac Stubblety-Cook and Emma McKeon of Australia pose with McKenzie Coan, Chase Kalisz and Ryan Held ahead of 2022 Duel in the Pool on Aug. 18, 2022 in Sydney.

It's been almost 20 years since backstroke legend Aaron Peirsol competed in the first Duel in the Pool. The event began in 2003 for the world's two swimming powerhouses to go head-to-head in the pool: the U.S. versus Australia.

But Peirsol does not remember the "duels" as much as the pool-side banter with swimmers who were usually billed as rivals – at least at big international meets like the FINA World Championships and the Olympic Games.

"Some of my best memories are honestly getting to know and getting to spend time with these other teams that we probably wouldn't have gotten to spend that kind of quality time with, so you develop a sense of camaraderie with them," said Peirsol, who's won seven Olympic medals, including five gold, and still holds the men's 200-meter backstroke world record. He competed in three Duel in the Pool meets from 2003-2007.

Held in odd years from 2003-2015, the first three Duel in the Pool meets were Team USA versus Australia; the next four were the U.S. versus Europe in a Ryder-Cup-style event. No matter who they were competing against, the U.S. won every single Duel in the Pool.

The meet was revived this year – in its original U.S. versus Australia format – but with new twists. Paralympians and open-water swimmers are included for the first time, and the format is unique. The meet opens on Aug. 19 with an open water 4x800-meter freestyle relay on Bondi Beach in Sydney, Australia, then continues on Aug. 20-21 at the Sydney Olympic Park Aquatic Centre (home of the Olympic Games Sydney 2000 swimming races) with traditional and "skins" races. Swimmers accrue points for their teams.

Jamal Hill – who's one of four U.S. Paralympians competing in the 2022 Duel in the Pool – describes it as a "very special niche event."

Team USA heads to Australia with a roster of Olympic medalists and younger swimmers testing their first international waters – with Peirsol as team captain (a mostly ceremonial role, he said). Team Australia is fielding a squad of Olympic stars and world-record holders.

But as Peirsol learned, Duel in the Pool is about more than cut-throat competition. In this year's version, it will showcase the sport of swimming in what is arguably the cultural center of the sport.

Here's a look at the meet's history and who to watch in this year's "duel."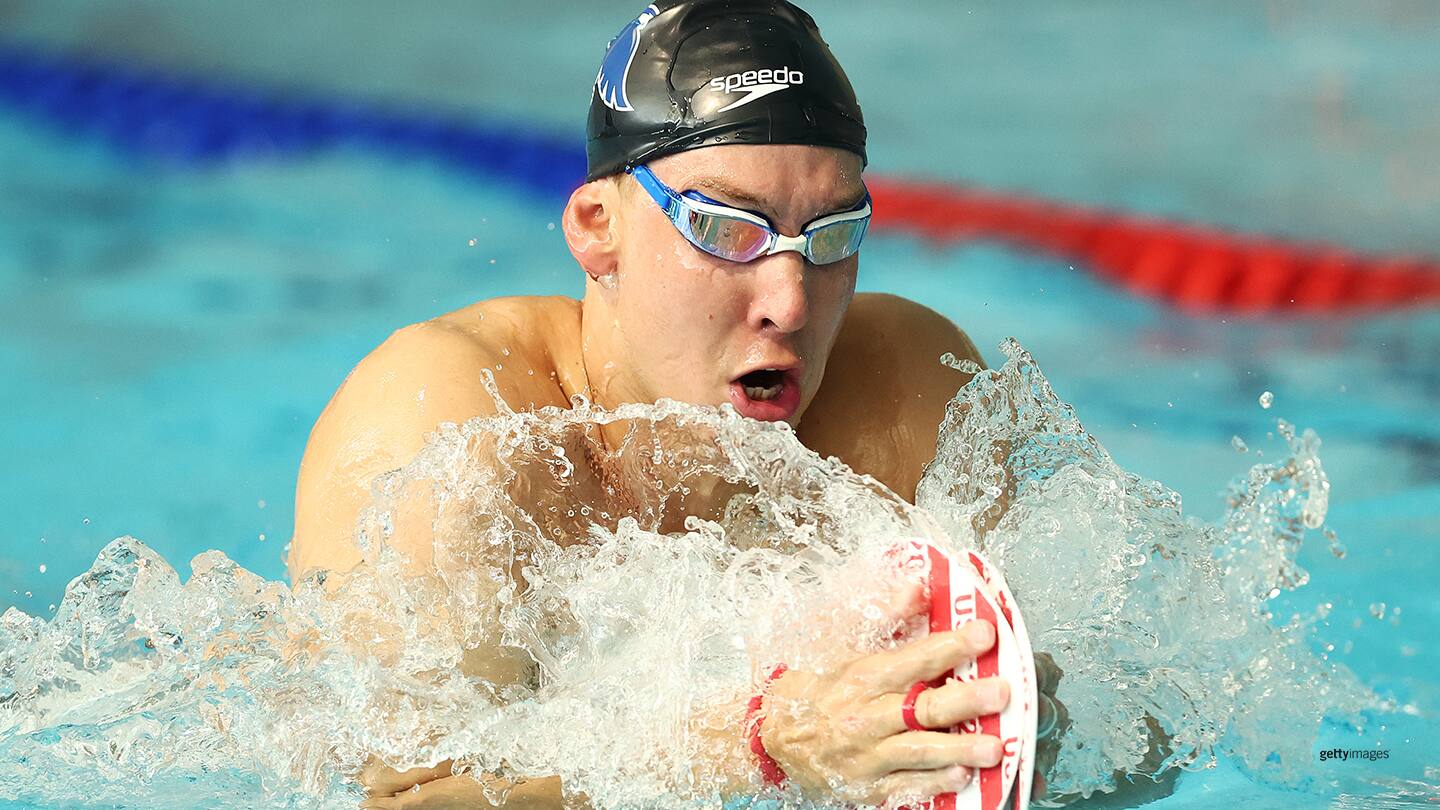 Chase Kalisz during a Team USA open training session ahead of 2022 Duel in the Pool on Aug. 17, 2022 in Sydney.
History of Duel in the Pool
Duel in the Pool started in 2003 as a way to showcase the world's two swimming powerhouses after Sydney 2000. At those Olympic Games, Gary Hall, Jr., infamously claimed that the U.S. would "smash them like guitars" in the 4x100 freestyle relay – a relay that the U.S. men had never lost at the Olympic Games. But it was Australia that claimed gold in that relay, with Australian star Ian Thorpe beating Hall to the wall by 0.19 of a second. In addition to winning the gold medal, the Aussie swimmers smashed the 4x100 freestyle relay world record.

Three years later, the two countries convened in Indianapolis for the first Duel in the Pool in April 2003. The U.S. dominated Australia, winning 21 of 26 races and tallying 196 points to 74. [Similar to a high school or college meet, Duel in the Pool swimmers compete for points – 5 points for first, down to 1 point for fourth place in individual races; 7 points for relay wins with zero points for the runner-up.]

The U.S. won the next two Duel in the Pool meets. Then in 2009, the format changed to the U.S. versus Europe. Even against swimmers from a variety of countries, Team USA won the majority of points – every year except 2013 when the U.S. was tied with Europe going into the final event. In one of the first versions of a mixed relay, Simone Manuel (who would win Olympic gold three years later at the Olympic Games Rio 2016) anchored Team USA to the win, keeping the U.S.' Duel in the Pool legacy alive.

Notably, the big guns usually showed up for each Duel in the Pool. For example, in 2003, Michael Phelps won three races and just missed setting a world record in the 100-meter butterfly. In the same meet, Peirsol beat reigning Olympic gold medalist Lenny Krayzelburg in the 200-meter backstroke. In 2011, Natalie Coughlin, Rebecca Soni, Dana Vollmer and Missy Franklin – who had either already won multiple Olympic gold medals or would go on to win multiple – set a world record in the medley relay.

"Watching those races to me it was just exciting, and it was something that was different because it wasn't the Olympic Games, it was just for pride," Olympian Cody Miller told SwimSwam. "One country competing against another country to see who is the overall collective best team."

Miller competed in the 2013 and 2015 Duel in the Pool meets, then won his own Olympic medals in 2016.

Duel in the Pool was discontinued after 2015. Then last summer, Australia flexed its muscle at the Olympic Games Tokyo 2020, winning nine gold medals to the U.S.' 11 and claiming more of the coveted relay gold medals than the Americans. Duel in the Pool in its original version – USA vs. AUS – was revived.

But the 2022 version has distinct differences than previous versions. Organizers added Paralympic and open-water races to the schedule, diversifying how the two teams can accrue points. Beyond the typical swimming races (like the 100-meter freestyle or 200-meter backstroke), this year's Duel in the Pool features races like the mixed 6x50-meter freestyle relay (with one man and two women per team) and the 3x50-meter skins races, a series of back-to-back 50-meter races, which run on a knockout basis until two swimmers remain and compete in a head-to-head final race. Races are run consecutively, with little time to rest.

Peirsol described this uniquely Australian format as "a horse race," with strategy involved so swimmers are not spent if they advance to the next skins round.

"[The 2022 Duel in the Pool] format shakes the typical narrative of what swimming is," explained Peirsol. "It's less individual and more team oriented, and it builds camaraderie between the countries."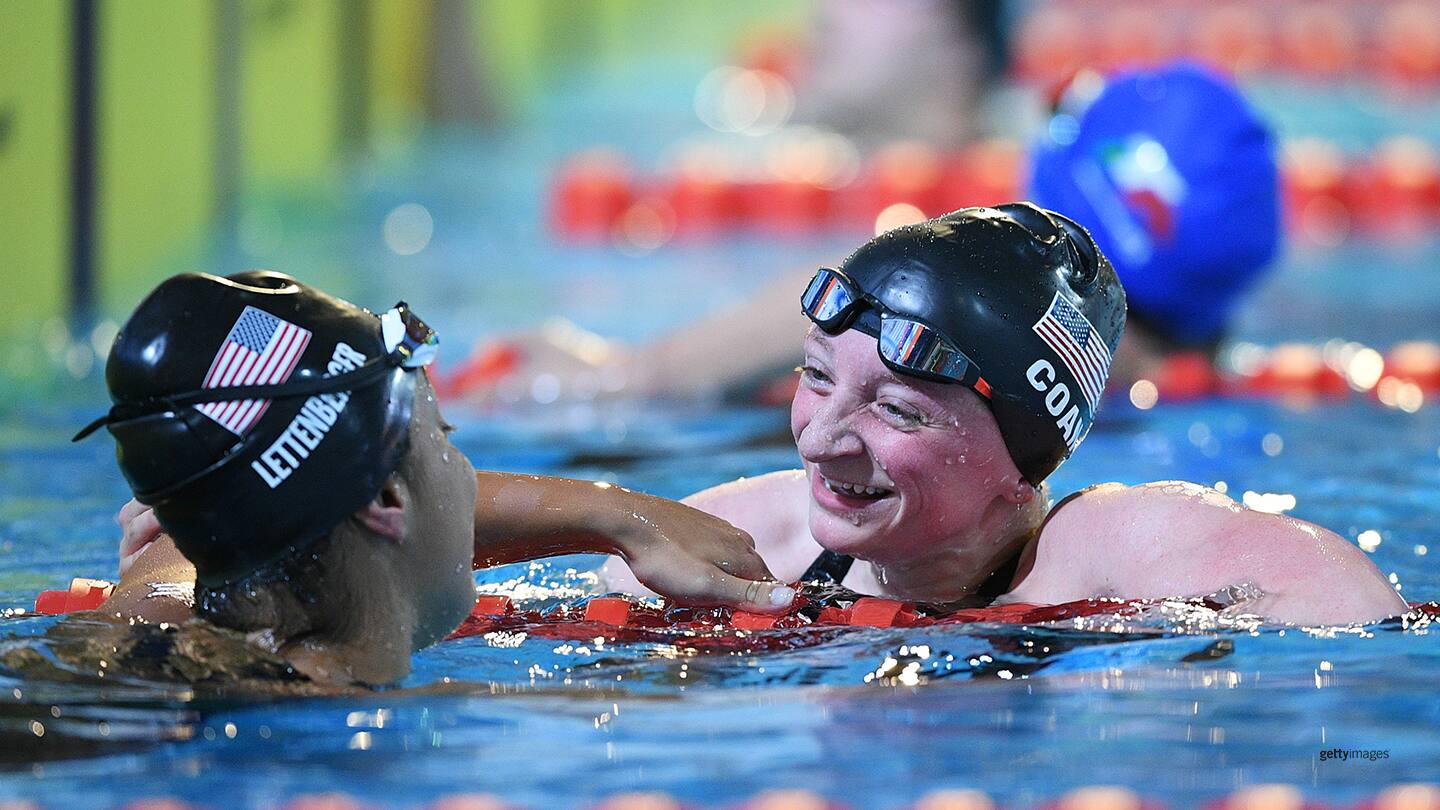 (L-R) Ahalya Lettenberger and McKenzie Coan celebrate going 1-3 after the women's 400-meter freestyle S7 final at the 2022 World Para Swimming Championships on June 13, 2022 in Funchal, Madeira, Portugal.
Australian Waters
Duel in the Pool is being hosted in Australia for only the second time – a surprising fact given Australian's love of swimming.

In many ways, it's the national sport, and their Olympic medals show how much the sport is revered in the country. Australian swimmers have won almost three times the number of medals than any other of the country's sports since the modern Games began in 1896. And to date, Australian swimmers have won 212 Olympic medals – about a quarter the number that Team USA has won in swimming. But the U.S.' population is 12 times that of Australia.

"[It] shows the world that the little nation down under, with its chronic cultural cringe, can punch above its weight," read a recent article in The Sydney Morning Herald. "Part of the attraction may also be that Australians have traditionally spent summers in pools—we have more per capita than any other country—and so can see ourselves in our swimmers, diving off the blocks and chasing that black line."

With swim-loving Australians in the stands, the 2022 Duel in the Pool promises to be a raucous meet.

"It's inspiring," said Peirsol, a waterman who now lives in Hawaii. "In some regards, it feels like you've come home. When you return to Australia and do a meet like this, you're kind of paying homage to the people that truly appreciate and love the sport."


Duel in the Pool Rosters
Although USA Swimming has a winning Duel in the Pool legacy, the competition will be heated this year.

Diving into the pool for Australia are at least three Olympic champions, including Emma McKeon and Kaylee McKeown, who together won four individual Olympic gold medals last summer in Tokyo, and then powered Australia to the 4x100 medley relay gold medal. Olympic gold medalist Zac Stubblety-Cook, who recently broke the 200-meter breaststroke world record, is also on Australia's roster.
In fact, every Australian on the initial roster has at least one Olympic medal to his or her name. And at the 2022 Commonwealth Games in late July, the Australian women broke the 4x200 freestyle relay world record.
Team USA's Olympic and world championship big guns, like Katie Ledecky and Caeleb Dressel, are skipping the 2022 Duel in the Pool. But the team has a good mix of young swimmers making their international debuts and Olympic medalists – like Annie Lazor, Chase Kalisz, Michael Andrew and Bella Sims, who at 2022 FINA World Championships, swam an "out-of-body anchor split" (as described in Swimming World Magazine) to anchor the 4x200 freestyle relay team to the win.

"It's always an honor to represent Team USA," said Lazor, a 2020 Olympic bronze medalist. "We have a lot of rookies on this team, and I really believe that it's the perfect first meet for a lot of people."

Paralympians are also competing for the first time at Duel in the Pool – "a long time coming," said Peirsol.

Team USA includes: four-time Paralympic and nine-time world champion McKenzie Coan, three-time Paralympic medalist Lizzi Smith, 2020 Paralympic bronze medalist Jamal Hill (who set the 50 freestyle American record holder in Tokyo last summer), and 18-year-old Noah Jaffe, who made the U.S. Paralympic Swimming Team in April 2022.

These swimmers should help bolster Team USA's point total.

"I don't know what Australia's got up their sleeve, but I'm familiar with our open water team, I'm very familiar with the USA swimming team, and I'm very familiar with our U.S. Paralympic swimming team," commented Hill shortly after returning from Colombia, where he was teaching kids to swim as part of his Swim Up Hill Foundation.

Then talk of Team USA's undefeated streak amped up Hill's competitive side.

"No pressure," he joked, but then added: "We're going to bring our A Game, and if Australia wants to have a shot at changing that narrative, they are going to have to pull out some pretty amazing things to claim that title and take it from its rightful owners."
An award-winning freelance writer based in Vermont, Peggy Shinn has covered seven Olympic Games. She has contributed to TeamUSA.org since its inception in 2008.