Pinney, Dana And De Los Santos Race To Bronze In Mixed Cycling Team Relay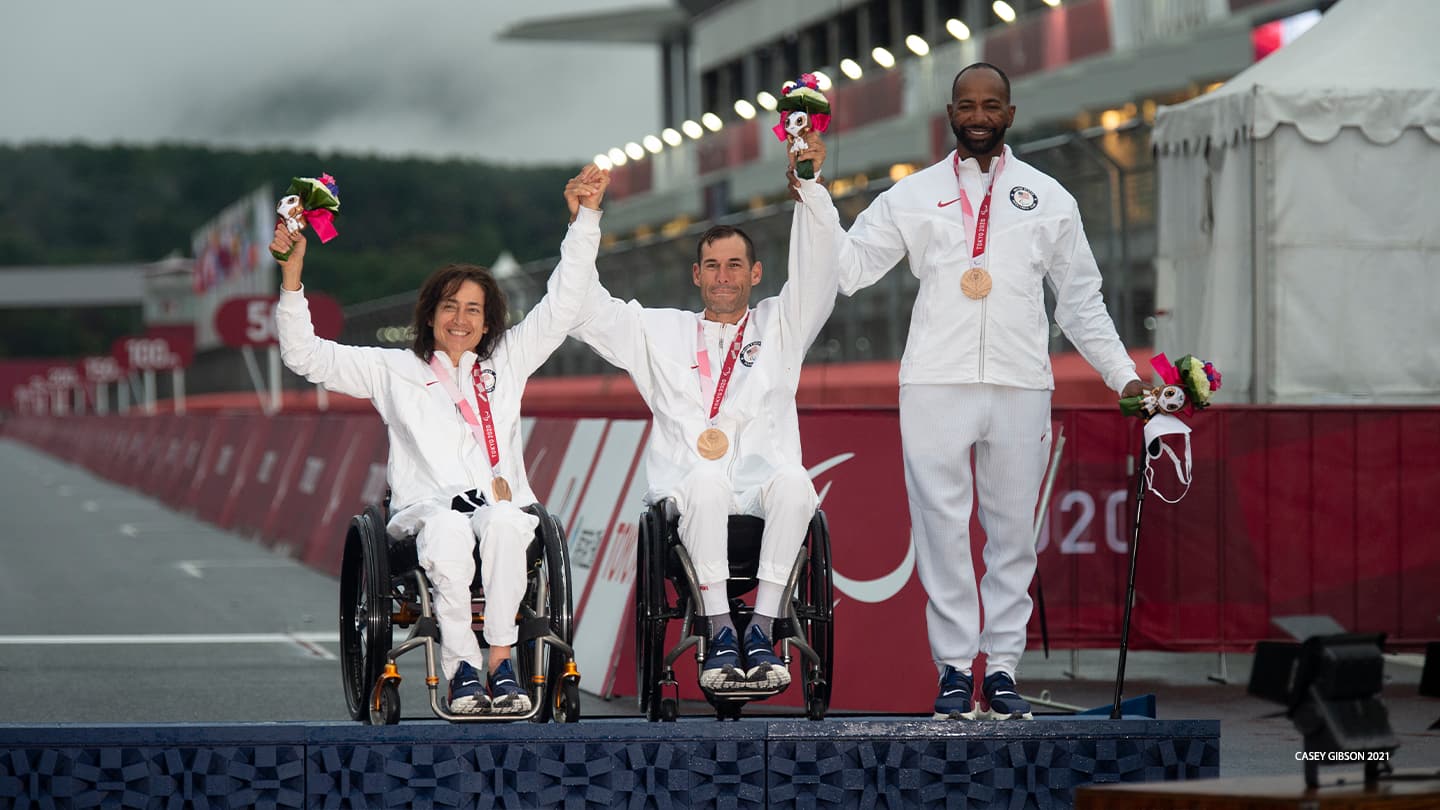 Alicia Dana, Ryan Pinney and Freddie De Los Santos pose on the podium with their medals after winning bronze in the mixed H1-5 team relay on Sept. 2, 2021 in Tokyo
Cyclist Ryan Pinney has a 2-year-old daughter at home, and he's looking forward to bringing a Paralympic mascot home to his little girl when he returns from Tokyo.

That's not all he's bringing home.

Pinney, Alicia Dana and Freddie De Los Santos fought their way to a bronze medal in the mixed H1-5 team relay on Thursday, the penultimate day of road cycling at the Paralympic Games Tokyo 2020.

"I'm also happy for the medal," said Pinney, a Phoenix native and the lone first-time Paralympic handcyclist on Team USA, with a laugh.

Italy won the race at Fuji International Speedway with a time of 52 minutes 32 seconds, and France was just 31 seconds back for silver. The U.S. finished a mere eight seconds later for the third and final spot on the podium while racing in less than ideal conditions.

"Racing in the rain was cold," said Pinney, who served in the Air Force and Arizona National Guard as an inflight refueler. "I'm from Arizona, and I don't get the opportunity to ride in the cold and the wet very often."

The medal was Dana's third in three Paralympics, the Putney, Vermont, native having also won a silver in the road time trial in 2016 and a bronze in the road race on Wednesday. De Los Santos, competing in his second Paralympics, picked up his first medal.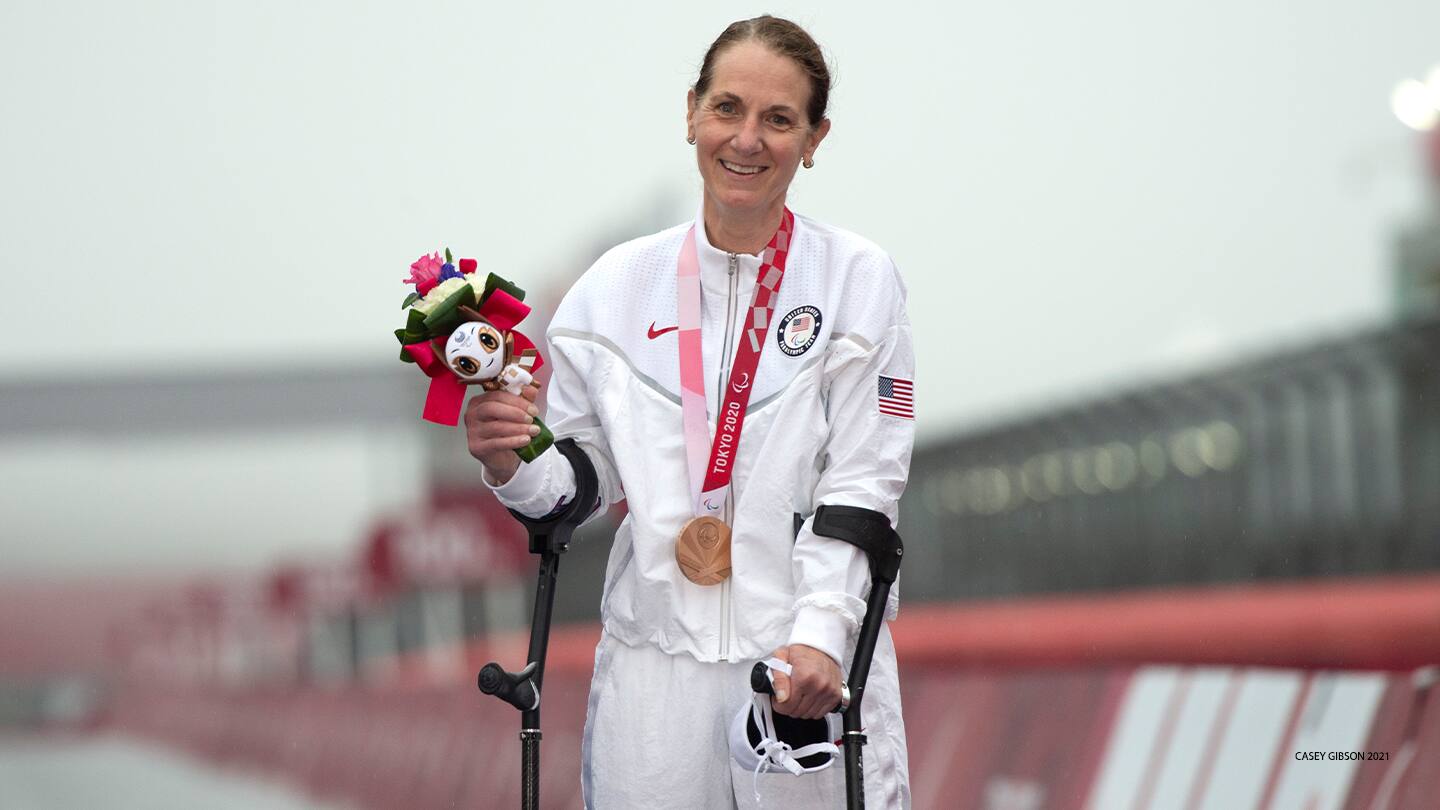 Jill Walsh poses on the podium with her medal after winning bronze in the women's T1-2 road race on Sept 2, 2021 in Tokyo
Afterward, the team shouted out teammate Will Groulx, who suffered a crash in the time trial and couldn't race on Thursday.
"This is my first one (medal)," said De Los Santos, a U.S. Army veteran from Hopewell Junction, New York. "I race today for the glory of God, for my family, my country, my community, for my teammates — especially Will Groulx who is not with us today because he got injured — and for the wonderful staff and coaches we have. This is like a dream come true. I feel like a little kid, I feel like I'm in Disney. I love it, this is wonderful."

Jill Walsh, who was added to the team after the U.S. Paralympic Trials via bipartite invitation, proved how smart that decision was when she won bronze in the women's T1-2 road race on Thursday, finishing 4:50 behind the winner Jana Majunke of Germany. It was the third Paralympic medal in two trips to the Games for Walsh, who was just off the podium in fourth place in the time trial on Tuesday. The Syracuse, New York, native was closely followed in the road race by first-time Paralympian Monica Sereda, who finished in fourth place.

Matt Rodriguez, another first-time Paralympian, also turned in a strong performance and earned a fifth-place finish in the men's T1-2 road race, just 2:03 off the winning time.

Shawn Morelli, who won Team USA's first medal of the Paralympics on the track last week and added another in the road time trial on Tuesday, was ninth in the women's C4-5 road race on Thursday, while Aaron Keith was 22nd in the men's C1-3 and Joe Berenyi did not finish that same race.

Friday is the final day of road cycling at the Tokyo Games, with four more road races at Fuji International Speedway.
Karen Price is a reporter from Pittsburgh who has covered Olympic and Paralympic sports for various publications. She is a freelance contributor to TeamUSA.org on behalf of
Red Line Editorial, Inc.