News
Noah Malone
Jaleen Roberts
Noah Malone, Jaleen Roberts Sprint To Second Silver Medals At The Tokyo Paralympics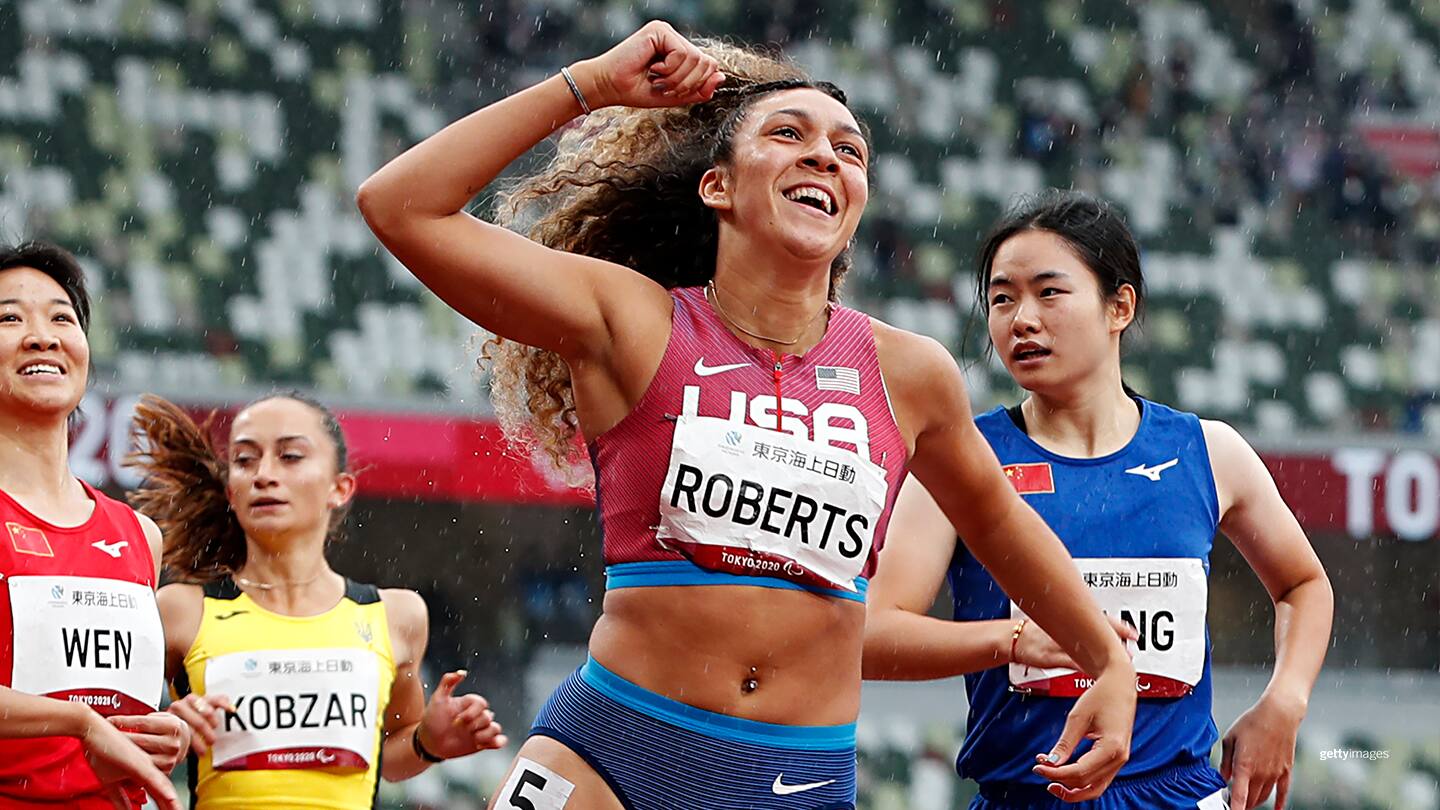 Jaleen Roberts celebrates after crossing the finish line for the women's 100-meter T37 at the Paralympic Games Tokyo 2020 on Sept. 2, 2021.
TOKYO – First-time Paralympians Noah Malone and Jaleen Robert's earned their second medals of the Paralympic Games Tokyo 2020 on Thursday.

Roberts ran 13.16 in the women's 100-meter T37 and took second to China's Xiaoyan Wen, who ran a world record 13.00. Wen's teammate Fenfen Jiang finished 0.10 behind Roberts for bronze. After the race, Roberts said she could see Jiang next to her and knew she had to push hard to make it on the podium.

"That was crazy to me," Roberts said, "I saw her, and I just pushed. I knew I could do it, so I just pushed through the finish line instead of stopping right at or right before the finish line. I think that makes you a lot more successful when you run all the way through the line."

Earlier in the week, Roberts won silver in her main event, the women's long jump T37. She said winning silver in her best event for her Paralympic debut really fueled her to run her best in the 100.

" I didn't really have expectations," Roberts said. "I think that after my prelim performance last night and seeing my time and having my 100 meter so close to the long jump helped. My adrenaline was just kind of still going from last night, so I just went into it with a really good headspace."

While Roberts is the one standing on the podium, she said these Paralympic medals aren't for her. Her friend Kyndal passed away in May. Roberts was devastated by her death and shared some of her grief on social media. She teared up while speaking about her in a post-race press conference.

"My friend passed away in May, so this Games was dedicated to her, and I just want to make her proud," Roberts said. "I know that none of my family can be in Tokyo with me, but I know that she's here. I feel her every time I compete. I talk to her. I think that I made her proud, and that was my main goal during the Games."

In the last few years, Roberts emerged as an up-and-coming star in the Para Track and Field and a passionate advocate for athlete mental health. She spoke to teamusa.org in Sept. 2020 about how difficult the postponement of the Paralympic Games was for her.

"Sometimes people forget that as athletes, we're people too, and we face a lot of the same struggles that everybody else faces," Roberts said in September. "I think it's important for people to realize that we face struggles that they don't see and that we're not just these extremely happy and positive people all the time. It's okay for us to have bad days and to struggle with things too."

Roberts plans to take care of herself after the Games by taking a month off from training. After that, she'll go back to training for the long jump but isn't ruling out future 100-meter races.

"Obviously, I've shown myself the potential I have for the 100 because I wasn't too confident earlier in the year and I went from a low 13 to almost 13 seconds," Roberts said. "So I'm feeling pretty good about the training coming up, and I'm excited. Definitely not done anytime soon."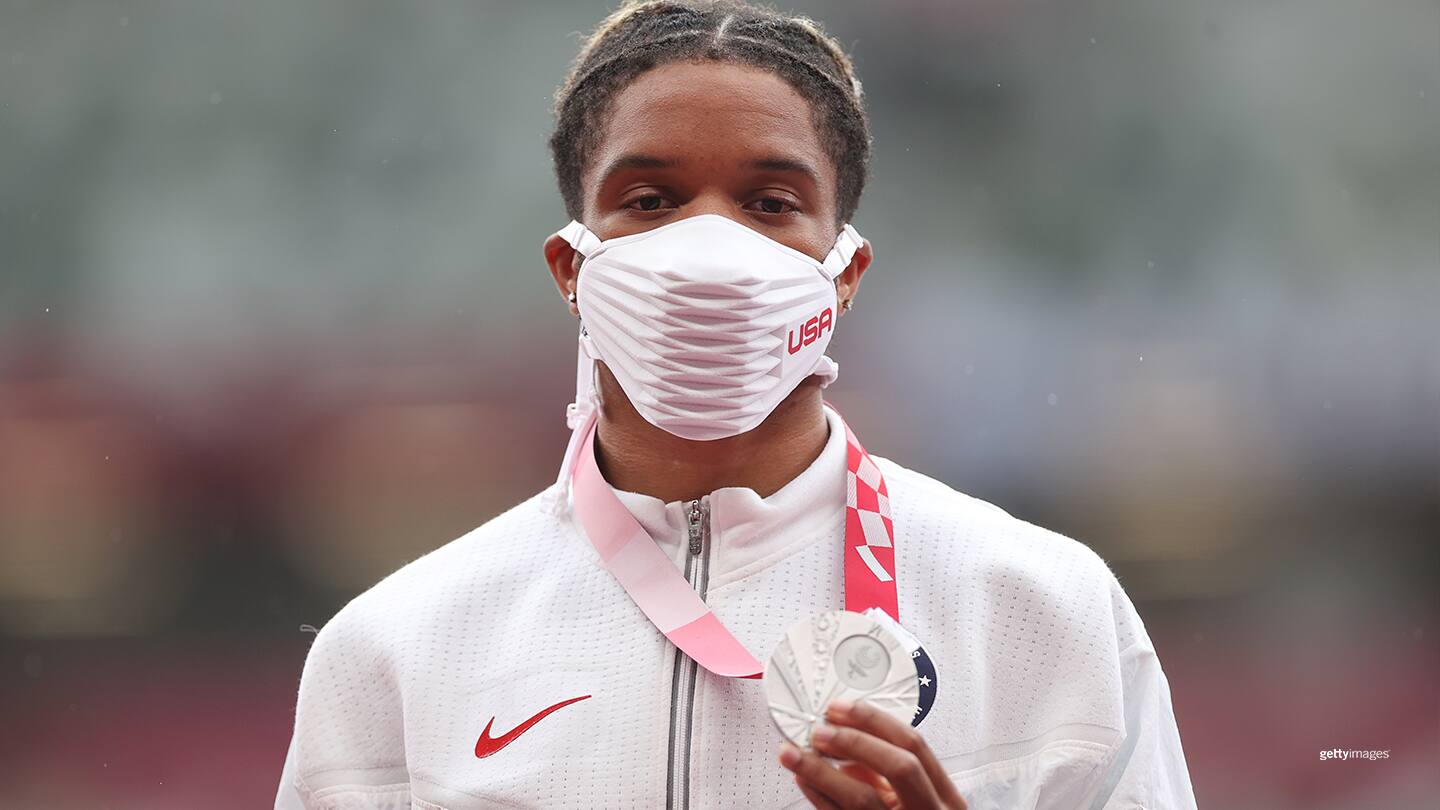 Noah Malone poses with the silver medal on the podium for the Men's 400-meter T12 Final at the Paralympic Games Tokyo 2020 on Sept. 2, 2021 in Tokyo, Japan.
Sprinter Noah Malone Wins Silver in
400M
Malone stormed to silver in the men's 400-meter T12 in 47.93, a personal best for him. Moroco's Abdeslam Hili set a new world record and won gold in 47.59. Tunisia's Rouay Jebabli rounded out the tight race for the podium in 48.01 to take the bronze medal.
"I really can't even put it into words," Malone said. "Coming in, I didn't really have any expectations, especially with this race. It's a great feeling to get everything done, no more stresses. Building up for this race takes a lot mentally, so I'm just happy to walk away with another silver medal and a new personal best. It checks off all the boxes. I'm really happy."
This was Malone's third time ever running the 400 in competition. His first 400 race was back in June at the U.S. Paralympic Team Trials to qualify for Tokyo.
"I knew I could possibly medal in this race," Malone said. "I knew I had to execute, and good things would happen, so I tried to stay strong and run it home."
Earlier in the Games, the American won silver in the 100-meter T12. The young Sprinter has become a standout for U.S. Para Track and Field. He burst into the scene in after winning two golds at the 2019 world junior championships, making it known he was a contender for the Tokyo team.
Despite disruptions in training from the COVID pandemic, he focused on being consistent and training with his college team at Indiana State University. Malone is the first known athlete who is legally blind, running for a D1 program. After the Paralympics were delayed, he shifted his mindset and focused on the path forward. ]
"I had to stay optimistic," Malone said. "I was still training. School helped out with the training process too. I knew I had goals to be here and to medal at that, so I just had to remind myself what my goals were."
The first-time Paralympian is already focused on the future. His next challenge will be winning a medal at the world championships next year in Japan. For now, he planned to return home, catch up on homework and bask in the success of his stellar Paralympic debut.
"That's always an honor being able to wear this flag over my heart every single race and being able to hold this flag over my shoulders after I run," Malone said. "It's my fourth international team, and it seriously brings a special feeling every time I represent my country."
Want to follow Team USA athletes during the Paralympic Games Tokyo 2020? Visit
TeamUSA.org/Tokyo-2020-Paralympic-Games
to view the medal table and results.
Katie Grunik is a digital content creator covering the Paralympic Games Tokyo 2020 for TeamUSA.org. She currently serves as the digital content coordinator for the U.S. Olympic & Paralympic Committee.