Nathan Chen Rebounds, Starts A New Win Streak At Skate Canada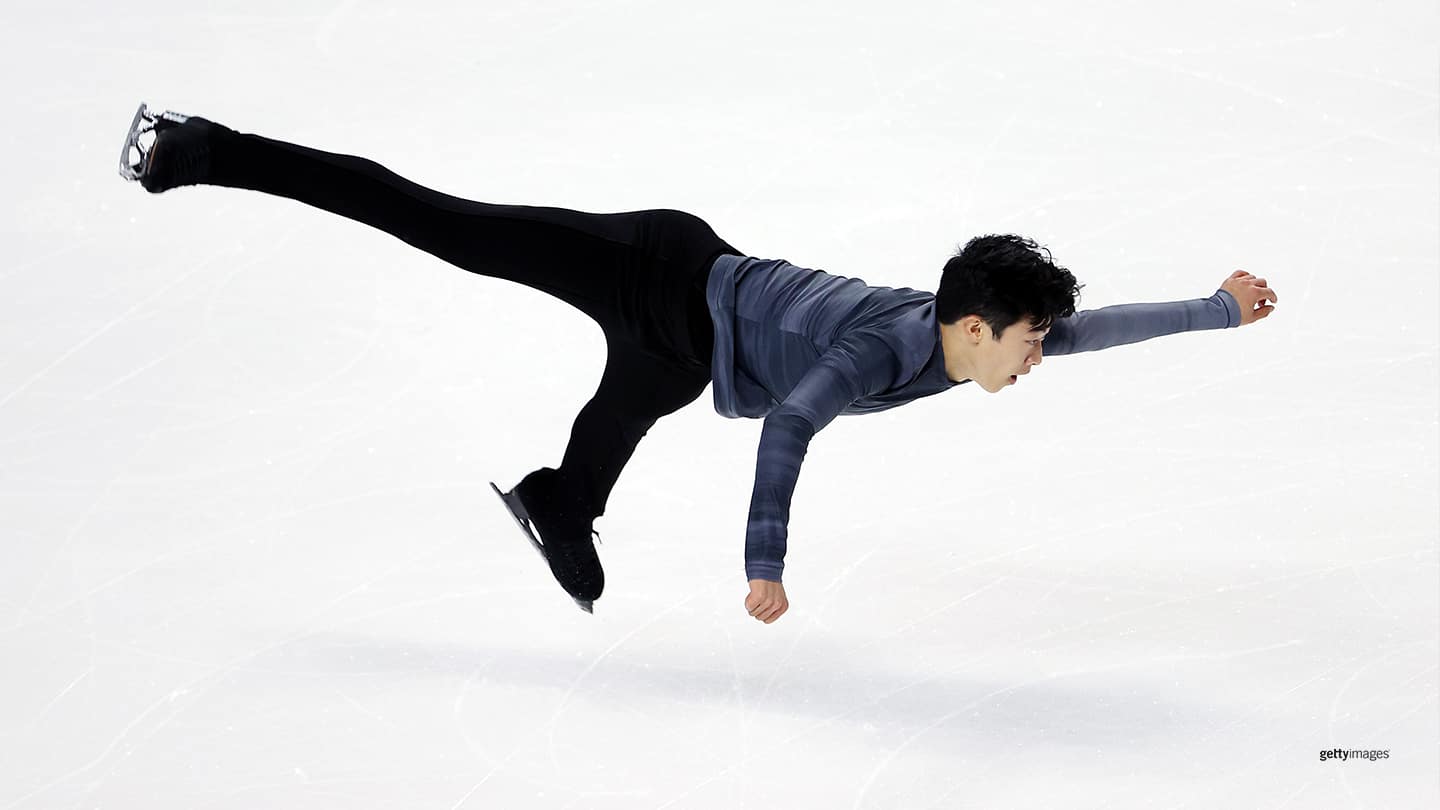 Nathan Chen competes during the Mens Short Program of the ISU Grand Prix of Figure Skating - Skate America on Oct. 22, 2021 in Las Vegas, Nevada.
Nathan Chen may have had his three-season winning streak snapped at Skate America last week, but he didn't waste any time mourning.

Instead, the 22-year-old skater returned to the form that made him a three-time world champion, winning gold by more than 47 points over U.S. teammate Jason Brown at Skate Canada on Saturday in Vancouver.

"I definitely had better outings here than I did at Skate America, so I think this is a good step forward," said Chen, who led both programs and scored 307.18. "Always in competition, I want to push myself a little bit forward, a little bit forward, even if that means taking out an element just to be a little bit cleaner."

Chen executed four quadruple jumps in his free skate to Mozart selections, two fewer than he tried at Skate America. Those jumps, though, were all cleanly landed, and the program was smoother and more compelling than in Las Vegas last week.

"The call to reduce the elements was, I didn't have much time between the competitions, as well as I'm currently dealing with a little bit of a hip thing," Chen said.

"My objective is to get back to full health when I get back home to California, and kind of start fresh from there," he added. "Hopefully, I can make the Grand Prix Final. Obviously, I'll be tracking the Grand Prix as the season goes on and hoping for the best with that."

Skate Canada is the second of six Grand Prix events held this fall. The top six performers in each discipline will qualify to compete at the Final, held Dec. 9-12 in Osaka, Japan. With his bronze medal last week and win here, Chen is in strong position to qualify.

After a stellar short program on Friday, Brown had a few glitches in his free skate set to music from Schindler's List. The 2015 U.S. champion, third in the U.S. last season, fell on a triple axel and doubled an intended triple salchow. But on a night when other men were also far from clean, it was good enough to win silver with 259.55 points.

With a sterling free skate on Saturday, 2018 U.S. pair champions Ashley Cain-Gribble and Timothy LeDuc vaulted from sixth place after the short program to win the bronze medal with 189.90 points. It is the Dallas-based team's third medal in international competition this season and the second time they have stood on a Grand Prix podium.

"We're really happy with the program today," Cain-Gribble said. "We had a solid skate, which is good for our confidence moving forward this season, which is what we really wanted from this competition."

Two-time world champions Wenjing Sui and Cong Han of China dominated, winning with 224.05 points. Russians Daria Pavliuchenko and Denis Khodykin took silver with 193.08 points.

Competing in her first Grand Prix event, two-time U.S. champion Alysa Liu, 16, fought to hold her own in an exceptionally tough women's field, but a fall on a triple axel in her free skate cost her any chance at the podium. She placed fifth with 206.53 points.

"I'm pretty happy I attempted my triple axel," Liu said. "I didn't want to pop it. I wanted to go for it and get the feeling back. I kind of wish I had landed it but mistakes happen."

Karen Chen, the 2015 U.S. champion who placed fourth in the world last season, was 10th with 183.41 points.

Russia swept the women's podium. Kamila Valieva, just 15, landed three quads in her free skate and won gold with 265.08 points — a score that would have put her second to Chen in the men's event. World silver medalist Elizaveta Tuktamysheva took silver with 232.88 points, while Alena Kostornaia was third with 214.54 points.

In ice dance, Caroline Green and Michael Parsons, fourth in the U.S. last season, showed two strong programs to finish an impressive fourth with 186.51 points, while Christina Carreira and Anthony Ponomarenko placed eighth with 168.76 points. Reigning world bronze medalists Piper Gilles and Paul Poirier of Canada claimed gold with 210.97 points.

Following consecutive weekends in North America, the Grand Prix heads to Torino, Italy, for. the Gran Premio d'Italia (Grand Prix of Italy) on Nov. 5-7. It replaces the Cup of China, which was canceled due to COVID-19 restrictions.
Lynn Rutherford is a sportswriter based out of New York. She is a freelance contributor to TeamUSA.org on behalf of Red Line Editorial, Inc.