Here's What The Next 100 Days Look Like For Team USA's Beijing Hopefuls
If the four years between Olympic Winter Games is a marathon, then the final 100 days represent the final couple miles with the finish line nearly in sight but plenty of work still to do.


But as three-time Olympic snowboarding gold medalist Shaun White said at the Team USA Media Summit on Oct. 19, you can't just start sprinting and expend your energy too quickly.


"I can sit here and tell you like yeah we're going to power through straight to the Olympics, no breaks! But realistically that's not healthy for me," said White, who is pursuing his fifth Olympic Games. "I need time to go home, take a holiday, take a break, breathe, come back more focused. … You need that time; you've got to step away from the music sometimes and come back with fresh ears."


White and most of Team USA will be focused on qualifying for Beijing over the coming jam-packed three months consisting of world cups, Grands Prix, Olympic Team Trials and more. Here's a look at what the next 100 days will look like for these athletes.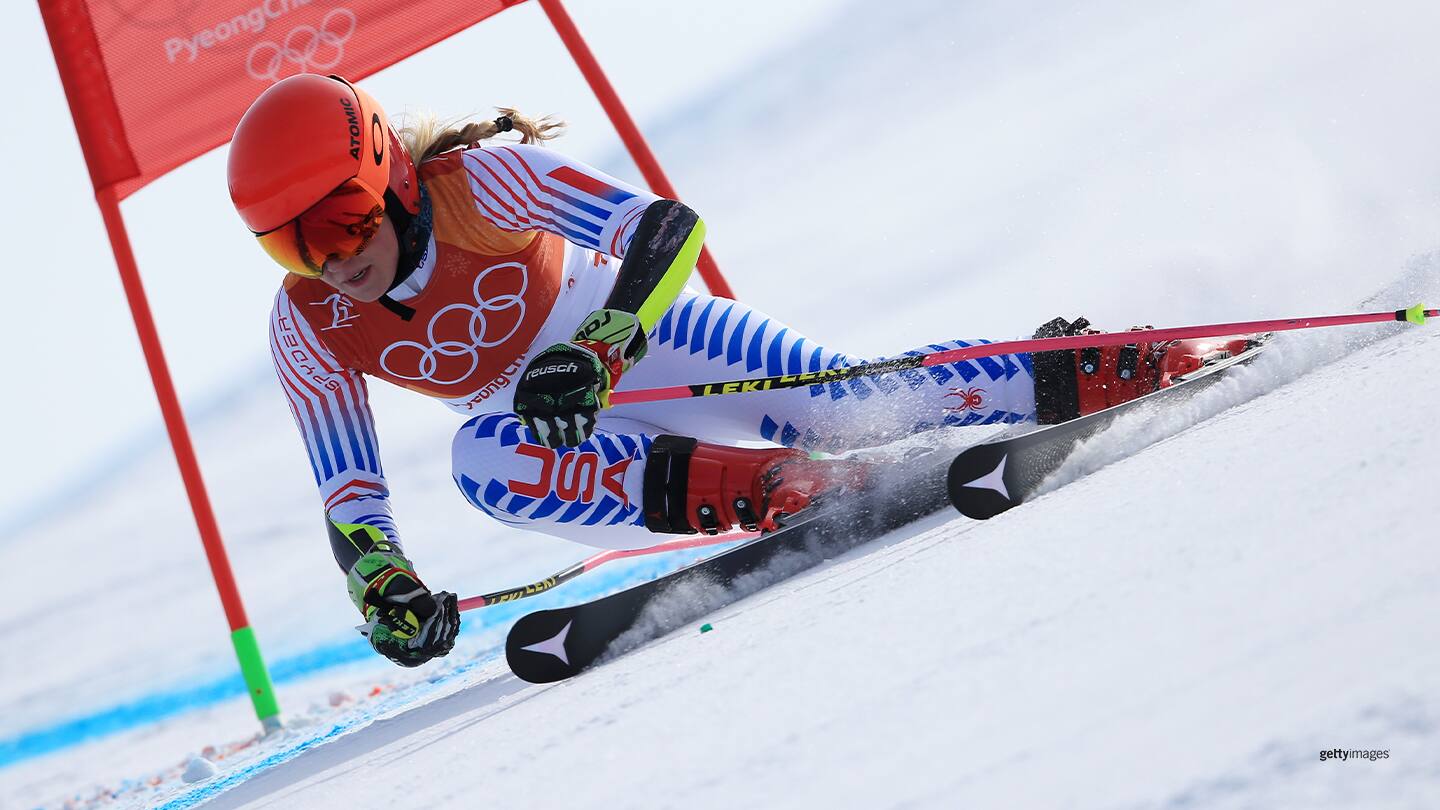 Mikaela Shiffrin competes during the Women's Giant Slalom at the Winter Olympic Games PyeongChang 2018 on Feb. 15, 2018 in Pyeongchang-gun, South Korea.
The lives of U.S. skiers and snowboarders will revolve primarily around the International Ski Federation's (FIS) world cup calendar, which for alpine skiers began with giant slalom competition on Oct. 24 in Austria. Other disciplines will have their first events throughout November and December. Points earned throughout world cup competition will determine quota spots for Team USA. The qualification period began in July 2019 and runs through Jan. 16, 2022, and each nation can earn up to 11 spots per gender in Beijing. Countries will then nominate their team of athletes based on their own criteria.


Two U.S. biathletes, Olympians Susan Dunklee and Clare Egan, are already provisionally qualified for Beijing based on their finishes in the 2020-21 world cup season. The rest of the U.S. Olympic hopefuls will look to do the same in the upcoming world cup season, which kicks off from Sweden on Nov. 27. The qualification period ends Jan. 16, 2022, so expect the U.S. team to be announced on or before that date.


U.S. crews will earn points throughout the 2021-22 world cup season that begins Nov. 7 in Canada for women's monobob — a new event on the Olympic program — and Nov. 20 in Austria for all other sleds. Those points will determine the number of quota spots for Team USA, up to 13 men and six women. Drivers earn their spots based on world rankings, while push athletes are selected by USA Bobsled & Skeleton and formed into sled crews.

"We have six very competitive brakemen that will be traveling with me and Kaillie (Humphries) on the world cup tour and only eight world cup races," said three-time Olympic medalist Elana Meyers Taylor. "… Now, how that's going to unfold and how you do that with such a tight talent pool and weather conditions changing from week to week and get these great numbers for people? I don't know how it's all going to work out, but I have faith that we're going to be able to get the numbers we need, and we're going to put the best teams on ice possible."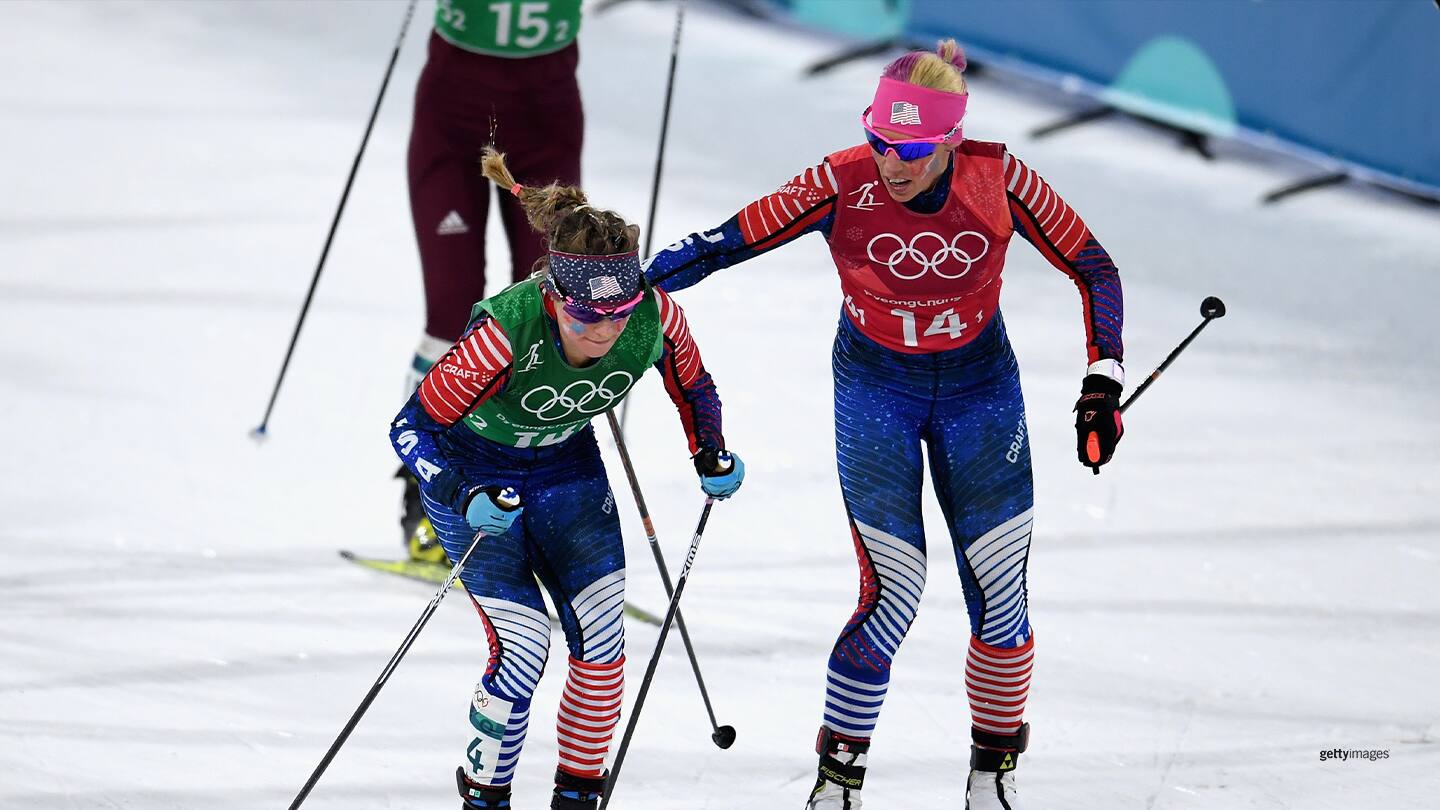 Kikkan Randall and Jessie Diggins handover during the Women's Cross Country Team Sprint Free Final at the Winter Olympic Games PyeongChang 2018 on Feb. 21, 2018 in Pyeongchang-gun, South Korea.
Jessie Diggins will look to defend her historic overall world cup title when this year's campaign kicks off from Ruka, Finland, on Nov. 26. Team USA can have up to eight men and eight women qualify for Beijing, and the qualification period runs from Nov. 25 to Jan. 16. Athletes who score top-eight finishes in world cup competition will get priority to making the team with the rest of the team selected via criteria.


Curlers have the honor of competing in the first U.S. Olympic Team Trials, with the trials for mixed doubles curling wrapping up Oct. 31 from Eveleth, Minnesota. Then the men's and women's team trials will take place Nov. 12-21 in Omaha, Nebraska, as John Shuster and company look to earn the chance to defend their gold medal from PyeongChang. Team USA has already qualified a men's and women's team for the Games, and will need to secure its mixed doubles spot at a December qualifier.


The 2021-22 figure skating season is well underway with major Grands Prix events such as the NHK Trophy (Nov. 12-14) and the Rostelecom Cup (Nov. 26-28) to come throughout the fall and early winter. Team USA has already qualified the maximum three spots in men's, women's and ice dance and two spots in pairs. The U.S. has also qualified for the team event. The athletes to fill those spots will be selected at the conclusion of the U.S. championships Jan. 6-9. After a season disrupted by COVID-19 in 2020-21, athletes like Mariah Bell are looking forward to a more typical schedule this year.

"I'm really excited this year to be going to Grand Prixs internationally and to compete and travel and kind of feel a little bit more normal," she said.


Qualification methods vary between the disciplines within freestyle skiing, but athletes will earn points toward quota spots via the world cup calendar. The first events take place throughout November and the qualification period concludes Jan. 16. The U.S. team will be selected based both on FIS points and special selection events.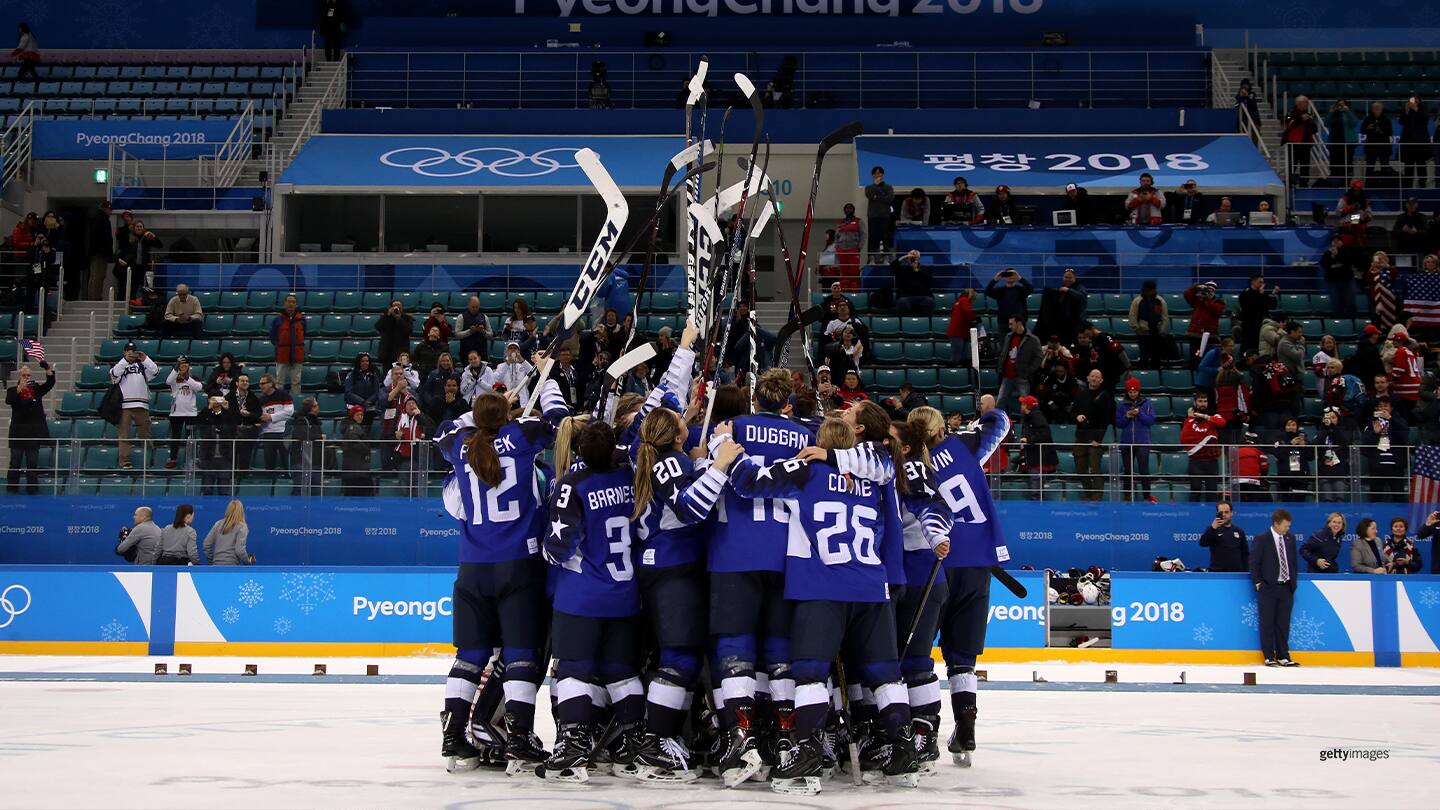 Team USA celebrates after defeating Canada in a shootout in the Women's Gold Medal Game at the Winter Olympic Games PyeongChang 2018 on Feb. 22, 2018 in Gangneung, South Korea.
Based on world rankings, the U.S. has already qualified both a men's and women's team for Beijing. The players making up that team will look far different on the men's side as NHL players are again eligible to participate for the first time since 2014 in Sochi. Three players have already been named to the team — Olympic medalist Patrick Kane and Seth Jones of the Chicago Blackhawks and Auston Matthews of the Toronto Maple Leafs. On the women's side, many of the same names are expected to return from the roster that won gold in PyeongChang. The women's team roster is set to be unveiled Jan. 1 with the men to follow on Jan. 11.


Long trackers have four world cup events in November and December to earn quota spots, up to nine per country. The full U.S. team will then be announced following the conclusion of the U.S. Olympic Team Trials, held Jan. 5-9, 2022, in Milwaukee.


Team USA has pre-qualified one luge athlete for Beijing, Olympian Summer Britcher, by virtue of her top-six finish at the world championships. Other U.S. athletes can qualify through top-five finishes on the world cup circuit that opens Nov. 20 on the Olympic track outside of Beijing. The qualification period to earn quota spots concludes Jan. 10.


The FIS world cup season begins Nov. 26 in Finland, but U.S. athletes will have Dec. 24-25 circled on their calendars for the U.S. Olympic Team Trials. The winner of the trials will automatically earn a spot in Beijing, while the rest of the team will be selected based on criteria. The U.S. can earn up to five quota spots in the qualification period ending Jan. 16.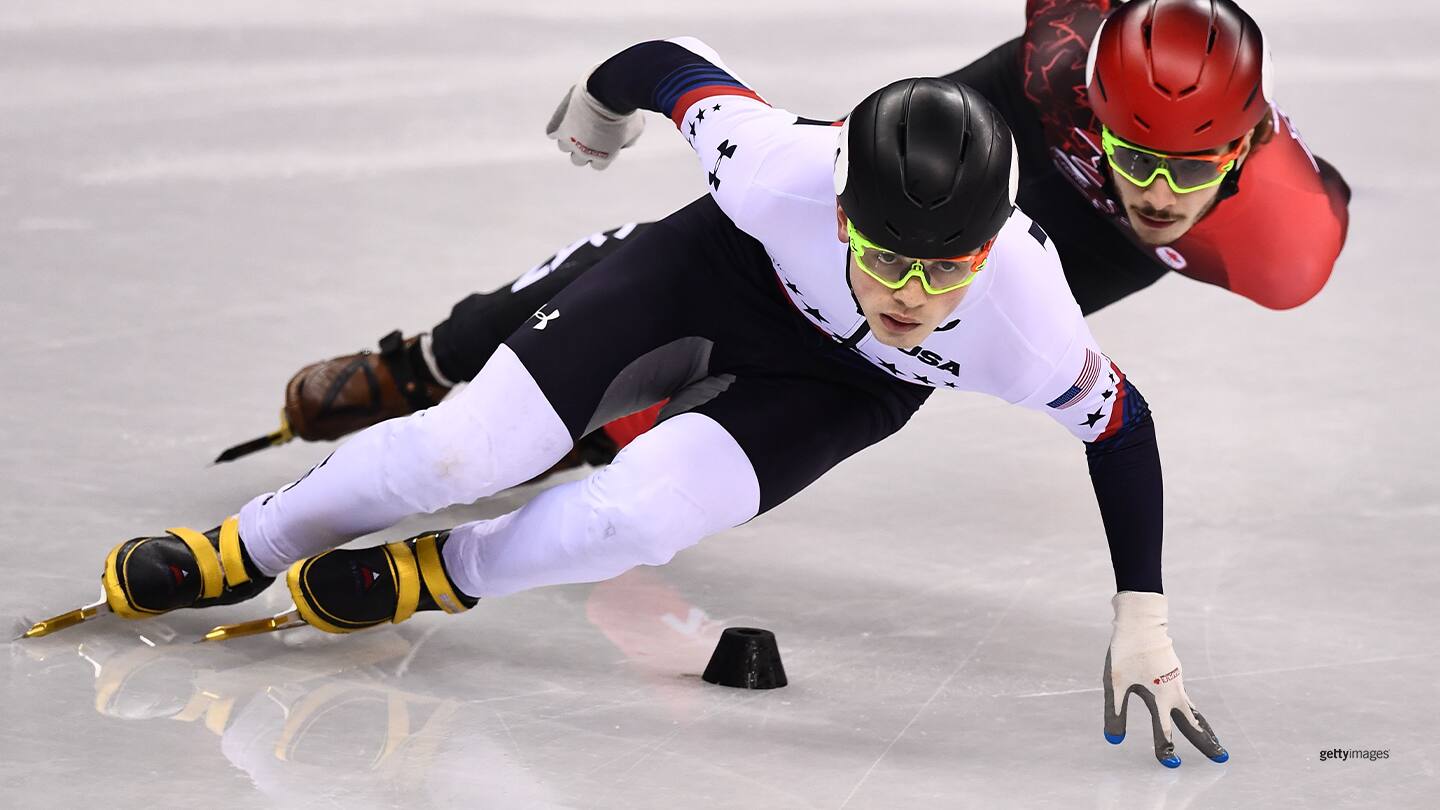 John-Henry Krueger competes in the Men's 1,000m Short Track Speedskating A Final at the Winter Olympic Games PyeongChang 2018 on February 17, 2018 in Gangneung, South Korea.
Short trackers can earn quota spots at the four events on the world cup calendar in October and November. Countries can send up to five quota spots per gender if they also qualify a relay team, or three per gender otherwise. Athletes can then earn one of those spots themselves at the U.S. Olympic Team Trials in Salt Lake City Dec. 17-19.


The skeleton world cup season begins Nov. 16 in Austria and the qualifying period ends Jan. 16 shortly after the end of the season. Quota spots will then be awarded via the world cup rankings. The U.S. team will be selected primarily based off the world rankings.


Ski jumping is another sport with quota spots awarded during world cup season — in this case including two years of results — with U.S. athletes able to book their spot in Beijing at the Olympic Trials on Dec. 24-25.


Snowboarders qualify through a system similar to freestyle skiing, in which individual disciplines have different methods and the U.S. team is selected through world cup points and selection events. World cup season kicks off in November or December with the qualification period ending Jan. 16. Particularly exciting for Team USA fans is the number of U.S. events on the calendar, including two of the three events for halfpipe, something Shaun White is busy training for.

"We pick and choose where we can ride and what we can do, but I feel like everybody's in the same position so we're all just trying to make the best of it," the three-time halfpipe champ said on Oct. 19. "We're here (in Switzerland) right now, I mean it's so wonderful that Switzerland has allowed us to come train at the mountain here and (we're) taking every safety precaution that we can and yeah it's cool to see that the show goes on."
Todd Kortemeier is a sportswriter, editor and children's book author from Minneapolis. He is a contributor to TeamUSA.org on behalf of
Red Line Editorial, Inc.