Six Months After Her Paralympic Debut, Dani Aravich Is On Track For Another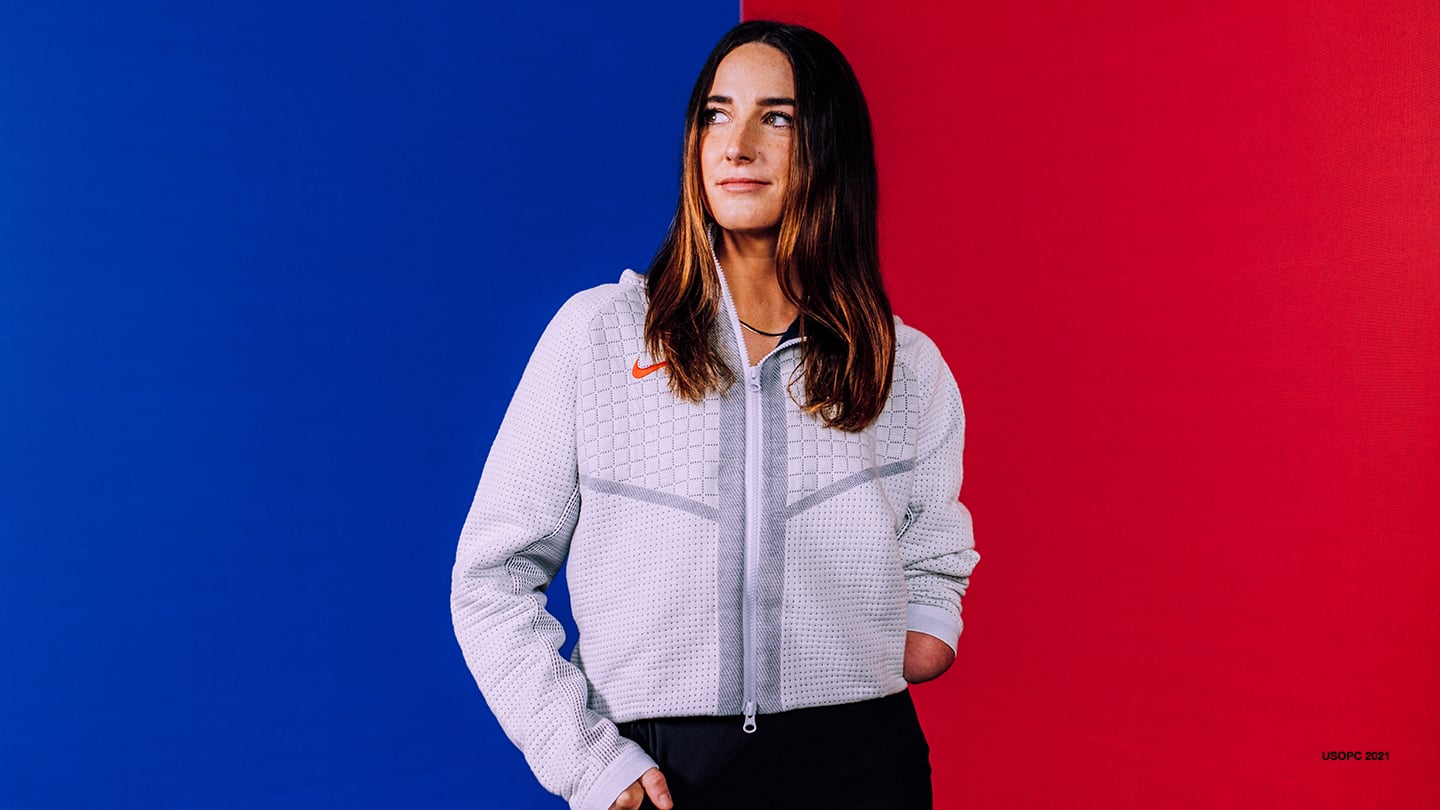 Dani Aravich poses for a portrait during the Team USA Beijing 2022 shoot on Sep. 12, 2021 in Irvine, Calif.
In early September, Dani Aravich traveled to Irvine, California, for a full day of interviews and photo shoots. She had just returned a few days earlier from making her Paralympic debut as a sprinter in Tokyo, and she was already recording promotional material for the Paralympic Winter Games Beijing 2022 in March.

The Idaho native spoke with NBC and the Bravo network, and she recorded lines for a possible Super Bowl commercial about the Winter Paralympics. It was all a bit surreal for the 25-year-old Paralympian who's still a relative newcomer to Nordic skiing and track and field.

"I was like, 'Are you sure you want me doing these things? Are you sure you want me reading an ad for the Super Bowl?'" Aravich said, laughing.

Aravich admitted the past year has been a "wild ride" as she has gained more exposure as a promising multi-sport athlete. She has close to 5,000 followers on Instagram, and her friends and family members enjoy seeing the Team USA apparel ads featuring her.

More than the attention, though, Aravich has spent the past year trying to adjust to her hectic training schedule for the Tokyo Paralympics and the Beijing Winter Paralympics only six months later.

She covers short distances as a sprinter — her specialty is the 400-meter dash. She races much longer distances in Nordic skiing, where she competes in both cross-country skiing and biathlon, which combines cross-country skiing with rifle shooting.

"It's definitely involved a lot of creativity with training, with how to train for two different sports that aren't necessarily beneficial to one another," said Aravich, who was named in June to the U.S. Paralympics Nordic Skiing Development Team.

"… I tried to take a few weeks off as soon as Tokyo was done, but then I had to hop back into skiing pretty quick after in order to not be too far behind in training for Beijing. So it has been wild and crazy. I'm really excited about this upcoming winter, but I'm definitely also excited for when the rest come this spring."
Aravich was born missing most of her left arm below the elbow. She didn't know she was eligible to compete in the Paralympics until after she graduated from Butler University, where she ran cross country, and was working a full-time job.

Aravich started training in track and field in 2019, and soon afterward she was introduced to Para Nordic skiing.

Rather than easing her way into both sports, Aravich set the lofty goal of trying to qualify for both the Tokyo Paralympics and the Beijing Paralympics. She completed the first part of that dream this past summer.
On Aug. 27, Aravich made her Paralympic debut in Tokyo and ran in a preliminary heat in the T47 classification of the 400. She finished fifth in her heat with a time of 1:03.76.
"I definitely knew coming into it that just based on rankings and again how much I was able to train in the past year for track that I didn't have very high expectations," Aravich said.

"And I'm not really sure moving forward (what) my track and field career will be, especially because I've very much invested in Nordic skiing and I see a very long future for myself in this sport. So I'm very realistic with my expectations."

Aravich said she had hoped to run a better race in Tokyo, but that it'll serve as a learning experience and help her understand more of what to expect in Beijing.

And while she's uncertain of her future in track and field, her focus at the moment is on developing into a medal contender in Para Nordic skiing.

"I think for me Beijing will be a lot more results driven (than Tokyo), and I'm trying to not put too much pressure on myself yet because again I am so young in the skiing and the biathlon world," Aravich said.
Aravich is one of four members of the U.S. Paralympics Nordic Skiing national teams who's attempting to qualify for Beijing after competing in Tokyo. She's joined by gold medalists Oksana Masters (cycling) and Kendall Gretsch (triathlon), as well as five-time Paralympian Aaron Pike, who was a member of the Team USA track and field team with Aravich.

Aravich said she has spoken with Gretsch to learn how she quickly transitions from her winter sport to her summer sport. She also talked with Masters about her training when the two were in California for the Beijing Winter Paralympics promotional shoots.

"And now that I have one Games under my belt, I think it will help me be more well-versed going into Beijing," Aravich said.

Aravich focused primarily on Nordic skiing last winter, but as the season was winding down in March, she started training again in track and field. She spent April and May working solely on the 400.

Aravich said she was careful to not do too much ski training over the summer because she wanted to stay "sharp and quick" for the 400. Still, she did workouts for both Nordic skiing and track and field in the weeks leading up to the Tokyo Paralympics.

"I didn't want to be so focused on one that I was neglecting the other, so I kind of hodge-podged two training programs together," Aravich said. "I made it work and had to learn to trust my body and figure out when I needed to scrap a workout or do a little bit less on the skiing side with Nordic skiing or some of the longer bounding sessions."

Nick Michaud, a development coach for U.S. Paralympic Nordic Skiing, has worked with Aravich on learning to embrace the Nordic skier's lifestyle and the small details that go into being good in the sport.

As Aravich's popularity has increased, Michaud said he and Aravich talk about "seeing but not getting distracted by the shiny things," such as endorsements, photo shoots and overseas trips.

"So I think her biggest growth has been kind of slowing down and understanding all of that. And in the end, she's dropped minutes in time trials," Michaud said. "And the performance has come from a result of that."
Alex Abrams has written about Olympic sports for more than 15 years, including as a reporter for major newspapers in Florida, Arkansas and Oklahoma. He is a freelance contributor to TeamUSA.org on behalf of
Red Line Editorial, Inc.