Oksana Masters, Kendall Gretsch Win Team USA's First Medals of the 2022 Winter Paralympics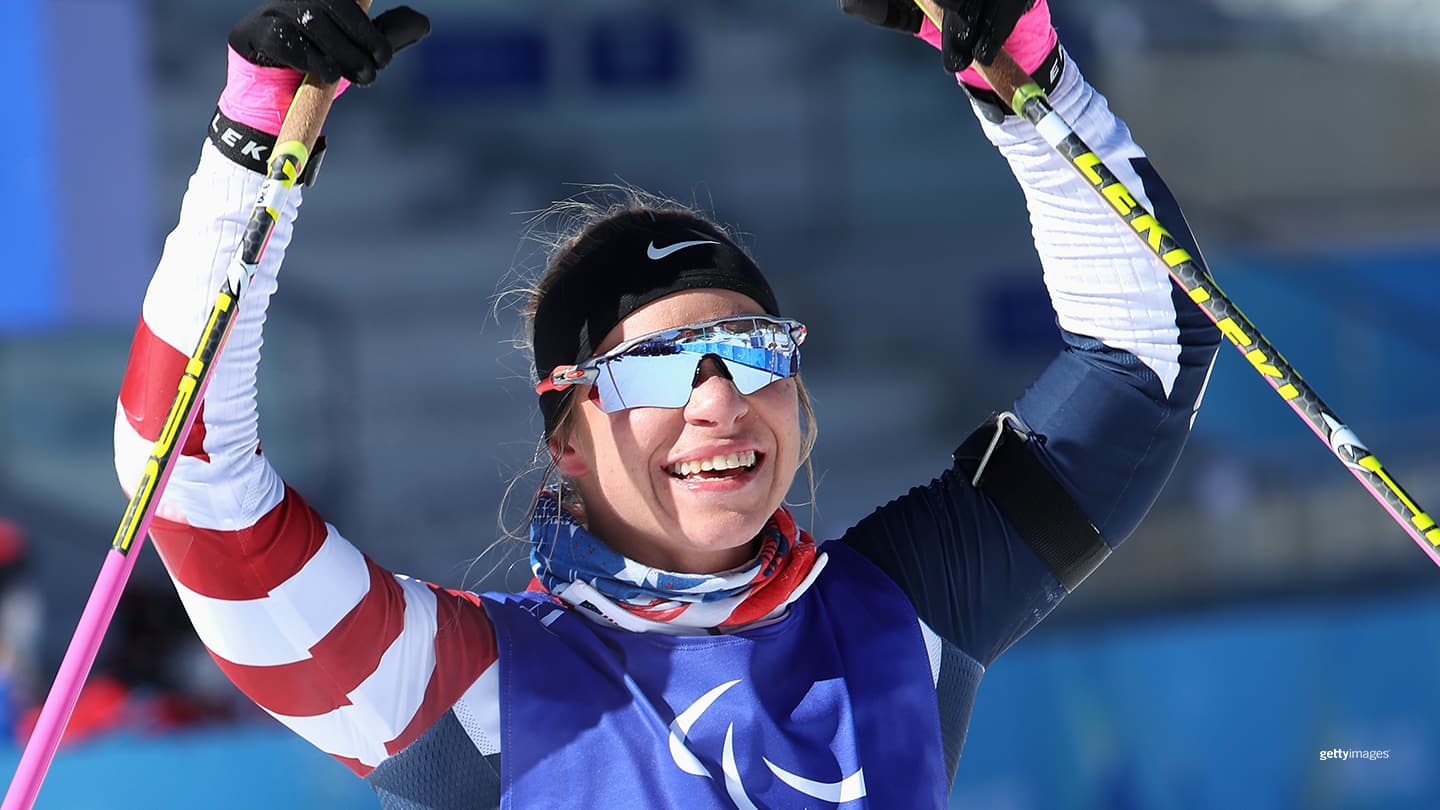 Oksana Masters reacts as she crosses the finish line in the women's sprint sitting biathlon at the Paralympic Winter Games Beijing 2022 on March 5, 2022 in Beijing.
ZHANGJIAKOU, China – Team USA's Oksana Masters and Kendall Gretsch started things off with a bang by winning the first two medals of the Paralympic Winter Games Beijing 2022 on Saturday at the Zhangjiakou National Biathlon Centre.

Masters and Gretsch won gold and bronze, respectively, in 20:51.2 and 21:52.9 in the Para biathlon -women's sprint sitting race. China's Yilin Shan finished in silver-medal position in 21:06.3.

Masters was shocked and delighted to cross the finish line and capture Team USA's first gold at these Paralympic Games. The win earned Masters her 11th career Paralympic medal and fifth Paralympic gold.

"To be able to just start off the Paralympic Games in Beijing and bring home Team USA a gold medal is absolutely incredible," Masters said. "And it's incredible because I get to do it with my teammate on the podium by my side again … I think this just shows that there's incredible stuff that's going to happen for Team USA in the Para Nordic program."

Masters, Team USA's most decorated athlete competing at the Beijing Paralympics, said her focus these Games is "chasing those perfect races."

She is one of the strongest cross country skiers in the field but has struggled in the past with shooting, most recently at the world championships in January. She was stunned to learn she shot cleanly this race and said she had to do a double take to make sure the target really went down.

"It's definitely incredible because in Lillehammer world championship I think I missed more shots than I actually hit. It was not good shooting for me," she said. "(Going into this) I just really, really tried to have confidence in the past in what I have done and know that I can do it. And not rush the process, not read someone else's grades and just take each shot for one at a time."

Gretsch, a three-time Paralympic gold medalist, added her first Paralympic bronze to her resume.

"We're the first race to kind of kick things off and hopefully we can set the tone for the rest of the races and the rest of Team USA," Gretsch said.

Masters, 32, was thrilled to share the podium with her U.S. teammate, who finished just over a second behind.

"Kendall is an incredible biathlete," Masters said. "Honestly, I started this race and I'm like okay well Kendall won so now I'm just going for a second because she's such an incredible, consistent sharpshooter and she's skiing well."

The duo came into Beijing fresh off gold-medal performances just six months ago at the Paralympic Games Tokyo 2020 – Masters with two in road cycling and Gretsch in paratriathlon.

"It's feeling very different than in Tokyo conditions today," Gretsch joked after the race. "Trying to channel how warm I was there when it's so cold. But it's exciting. It's always fun to be at the Paralympics."

The 29-year-old from Downers Grove, Illinois, came into these Games as the defending world champion in three biathlon events and plans to race a full program of six Nordic events.

Lera Doederlein, 18, made her Paralympic debut racing alongside Gretsch and Masters to finish ninth in the women's sprint sitting race. The multi-sport athlete found her way to Para Nordic skiing in 2019 after connecting with Masters on social media.

"For me is a pretty incredible experience for me (racing with Oksana and Kendall)," Doederlein said. "Especially since I'm only 18 years old, and it's my first Paralympics. I'd say especially in this first race it was pretty incredible to experience it with them."

Team USA's Dani Aravich was the lone American athlete in the women's sprint standing race, finishing 13th in the competitive field.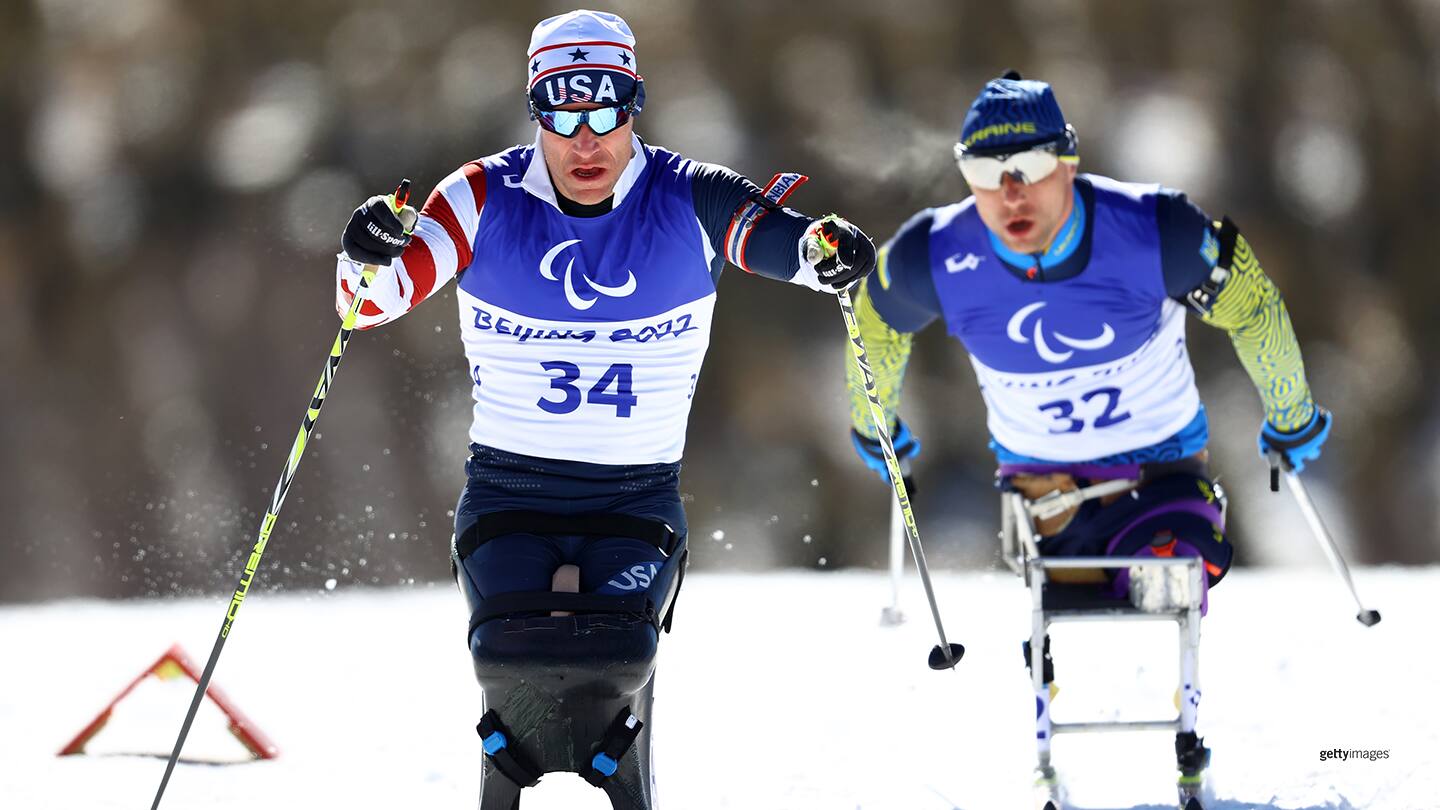 Dan Cnossen leads Pavlo Bal of Team Ukraine in the men's sprint sitting biathlon at the Paralympic Winter Games Beijing 2022 on March 5, 2022 in Beijing.
Dan Cnossen Finishes Fourth In Men's Sprint
Sitting

Former U.S. Navy SEAL Dan Cnossen posted the top result in the Para biathlon men's sprint sitting for Team USA, finishing just off the podium in 19:54.2 to take fourth.

Cnossen, the defending gold medalist from PyeongChang 2018, said he was just happy to be out there racing after a challenging last few years of training.

"I have to say the altitude got to me a little bit on that last lap, but I was digging as deep as I could," Cnossen said. "This is perhaps the best biathlon race I've ever had. I know it may not have been my best result, but for me it's about my own personal effort."

Cnossen, 41, said he was happy to be racing alongside teammate Aaron Pike, who placed eighth in the sprint race, as both have full Paralympic programs ahead.

"For me, I'm going to have to choose which races to do because, well, I'm a little bit older now than I was four years ago," Cnossen said. "I'm also really happy for Taras Rad, the Ukrainian athlete who got second. To see the Ukrainian athletes just getting after it with everything they're going through, its inspiring to me. I was thinking about them today when I was out there."

In the men's sprint standing, Drew Shea made his Paralympic debut alongside two-time Paralympian Ruslan Reiter. They finished 12th and 14th, respectively, and shared Cnossen's enthusiasm for the first day of racing.

"When I first started this sport, I had in the back of my mind that this was the end goal – to be able to compete at the highest level," Shea said. "It's just special. So we're really happy to be here."

Racing continues Sunday for Team USA's Para Nordic skiers with the men's and women's long distance cross country skiing sitting races.
Want to follow Team USA athletes during the Paralympic Games Beijing 2022? Visit TeamUSA.org/Beijing-2022-Paralympic-Games to view the competition schedule, medal table and results.
Katie Grunik is a digital content creator for TeamUSA.org. She is covering her second Olympic & Paralympic Games for teamusa.org and currently serves as the digital content coordinator for the U.S. Olympic & Paralympic Committee.