Learning From The Master(s), Lera Doederlein Embarks On First Paralympics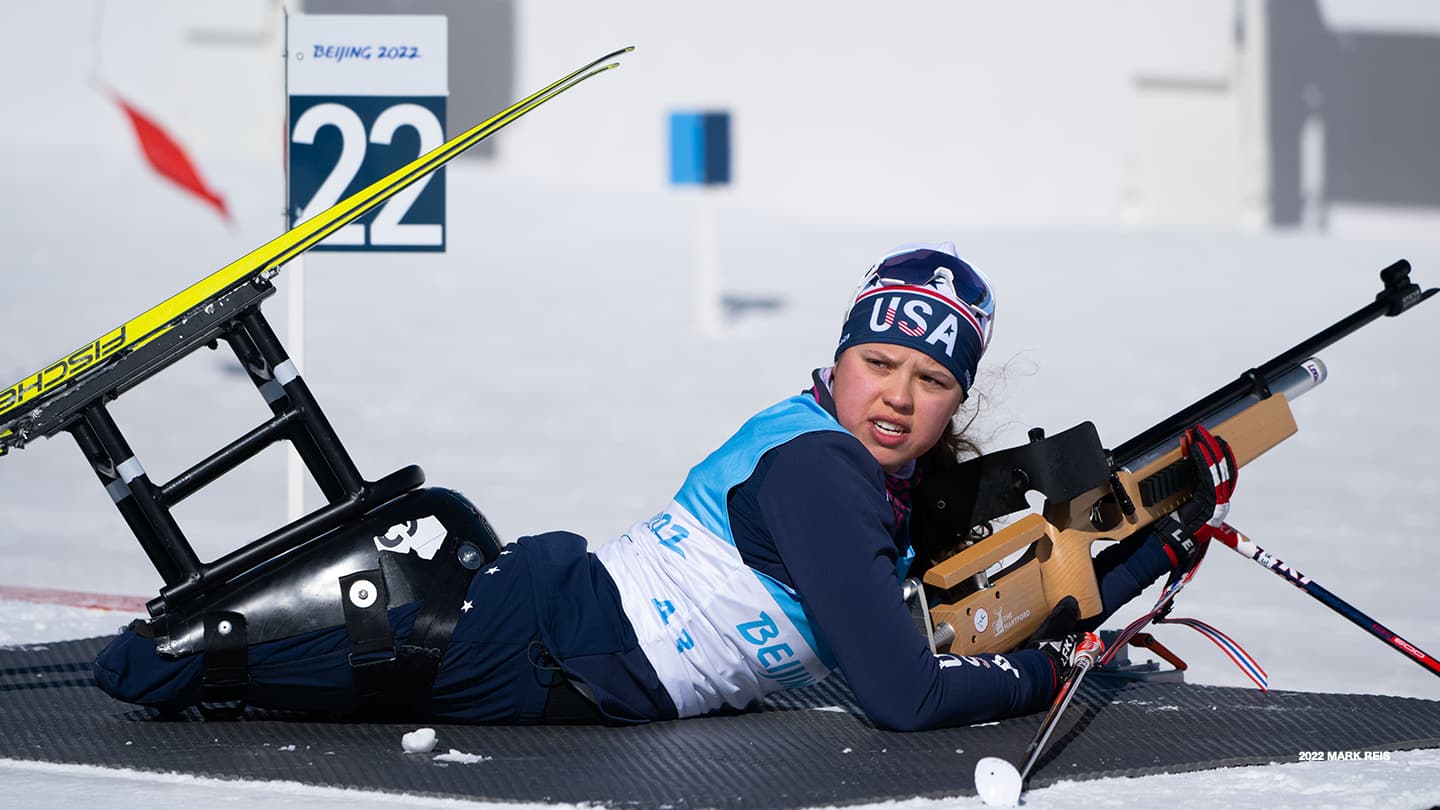 Lera Doederlein trains ahead of the Paralympic Winter Games Beijing 2022 on Feb. 28, 2022 in Lillehammer, Norway.
Oksana Masters, a double amputee adopted from Ukraine, is already one of the biggest U.S. Para sports stars in history with 10 Paralympic medals to her name across three sports. She is one of only six Americans to have won gold at both the Summer and Winter Paralympics.

What's even more pronounced than her accolades within the Paralympic Movement, however, is what she has done to galvanize others to take up her sports.

Enter Lera Doederlein.

Born in Russia with a congenital condition called arthrogryposis, Doederlein was told she'd never be able to walk without leg braces or crutches. Like Masters, she spent part of her childhood in an orphanage, then was adopted by a U.S. family in Escondido, California.

Walking became harder and harder for Doederlein, who was raised using crutches and was never able to participate in a school sport.

Eventually, at 14, she chose to have both of her legs amputated. She no longer wanted to sit on the sidelines. She wanted to compete.

After her amputation, Doederlein discovered sled hockey and played for a couple of years with the U.S. women's national development program before moving to San Diego to partake in a cycling program with the Challenged Athletes Foundation, which provided her a grant.

That's when she met Masters, a two-time Paralympic champion in cycling.

"Seeing the way she competed and the way she handled competitions was really cool for me to experience," Doederlein, now 18, said, as the pair competed alongside each other on the roads.

Masters spotted some untapped potential in Doederlein, and through gently persuasive text messages, along with encouragement from U.S. national team coaches, convinced her to try Nordic skiing. They brought Doederlein to the 2019 Ski Spectacular in Breckenridge, Colorado, where she sit-skied down the slopes for an entire week despite it being her first time on snow.

It was definitely an adjustment to trade sled sticks for ski poles and ice for snow, but she found the strides and power required for sled hockey and Nordic skiing quite similar.

A few weeks later, Doederlein competed at the national championships. She was hooked, thanks to some masterful motivation.

"Coming from similar backgrounds and seeing the accomplishments Oksana has made and all the opportunities she has been able to create for herself has really inspired me to do this same," Doederlein said.

Since then, Doederlein has multiple world cups under her belt and was recently named to the U.S. Paralympic Nordic skiing team for Beijing 2022. At the Paralympics, she plans to compete in four races — two biathlon and two cross-country — and potentially a fifth in the relay.

Doederlein has spent the last two winters training in Bozeman, Montana, with the U.S. Paralympic Nordic skiing team alongside Masters, and she will be the second-youngest member of the squad in Beijing. She will also be one of two U.S. Nordic skiers who came over from sled hockey, the other being retired U.S. Marine Corps Sgt. Josh Sweeney, who scored the game-winning goal in Team USA's gold-medal sled hockey victory over Russia at the Paralympic Winter Games Sochi 2014.

Nicknamed the "golden nugget" by one of her coaches, Doederlein is striving each day to become the next Masters, while also channeling the energy and perseverance of her brother, Isaac, who is her other role model as a professional jitsu athlete and coach.

While Doederlein is still invested in cycling and sled hockey — as a member of the San Diego Ducks sled team she was awarded the "21st Duck," a prestigious honor from the NHL's Anaheim Ducks — for now she is fully invested in Nordic skiing.

Beijing 2022 could be just the very the beginning of a decades-long career for her.

"This is a sport that I don't take lightly and plan on making a long career out of it," she said. "I have a long way to go and a lot of lessons to learn."
Stuart Lieberman has covered Paralympic sports for more than 10 years, including for the International Paralympic Committee at the London 2012, Sochi 2014 and PyeongChang 2018 Games. He is a freelance contributor to TeamUSA.org on behalf of
Red Line Editorial, Inc.