The 2022 Paralympic Winter Games Will Offer Fans No Shortage Of Viewing Options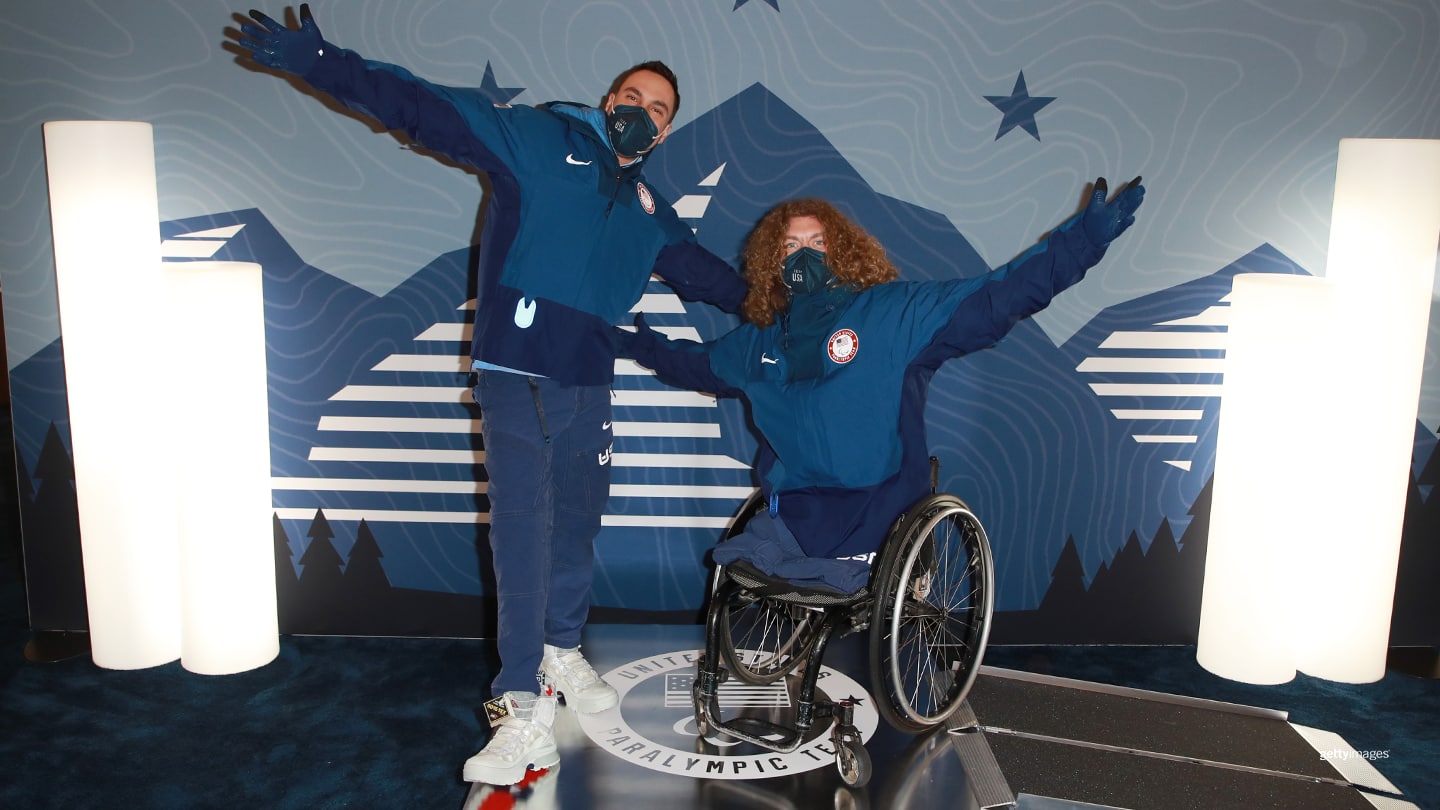 (L-R) Tyler Carter and Ravi Drugan attend processing at the Team USA Welcome Experience ahead of the Paralympic Winter Games Beijing 2022 on Feb. 22, 2022 in Los Angeles.
Fans excited to watch or follow the upcoming Paralympic Winter Games in Beijing will have plenty of options across various platforms when the Games commence.

The Games will take place March 4-13 with more than 700 athletes taking place in 78 events — 39 for men, 35 for women and four mixed. The sports include alpine skiing, biathlon, cross-country skiing, sled hockey, snowboarding and wheelchair curling.

The Winter Paralympics have experienced explosive growth since their 1976 debut. Interest has also grown among viewers and followers. As a result, what is expected to be the largest event in Winter Paralympics history will receive increased coverage.

The challenge for viewers, of course, is the time difference. Those in the eastern time zone will be watching 13 hours behind Beijing time. Many events will be taking place in the middle of the night on the East Coast.

But don't fret. There will be plenty of opportunities for live and recorded viewing.

NBCUniversal will offer a record 230-plus hours of coverage. This will include 120 hours of TV coverage on NBC, Olympic Channel and USA Network. For the first time in history, three hours of coverage will take place in prime time on NBC. Live streaming coverage of all events will also take place on Peacock, with NBCOlympics.com and the NBC Sports app providing comprehensive streaming options as well.

At the most recent Paralympic Games in Tokyo, NBCUniversal's coverage reached 14.1 million viewers, a new record for the event. It was an increase of 81 percent over the Rio Games in 2016, which drew 7.8 million. Look for even more growth this time around.

"Just off the massive success of the Tokyo Paralympics, we are committed to growing our Paralympics coverage across our platforms and bringing the extraordinary achievements of Para Winter Games athletes to the American audience," said Gary Zenkel, president of NBC Olympics. "In partnership with Toyota and our record roster of 30-plus advertisers, the 2022 Paralympic Winter Games will mark new heights in our coverage and storytelling."

Sarah Hirshland, CEO of the United States Olympic & Paralympic Committee, said she was "ecstatic" over the commitment by NBC and Toyota to cover the Games.

"Showcasing the stories of our winter Paralympic athletes living out their dreams is integral to continuing momentum to our shared goal of increasing Para awareness and inclusion," Hirshland said.

For those looking to go all-in on the Games, here are some tips for catching all of the action.


The Paralympic Games kick off on Friday, March 4 with the Opening Ceremony, and fans can follow along live starting at 6:30 a.m. EST on the USA Network. Nine days later, the Games conclude with the Closing Ceremony on Sunday, March 13, which will also be broadcast live on USA Network starting at 7:30 a.m.


As was the case during the recent Olympic Winter Games, the USA Network is taking over as the cable home of Paralympics. Expect to find more than 70 hours of coverage on USA, including nightly prime time action.

In addition to the ceremonies, USA will also cover no shortage of alpine skiing, Nordic skiing and snowboarding, plus the sled hockey medal games on Saturday, March 12.


Don't Forget The Olympic
Channel
Coverage on the Olympic Channel begins on Saturday, March 5 with wheelchair curling, and that sport will have a regular presence in the following days — including the medal games on the final weekend, March 11 and 12.

Starting on Monday March 7, you can tune into the Olympic Channel for extensive coverage of sled hockey as well. As the Games continue, the Olympic Channel will add coverage of alpine and Nordic skiing as well, making it a go-to destination for the most hardcore fans.


Among the seven hours of coverage on NBC are two primetime segments, one set for Saturday, March 5 and the other for Friday, March 11. In addition, look for NBC daytime coverage on Sunday March 6 and Saturday, March 12, as well as the following Sunday.


Here is the TV and stream schedule. The following are TV and stream schedules by sport:

Alpine skiing schedule
Biathlon schedule
Cross-Country skiing schedule
Sled hockey schedule
Snowboarding schedule
Wheelchair curling schedule


Many U.S. Paralympians are active on social media platforms such as Instagram and are likely to offer personal insights during the Games. Here are a few to follow there:

Oksana Masters @oksanamasters
Aaron Pike @aaronlevipike
Mike Schultz @monstermikeschultz
Keith Gabel @grizzlygabel
Kendall Gretsch @k.gretsch
Dani Aravich @theonearmdan
Andrew Kurka @andrewkurka
Rico Roman @ricosled23

Fans can also follow at TeamUSA.org and on the U.S. team's social platforms such as Facebook, Twitter, Instagram, TikTok and YouTube.
Bob Reinert spent 17 years writing sports for The Boston Globe. He also served as a sports information director at Saint Anselm College and Phillips Exeter Academy. He is a contributor to TeamUSA.org on behalf of
Red Line Editorial, Inc.