Molly Seidel and Elkanah Kibet Set the Pace for the U.S. at the New York City Marathon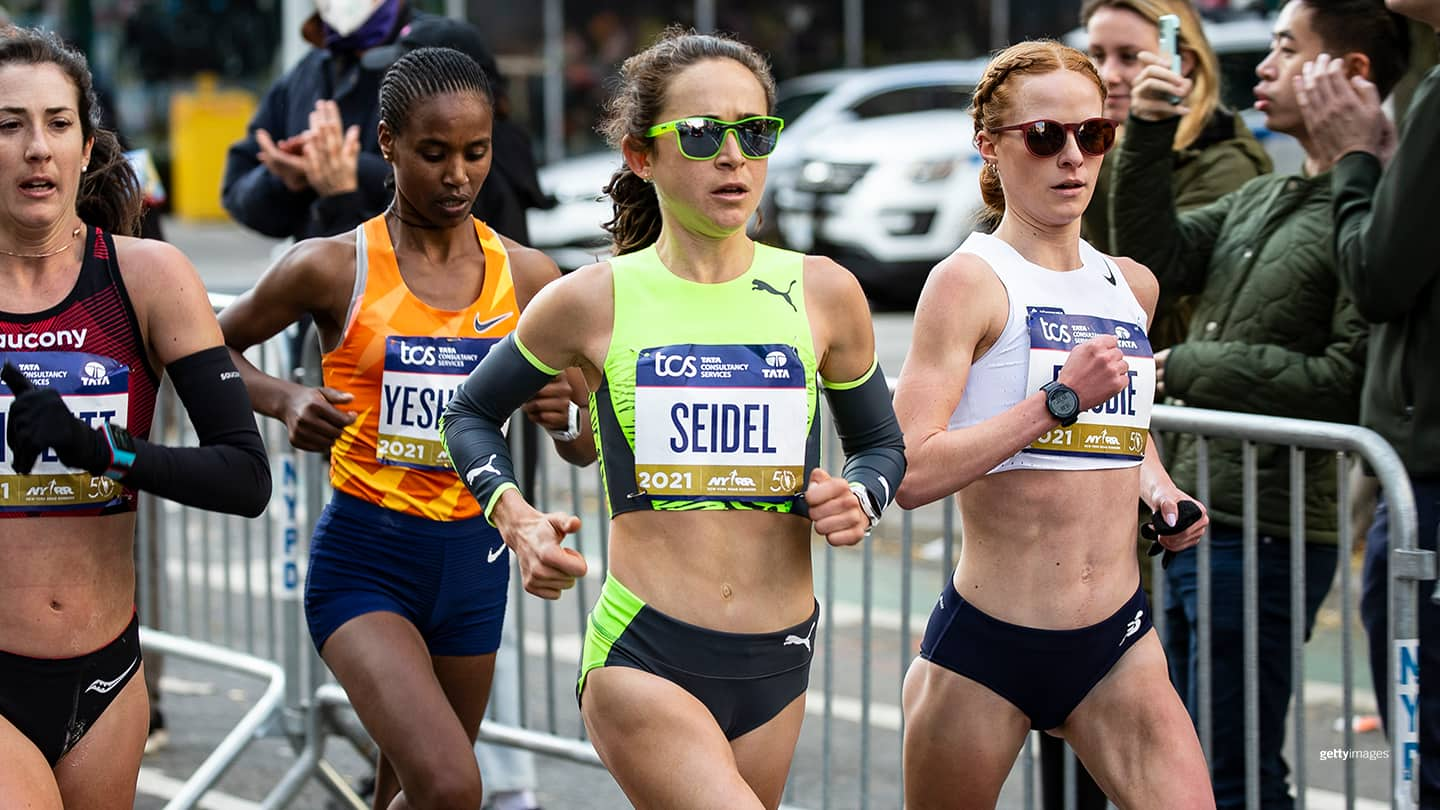 The lead pack of the women's race during the 2021 TCS New York City Marathon on Nov. 7, 2021 in New York City.
NEW YORK, New York – Though they just missed the podium at the TCS New York City Marathon, Molly Seidel and Elkanah Kibet produced gutsy runs for matching fourth-place finishes. They were both the top Americans overall in the professional division.

Seidel, the surprise bronze medalist at the Olympic Games Tokyo 2020 just three months ago, hung with the leaders for much of the way before finishing in 2:24:42, the fastest time ever by an American woman in New York. Kibet, who runs for the U.S. Army, managed to lower his personal best by 26 seconds on a course that is notoriously challenging, clocking 2:11:15.

They both credited the intense energy of the New York crowds, who welcomed thousands of marathoners back for the 50th running of the famed race after last year's event was cancelled due to the pandemic.

"I have never experienced anything like that," said Seidel, a Wisconsin native and NCAA champion at Notre Dame, who has quickly established herself as one of the top marathoners in the world.
"It was so cool going from neighborhood to neighborhood and seeing it change and the energy and the number of people who were out. This was just a testament to the city and being able to come back after a really tough year. That is something that I will never forget."

Kibet, a native of Kenya who became a U.S. citizen in 2013, was so impressed with his first visit to the Big Apple that he knew he wanted to come back even before he got to the start line.
"Last night I told my coach I just want to come here again. Even before I ran the race I liked the atmosphere. People were wonderful, they were cheering very loud and that kept me motivated to go hard."

The women's competition featured a steady early pace, with nine women hitting the hallway point in 1:12:43. Seidel was one of several Americans (including Kelly Taylor, Annie Frisbie and Laura Thweatt — the eventual sixth, seventh and eighth place finishers) in the lead group.

Finally, in the 17th mile, newly crowned Olympic champion Pered Jepchirchir of Kenya made an aggressive move to quicken the pace. By 20 miles, Jepchirchir, fellow Kenyan Viola Cheptoo and Ethiopian Ababel Yeshaneh had broken clear of the other runners, with Seidel running in fourth place.

The three Africans staged a tight duel until the final half mile, when Jepchirchir broke away to finish in 2:22:39, five seconds ahead of Cheptoo and 13 up on Yeshaneh. Behind them Seidel ran solo, fighting off pain from two broken ribs she suffered a month ago.
"That definitely hindered training a little bit. But it was manageable for the race," she said. "Every build up has challenges and this was an interesting one."

Ultimately it didn't stop her from mixing it up with the leaders.
"For me a big confidence builder is just going up to the front and trying to hang with it and go as hard as I can," said Seidel. "So having run with Peres at the Games gave me that [confidence]. And obviously they broke away, but my goal was just to just hang with the lead pack as long as I could and know that I belong there."

Indeed, her time was 71 seconds faster than the previous best time by an American woman in this event, the 2:25:52 run by Kara Goucher in 2008.
"Obviously I fell off from the main pack, but having just kept pushing and stay on that pace and run what I could run, I was really pleasantly surprised to come away with that," the 27-year-old Seidel said. "It's a huge honor."

Shalane Flanagan, the 2017 New York City champion who has retired as a professional runner, raced in the open division with the masses and was the top female finisher in 2:33:34. That would have placed her 12th in the professional women's field, a remarkable accomplishment for the 40-year-old Olympic medalist, who was running in her sixth marathon of the fall.
"I've run six of these," she said, "but it's by far my favorite. It was so much fun."
Running to Represent Team USA
Kibet had one goal in mind for this race: Finish high enough to earn a spot on Team USA for the 2020 World Athletics Championships, which are being held in the U.S. for the first time next summer in Eugene, Oregon. The 38-year-old knew he had to be the top American here to have a shot at making that roster.

When Mohamed El Aaraby of Morocco and Eyob Faniel of Italy broke away from the pack in the seventh mile (relatively early for a major marathon), Kibet was content to run alongside a field of the top contenders, including Ethiopian legend Kenenisa Bekele, Kenyan Albert Korir, the runner-up in New York in 2019, and Olympic silver medalist Abdi Nageeye of the Netherlands.

Around 15 miles, the chase back started to break up as the pursuit of the two front runners intensified, and by 20 miles Korir had taken sole possession of the lead. He maintained his form to win in 2:08:22, with El Aaraby (2:09:06) and Faniel (2:09:52) joining him on the podium.

Kibet was next across the line, improving the personal best time he set in 2015.
"I wasn't expecting this, but I just went for it," he said. "I just hung with the lead group for as long as I could and I ended up doing good."

Kibet, who grew up in Kenya but came to the U.S. in 2006, is part of the Army's World Class Athlete Program, which he joined after graduating from Auburn University. After finishing 16th at the Olympic trials in February 2020, he spent the pandemic working full time as a financial management technician at Fort Carson, near Colorado Springs, Colorado. He was able to get back to concentrating on running this part March.
He has previously represented the U.S. at the 2017 and 2019 world championships, and will likely earn a spot on next year's team. Kibet sees these opportunities as a way to show his appreciation for his adopted home.
"The main reason why I wanted to become a U.S. citizen is because I came to this country and I was given opportunity to go to school and I wanted so much to give back to the community and say thank you," he said.

Ben True, making his marathon debut, was the second American finisher, clocking 2:12:53 for seventh place after running conservatively for the first half. He finished four seconds and one place ahead of countryman Nathan Martin.

Both Seidel and Kibet will take home $50,000 in prize money — $25,000 each for fourth place overall and another $25,000 as the top Americans.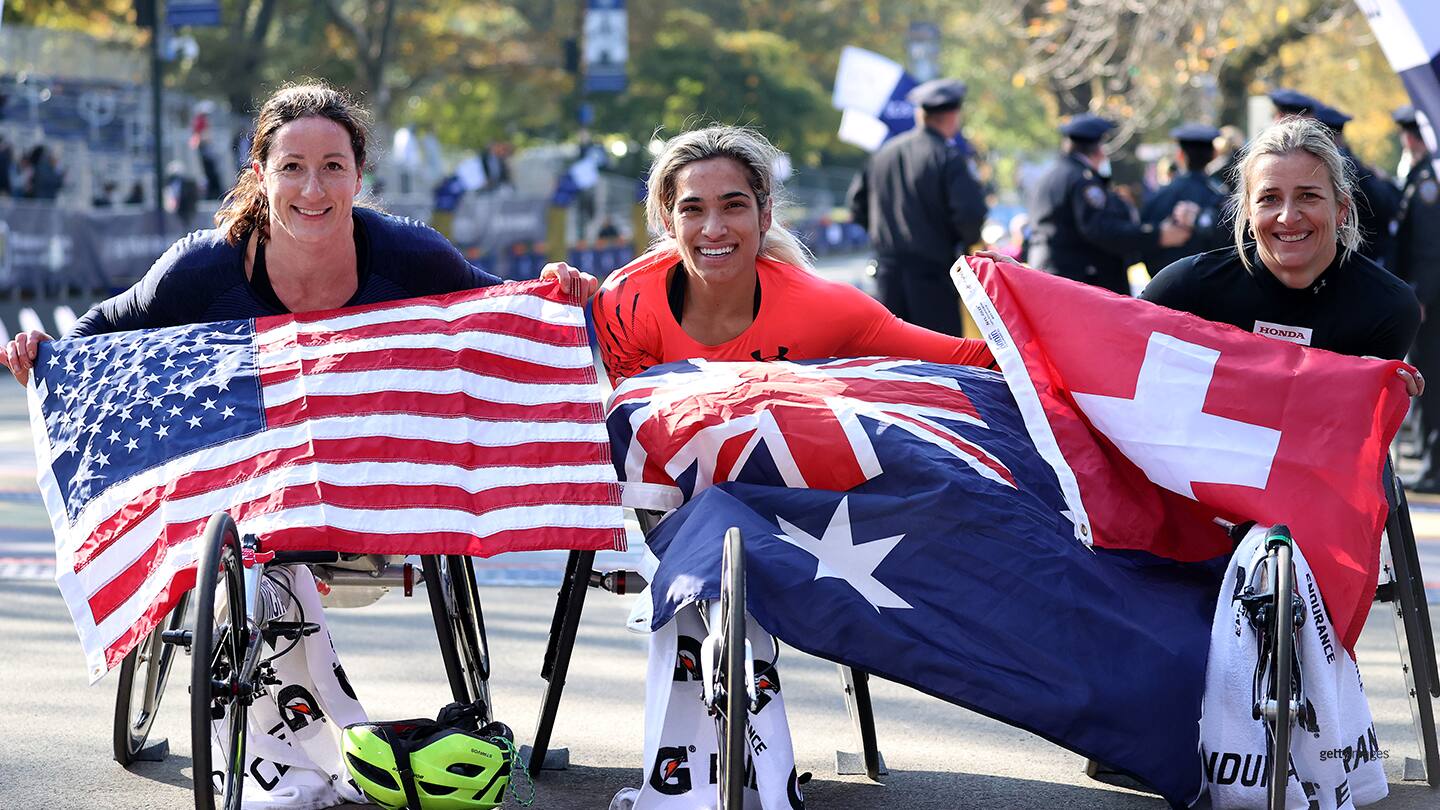 Women's Wheelchair winners pose at the finish line from left, Tatyana McFadden with silver, Madison De Rozario of Australia with the gold and Manuela Schar of Switzerland with the bronze medal during the 2021 TCS New York City Marathon on Nov. 7, 2021 in New York City.

In the wheelchair races, Americans Tatyana McFadden and Daniel Romanchuk grabbed spots on the podium in their sixth marathons since the start of September. The training partners both competed in the Paralympics in September, followed by all five of the World Marathon Majors, which were condensed into a tight schedule this fall following pandemic-related delays.
McFadden took second behind Madison de Rozario of Brazil, the Paralympic gold medalist in the T54 classification, while Romanchuk was third behind Switzerland's Marcel Hug and Great Britain's David Weir.
"Proud is an understatement," McFadden wrote on Instagram after the race. "All six [World Marathon Majors] completed starting in Tokyo (Paralympics] and finished my last race second place."
Although she fell short of her goal of a six New York City title, McFadden was pleased with an effort on the tough course. "Climbed my heart out, descended as fast as I could and a sprint finish," she wrote. "Incredible support as I heard my name throughout the course."
Rich Sands is a New York City-based freelance editor and writer and has been a correspondent for Track & Field News since 1995, covering the sport at the high school, college and professional levels. He was previously an editor at TV Guide Magazine, overseeing the magazine's Olympic coverage.