Paralympian Daniel Romanchuk Wins Second Career Boston Marathon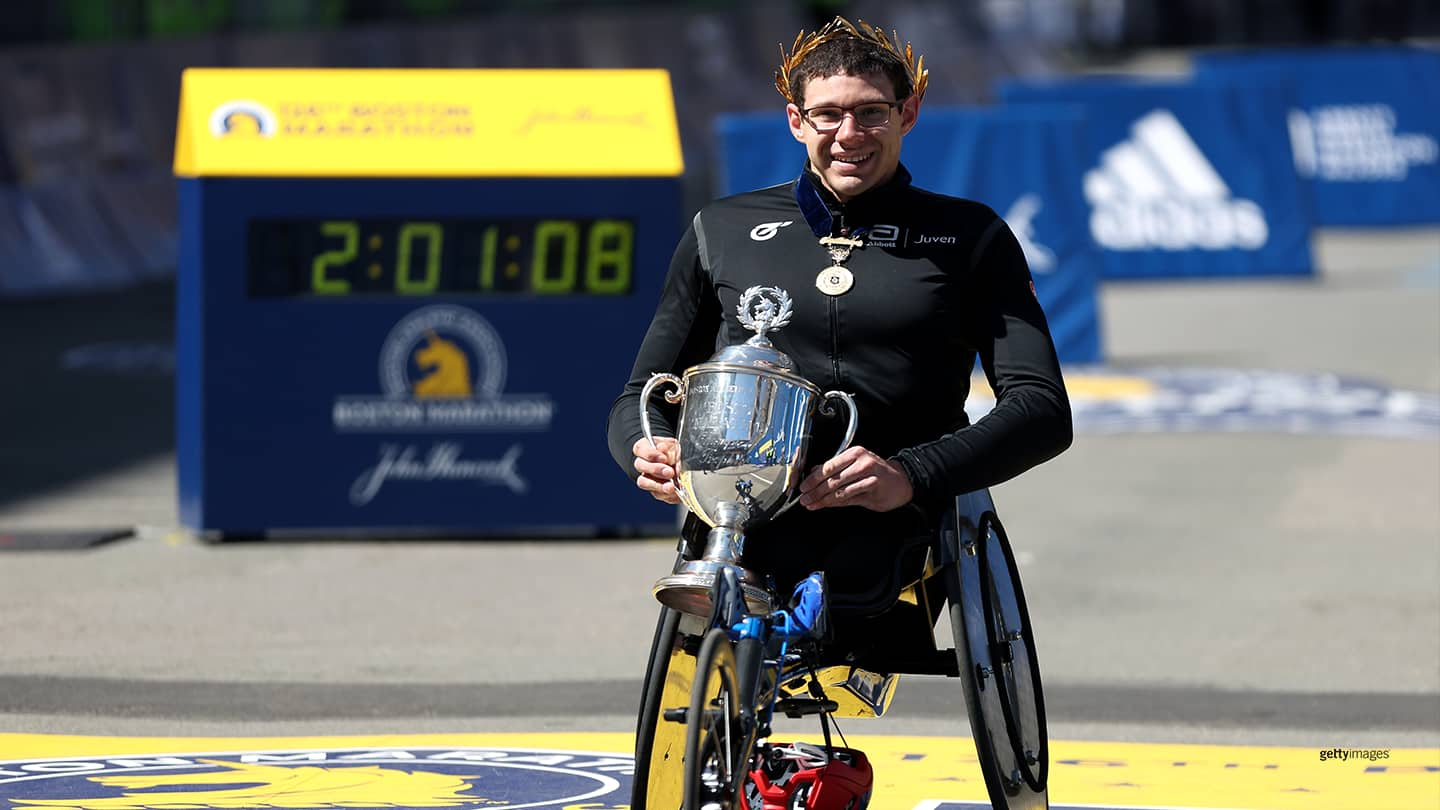 Daniel Romanchuk poses for a portrait with his trophy after winning first place in the men's wheelchair divison at the 126th Boston Marathon on April 18, 2022 in Boston, Mass.
There is something special about the mid-April air in Boston for Daniel Romanchuk.

The wheelchair racer previously won the Boston Marathon in 2019, the last time it was held on its traditional April date until this year, when Romanchuk again broke the tape in the world's oldest annual marathon. Romanchuk's win was nearly to wire to wire as he led for 23 out of the 26.2 miles, finishing in a time of 1 hour, 26 minutes and 58 seconds. Romanchuk was roughly five minutes ahead of fellow U.S. Paralympian Aaron Pike in second.

Romanchuk made history in 2019 as the first American to win the race since 1993, kicking off a remarkable run that saw him also win the Chicago and London marathons while also qualifying for the Paralympic Games Tokyo 2020. In Tokyo, Romanchuk finished third in the T54 marathon but took home a gold medal in the 400-meter. Romanchuk was second in last year's Boston Marathon, postponed to October due to the COVID-19 pandemic.

On the women's side, Paralympic gold medalist Susannah Scaroni finished second. Her time of 1 hour, 46 minutes and 20 seconds was 5:12 off the pace set by Switzerland's Manuela Schar, the Paralympic marathon silver medalist. Paralympian Yen Hoang was just off the podium in fourth.

Two U.S. men and one woman ended up in the top 10 in the elite races. Scott Fauble and Elkanah Kibet finished seventh and ninth, respectively in the men's race while Nell Rojas was tenth on the women's side. Molly Seidel, who scored a surprise bronze medal in Tokyo, had to withdraw from the race.
Todd Kortemeier is a sportswriter, editor, and children's book author from Minneapolis. He is a freelance contributor to TeamUSA.org on behalf of
Red Line Editorial, Inc.