One Day After Chicago Marathon Wins, McFadden And Romanchuk Are Runners-Up In Boston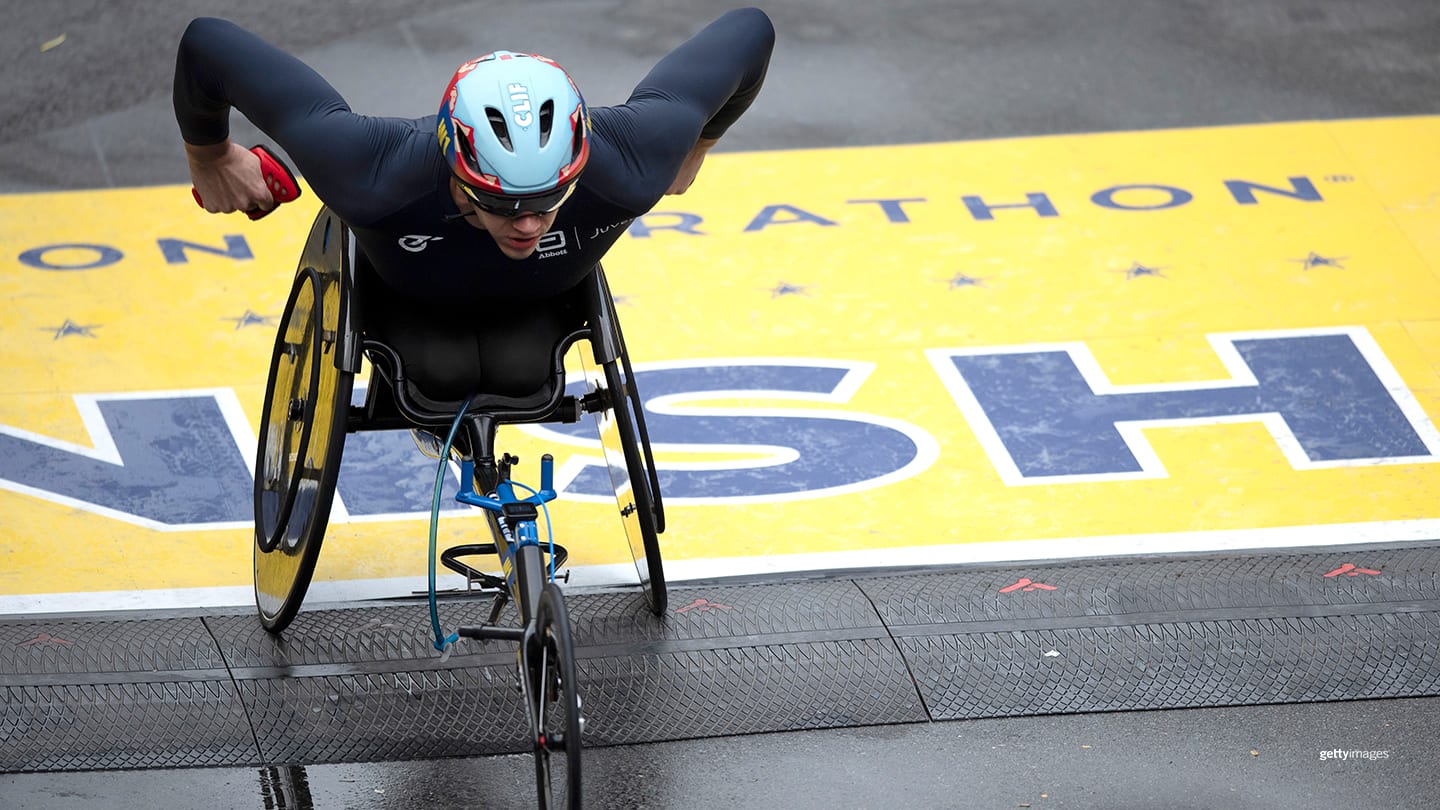 Daniel Romanchuk crosses the finish line in the men's wheelchair division race at the 2021 Boston Marathon on Oct. 11, 2021 in Boston.
For most people, completing a marathon is a good excuse to order a pizza and bask in the accomplishment.

Tatyana McFadden and Daniel Romanchuk aren't most people.

One day after winning their respective wheelchair divisions at the Chicago Marathon, the U.S. Paralympic stars were at the starting line in Hopkinton, Massachusetts. A little over 26 miles later, both were runners-up at the 125th Boston Marathon.

Romanchuk crossed the iconic finish line on Boston's Boylston Street in 1 hour, 25 minutes, 46 seconds — 7:35 behind winner Marcel Hug of Switzerland. McFadden was also second to a Swiss racer, with Manuela Schar winning in 1:35:21 and the American coming in at 1:50:20.

Three other U.S. Paralympians also made the quirk turnaround, with Boston having been rescheduled from April due to Covid-19.

Yen Hoang finished third in the women's race in 1:51:24, one day after taking second in Chicago, while Jenna Fesemyer was sixth in 1:59:51. Fesemyer, who like Hoang made her Paralympic debut in Tokyo, was third in Chicago.

On the men's side, Aaron Pike, coming off his fifth Paralympic Games this past summer in Tokyo, was fourth in 1:28.55. Pike, who also competes as a Nordic skier, was sixth in the Tokyo Paralympic marathon and third in Chicago.

Nell Rojas and Colin Bennie were the top Americans in the running races, with Rojas (2:27:12) taking sixth in the women's race and Bennie (2:11:26) seventh on the men's side. CJ Albertson led for much of the men's race and was 2:13 in front of the field at the halfway mark, but he was overtaken by the 20-mile mark and ended up in 10th.

The results continue the impressive marathon careers for McFadden and Romanchuk.

One of the most dominant wheelchair racers of all-time, McFadden, 32, upped her major marathon wins to 24 with her victory in Chicago. She is also a 20-time medalist across six Paralympic Games, including one as a Nordic skier.

Romanchuk, 23, already has seven major marathon wins after claiming his third Chicago title. He won a bronze medal in the Paralympic marathon earlier this summer in Tokyo, where he also won a gold medal in the 400-meter.

Both are expected to compete again in the New York City Marathon on Nov. 7.
Chrös McDougall has covered the Olympic and Paralympic Movement for TeamUSA.org since 2009 on behalf of
Red Line Editorial, Inc
. He is based in Minneapolis-St. Paul.