Daniel Romanchuk Wins Bronze Medal In T54 Marathon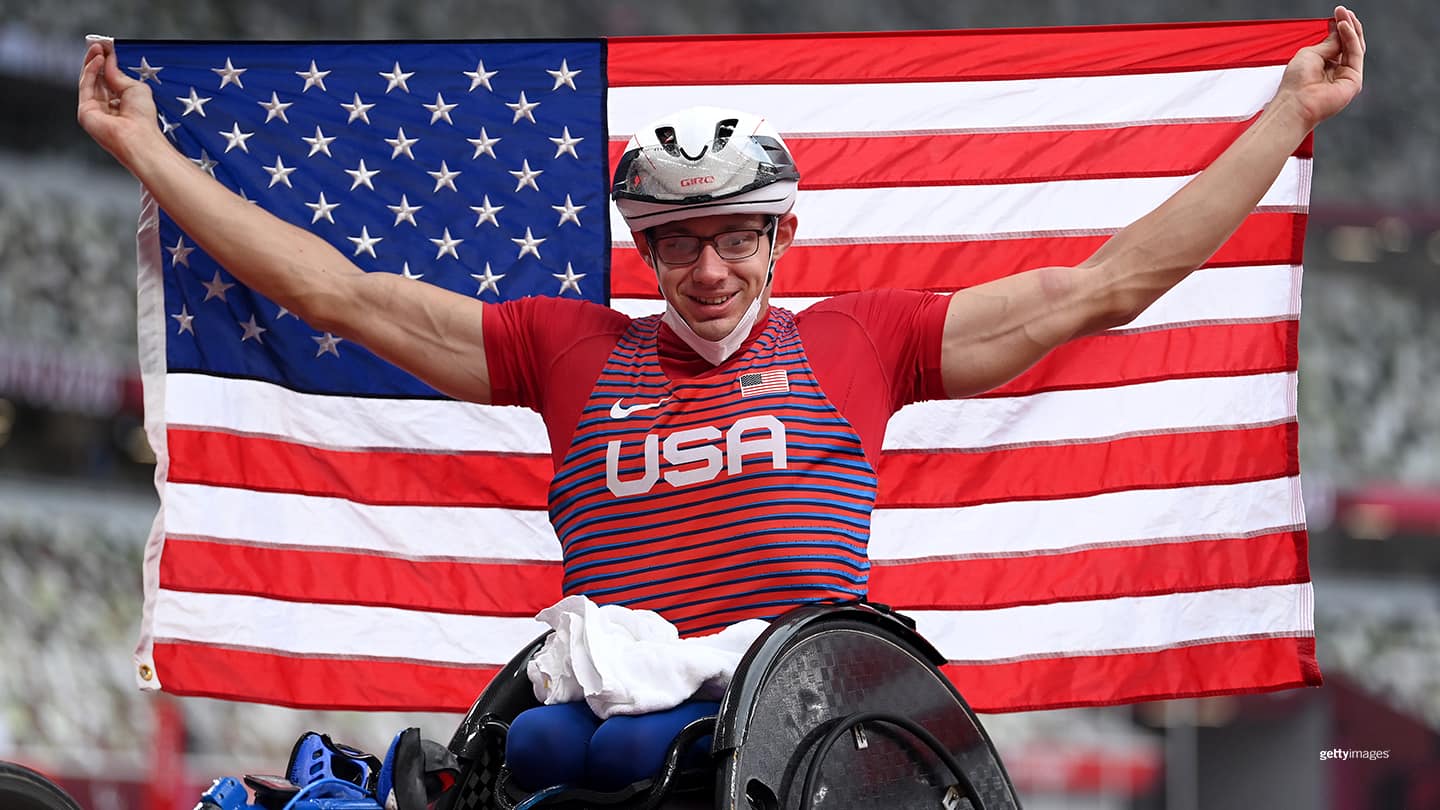 Daniel Romanchuk reacts after winning the bronze medal in the men's marathon T54 at the Paralympic Games Tokyo 2020 on Sept. 5, 2021 in Tokyo.
At 23 years old, Daniel Romanchuk became the first American man in 21 years to medal in any classification in the Paralympic marathon on Sunday when he won bronze in the men's T54 race. The Mount Airy, Maryland, native completed the 26.2-mile course in the pouring rain in 1:29:05, adding to the 400-meter gold he already won on the track in Tokyo.

"It's an amazing end to a great Games," Romanchuk said. "It's really hard to sum up the last year and half and these Games, but it's just incredible to be here."

Sunday marked the first time since before the pandemic that the majority of the athletes raced a competitive marathon.

Romanchuk, who in the last three years has won the New York City and Chicago marathons twice, in addition to the Boston and London marathons, made the marathon podium in Tokyo despite having to deal with pressure sores this week.

He pulled himself back into contention very late in the race after he had fallen back from the chase pack to finish only behind gold medalist Marcel Hug of Switzerland and silver medalist Yong Zhang of China.

"There are a lot of tactics that go on in marathons, especially when everyone's looking to place instead of aiming for a time," he said. "I know my strength is on the uphills, so I knew toward the end of the course there were some hills I was going to try to capitalize on, so I tried to stay calm until then."

Romanchuk's marathon medal was the 28th in history for the U.S. across all classifications, more than any other nation has won.

Five-time Paralympian and dual-sport athlete Aaron Pike — the boyfriend of 10-time Paralympic medalist Oksana Masters — finished sixth in 1:29:45, bettering his 10th-place finish from Rio five years ago. Three-time Paralympian Brian Siemann was 15th in 1:44:42.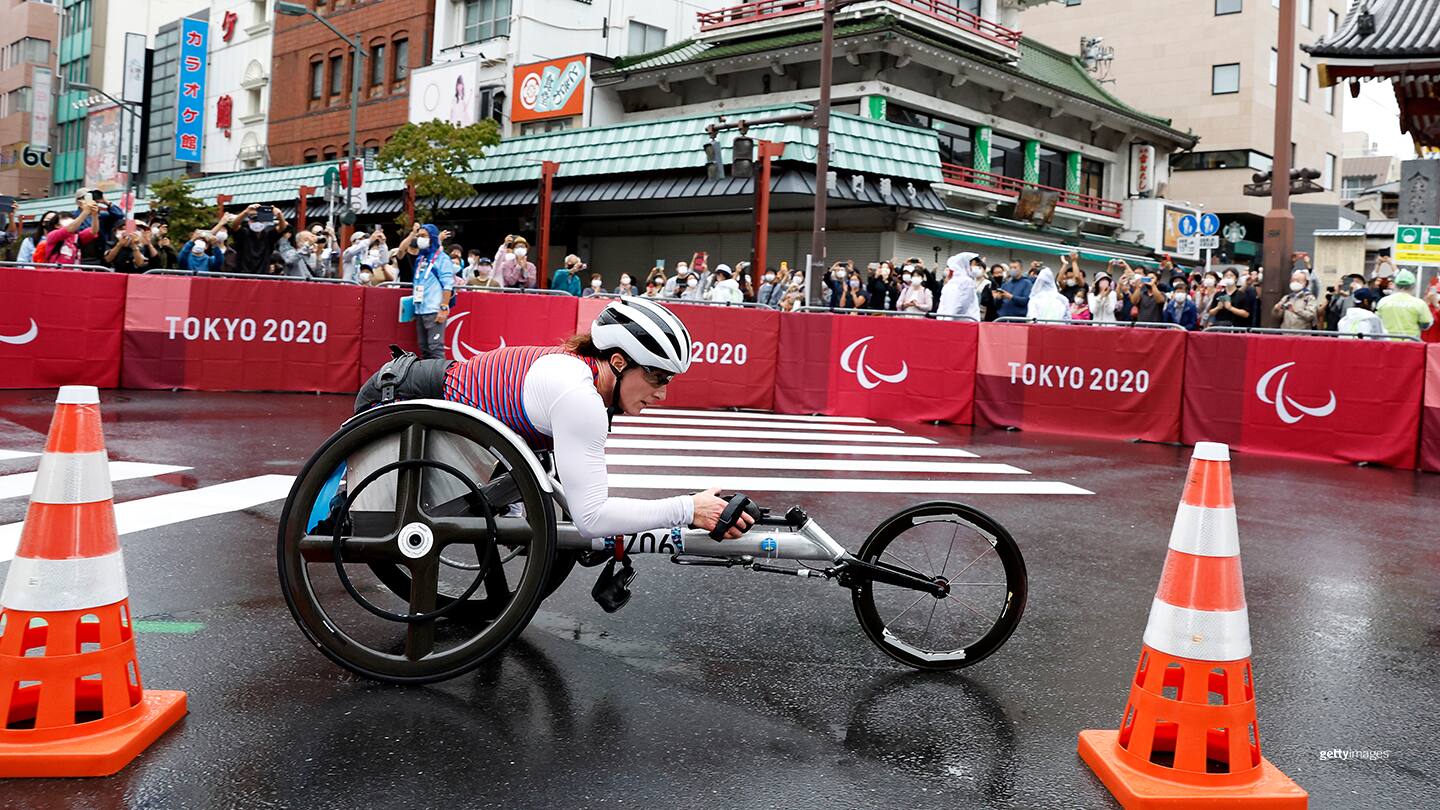 Tatyana McFadden competes during the women's marathon T54 at the Paralympic Games Tokyo 2020 on Sept. 5, 2021 in Tokyo.
In the women's T54 marathon, 20-time Paralympic medalist and 22-time world marathon major race champion Tatyana McFadden was the top American finisher in fifth place. McFadden, the silver medalist in the event in 2016, completed the course in 1:40:14.

"The conditions were wet, and there were some areas I could have played a lot smarter in the race, but it was a great race overall," McFadden said. "I started to slip on the hills overall, and it was really wet, but that's part of road racing and the challenge, and I like challenges."

Three-time Paralympian Susannah Scaroni, who won gold in the 5000 and bronze in the 800, charged out early from the pack 600 meters into the race and led by more than a minute at the halfway mark, efficiently rounding corners and controlling her breathing. But she ceded her lead to eventual champion Madison de Rozario of Australia with about 3000 meters to go and ultimately finished sixth in 1:41:04, one spot higher than she did in 2016 and two spots higher than in 2012.

"I wanted to go out and not be in anyone's wet draft, and I know I can hold a strong pace for a while, so I wanted to push others and try to be efficient throughout the course, and I was until I really slowed down in miles 24 through 26," she said. "That's the risk you take, but I wanted to put everything I had out there, and I couldn't be happier."

Jenna Fesemyer was 11th in her Paralympic debut in 1:50:06, and Amanda McGrory was 15th in 1:57:11 in what likely marked her final Paralympic race after competing in four Games.

Want to follow Team USA athletes during the Paralympic Games Tokyo 2020? Visit TeamUSA.org/Tokyo-2020-Paralympic-Games to view the medal table and results.
Stuart Lieberman has covered Paralympic sports for 10 years, including for the International Paralympic Committee at the London 2012, Sochi 2014 and PyeongChang 2018 Games. He is a freelance contributor to TeamUSA.org on behalf of
Red Line Editorial, Inc.