Paralympians McFadden, Romanchuk Finish On Podium In London Marathon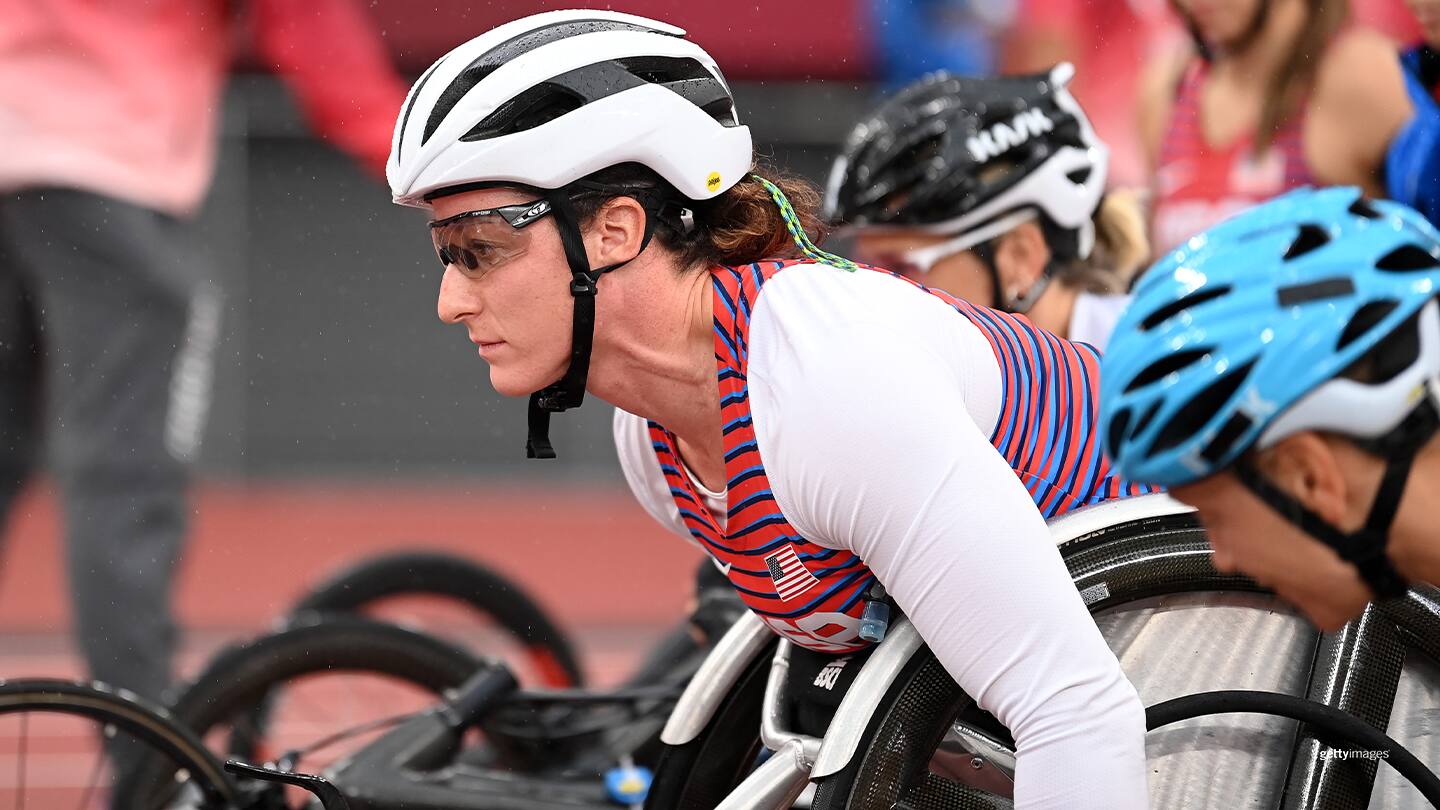 Tatyana McFadden preparing for the start of the women's Marathon - T54 at the Paralympic Games Tokyo 2020 on September 05, 2021 in Tokyo, Japan.
Tatyana McFadden and Daniel Romanchuk continued their tour of the world's most prestigious marathons with two more podium finishes on Sunday.

Just a week after the two Paralympic wheelchair racers medaled at the Berlin Marathon, they took to the streets of London for that race's return. Romanchuk took his second silver medal in a row while McFadden claimed bronze, just fractions of a second away from silver.
Wrote McFadden on Instagram: "It's been about roughly 890 days since the last @londonmarathon and it felt so good to be back. It turned out to be a beautiful sunny day here and a sprint to third place finish today. So wonderful to see everyone out today . Now less than a week from the @chimarathon."
McFadden, who made her Paralympic debut at the age of 15 in 2004 and has competed in a total of five Paralympic and one Paralympic Winter Games with 20 medals, finished on Sunday with a time of 1:44:51. The sprint she described was between her, second-place finisher Merle Menje of Germany and fourth-place finisher Nikita den Boer of Netherlands. All three kept virtually identical paces throughout the race.
Switzerland's Manuela Schar won gold for the second week in a row with a time of 1:39:52, while McFadden, 32, and the 17-year-old Menje actually crossed the line with the same time. Den Boer finished in 1:44.54.
Jenna Fesemyer (ninth) and Michelle Wheeler (11th) also finished in the top 12 for the U.S.
Romanchuk, now a two-time Paralympian from Mt. Airy, Maryland, once again took silver behind Switzerland's Marcel Hug. Hug finished in 1:26:27 with Romanchuk, 23, coming in three minutes later with a time of 1:29:27. Great Britain's David Weir was third, finishing in 1:31:34 and five-time U.S. Paralympian Aaron Pike was just off the podium in fifth place with a time of 1:31:36.
Romanchuk, who this summer won his first Paralympic gold medal in the 400-meter, also took home a $6,500 prize in the Abbott World Marathon Majors Flying 400, a timed 400-meter sprint just past the 20-kilometer mark near London's Tower Bridge. Romanchuk was the fastest in a time of 42 seconds.
Both Schar and Hug set new course records.
This was the first time the London Marathon took place in the fall. It was last held in-person in the spring of 2019 and was virtual last year, with participants running their own courses. This year's event still had a virtual option, although more than 40,000 participated in person.
The Chicago Marathon, also back for the first time since 2019, will take place next Sunday.
Karen Price is a reporter from Pittsburgh who has covered Olympic and Paralympic sports for various publications. She is a freelance contributor to TeamUSA.org on behalf of Red Line Editorial, Inc.