Tokyo Medalists Molly Seidel And Daniel Romanchuk Look To Shine At The New York City Marathon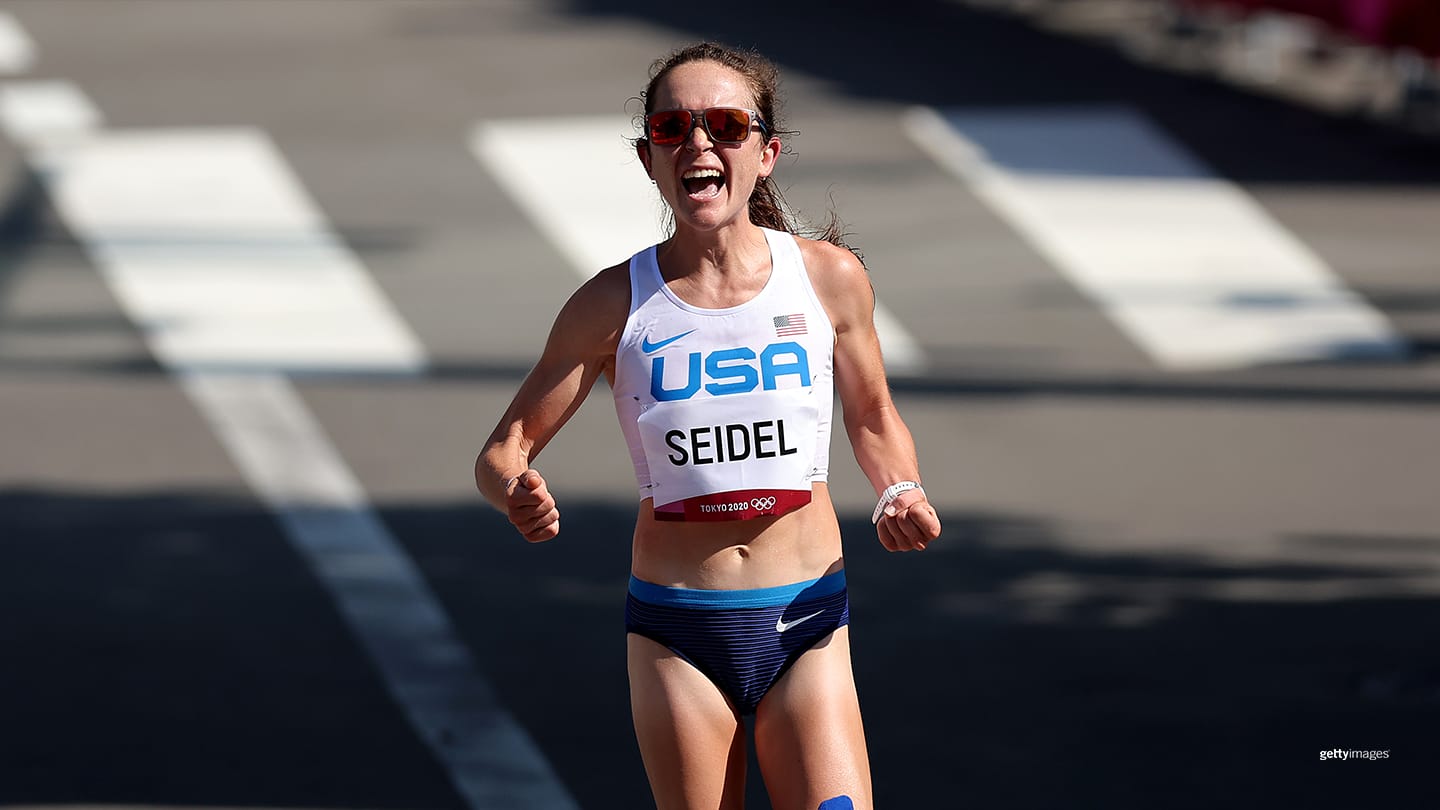 Molly Seidel reacts after winning the bronze medal in the women's marathon final at the Olympic Games Tokyo 2020 on Aug. 7, 2021 in Sapporo, Japan.
NEW YORK – After winning bronze medals in Japan this summer, marathoners Molly Seidel and Daniel Romanchuk are looking to put exclamation points on their incredible seasons at the TCS New York City Marathon.
The 50th running of the iconic road race will be held Sunday, Nov. 7, after being cancelled last year due to the COVID-19 pandemic.
Seidel arrives in the Big Apple as the latest in a long line of American women's distance-running stars. She ran a courageous race in the oppressive heat of Sapporo, Japan, on Aug. 7 to claim an unexpected bronze in the 26.2-mile footrace at the Olympic Games Tokyo 2020.
Since that breakthrough performance, the 27-year-old Wisconsin native has seen her popularity soar. And she's working hard to manage the accompanying expectations.

"I just go out, I train hard, I do what I can do, and I think everybody else tries to glean information from that or creates storylines," Seidel said from Central Park on Thursday, where the professional athletes met with the media. "But I guess in my own head I know what I need to do and I'm gonna keep doing that. I'm not changing what I do just because I have a medal around my neck."

Not that it's been a smooth transition back into training, especially with just three months between the Olympics and New York. In a recent Instagram post, Seidel wrote that, "This build has been so different from the others; much shorter, more painful and mentally tougher. Sometimes dealing with the weight of expectations is the hardest part…" On Thursday she cited "mental exhaustion" and declined to elaborate any further, but promised to offer more details after Sunday's race.


Despite the less-than-ideal build-up, Seidel is savoring the chance to finally experience the New York City Marathon, where her running heroes like Kara Goucher and Shalane Flanagan have shined. She was in the city to race the 2017 USA Track & Field 5K championships the day before the marathon and stuck around to see Flanagan's historic win that year up close.
"That was such an impactful moment for my career, seeing that an American woman can go out and be at the top of the world stage," Seidel said. "In my mind, it was like, wow, that can happen. And it was so inspiring for me." (Flanagan will be racing with the masses on Sunday, closing out her daunting "Project Eclipse" project, running all the World Marathon Majors in a six-week span.)
A four-time NCAA champion at Notre Dame, Seidel has enjoyed a quick journey to the top of the marathon world. She became an overnight sensation after finishing second at the U.S. Olympic Team Trials in February 2020 in her debut at the distance, and she ran her personal best of 2:25:13 in London eight months later.
"You take this risk and you go into it and you don't know what a race is going to be," she said of the unpredictability of the marathon. "It could be great, but it could also really suck. … I'm just as surprised as anyone how these last three races have gone."
And while continuing that hot streak is important on Sunday (in a field that includes Olympic champion Peres Jepchirchir of Kenya), she's also aiming to enjoy the moment. "This has been a really cool year," she said. "We spent so much time building up for the Olympics, putting all of our chips in on that, that truthfully at this point I feel like everything after is, we get to do this for fun."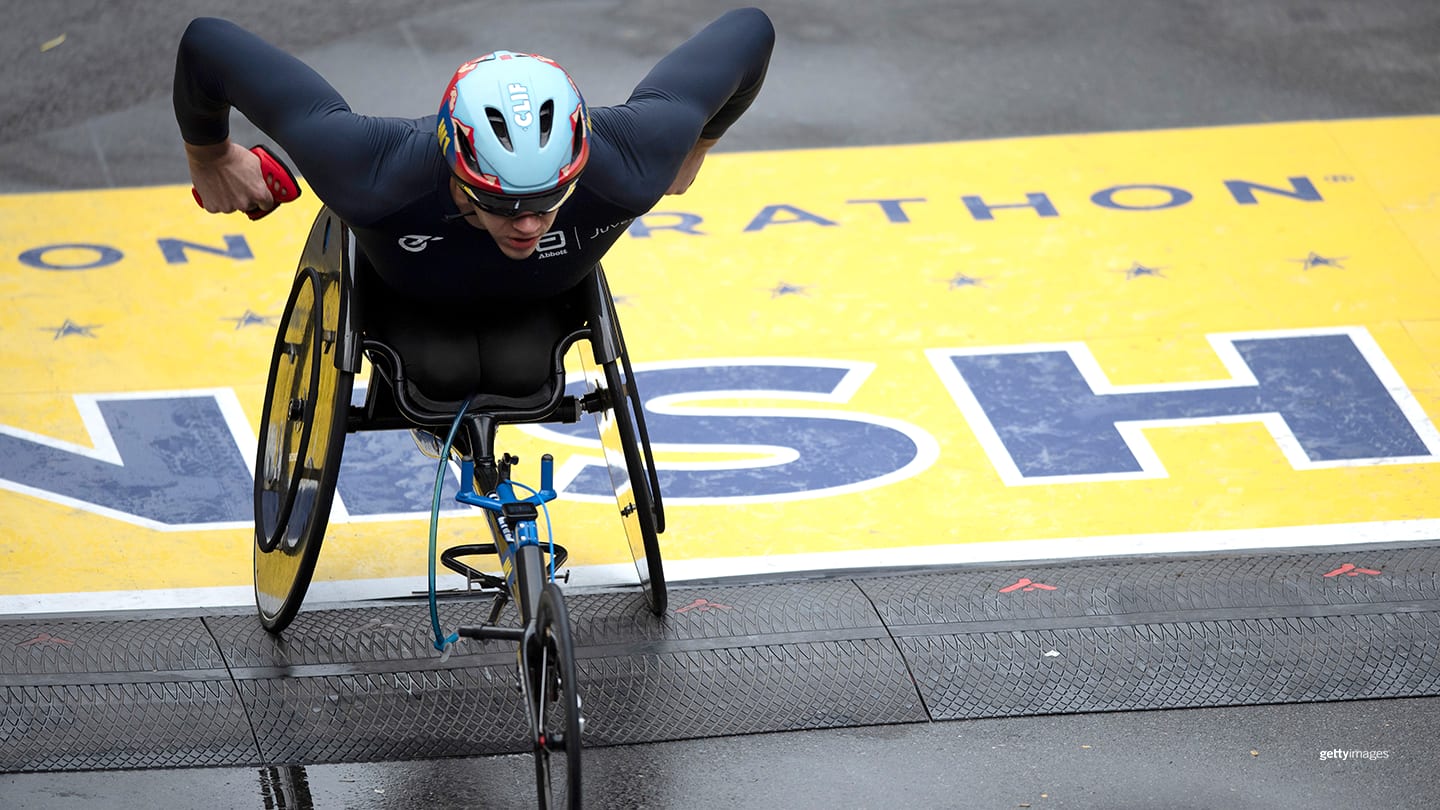 Daniel Romanchuk crosses the finish line in second place during the men's wheelchair division race of the Boston Marathon 2021 on Oct. 11, 2021 in Boston.
Romanchuk's Non-Stop Fall
Romanchuk has had even less time between Tokyo and New York. The wheelchair racer won the bronze medal in the T54 category marathon at the Paralympics on Sept. 5, and since then he's barely stopped moving. Due to pandemic-related delays, five of the six World Marathon Majors have been held this fall — and the 23-year-old Maryland native has raced them all.

Romanchuk finished second in Berlin (Sept. 26), London (Oct. 3) and Boston (Oct. 11) — all behind rival Marcel Hug of Switzerland — and won in Chicago (Oct. 10).

"We really didn't know how I was going to react to doing all those races," Romanchuk said of the daunting schedule, "but it's a historic set of events and I don't want to miss any of it."

He comes to New York as the two-time defending champion (2018 and 2019), but he tries not to dwell on his past successes.

"I do my best to not let it affect me at all," he said. "Every race is a new race, even if it's the same course with the same people. In the male T54 category, you can run a race five times and you're going to get three or four different results. I don't ever go into a race thinking, 'Oh, I have it.'"

And while Romanchuk has emerged as one of the top wheelchair marathoners over the past four years, he still enjoys racing shorter distances on the track, where he got his start. In one of the most thrilling races in Tokyo, he came from behind to win the T54 400-meter dash by just one hundredth of a second.

"We certainly train for a variety of things," he said of his phenomenal range. "There are a number of things that happen in every race between getting a good start, accelerating, using tactics and a finishing kick."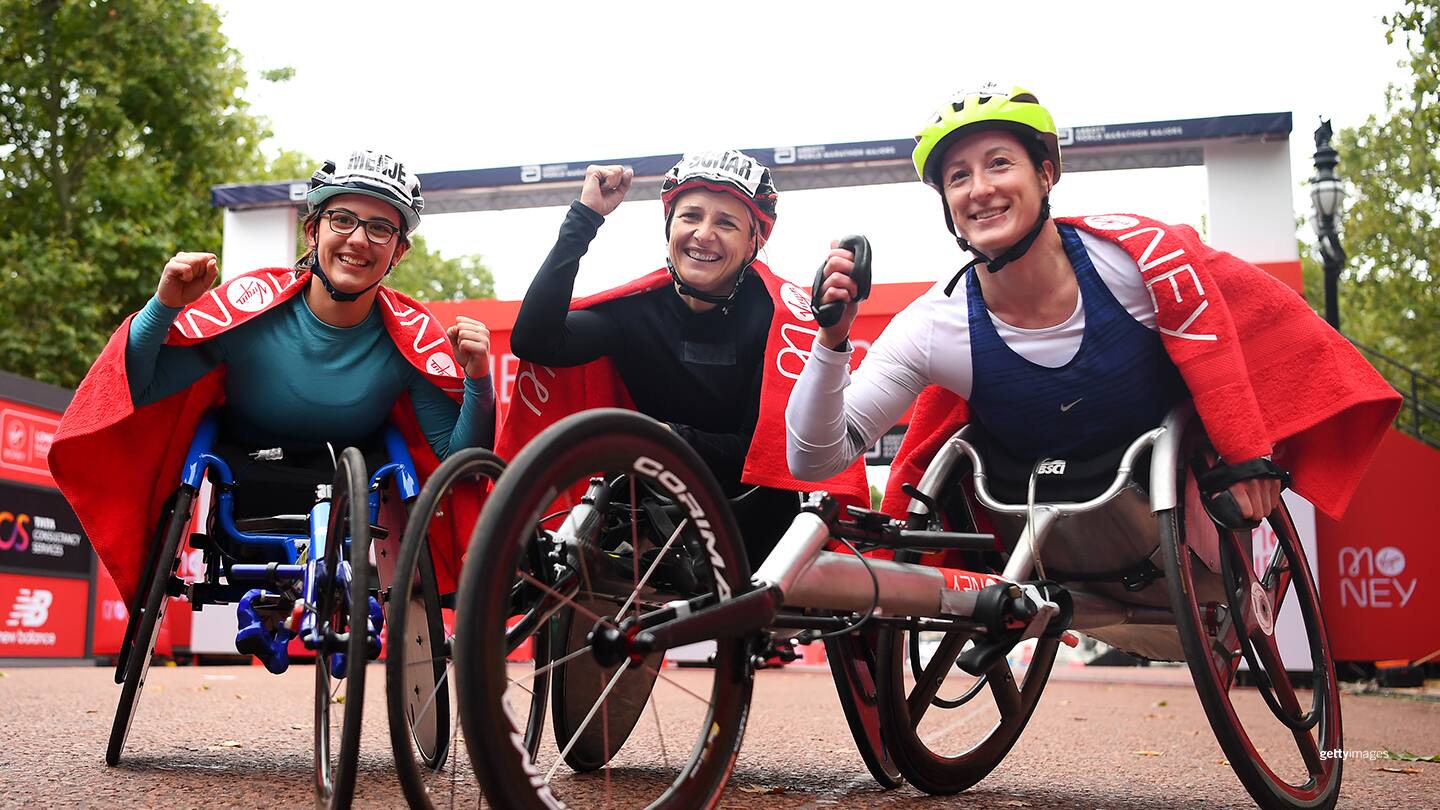 (L-R) Merle Menje (Germany), Manuela Schar (Switzerland) and Tatyana McFadden pose after the women's wheelchair race at the 2021 Virgin Money London Marathon on Oct. 3, 2021 in London.
Other Americans To Watch
Like Romanchuk, wheelchair racer Tatyana McFadden has taken on all the World Marathon Majors this fall — and reached the podium in each of them. After a disappointing fifth-place finish in the Paralympic marathon (where she struggled in the wet, rainy conditions), she rebounded by winning in Chicago, finishing second in both Berlin and Boston and taking third in London.

"I'm an athlete who really thrives on competition so I'm glad to be here," she said of the final stop on her challenging fall tour.

"I feel like each race I'm learning more and more, because it was hard last year," added McFadden, who has 20 Paralympic medals in her career, dating back to 2004. "We didn't compete at all and it's been two years since the New York City Marathon, so it's been kind of nice to do these different marathons to see what I needed to work on and how I can progress for next year. New York is going to be the final test."

She's already won New York five times and is eager to add a sixth title (which would also be her 25th WMM victory). "I've had three weeks to prepare for New York [since Boston], so that allowed me more time for rest," she said. "But no so much resting, because a lot of our training was hill-based" to simulate New York's challenging course. "So it's been tough, it's been fatiguing."

Speaking of fatigue, Sally Kipyego had a difficult recovery after the Olympic marathon. She suffered in the brutal conditions in Sapporo, placing 17th, and it took longer than usual to rebound.

"It was a little bit difficult for me to come out of that race, emotionally, mentally and physically," Kipyego admitted. "I had a difficult race. I just did not adjust well to the heat. My body was overwhelmed.

Her performance was particularly disappointing because she says she was probably in the best shape of her life.
"For the first time in my marathon training I actually got a glimpse of some really fast possibilities for my marathon running during the build up for the Olympics," Kipyego said. "I had some of the best workouts I've ever had. … That opened up a window for what I can do in the marathon if I can get the right conditions."
Kipyego says she finally started to get back in top shape in the last few weeks, and she knows that success in New York is possible. She finished second back in 2016, four years after winning Olympic silver in the 10,000-meter run for her native Kenya. (Kipyego has been an America citizen since 2017 and the Tokyo Games marked her Team USA debut.)

"I've had good workouts that have showed me that I can compete," Kipyego said. "I know I am working with a tired body, so I've been a bit more cautious than I normally would be. I want to get to the finish line in one piece."

The TCS New York City Marathon takes place Sunday, Nov. 7, starting at 8 a.m. ET.
Rich Sands is a New York City-based freelance editor and writer and has been a correspondent for Track & Field News since 1995, covering the sport at the high school, college and professional levels. He was previously an editor at TV Guide Magazine, overseeing the magazine's Olympic coverage.