NYC Marathon Will Test Top American Racers Against Some Of The World's Best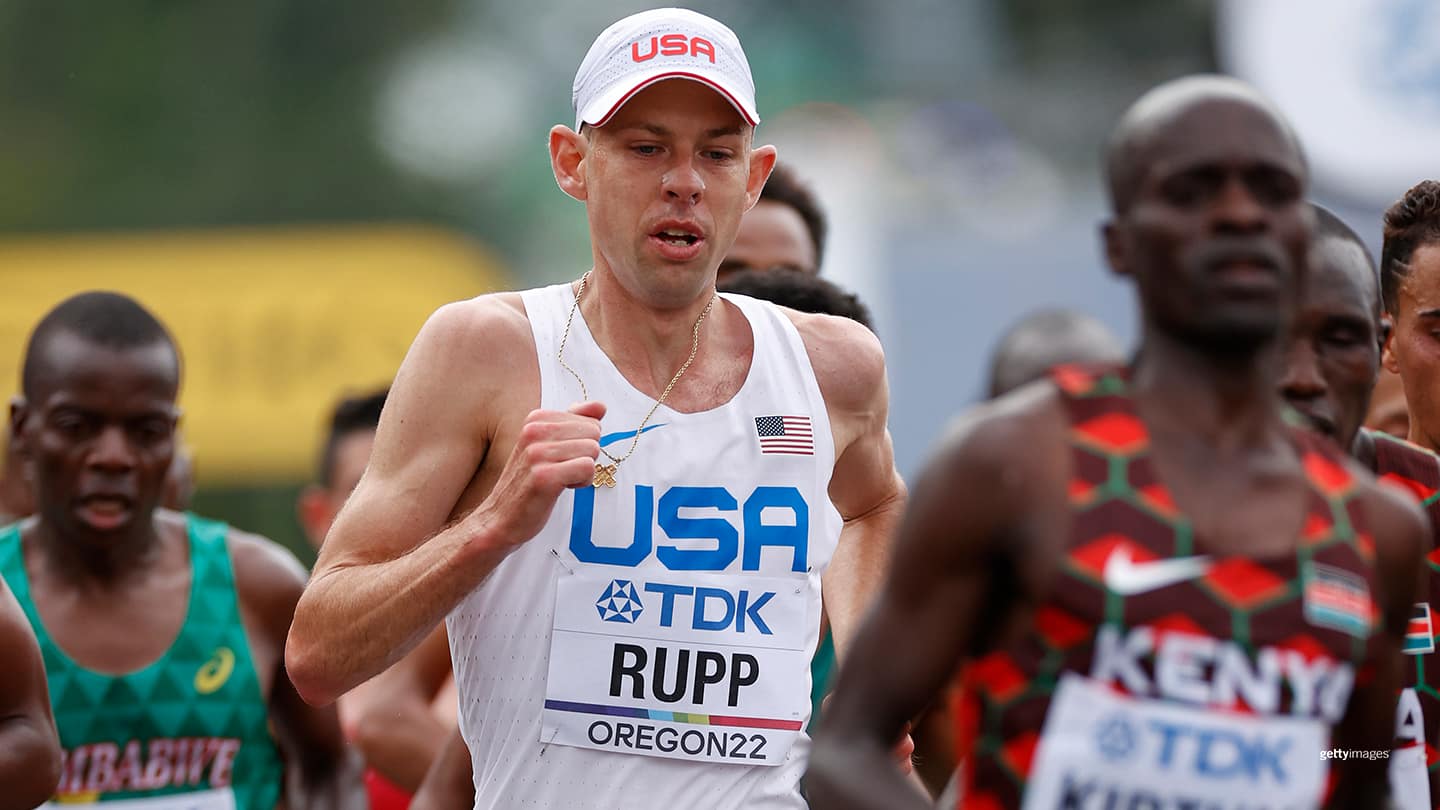 Galen Rupp competes during the men's marathon at the 2022 World Athletics Championships on July 17, 2022 in Eugene, Ore.
Athletes entered in Sunday's New York City Marathon agree: the 26.2-mile course – east side, west side, all around the city's five boroughs – is a thinking person's course.
"There are lots of hills and bridges. I love to climb, so looking forward to that part," Daniel Romanchuk said at New York's Central Park on Thursday. "As far as strategy, it's a lot of adapting, seeing what happens, going from there. You can go into the race with a plan, but as soon as that gun goes off, it could go out the window."
Romanchuk, 24, knows the course well. In 2018, he became the first American and youngest winner ever of New York's wheelchair event, edging longtime Swiss rival Marcel Hug by one second.
The two-time Paralympic medalist will square off against Hug again on Sunday, seeking his second major marathon crown of the year after winning in Boston in April. He temporarily moved from Champaign, Illinois, where he trains with University of Illinois' track team, to his hometown of Mount Airy, Maryland.
"Training has been going well," Romanchuk said. "I've done my typical pre-hilly marathon routine, got back to where I grew up and got some time on the hills to get used to them again."
Susannah Scaroni hasn't raced the New York City Marathon since 2019, when she placed third. A 15-time medalist in major marathons, she is counting on experience to outpace Tatyana McFadden, a five-time winner in New York, and rising U.S. star Jenna Fesemyer, as well as defending champion Madison de Rozario of Australia and three-time New York winner Manuela Schar of Switzerland.
"It's a very strong field – I don't really have expectations going in," the two-time Paralympic medalist said. "I'm just going to gauge each moment how I'm feeling."
Sacaroni also trains at the University of Illinois.
"The beauty of being this old (31) and having done this race many times is I sort of know how I should feel if I'm going to make an attack," she added. "If I'm not feeling that I might have to be a little more strategic and work with others. I'm just going to plan as I go."
On Sunday, Scaroni goes for her second major marathon win in five weeks, having won in Chicago early last month. It is a remarkable comeback from near tragedy: last September, while training for the Boston Marathon, she was hit by a car and suffered a burst fracture of her T8 vertebrae. The incident required surgery and a four-day hospital stay, and forced her withdrawal from the 2021 Boston, Chicago and New York City marathons.
"I was so disappointed not to get to race in Chicago and New York because I just really wanted to see what I can do," Scaroni said. "But I am so thankful I lived, none of that matters. And even now, when things are challenging, which they always are, I have a much bigger perspective."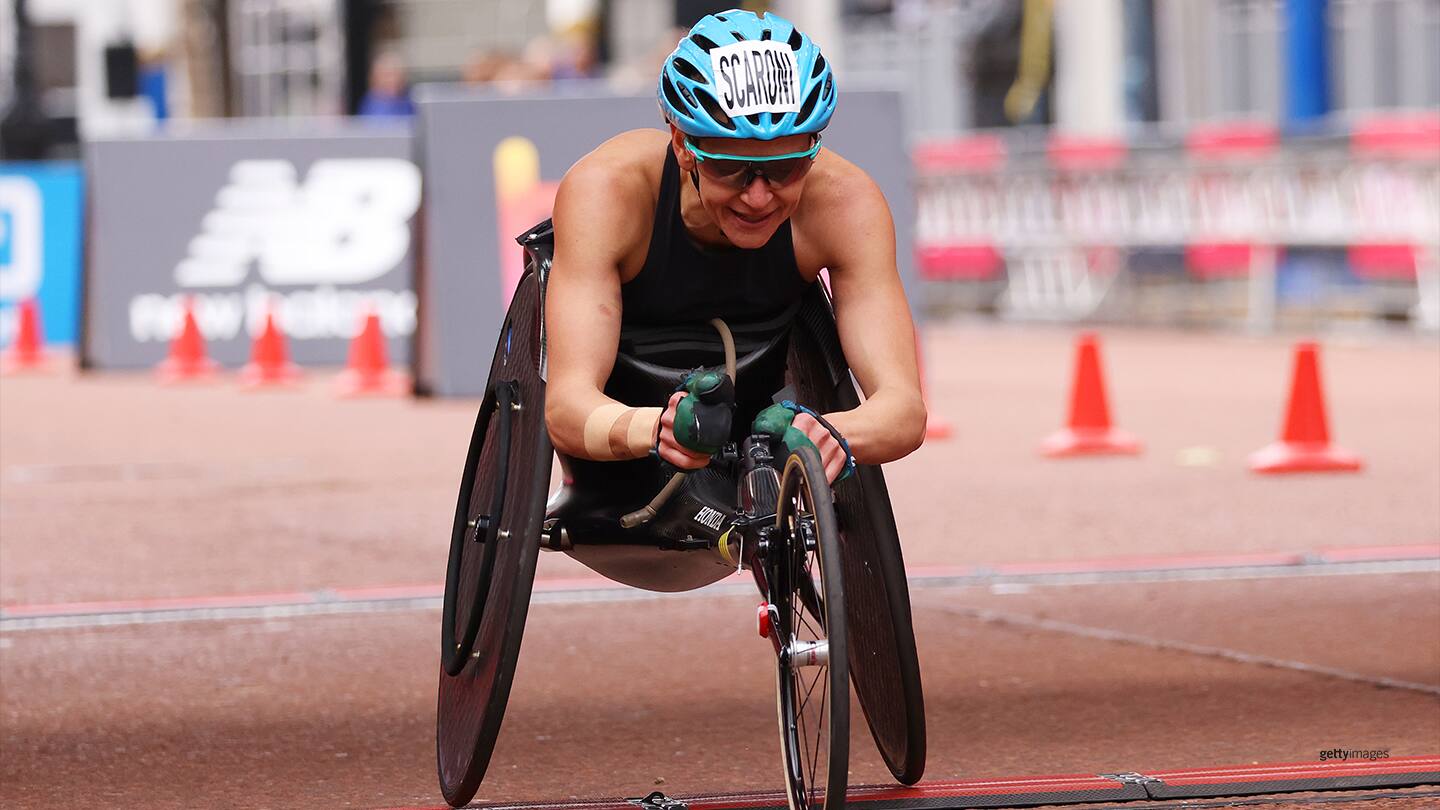 Susannah Scaroni competes during the elite women's wheelchair race at the 2022 TCS London Marathon on Oct. 2, 2022 in London.
McFadden placed second to Scaroni in Chicago last month, just six seconds ahead of Fesemyer, who claimed third.
"I feel like I've made progress since Chicago. I know this is going to be a building year," the 33-year-old said. "The race is going to be really tough. It's going to be fast, it's going to be good weather. I just need to stay relaxed and confident in myself that I could do this."
The eight-time Paralympic gold medalist took time off from training this spring and summer to recover from an iron deficiency which required five infusions.
"It's really hard taking a forced recovery, but it's important to find that silver lining that your body needed to take it," said McFadden, who owns 20 total Paralympic medals. "I started my training later in August and have really been ramping it up…I needed to (address the deficiency) for my longevity of the sport."
Galen Rupp has a strategy for Sunday: take it a bit easy in the first half of the race, before mounting a charge at the end.
"It finishes uphill, and certainly that presents more (challenges) than a flat road course," Rupp, 36, said. "Any time you have these different variables, it adds a little bit to the tactics …. I think it's a lot like a cross-country course. There's not a lot of rhythm, you're not just floating around running a constant pace for a long time."
The four-time Olympian, who secured a marathon bronze medal in 2016, thinks the exuberant New York City crowd could play a role, especially at the start of the race in Staten Island.
"The crowd can be a danger in the first part of the race, everyone is so amped up," Rupp said. "It's easy to get caught up in all that excitement and energy. You have to pay the price for that later. I always try to stay calm, that's my mantra in the first part of any race. How efficiently can you get to halfway, how easy can you get there? Every bit you save early on you are able to get back tenfold at the end."
Rupp will need to be in top form to compete with defending champion Albert Korir of Kenya, as well as reigning Boston champion Evans Chebet, also of Kenya, and many others, including 2016 U.S. Olympian Jared Ward.
"It's a deep field, for sure," Rupp said. "Any one of 10 guys could win."
Although he placed 19th in the marathon at the 2022 World Athletics Championships in Eugene, Oregon, in July, he thinks his fitness level has improved just in time for New York.
"I dealt with a problem in my back leading up to Eugene, and that certainly limited me there," Rupp said. "My wife (Keara) said, 'You've got to get healthy. It doesn't matter how fit you are if your body is not working right.' So I did take time, I tried to rest, hit therapy hard, worked on mechanics and different competition things. I'm in a much better place now than I was in Eugene."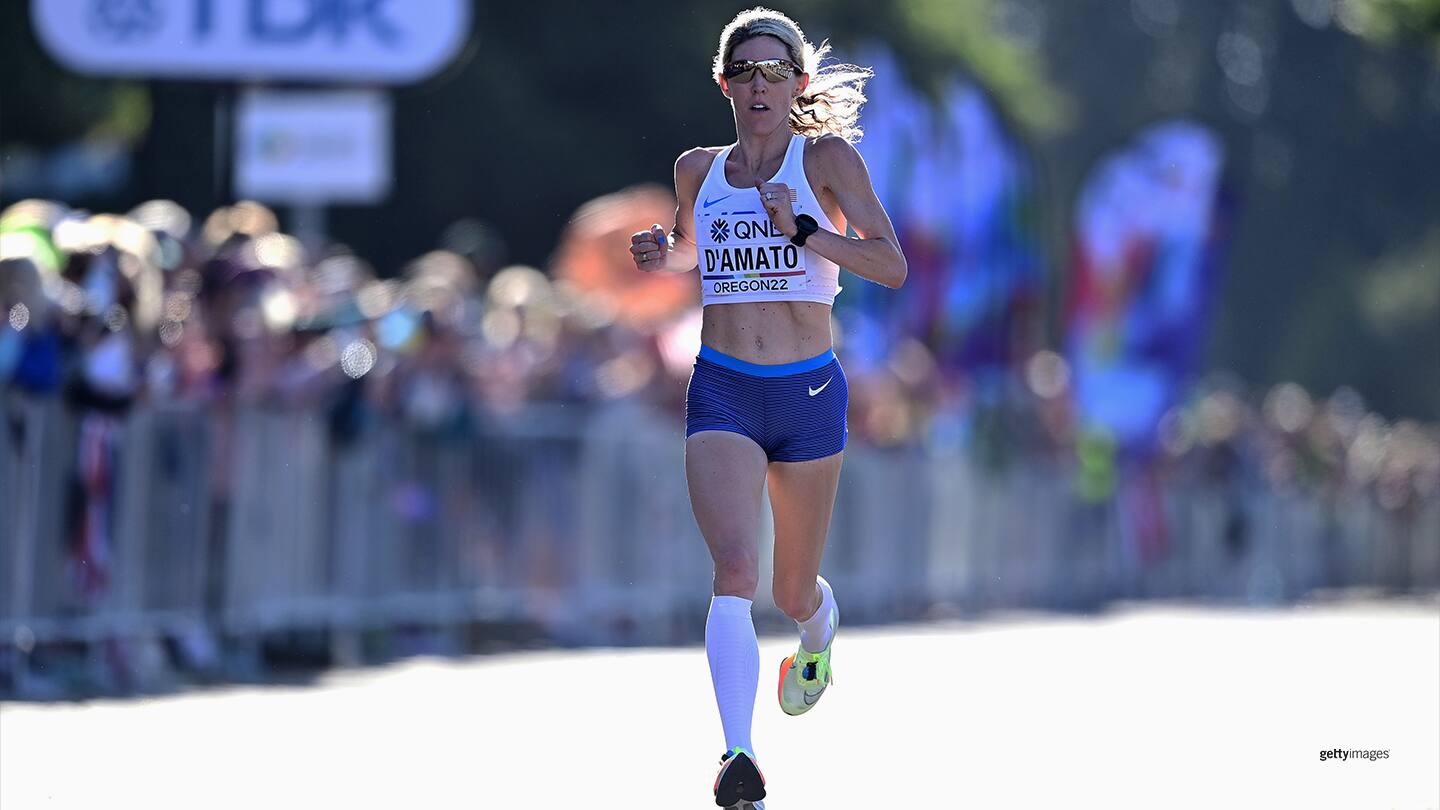 Keira D'Amato competes during the women's marathon at the 2022 World Athletics Championships on July 18, 2022 in Eugene, Ore.
Keira D'Amato makes her New York debut on Sunday. In January, the 38-year-old from Virginia ran 2:19:12 to win the Houston Marathon. Her time was 24 seconds faster than Denna Kastor's American record that had stood since 2006. (Emily Sisson eclipsed D'Amato's record in Chicago last month; Sisson is not racing in New York.)
Like others, D'Amato remarked on the hilly nature of the New York course.
"Back in college (at American University), I was more of a cross country runner, and I love cross country terrain," she said. "So, I'm hoping that there's some of that left in my system. And living in Richmond, it's actually pretty hilly right out of my garden. So, I'm running hills on a daily basis. I hope that shines through on Sunday, but we'll see."
Count two-time Olympian Des Linden as another racer who thinks tactics, not pure speed, will make the difference on Sunday.
"It's not just set the speedometer and go for as long as you can," Linden, 39, said. "There is a lot of decision making. There are no pacers here, which I think creates really interesting race decisions: Is this move real? Should I cover it? Do I cover half of it? It's a lot different from a lot of other courses."
The California native, now a resident of Charlevoix, Michigan, has twice placed sixth in New York. In 2018, she became the first U.S. woman to win in Boston in 33 years. Like Rupp, she thinks she is rounding into her best form this year.
"I did not have an injury per se, it was a little bit of inefficiencies in my stride and movement," Linden said. "So, we are really ironing those out. I feel like I'm moving better and that means a better pace."
Aliphine Tuliamuk, winner of the 2020 U.S. Olympic Marathon Trials, is another Team USA member to watch.
"The athlete that runs the smartest race (will win), and I hope that will be me," Tuliamuk, 33, said. "I am coming from a point of being super grateful. Eight weeks ago I had a setback in training and I didn't know if I could be here. And I'm not just here to be here, I'm here to compete."
Reigning Olympic champion Peres Jepchirchir will not defend her New York title due to injury. Her fellow Kenyan Viola Cheptoo, second to Jepchirchir last year, and Gotytom Gebreslase of Ethiopia, who won the world marathon title this summer in Eugene, are among the favorites on Sunday.
Lynn Rutherford is a sportswriter based out of New York. She is a freelance contributor to TeamUSA.org on behalf of
Red Line Editorial, Inc.