Susannah Scaroni Rolls to Course-Record Victory in the New York City Marathon Women's Wheelchair Division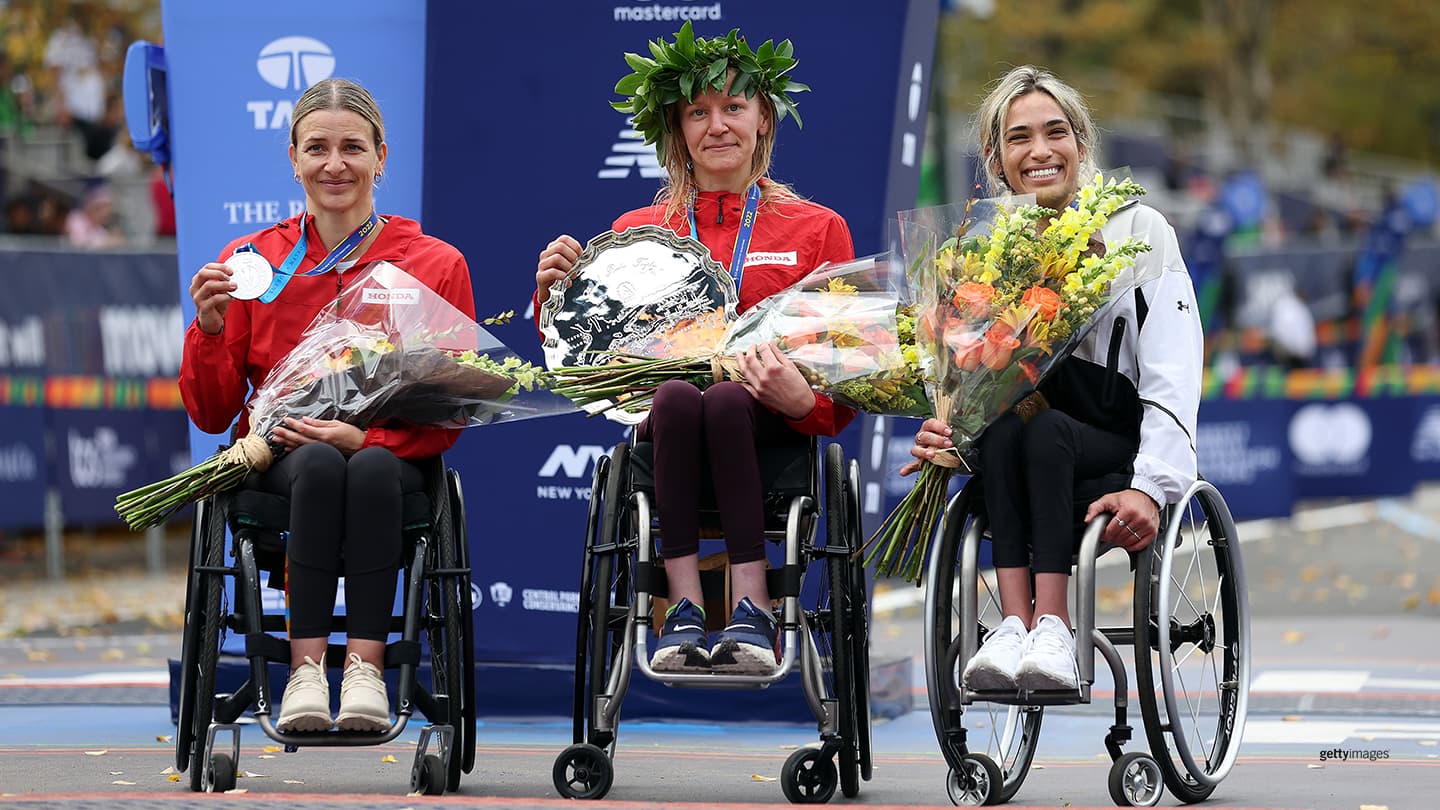 (L-R) Manuela Schär (Switzerland), Susannah Scaroni and Madison de Rozario (Australia) pose after the women's wheelchair division at the 2022 New York City Marathon on Nov. 6, 2022 in New York.
Susannah Scaroni used an aggressive start to turn the TCS New York City Marathon into a one-woman show on Sunday, blasting asway from the women's wheelchair field in the opening mile and building up a cushion that her rivals could not overcome. In the end, she crossed the finish line in 1:42:43, taking 21 seconds off the 2015 course record set by fellow American Tatyana McFadden.

"I knew my speeds were really high, and I was trying so hard to maintain as high of a pace as I could knowing how strong of a field I had behind me," Scaroni said after navigating New York's challenging five-borough course. "And I didn't know if they were working together, but I always assume they are."

In the end, nobody managed to come close to Scaroni. Switzerland's Manuela Schär, who won this race three times from 2017 to 2019, was a distant second, in 1:45:11. Australia's Madison de Rozario (1:45:24), the reigning Paralympic champion, completed the podium.

Coming off a victory in the Chicago Marathon in October — her first-ever win in an Abbott World Marathon Majors event — the 31-year-old Scaroni has established firmly established herself as one of the top racers on the circuit.

Her success this fall has played out just over a year after a frightening accident in September 2021 when she was hit by a car during training near her home in Champaign, Illinois, and suffered fractured vertebrae. The recovery was arduous, but Scaroni is now producing the best racing of her life.

Her trajectory was already on the rise at last year's Paralympic Games Tokyo 2020, where she won gold in the 5,000 meters and added bronze in the 800. Those track performances boosted her confidence for the longer, 26.2-mile distance.
"In Tokyo last year, for the first time I really saw that my speed had increased quite a bit," she said. That complimented the experience she has gained over time. "I think this sport is more of an art. So you get better as you get older, at least to a level. And I've been learning from amazingly fast women who have been in front of me for all these years."

In addition to her $25,000 first-place prize, Scaroni also earned a $50,000 bonus for breaking the course record. This year, for the first time, race organizers New York Road Runners offered the same bonus for wheelchair athletes as the professional runners.
"Having elite-level sport in adaptive sports is just as important, if not more, to help encourage everyone to be more active and to be physically fit," she said of the message that this prize equity sends.
(L-R) Jetze Plat (Netherlands), Marcel Hug (Switzerland) and Daniel Romanchuk pose after the men's wheelchair division at the 2022 New York City Marathon on Nov. 6, 2022 in New York.
Romanchuk Hangs Tough for Runner-Up
Daniel Romanchuk is a two-time winner in New York, but had to settle for the runner-up spot in the men's wheelchair division this time around. Switzerland's Marcel Hug smashed the course record to win in 1:25:26, well under the venerable 1:29:22 mark set by Kurt Fearnley back in 2006.

Romanchuk lost contact with Hug early on, but maintained focus to clock 1:27:38 — also well under the old record and considerably faster than his winning times in New York in 2018 and 2019.
"After Marcel passed me, I tried to stick in a little bit," said the 24-year-old Maryland native, the gold medalist over 400 meters at the Tokyo Paralympics. "At that point, it turned into a time trial. I knew that if I dropped off him I was [still] going to try to see if I could go under the course record."

Racing solo — Romanchuk was nearly four minutes ahead of third place finisher Jetze Plat of the Netherlands — required extreme focus, especially during a particularly grueling portion of the race.
"Those last few miles up Fifth Avenue were so all-out, I completely emptied the tanks," he said of a stretch from 21 through 24 miles. "That was a lot earlier than I typically would try and do that. That was a little challenging today."
Tuliamuk & Fauble Pace American Runners
Aliphine Tuliamuk and Scott Fauble were the top American finishers among the runners, Tuliamuk taking seventh in the women's professional division, and Fauble coming home ninth in the men's race.

Tuliamuk, winner of the 2020 U.S. Olympic Team Trials — Marathon, had a difficult build-up for this race, missing a few weeks of training due to an ankle injury in early September. In addition, the unseasonably warm weather (the temperature rose to low 70s with high humidity throughout the morning) was far from ideal.
"I think I excel when the conditions are not perfect," she said as her 22-month-old daughter, Zoe, played nearby. "I rise to the occasion, and I believe that today that was the case."

Indeed she set a personal best of 2:26:18 on a course that, with its numerous hills and bridges, is not known for yielding particularly fast times.
"It's been a while since I finished a marathon," said Tuliamuk, who was forced to drop out of the Olympic marathon last year due to injury. "So I was kind of scared a little bit that I wasn't going to be able to live up to the expectation. But I'm really grateful that I was able to get to the line healthy."

The 31-year-old Fauble moved up from 16th place at halfway to crack the top 10, clocking 2:13:35 for ninth place. He has made a habit of strong finishes at World Marathon Majors race. He placed seventh in his previous NYC Marathon in 2018, and also took seventh at the Boston Marathon this year and in 2019 (he was the top American both times).

"Any time you can run well on a big stage, it's very gratifying," said Fauble. "To be top American is a big bonus as well."
Rich Sands is a New York City-based freelance editor and writer and has been a correspondent for Track & Field News since 1995, covering the sport at the high school, college and professional levels. He was previously an editor at TV Guide Magazine, overseeing the magazine's Olympic coverage.