Hubbell, Donohue Win Silver At Grand Prix of Italy, Book Trip To Grand Prix Final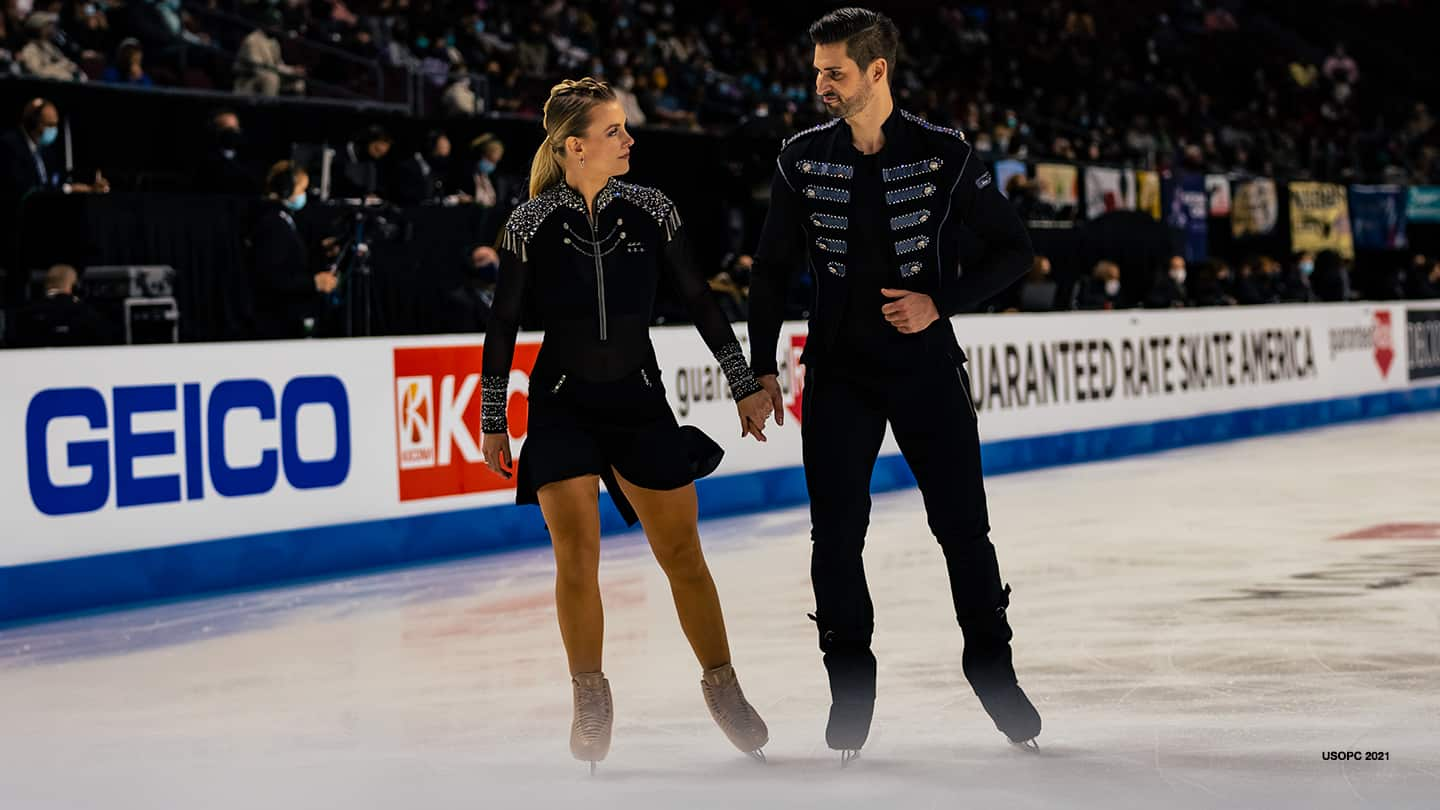 Madison Hubbell and Zachary Donohue compete at Skate America on Oct. 23, 2021 in Las Vegas, Nevada.
With a silver medal at the Grand Prix of Italy in Torino this week and their win at Skate America last month, ice dancers Madison Hubbell and Zachary Donohue have qualified for the Grand Prix Final for the sixth time.

"We're taking away a lot of positive things," Hubbell, 30, said after the free dance Saturday. "This season is the quickest turn around of (our Grand Prix) events, which is a good experience."

The Grand Prix of Italy was the third of six Grand Prix events held this fall. The top six performers in each discipline will qualify to compete at the Final, held in Osaka, Japan Dec. 9-12.

The three-time and reigning U.S. champions won the Grand Prix Final in 2018 and took home bronze in 2019. The event was canceled last season due to the COVID-19 pandemic.

Hubbell and Donohue's scores in Italy were a mixed bag. On Friday, they earned 84.79 points for their rhythm dance to Janet Jackson hits, more than a point more than they notched at Skate America.

"Mainly we wanted to focus on improvements on (the free dance); there are no changes in the short dance, we just wanted to build on how we performed at Skate America," Donohue, 30, said.

"We edged our Skate America score a little bit, which is always the goal."

On Saturday, the team's tender and lyrical free dance, set to Anne Sila's "Drowning," was effective overall but had an awkward moment on the final lift. The program's score — 123.11 points — left them shaking their heads. They ended with 207.90 points.

"We made a mistake at the end," Hubbell admitted. "We are disappointed with our score today."

Caroline Green and Michael Parsons, fourth in U.S. ice dance last season, stood fourth after the rhythm dance in Torino. A fall exiting a lift in their free dance dropped them to fifth place overall with 178.26 points.

The competition marked the return of four-time world champions Gabriella Papadakis and Guillaume Cizeron of France to the Grand Prix circuit for the first time since the 2019-20 season, when they won their second Grand Prix Final.

The 2018 Olympic silver medalists, who train alongside Hubbell and Donohue in Montreal, dominated the event, winning with 220.06 points. Russians Alexandra Stepanova and Ivan Bukin earned bronze with 202.18 points.

Two-time U.S. champion Bradie Tennell was entered in the women's event in Torino but withdrew due to an ongoing foot injury. She had also withdrawn from Skate America.

"While I'm very happy to be making a lot of progress in overcoming this (injury) and now getting back to full training, competing right away doesn't make sense," Tennell posted on Instagram on Oct. 18.

World champion Anna Shcherbakova won the women's title, while the pairs and men's competitions were ongoing at the time of publication.

Next week, the Grand Prix heads to Tokyo for NHK Trophy Nov. 12-14. Twelve Team USA athletes are scheduled to compete, including Vincent Zhou, who last month defeated three-time world champion Nathan Chen to win Skate America; two-time U.S. ice dance champions Madison Chock and Evan Bates, winners of the silver medal at Skate America; Ashley Cain-Gribble and Timothy LeDuc, bronze medalists at Skate Canada last week; and two-time U.S. champion Alysa Liu.
Lynn Rutherford is a sportswriter based out of New York. She is a freelance contributor to TeamUSA.org on behalf of Red Line Editorial, Inc.