Team USA Rowing On Preparing For The Final Olympic Qualifier This Weekend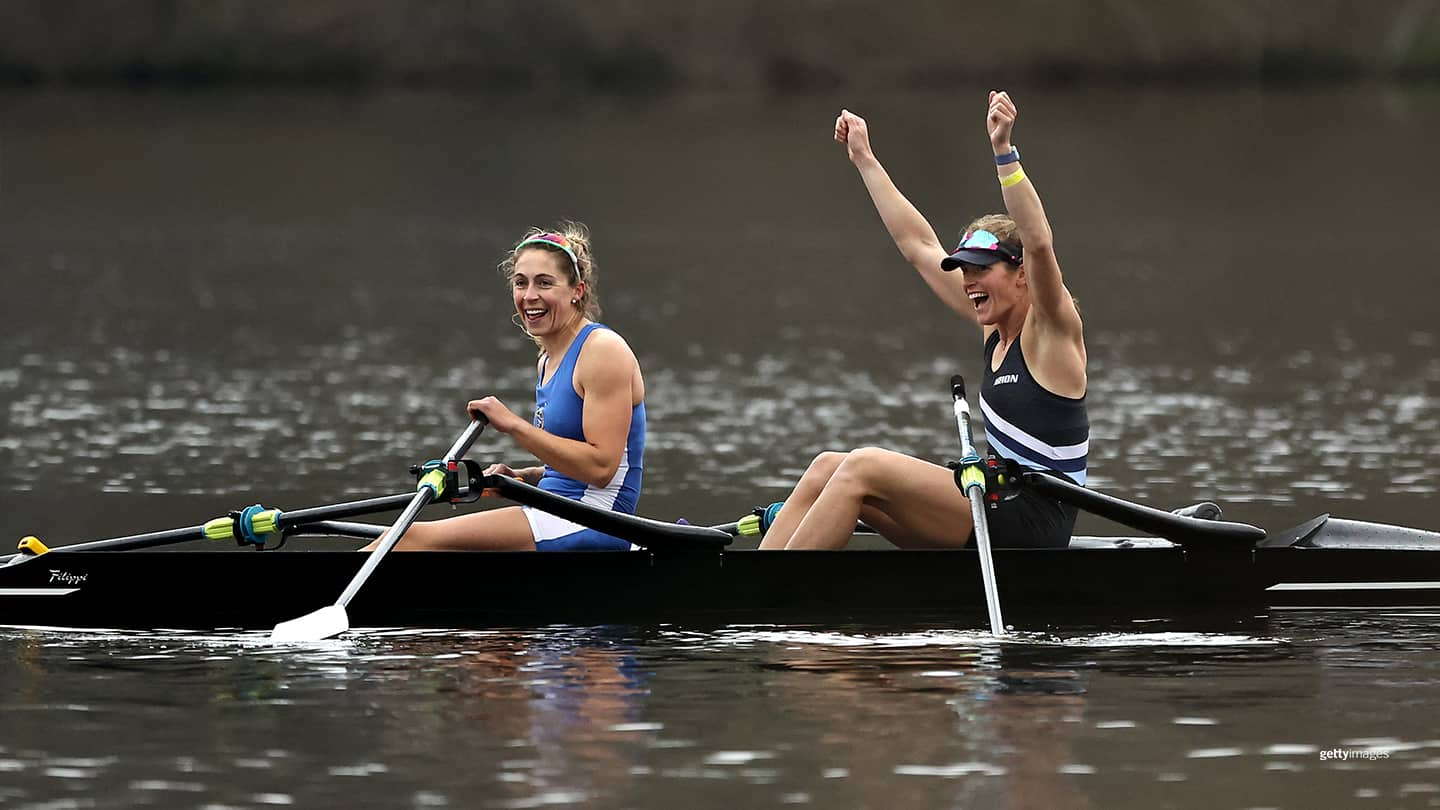 Gevvie Stone and Kristina Wagner wins the Women's Double Sculls final during the U.S. Olympic and Paralympic Rowing trials on April 15, 2021 at Mercer Lake in West Windsor, New Jersey.
With the days till the Olympic Games Tokyo 2020 ticking down, six U.S. crews will try to earn a spot on Team USA this weekend at the last-chance qualifier in Lucerne, Switzerland.
With two rowing team trials having taken place earlier this year, three women have already been named to the team: Gevvie Stone, Kristina Wagner and Kara Kohler.
The boats racing at this weekend's regatta in Europe will include five on the men's side: single sculls, double sculls, lightweight double sculls, pair and quadruple sculls — with the women racing in the lightweight double sculls.
The men's quadruple sculls earned their chance to compete in Switzerland after crossing the line first at the second Olympic trials in April in New Jersey. The foursome then headed to Europe shortly afterwards to get some international racing experience, competing in the first World Rowing Cup of the season and missing a medal by just 0.1 seconds.
For Charles Anderson, the event helped build confidence among the crew and adapt to the logistics of international racing. But everything up to this point has been about Tokyo.
"It's why we continued training through the pandemic, and why we've been training the past five years,: Anderson said. "For the chance to go to the Olympics."
Getting back in the double to compete in both team trials made Molly Reckford, who will be competing in the lightweight women's double, appreciate her sport even more.
"It felt like when Ebenezer Scrooge wakes up, you know in A Christmas Carol, and he realizes how much it means to him? His every day approach changes," she mused.
The event in Europe feels like a change in the world too, she said.
"To have races on the schedule again, traveling abroad, world cups… It's been such a hard year mentally and emotionally. So finally getting back to what is normal life for us: living out of a duffel bag, traveling abroad, racing boats we haven't even seen yet — that is normal, and it's so exciting to get to do those things again."
Teammate Michelle Sechser is excited to do something she's never done before: race internationally in an Olympic class boat.
"I'm looking forward to racing, going to Switzerland for the first time, representing the U.S., all of it," she exclaimed.
Reckford jumped in, "What she meant to say we're most looking forward to is getting the chance to qualify for the U.S. in the Olympics," she joked.
"Yes!" Sechser said. "I thought that was a given."

The two flew into Switzerland early to attend a pre-camp just outside Lucerne where they will have to land in the top three to punch their ticket to Tokyo. The other events will need a top two finish to qualify.

The qualifier will be the second time rower Justin Keen (who will be competing in the quad) will have raced this course.
"They say Lucerne is the most beautiful race course in the world," he revealed.
He called the course "legendary" due to it being "straight and fair."
Having not competed in more than a year, "lining up at the start makes you appreciate all the miles you put in to get to this point," he said. "This is my last season, so every race now could be my last. It's fun to go into it laying your best down, and it might be the last strokes you ever take."
"It's do or die," said Mike DiSanto, who finished fourth in Rio in 2016 and will be racing in the pair with Tom Peszek. Traveling to Europe and competing in Switzerland is nice, but "it's a business trip," he said. "We're going over there to get a job done."
Peszek, a 10-time national team member, agreed. "This is why him and I do this," said the 2012 Olympian who finished eighth in the pair. "And having USA on your back just makes it so much more special."
Not that he plans on letting any of the other teams catch a glimpse of that red, white and blue since his back will be facing the finish line.
But no matter what, he said, "You can't control what happens in the other lanes. We're going to go from A to B as quickly as we can and if anyone else can hang with us, good for them."
Up until now the competition has been all domestic said John Graves (who will be in the single). "There is a lot on the line with this race," said the six-time senior national team member.
"This gives me the chance to really focus on qualifying without the stress of having to beat all the domestic competition," he said after he secured his qualifying spot when he won in Sarasota at the first trials.
In total, more than 400 athletes from 49 nations are scheduled to compete in the regatta. Practice is already underway with finals to be held on Monday. The Olympic Games Tokyo 2020 will be held July 23-August 9, with rowing events slated to take place on day one of competition.
Lisa Costantini is a freelance writer based in Orlando. She has covered Olympic and Paralympic sports for various publications, and has contributed to TeamUSA.org since 2011.